It just isn't a vacation if you don't sample the local fare – and of course include its alcoholic beverages
For Mexico's producers of tequila, mezcal, wine, beer and more, the relationship -or lack of one- between the product and tourism has a great effect on how well-known the drink and/or its region-of-origin is.
Mexico's tourism industry is huge. The Ministry of Tourism estimates that it will bring in $31 billion USD to the country's economy this year, welcoming about 66 million foreign visitors in 2022 (down from the more than 97 million pre-pandemic but numbers are returning to normal). But economic impact is spread out evenly in the country, nor do all beverages catch tourists' attention to the same amount or in the same way.
Tequila and beer – the beach combo
Talk about a trip to Mexico and just about everyone will visualize days lounging on the beach sipping something. Despite decades of promotion of Mexico's many other jewels, this still dominates the imagination.
Without a doubt, tequila remains the most iconic Mexican alcoholic beverage. Tequila is the "gold standard,"so popular that it drives tourism as much if not more than tourism drives its consumption. But tequila's popularity did not come through beach visitors. Americans got their first taste during Prohibition crossing the border to get away from draconian laws, spurring the invention of the Margarita. This is likely the start of tequila's strong association with partying, a reputation that inspired the Champs' 1958 hit "Tequila" and bolstered by the Rolling Stones's promotion of the Tequila Sunrise cocktail. But the icing on the cake has been Jimmy Buffet's "Wastin' Away in Margaritaville."
Mexico's tourism industry also boomed in the 20th century, but tequila did not drive it. Rather, it went along for the ride, with one important exception – the tequila-producing region of Jalisco. Today, tequila is perhaps the only reason that people visit its namesake, but that tourism is big business. Tequila is only one of Jalisco's ten Pueblos Mágicos (a hugely successful Mexican government program that promotes small lesser-known towns for tourism), but it earns much more than all the other nine combined.
Tequila tourism includes tours of distilleries and tastings, but the party reputation means that you get kitschy offerings like the Tequila Train and cabins built to look like giant tequila barrels. Tequila tours are numerous, all over the internet and easy to book on the internet.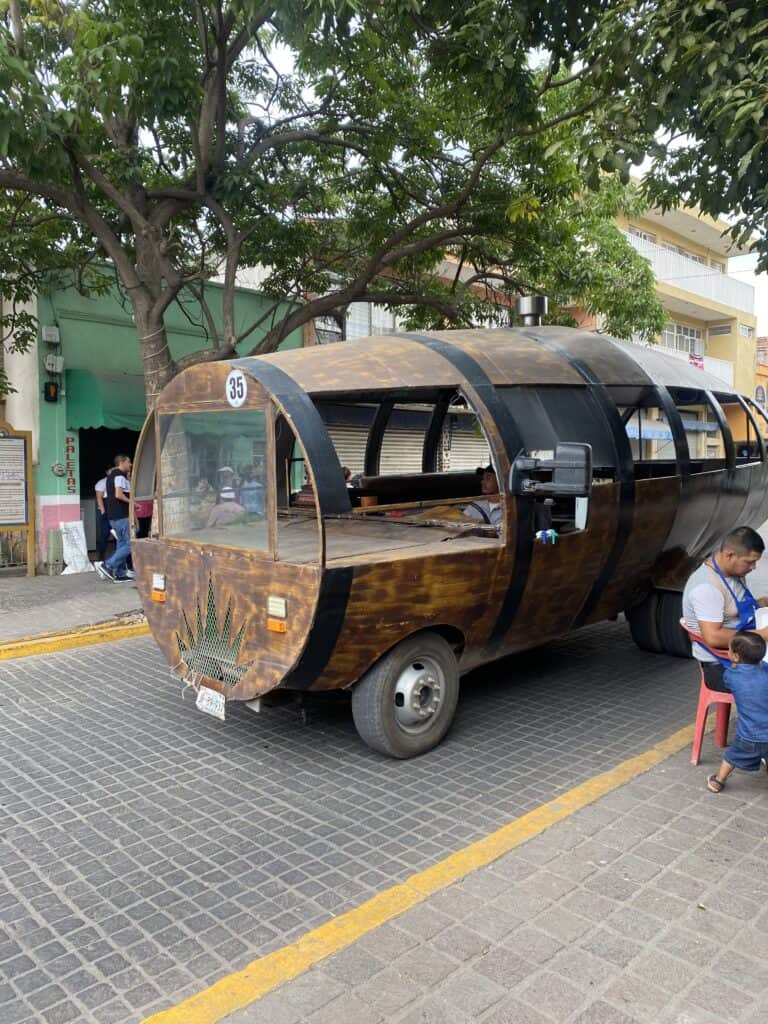 But tequila's wild popularity has not spurred great interest in the region's other agave spirit – raicilla. That occurred because of the rising popularity of mezcal, as a consequence of looking for alternatives to tequila. Raicilla received official recognition (denomination of origin) only in 2019, whereas tequila has had it for decades. There are a few tours and guides, but tourist interest in raicilla is still very niche; in addition, there are infrastructure issues in raicilla-producing areas. There are a few places building for future tourism, but raicilla is still difficult to find in bars and restaurants outside of the Guadalajara area. It remains to be seen that, even with the growing interest in other agave spirits, if raicilla can obtain some of that market share.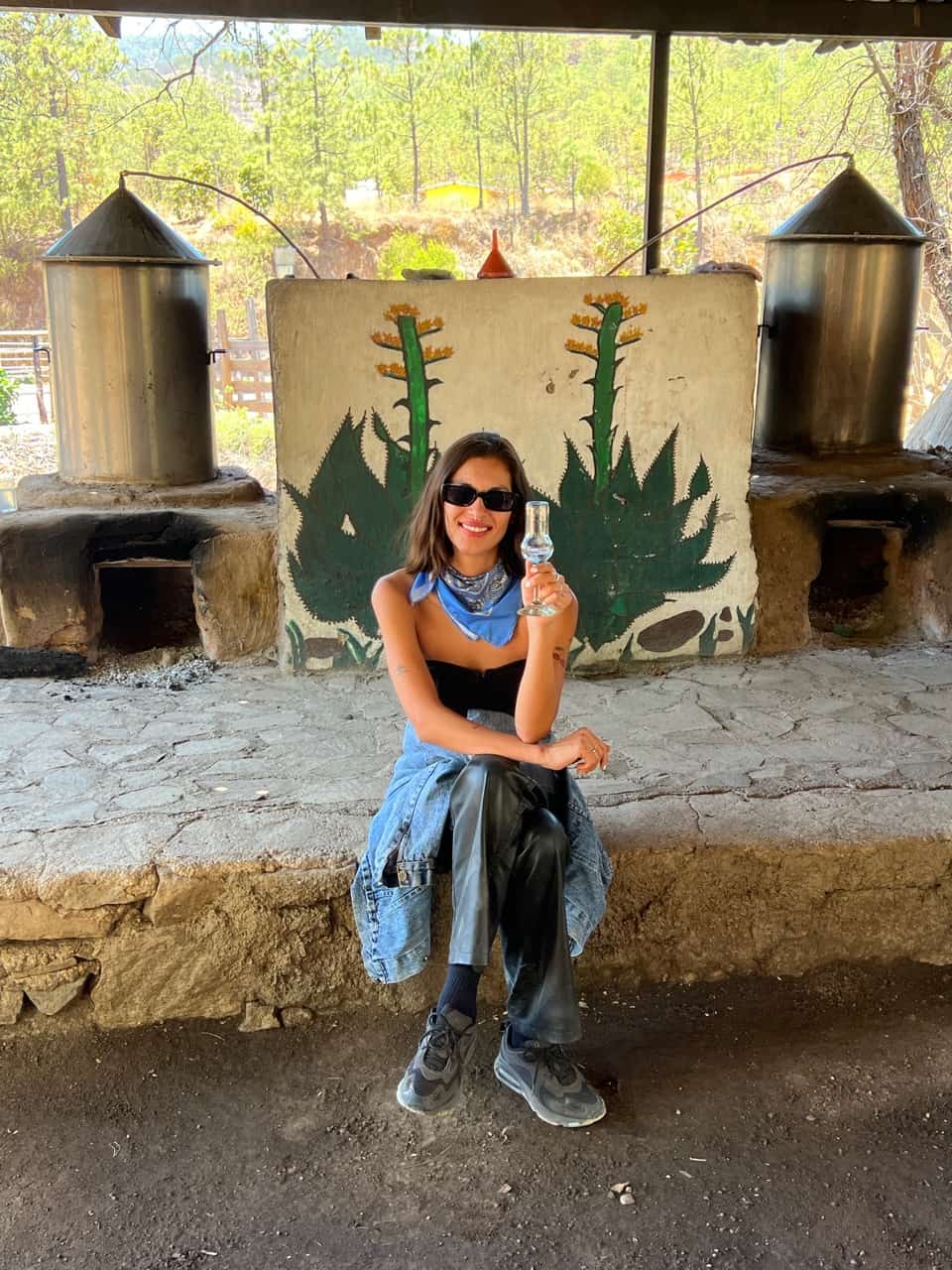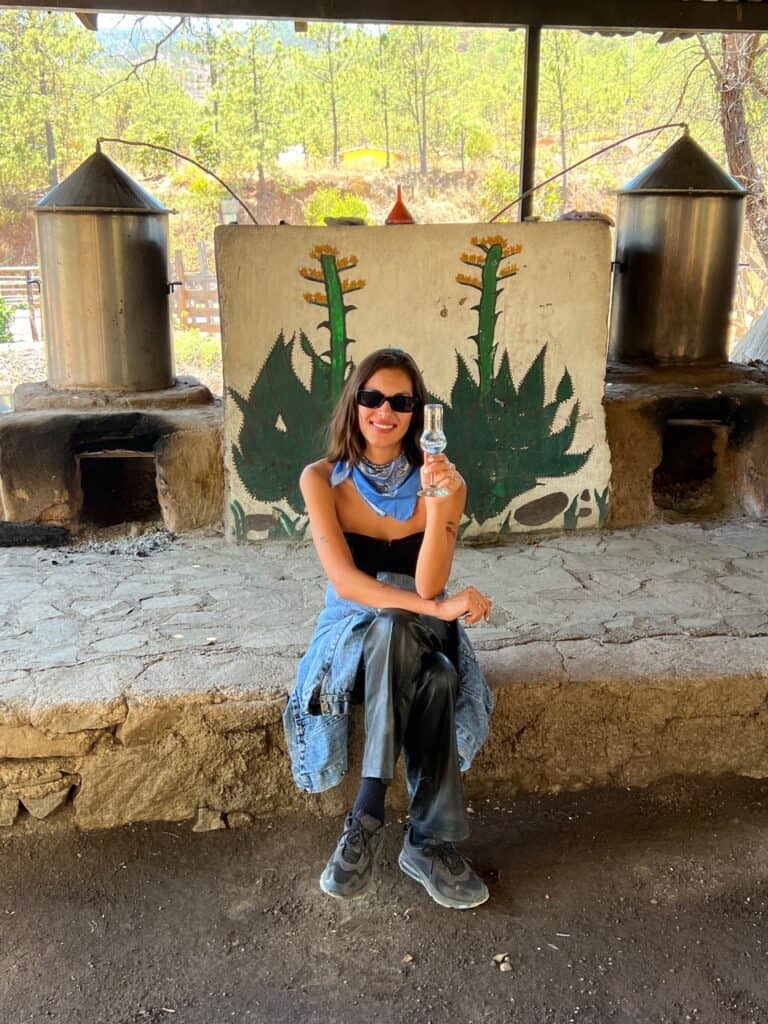 Mezcal as the tequila "alternative"
The past decade or so has seen the rise of mezcal and other distilled spirits from native plants in Mexico. Its rise is not directly because of tourism either, but more associated with those looking for new experiences as well as a kind of blowback to the industrialization of tequila.
However, if you say "mezcal," most will associate it with Oaxaca, and that is a result of tourism.
Any agave distillate is technically a mezcal; tequila is simply one variety. Although made in most of the country, only ten of Mexico's states have the legal right to call their agave-based spirits "mezcal."
But only Oaxaca has a decades-old tourism industry, mostly famously in the Central Valleys that surround the state capital. Unlike beach tourism, this tourism's niche is Oaxaca's unique culture, history and archeology. Recently, the area's gastronomy has become a huge attraction in its own right.
Because of this, Oaxaca mezcal has avoided the association with mindless partying; drinking is something of a statement. When I first visited Oaxaca 20 years ago, at least trying mezcal was certainly part of the experience, but no one would have thought it a main agenda item back then. Tourists bought mezcal because they were in Oaxaca and saw it there. Today, mezcal is one of the reasons why they come. This means that mezcal tourism is a rising part of Oaxaca's scene, with more and easier ways to visit palenques (producers) than before. The association with culture means there are no party trains or other "touristy" offerings, but that may not last forever.
Mezcal in other parts of Mexico
Oaxaca's prominence internationally has led to the mistaken belief that mezcal comes only from that state. The other mezcal-producing states, Puebla, Sinaloa, Guanajuato, Guerrero, Durango, San Luis Potosí, Zacatecas, Tamaulipas and Michoacán, are far behind in using tourism to get their mezcals known.
The main reason is that all have had difficulties in developing tourism industries in general – generally because of one or more of the following reasons: (narco) violence, social/political instability, poor infrastructure such as roads, ineffective tourism programs and/or a lack of interest in tourism as the state has other sources of income.
Of the ten, Michoacán has the most tourism; its attraction very similar to that of Oaxaca, the preservation of indigenous cultures, mostly concentrated around Lake Pátzcuaro in the center of the state. However, other areas do have significant problems with security which keeps crowds away even from the beaches. Michoacan has five areas that produce mezcal, but only those produced near Pátzcuaro seem to get any benefit from tourism, and even that is small.
Zack Klamn is an engineer with a passion for promoting mezcal, particularly that of Michoacan on his YouTube channel. He has made multiple trips to both Michoacán and Oaxaca in search of fine mezcal. He admits that Michoacán's offerings are not as diverse as Oaxaca's. The varieties that are made are distinct and most often made exactly the same way as 100 years ago. As for quality, his recommendations are the areas around the state capital of Morelia, but most are difficult to get to and not for the casual tourist.
Luz María Saavedra is a producer in this region and creates Nanakutzi Mezcal in the community of San Francisco Etúcuaro in the municipality of Villa Madera. With few roads in these mountains, most producers here struggle to make a living selling locally, but she and others are aware of the need to develop tourism as the way to promote their product. They are working with local ecotourism businesses to bring people here to both enjoy the natural beauty, its food and its drink.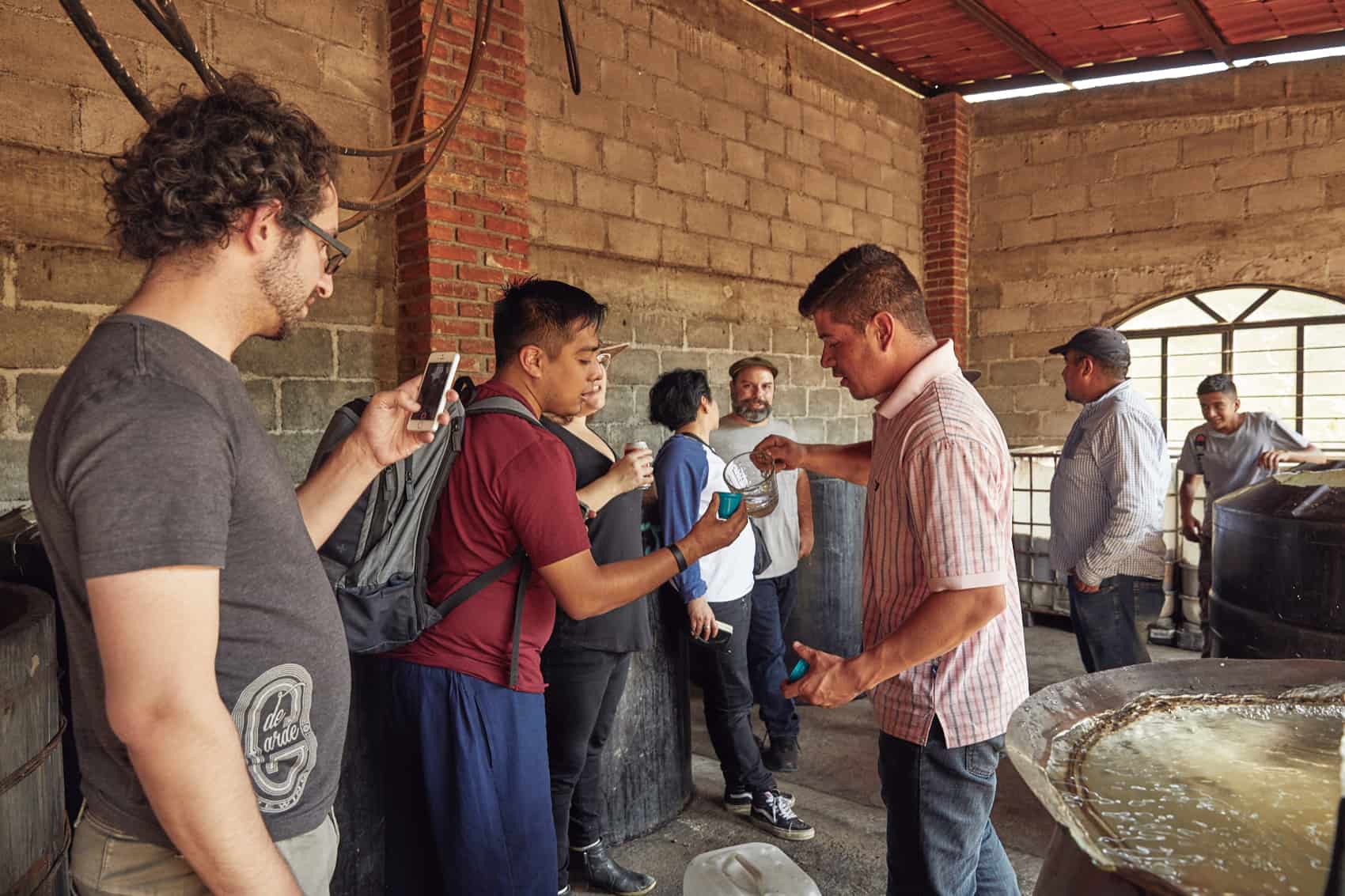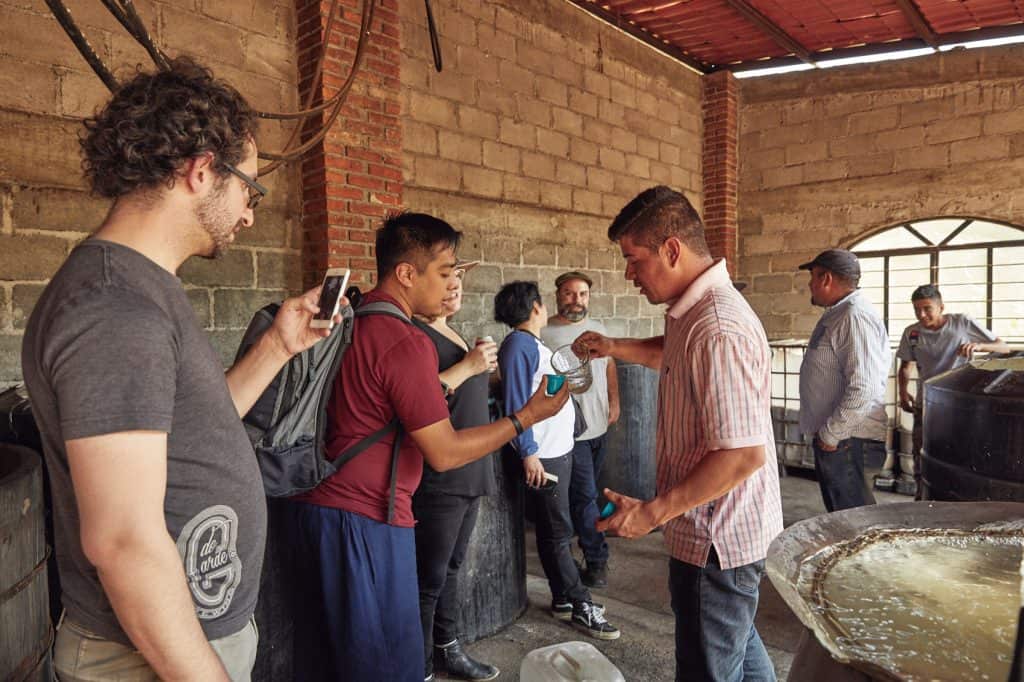 Those north of the city fare a little better. La Luna Mezcal in Indaparapeo and others fare a bit better because of their proximity to Highway 15D, the main link between Mexico City and Guadalajara.
The main issue for the state is that almost all the mezcal produced in Michoacán is outside of Lake Patzcuaro – seemingly their only focus when it comes to tourism promotion.
Insecurity is an acute issue right now for Zacatecas, with a representative admitting this to me at the Tianguis Turístico (Mexico's biggest annual tourism expo), and it is hurting the state's economy badly. While the situation has been up and down for Zacatecas, Guerrero's bad reputation for both violence and bad roads has been a continuous problem, which depresses tourism in world-famous Acapulco, never mind small towns in the interior where mezcal is made. The reputation for Sinaloa and Tamaulipas is in some ways worse because of major drug trafficking and northward migration.
Neither Durango or San Luis Potosí have the same level of problems with insecurity, but both have a lesser interest in developing tourism. Part of this is a general disinterest on the part of northern states, which have other sources of income like industry and international trade with the U.S. Durango has a significant infrastructure problem, with potholes even on its most important highway connecting it to the port of Mazatlán. It managed to get its main mezcal-producing town, Nombre de Dios, named a Pueblo Mágico, but that has done little to develop mezcal tourism except for day trips from the state capital. There have been attempts to create mezcal tours to the local producers (which are hard/impossible to get to otherwise), but none yet have been economically viable. One place I will recommend for someone wanting to check out what the state has to offer is a charming cantina in Durango City called Juan Matador on Calle Florida. Ignacio (Nacho) Rodarte and the rest of the staff are highly knowledgeable about the wide variety of Durango mezcals they serve.
The case with San Luis Potosí is its growing importance of being halfway between the Texas border and Mexico City. Nearshoring is spreading industrialization through here from Monterrey, and is more lucrative than tourism. There are mezcal producers here with a fascinating history, but the state's efforts to promote them (and its other alcoholic beverages) has been hit-and-miss. One mezcal tour operator is Autentico San Luis. If just driving through to the border, your best bet is to go to the La Piquería Cantina in the state capital. There you can sample various SLP mezcals. Owners Carlos and Tomás Nava are native English speakers thanks to their Australian mother.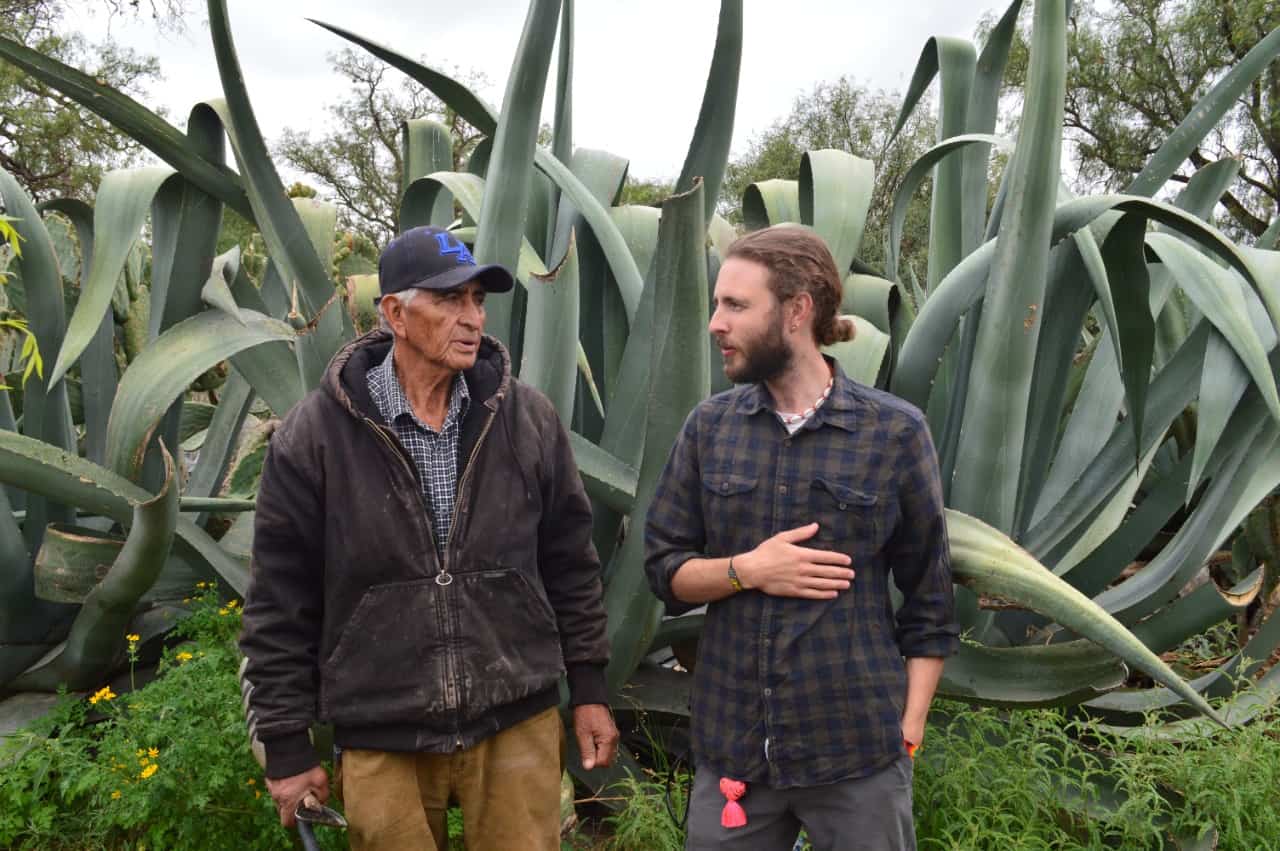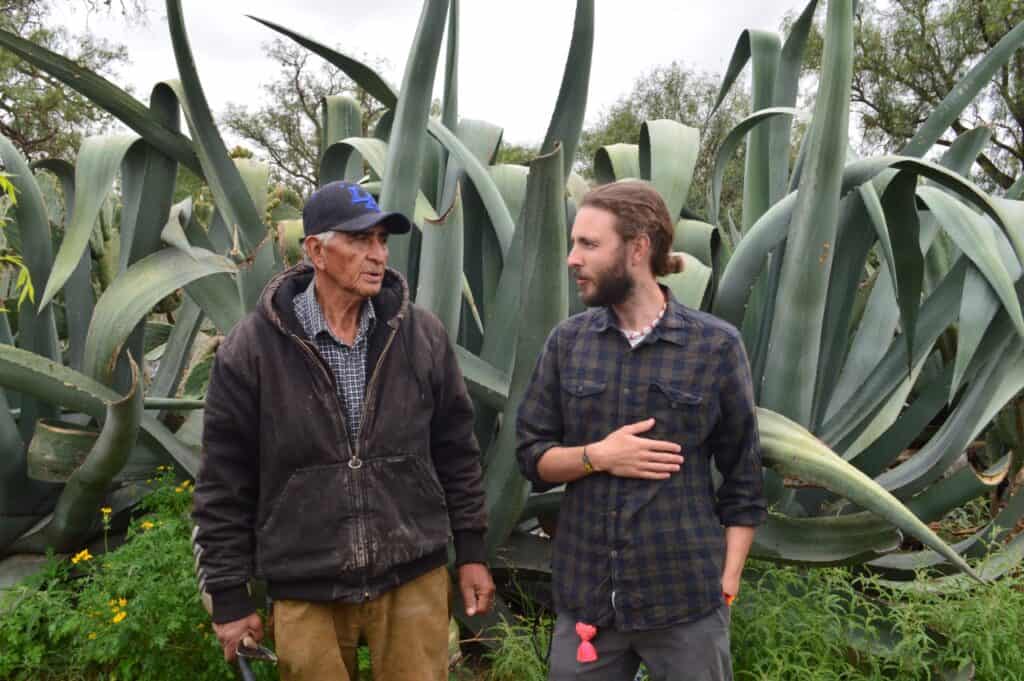 Guanajuato is something of an outlier. There is violence in certain parts, but the state has an overall strong positive image because of the international status of San Miguel de Allende. This means that there is an affluent expat community to promote local products through. Mezcal officially can be made only in San Felipe and San Luis de la Paz, both easy drives from San Miguel, but the "Mezcal Route" is little more than a list of former haciendas that make the beverage.
Even if the state is not particularly interested in distillery tourism, other organizations can be. Bacanora is Sonora's "tequila," a mezcal known almost exclusively by its regional name. While the state's coastline attracts visitors from northwest Mexico and southwest U.S., bacanora is made in 35 impoverished municipalities in the eastern part of the state, including Bacanora.
Only recently has bacanora even been available at Sonora's beaches. One reason is that its production was suppressed after the Revolution and only in the past decades has it become legal again. Laura Espinoza of the Asociación de Mujeres del Bacanora y el Maguey de México is fully aware of the need to take advantage of tourism to get her region's product known, but her aim is more ambitious than getting into the hands of sunbathers. She wants them to come to eastern Sonora, so that not only do bacanora producers benefit, other industries in the region can, too. There has already been some success as exports slowly grow.
The lesson here is that Oaxacan mezcal dominates not because it was invented there nor because it is the "best," but simply because it has been, by far, in the best position to take advantage of mezcal's boom domestically and internationally.
Other beverages from native plants
As perhaps can be expected, highly local spirits in areas not well-visited would not be well-known or promoted nationally or internationally. Two interesting examples are pox (sometimes written "posh") and comiteco, both from the state of Chiapas. Like the state itself, the production and commercial status of these two beverages are peculiar. Pox is a distillate often made from a mix of sugar and corn, mostly produced in the mountains around San Cristóbal de las Casas. Comiteco is an agave-based drink made only in the town of the same name, more a distilled pulque than a mezcal. Chiapas does have cultural tourism, but it is nowhere near as developed as that of neighboring Oaxaca, and mostly concentrated in San Cristóbal, with day trips into other parts of the central highlands, often because much of Chiapas is still restless politically and culturally.
Tourists began coming here in 1994, exactly because of an uprising here against the federal government. Problems that spurred that violence still exist, along with inter-indigenous tensions and illegal border crossings keep tourism development low, despite the state's considerable cultural treasures and natural beauty. Neither drink is well-known outside of Chiapas, and many foreigners living there may not know about them. Only very recently have there been efforts to change this with commercial brands such as Siglo Cero pox and 9 Guardianes comiteco, along with the Poshería bar in San Cristóbal.
Heading far north, sotol is best-known non-mezcal beverage, and has a denomination of origin in parts of Durango, Coahuila and Chihuahua. Made not from agave, but a plant called Dasyliron or sereque, most sotol is produced in Chihuahua. This state's version is by far the best known simply because Chihuahua has a relatively better tourism program overall. In 2023 the government of Chihuahua began a promotion called "¡Ah, Chihuahua!" specifically to promote the state's sotol internationally at events related to tourism.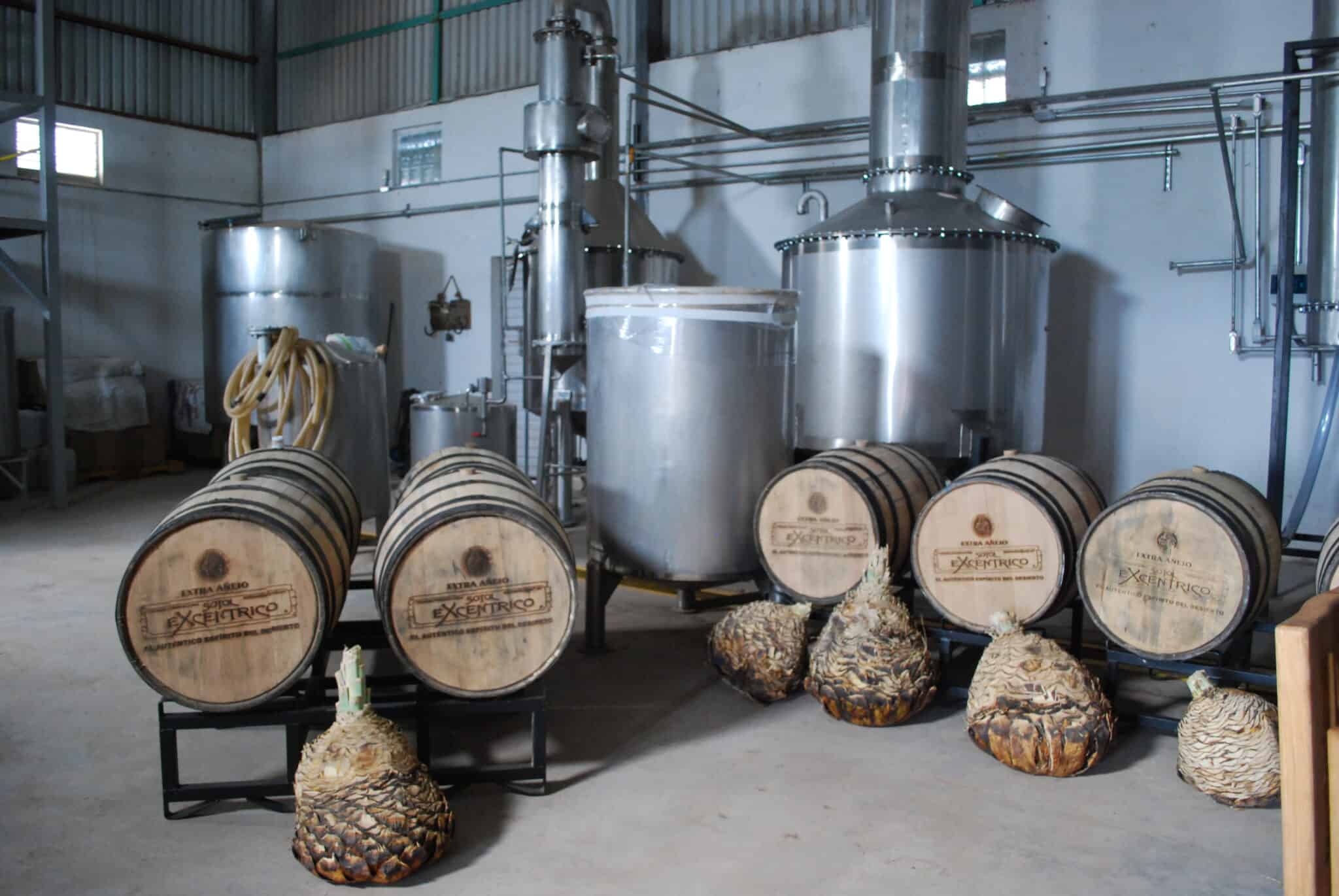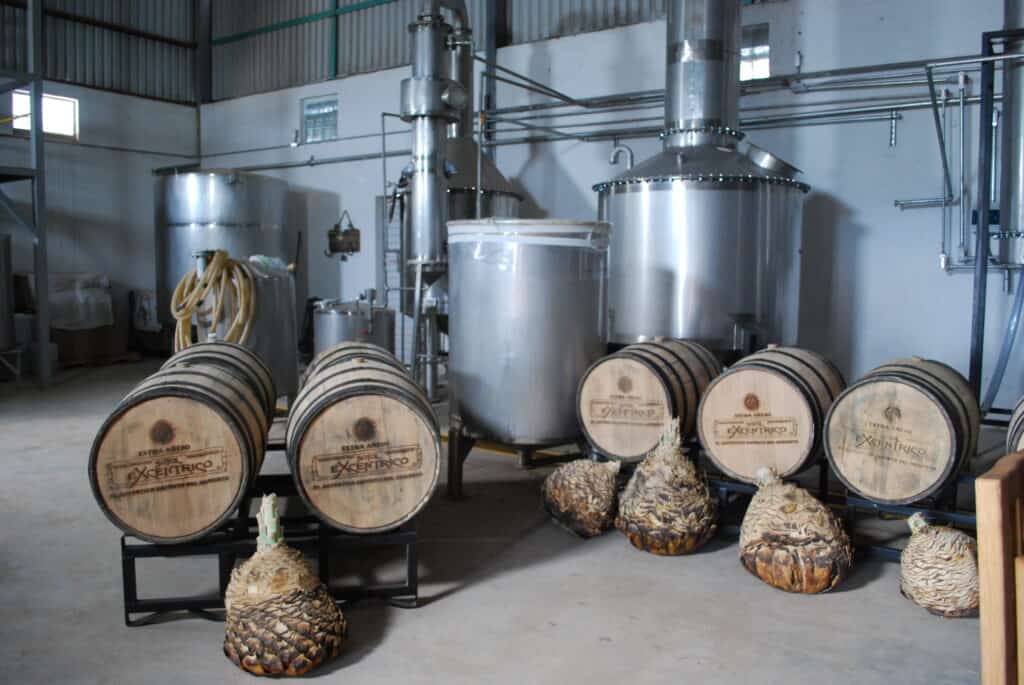 There is one traditional beverage that will probably always have very limited tourism appeal – pulque. It is difficult to get good pulque, nor can it be transported far for the same reason. Fermentation of the agave sap never stops because of the bacterium used, so good pulque goes bad in only a matter of days. Even when good, the consistency is milky, when bad, it gets "slimy" (won't hurt you but it is not pleasant). Pulque is very important to Mexico's history and there is one way to get a good chance at the right stuff. The Red Nacional de Turismo y Agave promotes tours to pulque haciendas which not only focus on freshly made pulque right from the barrel, but also the cuisine of the region.
Expanding Mexico's alcohol offerings – wine
Wine-making has a very short or very long history in Mexico, depending on how you look at it. Wine grapes were brought over early by the Spanish, not only because it was their preferred drink, but also because it was necessary for church. However, Madrid decided to protect vineyards in the mother country and forbade its production in Mexico, with the exception of communion wine (hence the famous "mission grape"). The effect was to take the grape out of Spanish Mexico's cultural identity and replace it with agave.
Mexico's modern commercial wine industry emerged in the late 20th century, when Baja wines from areas like the Valle de Guadalupe exploded internationally.
Wine tourism almost instantaneously followed, primarily because internationally there is a strong connection between production and tourism in wineries' business plans.
Today, wine is probably THE reason to visit the far northern Pacific coast, especially the San Antonio and Guadalupe Valleys. In only a few decades, a whole wine culture has developed, with a unique cuisine based on both Mexican and international elements. It is possible to visit wineries just by driving around as well as innumerable tours.
Baja's success, along with rising wine consumption in Mexico, has inspired other areas in the country to try their luck with wine. Baja still produces 95% of Mexico's table wines, but other areas are becoming more prominent.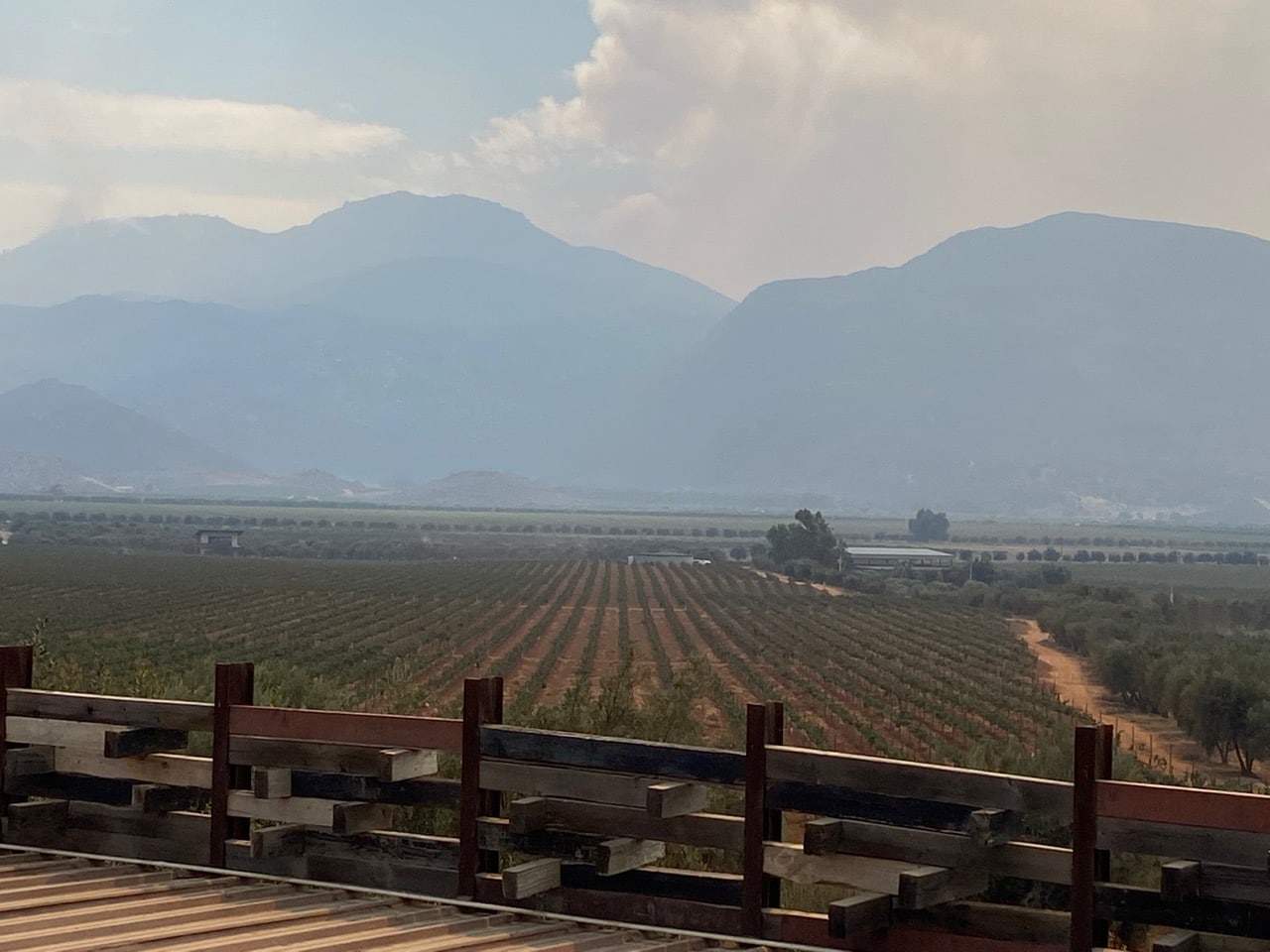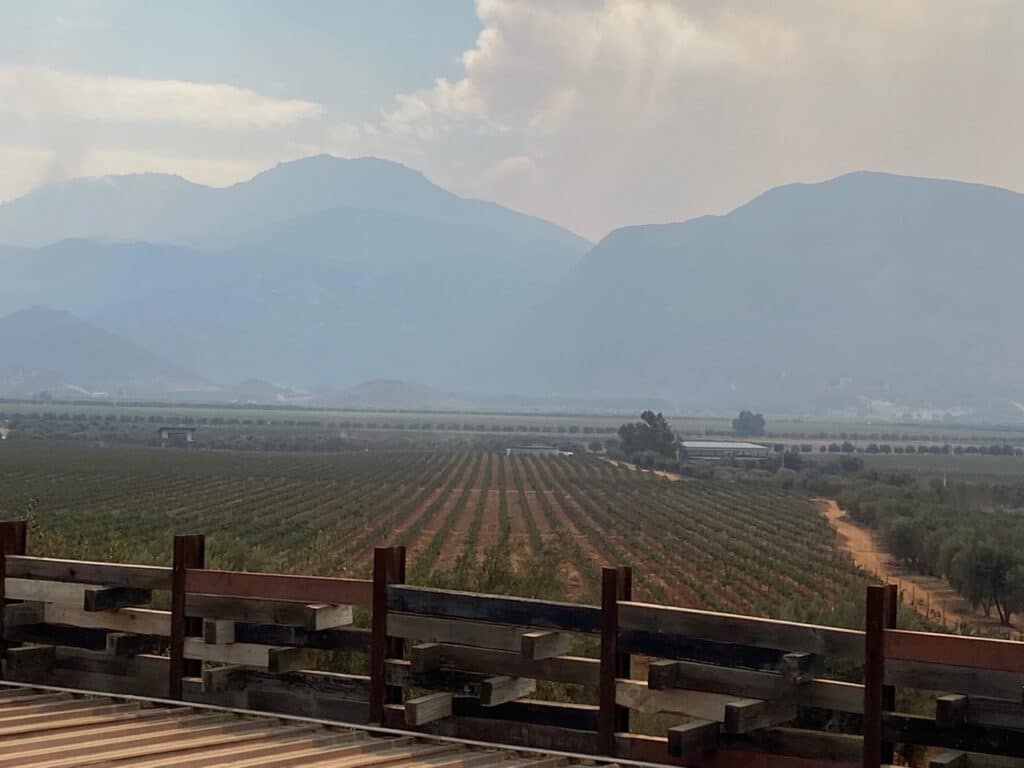 The #2 spot belongs to Querétaro. If you had gone there 20+ years ago, "wine" here meant sweet, bubbly white almost exclusively made by Spanish company Freixenet. But this has diversified immensely. Freixenet is still important, but it now shares the southern part of the state with many smaller and even boutique enterprises with Cabernet Sauvignon, Syrah, and Malbec, both red and white. Querétaros Art, Cheese and Wine Route was official even before the boom in part because of the area's fine cheeses.
Older than both is Parras, Coahuila, but it is not a region so much as a small oasis in the middle of the Chihuahuan Desert. Well-defined by where trees will and will not grow, this small spot is home to Casa Madero, established in 1597 and claims to be Mexico's oldest winery. Its wines are impeccable and its experts are in demand in other areas of Mexico looking to develop wine industries. It does have tourism, but much seems to be limited to weekenders from Saltillo and Torreón, who also buoy a market in weekend homes. All wineries have tours and hotel rooms are expensive, but the main reason for this is that there is absolutely nowhere else to spend the night outside of the oasis. One notable missing element is the lack of road trippers from Texas, although Parras is only 5 hours from Laredo. This is because there has been a lack of such travel all over the far north of Mexico, mostly because of border violence.
The next up-and-coming wine route seems to be in the small state of Aguascalientes. Its wineries pretty much line up with the highways leading north from the state capital into Zacatecas. Table grapes have a longer history here, and many wine grapes still become brandy, but this is rapidly changing. Like in Querétaro, the route also highlights many of the cheese producers that are in the same area. It is not yet as well-developed as Querétaro and Baja, but it is making strides in that direction.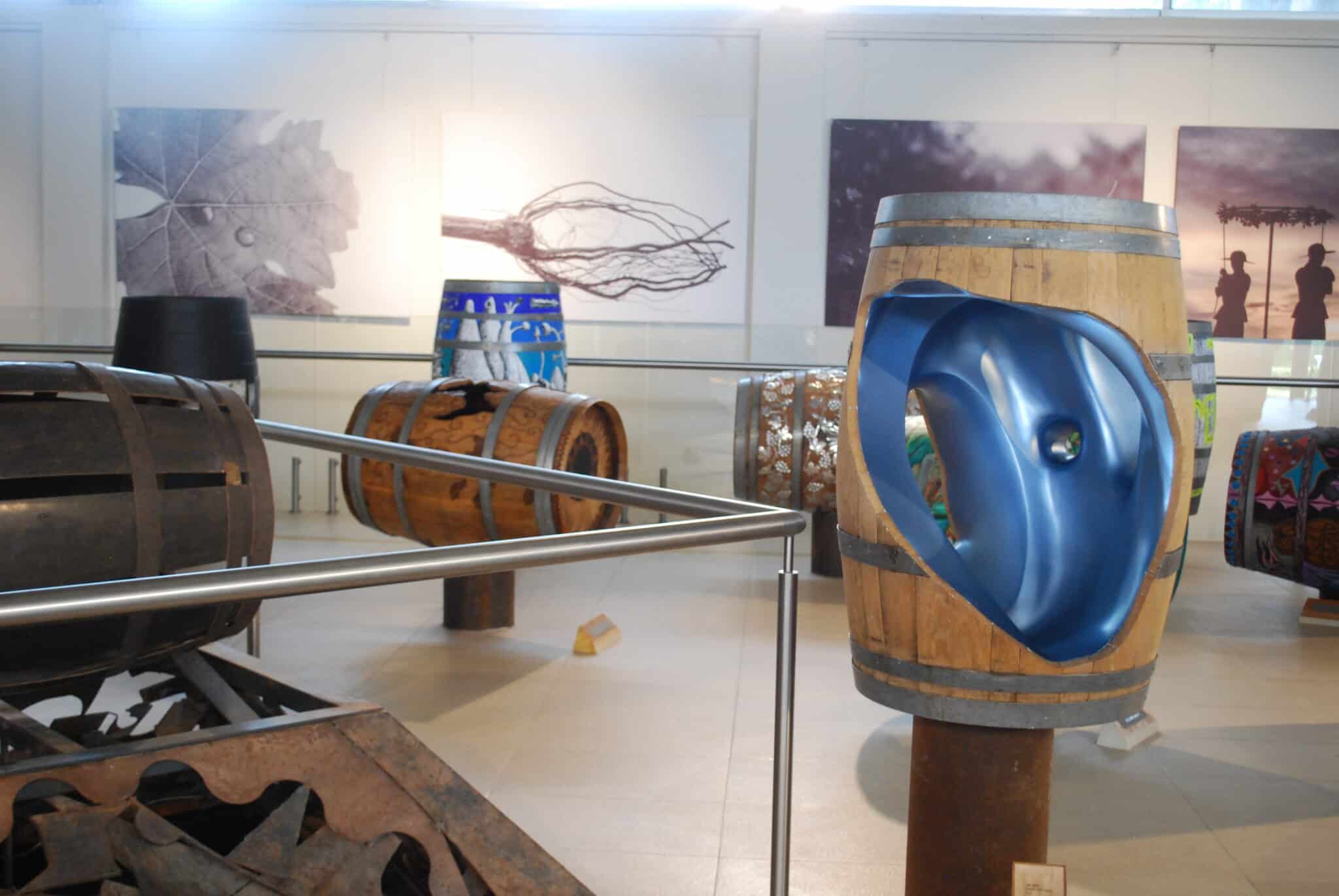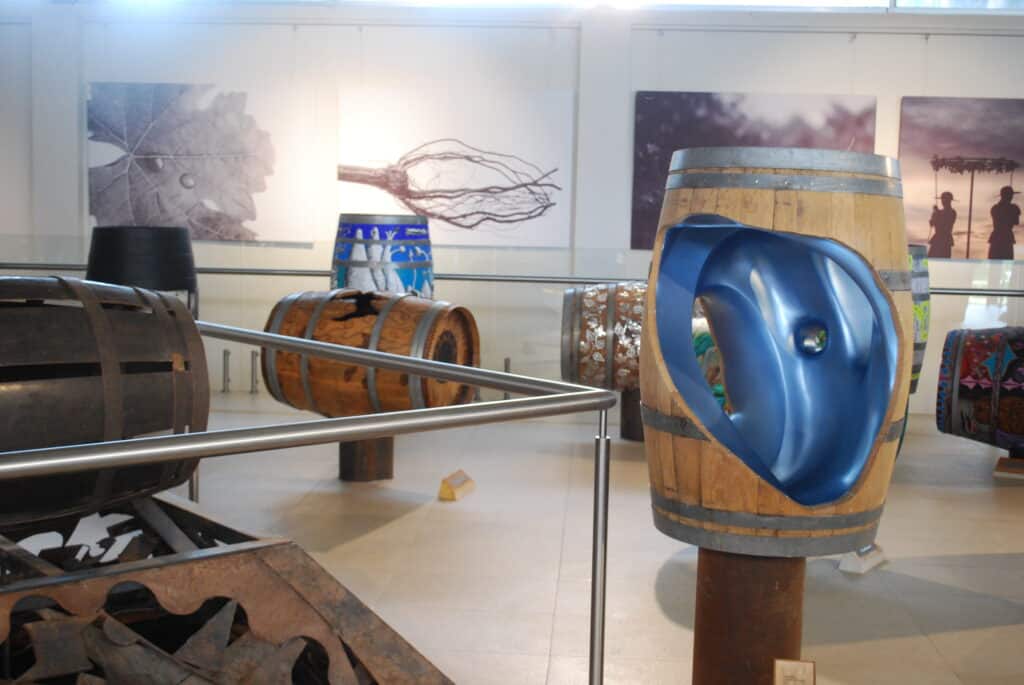 Guanajuato has a small area that is suitable for wine production, with interest here only surging in the past 10 years. But again, the proximity of San Miguel de Allende has an important role to play, not only because of affluent foreign retirees, San Miguel is Mexico's #2 art market, an irresistible pairing. Many wineries here are boutique and new, with significant improvements from year to year. Guanajuato's intentions for wine are clear with a museum dedicated to it in nearby Dolores Hidalgo, but there is room for improvement tourism-wise. The "wine route" is simply promotion for tours out of San Miguel. San Miguel does have a number of wine bars such as Carlota & Emilia who can introduce you to a few local vintages.
Mexico's Secretariat of Tourism, the Consejo Mexicano Vitivinículo and the state secretaries of 14 states published the Catálogo de Rutas y Productos Enoturísticos de México to promote all of Mexico's wine making areas, even those still in their infancy. The catalog includes resources of the states mentioned above, but also for Chihuahua, Durango, Hidalgo, Jalisco, Nuevo León, Puebla, Sonora, San Luis Potosi And Zacatecas. It is safe to say that tourism options lag where winemaking is new, especially if the state does not have a particularly strong overall tourism industry. In places like Chihuahua, Sonora, Jalisco, Zacatecas, Hidalgo and Puebla, wine-making is limited by the small number of microclimates that make grape cultivation possible. Without clusters of wineries in close proximity, it is difficult to have a wine route or even major festivals.
Craft beer
Before Corona's magnificent television ad campaign in the 1980s, most foreigners would have never guessed that Mexico had a beer industry. In fact, German immigrants introduced the drink in the 19th century, and the upper classes promoted it as "healthier" and "more modern" than the native pulque.
Mexico had independent breweries all over the country, and their names are still on many of the bottles you see today – Montejo, Dos Equis, etc. but over time consolidation meant that almost all brands were bought out by Cuauhtémoc Moctezuma, which itself was later bought by Heineken.
This led to a – shall we say – homogenization of flavor, but Mexican commercial beer never degraded to the extent that U.S. beer did after Prohibition.
Interestingly, the original Cuauhtémoc Moctezuma brewery is a very important landmark for its city of Monterrey, and in the past did appear on postcards, but the vast majority of this industrial city's visitors come on business, not to tour.
Like in the U.S., the craft beer phenomenon arose in Mexico from the efforts of those who discovered what beer could be when they were abroad. Mexican travelers discovered U.S. brew pubs as they came into their own in the 1990s, and some decided to try making beer themselves.
It was slow-going at first, with only 26 craft breweries in 2011, but today there are about 1,000, almost all started by aficionados. These pioneers often look to incorporate Mexican/local flavors into their beer, experimenting with local fruits, cacao, maguey sap (aguamiel), hierbs and even edible insects.
Although craft beer makers can be found all over the country, as are craft beer events such as the Expo Cerveza, two areas seem to be leading the way for Mexican craft beer – Baja California (especially the north) and Mexico City.
Baja, with its strong ties north of the border and the first to recognize craft beer as distinct from commercial beer, has significant advantages. The main craft brew cities are Ensenada and Tijuana, the largest producer of craft beer in Latin America, with breweries all over Zona Río and Zona Centro.Tours to various craft breweries are available in both cities and in the case of Ensanada, are sometimes combined with wineries. In the south of the peninsula, the Baja Brewing Company is the dominant force, located in Los Cabos.
Craft brew is a natural for production, consumption and tourism in Mexico City. Unlike many other alcoholic beverages, the tie between beer's making and local agriculture is not so strong. What is important is that the beer is made in the location, by someone of that location and, even better, has a flavoring that represents the location. Mexico City Turibus (a hop-on/hop-off semi-guided tour) has a route for the city's craft beer scene called Turicervecero, which can include stops to see Lucha Libre wrestling, along with breweries such as Cru Cru, Magna Imperial and Templo Mayor.
Although craft beer can be produced and "localized" just about anywhere, commercializing it is another story. The industry as a whole has become barely profitable only in the past few years and the product, in part because of price, is attractive only to certain segments of Mexico's population. For example, The Ayutla Distillery and Brewery is the business and passion project of owner Montiel Hernández, who makes a number of distilled alcohols along with craft beer. He knows that in the long term, he has to get his product to markets like Puebla and Mexico City because the locals of his small village in southern Puebla cannot pay 50 pesos (cheap for craft beer) for a bottle. Ayutla does offer tours by appointment, but the village surrounded by sugar cane fields has poor roads. So the short-term solution is the hotel-restaurant "El Bateador" (The Batter) on highway 892 near Izucar de Matamoros. Sales of the beer here have been better and the hope is this will help spread the word as almost all the customers are from other parts of the region and country.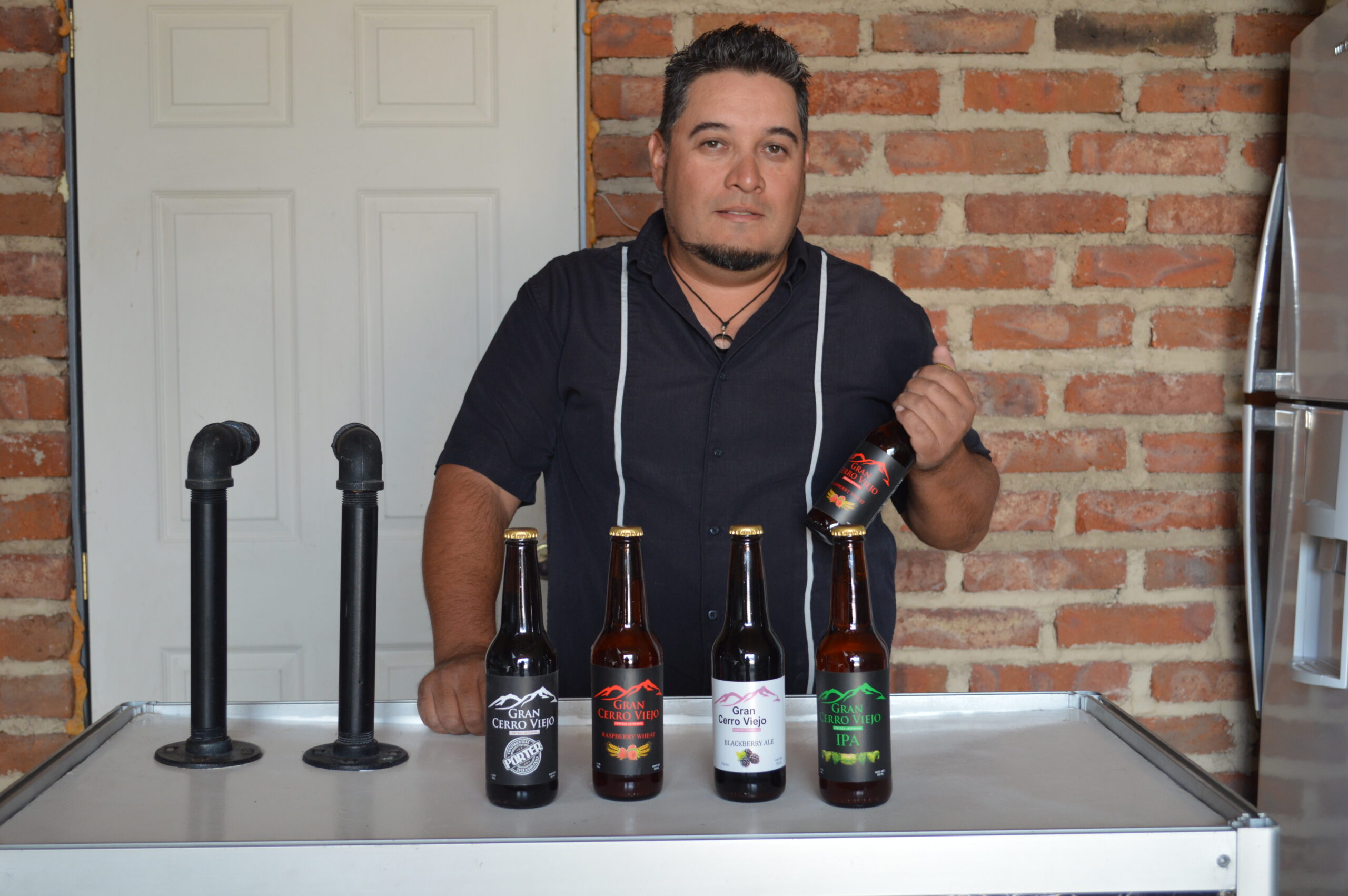 Sugar-based spirits
In certain regions of Mexico, sugar cane has played a significant role in the economy since the Spanish introduced it. But ask a Mexican if the country makes "rum" and the resounding answer will be "no." For Mexico, "rum" refers to what is made in the Caribbean, Cuba in particular. Some may even tell you that sugar cane "aguardiente" (distilled spirit) cannot be called rum by law (not true).
Sugar cane has been grown everywhere with the right heat and humidity. Veracruz tops Mexico's production by far with 38% of the total, but large fields can be found in parts of Oaxaca, Morelos, San Luis Potosí and even as far west as Michoacán and Jalisco.
There is no lack of "rum" production in Mexico, but it comes under a myriad of names hiding what they have in common. Charanda is named after an area now part of Uruapan. A little town in Morelos, simply calls its version "aguardiente de Zacualpan."
Charanda is the only Mexican "rum" with any status, as it has denomination of origin. Official production is limited to the municipalities of Uruapan, Taretan, Ziracuaretiro, Cortijo, Turicato, Tacámbaro and 10 others where it was made historically. There are only a dozen or so producers, but the recent denomination has raised its status. It is starting to appear more often in Michoacán restaurants and hotels, even in areas that do not produce sugar cane. However, there is no "charanda tourism" per se. The state established a Charanda Route and a Festival de Charanda in 2017, but both seem to have fallen by the wayside.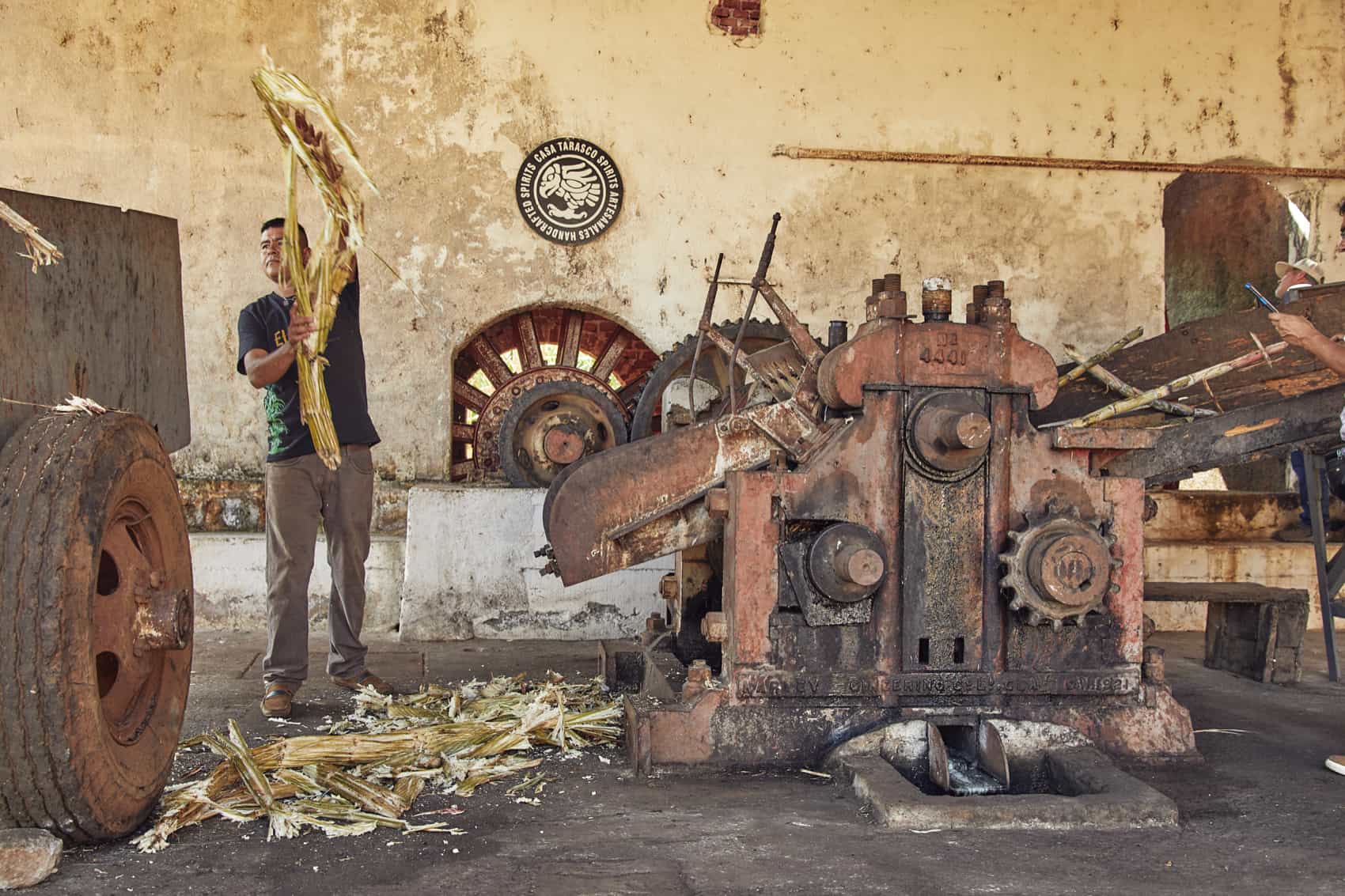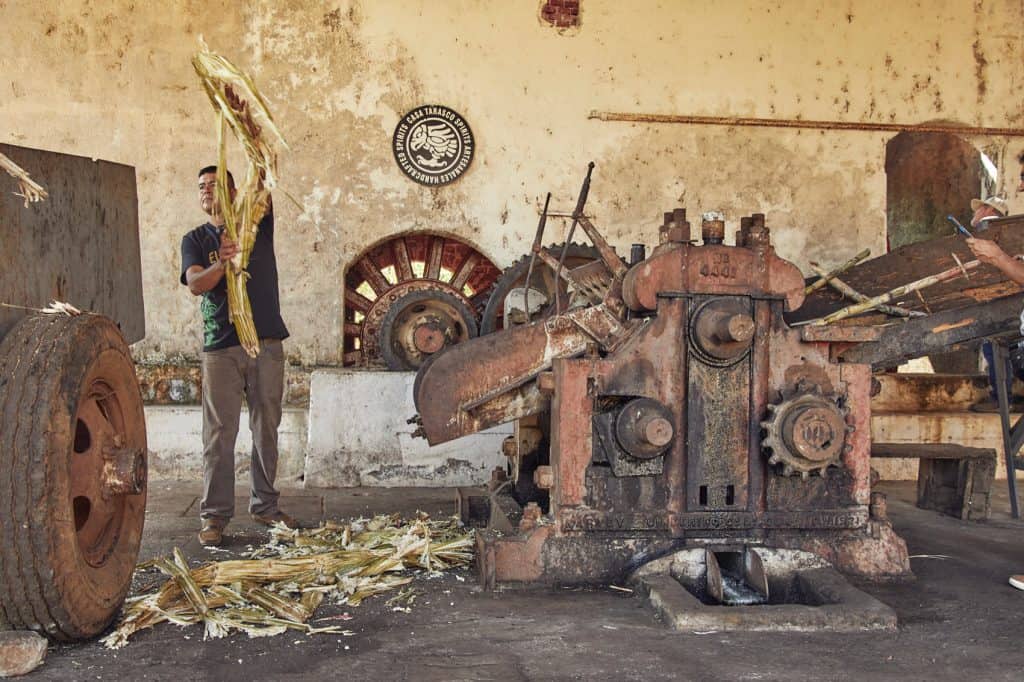 Most of the names related to Mexico's cane alcohol are preparations that use it as a base. In central and eastern Mexico, the addition of sweet fruits and other flavorings make for very popular digestifs.
You probably know one of them – Kahlua. It is "rum" flavored with coffee, sugar and sometimes other flavorings. It is a commercialized brand name for a class of digestifs called toritos in Veracruz, where Kahlua is made. Oddly enough, the Kahlua company does not offer tours.
Toritos and sweet liquors in a myriad of flavors. Toritos come in flavors like peanut and even strawberry. Egg flavoring produces rompope. In the Huasteca, the most popular digestif is the jobito, named after a small, yellow plum grown here. Oranges make for Toluca's mosco which is very sweet, but there is a chili pepper and vinegar version in other parts of México state.
One other non-sweet digestives are those made with herbs. The most popular of these is damiana named after the herb (Turnera diffusa). It is most popular in the northwest and Baja but versions can be found in other places as well.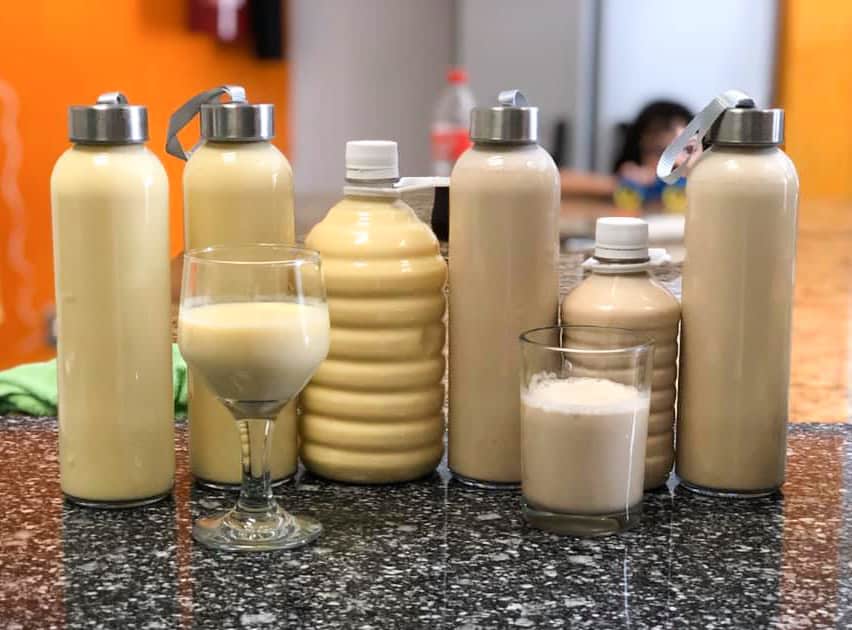 How to look for local spirits when you travel
The first is to look for tours specializing in the local beverage(s), and/or those which include them in a more general tour. How prominent a beverage will be in any tour offering will depend on its status with the overall tourism industry in the location (assuming there is one).
Tequila IS the reason to visit its namesakes and the surrounding municipalities filled with blue agave fields.
Twenty years ago, most tours in the Central Valleys of Oaxaca would have a stop at a "palenque" , especially a large mezcal producer like Benevá. Today, specialized tours for Oaxacan mezcal are available, stopping at various known and offbeat palenques. Often these tours will include mentions of other attractions among the palenques. Caminos de Mezcal will also promote the area's coffee production as it meanders through the Sierra Sur.
But not all regions producing significant amount of mezcals (by any name) are offering tours. In some places, like Durango and San Luis Potosí, the tourism industry is not sufficiently developed to have tours related to the state's beverages, and the general tours may or may touch upon them. In states like Michoacán, tourism promotion is concentrated only in certain parts of the state, meaning that producers outside of Pátzcuaro (for example) are pretty much on their own.
Tourism routes are often promoted online, but it really is "buyer beware" when it comes to this term. Too often, a "mezcal route" or "wine route" are nothing more than an advertisement for a tour or worse – something online and in brochures that the state government cooked up but never followed up on the infrastructure.
There are, however, at least two wine routes as we understand them – roads and maps marked off with places to visit for those wanting to wander around on their own. Baja wine country, not surprisingly, is home to one – Ruta de Vino. Although established 20 years ago, Querétaros Art, Cheese and Wine Route has really taken off attracting over 900,000 visitors a year, promoteing 27 wineries, along with local cheeses and more.
Seeing Querétaro's success, the small state of Aguascalientes made recent moves to create their own Ruta de Vino contracting with local artists and more to mark off wineries that accept visitors.
With vendimia (grape harvest) coming up, just about every winery, even those that generally are not open to the public, have promotional events. Events are relatively easy to find with Google searches for (state name) and vendimia to get lists and other hits such as this list from Zona Touristica.
Many states and localities have annual fairs that focus on and/or showcase local beverages. The Feria Nacional de Tequila takes place in its namesake town in March. Oaxaca's Feria de Mezcal runs concurrently with its internationally-famous Guelaguetza event in July.
The Festival de Vino Mexicano is held in September in Guadalajara with tickets available online. One with a bit more local color is the Fería de Vino y Queso, interestingly held in the spring and Comité Provino promotes Baja wine events year-round.
Just about any places that make alcohol from the local produce will promote it at some kind of annual event, generally at harvest time for the crop and/or the patron saint day of the municipality. For example, there are a few places like Zacatlán de las Manzanas, Puebla that produce a (barely alcoholic) cider, which is promoted in August.
For small towns like Zacatlán de las Manzanas, designation as a Pueblo Mágico is a significant boon for the local beverage industry. In many cases, outsiders had no idea that a certain alcoholic preparation was created before spending a weekend or so in the town. One example of this is Marina Artesanal, a local producer of flavored sugar cane alcohol from the Pueblo Mágico of El Oro, México state on the Michoacán border. Founder Marina Lopez Valezquez is highly dependent on visitors to the town finding her products in local restaurants and her own shop after they have arrived.
Tourism fairs
Mexico City and just about all of Mexico's states have fairs and expos related to tourism. For alcohol producers, these events are important not so much for direct sales but rather to get the attention of hotel and restaurant representatives to get product into these sales venues.
At the Tianguis de Turismo in Mexico City, all of the states had representatives from at least one alcoholic beverage, showing a wide variety of alcohols, both traditional and non-traditional.
Sandra de Leon is the trademarking manager of Yucatán-based Casa D'Aristi producing traditional liquors in the Yucatan. She says "Tianguis Turistico is very important for us because it is an important way for people to get to know our liquors. As we are far away from Mexico City, and although we have distribution here, many people still do not know our product."
Joel Garcia of the Zacatecas contingent says fairs provide the opportunity to "break paradigms" as to what a state can and does produce. In this state's case, it includes wine and mezcal almost side by side in a state often associated with cowboys.
Miguel Garza is a tourism analyst with the state of Nuevo León. Despite being "ground zero" for Mexican beer production, most people do not think to visit either Monterrey or its famous Cuauhtemoc Brewery. At the 2023 Tianguis, he was there promoting the mega- beer producers associate their product with northern cantinas and food like carne asada.
Like just about everything else about Mexico, the deeper you look, the more surprises you find. Mexico offers connoisseurs of just about any alcoholic beverage something worth trying, and its offerings continue to grow. It is clear that the country's large and diverse tourism industry plays a significant part in the development of markets for these beverages. The thing is that the situation for each production faces its own advantages and challenges depending on its location and overall economic situation.
8/17/23 – this post was updated to correct the name of the mezcal made by Luz Maria Saavedra and where it is produced. It is Nanakutzi Mezcal and it is made in San Francisco Etúcuaro.