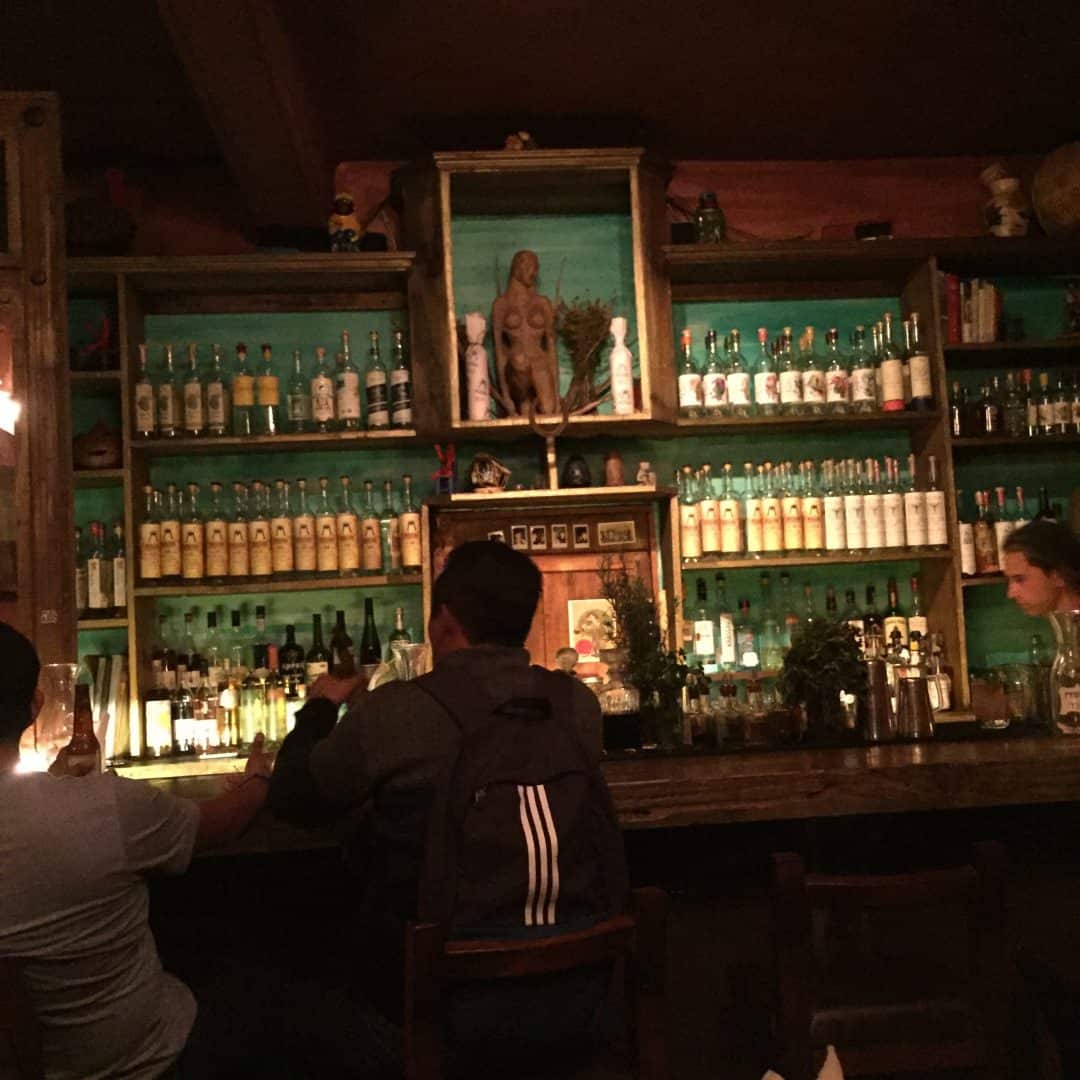 Your guide for where to drink mezcal, and more, when visiting Oaxaca. If you have any comments or additions just email us. And if you are looking to plan a mezcal tour, be sure to check out our page with a list of recommended guides and more .
Los Amantes – A tiny bar in a tiny room. You'll frequently find a guitarist in the corner and sundry other mezcal obsessives. Ignacio Allende 107, Centro, 68000 Oaxaca, OAX, Mexico
Archivo Maguey – You never know what is going to happen at this spot. Great regional Mixtec cuisine, terrific small production mezcals, and impromptu live music. Calle Morelos 509, Centro, 68100Oaxaca, OAX, Mexico. +52 951 350 0949
La Biznaga – A longtime favorite spot, especially among the snowbirds! We like it so much we devoted a post to it. NEW LOCATION: Av. Juárez 907, Centro, 68000 Oaxaca, Mexico +52 951 516 1800
Café Central – While their permanent physical location in Oaxaca is closed they run all sorts of pop ups so check their web site for the latest events.
Cuish – A slip of a bar outside of the tourist zone and all the better for it because real people might actually stop by for a tipple. Plus it's always more entertaining watching traffic crawl by and you'll have more time to chat up the bartenders. Cuish sources tiny batches from a variety of mezcaleros so their selection is frequently changing. If you like something, buy it, the bottles may be gone on that next visit. Díaz Ordaz 712Centro, 68000 Oaxaca, OAX, Mexico. They also just opened an expendio (store) on Macedonio Alcalá 802, Centro.
El Cortijo Mezcaleria – A chill spot across from the Camino Real hotel, you can enjoy mezcal from the El Cortijo brand alongside other mezcal in the collection. 5 de Mayo 305, RUTA INDEPENDENCIA, Centro
Los Danzantes – Los Danzantes is the full vertical operation: Smashingly designed high class restaurant, mezcal brand and a mezcal bar all wrapped into one. Calle Macedonio Alcalá 403, Centro, 68000 Oaxaca, Mexico +52 951 501 1187
El Destilado – A restaurant project from a pair of San Franciscans that also contains a fun bar up front that is stocked with some fascinating mezcals that Jason Cox has sourced from around Oaxaca. It's a few steps from Santo Domingo which makes it ridiculously convenient when you're in the tourist zone. Plus you can always order a snack or opt for the full tasting menu.  5 de Mayo 409, Oaxaca de Juárez, Mexico
Espacio Oaxaca – Part bar, part mezcaleria, part art space that features cocktails, special mezcales and rotating artists and expositions. Located in the Centro on Reforma 502a.
Expendio Tradición – A restaurant featuring high design and mezcals from the Chagoya labels. Mexican gastropub menu with dishes like goose burger and octopus. Plus lots of cocktails. Murgia esquina Reforma, Centro, 68000 Oaxaca, OAX, Mexico +52 951 501 1460
In Situ – The latest location of Ulisses Torrentera's mezcaleria is worth a visit to chat with this expert on all things mezcal even if he wasn't pouring tastings. His partner Sandra is fully bilingual and equally engaged with the mezcal world. It's also right across the street from the museum of Rufino Tamayo's prehispanic collection which is not to be missed. José María Morelos (Av. Morelos) 511, Centro, 68000 Oaxaca, OAX, Mexico
La Mala Cantina – A local haunt that mixes mezcal, artisanal beer, food and art. Calle de Tinoco y Palacios 303, RUTA INDEPENDENCIA, Centro, 68000 Oaxaca de Juárez, Oax.
La Mezcalerita – A one stop shop that features not only a great selection of mezcal, but also delicious, and local, craft beer and pulque. Also, Mexican wine! Macedonio Alcalá 706, Centro.
Mezcalogia – One of the new wave of mezcalerias which have swept Oaxaca in recent years. This one is owned by Asis Cortez whose family owns El Jolgorio so you'll find that brand well represented. You'll also find a fascinating selection of mezcals sourced from across the country and a vigorous cocktail program.
Mezcalillera – A mezcal store masquerading as a mezcal tasting room – or something like that. They have a large selection of mezcals, many not available in the United States, and they pour tastings of much of what they sell in addition to offering introductory and more advanced tastings. Murguía 403 A, Centro, Oaxaca City +52 951 514 1757
La Mezcaloteca – A fantastic little spot that specializes in bringing little known palenqueros to light. They're bi-lingual and are happy to walk you through the entire process of mezcal. Note that they are appointment only so definitely call ahead. Reforma No. 506, Col. Centro 68000 Oaxaca, Mexico +52 951 514 0082
Mis Mezcales – Great little store and tasting room with a selection of Mexican spirits, wine and more. Reforma 528, Centro, 68000 Oaxaca de Juárez, Oax.
Puro Burro – A cross border collaboration between Eric Giardina and Asis Cortes, Puro Burro is located inside the hospitality house Ofrenda. It offers up Mezcal, Raicilla, Destilados, snacks. Calle Ignacio Allende 211 , Centro , Oaxaca Miércoles -Sabado
La Querencia Mezcaleria – Tiny little space with a great selection of mezcal and beer and very much a fun vibe. Calle de Manuel García Vigil 603, Centro, 68000 Oaxaca de Juárez, Oax. Open 6 pm.
Selva Oaxaca Cocktail Bar – From the Los Danzantes team and upstairs in the same building, this is a gorgeous bar that invokes a bygone art deco era in a very Mexican way. High end cocktails plus a focused mezcal selection make this a great place to hang out. Calle Macedonio Alcalá #403, RUTA INDEPENDENCIA, Centro, 68000 Oaxaca
Taller Omar Hernandez – Omar is a ceramicist famous in the mezcal world for hand made copitas which are surfaced with casts from agave leaves. He sells those along with many mezcal inspired ceramics at his taller on the main drag in Oaxaca. Hidden in back there's a mezcaleria open at rather random hours. Stop in for the ceramics, see if you can taste some mezcal. Read our write up on his spot for more info. Alcalá 303, Oaxaca de Juárez, Mexico
El Pochote Market – See the map for location. Mid-block there's this organic market that contains an assortment of little mezcal stands. Closed Sundays and Mondays, open otherwise between c11AM and 6PM but hours may vary so be sure to check.
Reunion de los Palenqueros – See the map for location. A mezcaleria featuring mezcals from Reunion de los Palenqueros, a mezcal brand. Open during the day, check for exact hours.
Txalaparta Bar – This is a great bar with lots of mezcal, beer, music and more.. Mariano Matamoros 206Centro, 68000 Oaxaca, OAX, Mexico
Zandunga – Technically a restaurant but a restaurant with a full bar and a large selection of mezcal. It's right next door to Biznaga, across the street from Mezcalogia, down the street from Sacapalabras so right in the middle of agave spirit central.
Mezcal Tosba – If you can get to it, this is where Tosba is made. It's way outside the town of Oaxaca and they produce incredible mezcal. Susan chronicled her voyage there in our blog. Bricia and Fernando Lopez also have a nice video about their visit. San Cristobal Lachirioag, Oaxaca, Mexico