When you visit a place, trying its food and beverages is a must because it is a very accessible and tangible way to experience its history.
This is particularly true for a region called the Altiplano of San Luis Potosi (SLP or San Luis), a semi-arid region in the western part of the state. This area has been a crossroads for millenia, and starting in the early colonial period, its alcoholic beverages in particular reflect its history, culture and economic development.
The Altiplano Potosino is a regional sub-climate that occupies most of the state and a third of Zacatecas. Climate is determined by altitude, and wind patterns around the mountains that direct and block moisture from the Gulf of Mexico. It straddles the border between Mesoamerican and Aridoamerica. In the pre-Spanish period, this was the division between agricultural, city building cultures in the south and nomadic, hunter gatherer cultures in the north, both aware of each other's existence.
Pulque and the conquest
Fermentation of alcohol was likely unpracticed here before conquering peoples arrived from the south in the 16th century. The Spanish succeeded in conquering the Aztecs and other Mesoamericans in large part because they were able to take advantage of local and regional rivalry, recruiting allies with special privileges. One of these people in particular were the Tlaxcalans.
They and the Spanish were enticed northward with the promise of silver. The Mesoamericans had a part to play in all this, both in fighting then pacifying Guachichilis, the largest group of the Aridoamericans, and others, a task they had no issue with. There was no "pan-indigenous" identity at the time, and the Tlaxcalans in particular saw the northern peoples as barbaric as the Spanish did.
The Mesoamericans brought their language, culture, and with them. There are various Nahuatl place names in San Luis Potosi, including Tlaxcala and Tequisquiapan, two of the original barrios of the city of San Luis Potosi. The food of the Altiplano is quite recognizable to those familiar with the food of central Mexico, and many in the city consider themselves central Mexicans rather than norteños.
The pulque maguey plant was an important import. Although not native to the dry Altiplano, it could nonetheless be cultivated there. This maguey was important as it provides both foodstuffs and fibers. The plant's sap at maturity is a rich source of sugars, but when allowed to ferment into pulque, it also provides several B vitamins as well as calories.
Prior to the conquest, the consumption of pulque was highly restricted but Spanish conquest eliminated all prior rules, and pulque was now available to the populace.
Relatively easy to make and mostly rejected by the Spanish, pulque would become a poor man's drink, with both popularized and stigmatized. Like all other alcoholic beverages, it would alternately be banned and permitted, but its consumption was larged limited geographically because the fermented beverage keeps, at most, only a few days.
The heyday of pulque production was in the 19th century, when huge haciendas dominated the land, able to produce the drink in quantity and quickly ship it by rail to local cities including the state capital. Production fell during the Mexican Revolution as it disrupted agriculture and the train system. In the 1920s, there was a push by industry and Mexican authorities to eliminate the consumption of pulque in favor of beer, with the idea that it was more "modern" and was less associated with lawlessness.
Pulque production and consumption never completely ceased, but remained limited in small pulquerías, with a reputation for violence and crime. Today, the maguey and pulque are still produced in places like Lechuguillas, Mezquitic de Carmona, Matancillas and Maravillas, with the biggest threat to them now being the urban sprawl extending from the state capital.
Only very recently has pulque experienced a comeback with people in other social classes willing to explore this part of their gastronomic heritage. Despite being a very traditional pulqueria in many ways, La Flor de Mexquitic has become a locally-celebrated institution recently. This is in no small part because of the personality of its 80-year old grandmotherly owner, who tolerates no shenanigans in her establishment, allowing families to enjoy a weekend pulque and traditional food in a charming rural environment. Outsiders are welcome.
In the capital proper, brothers Tomás and Carlos Nava opened La Piquería in the historic center, reinventing an old bar from their youth. In addition to the typical beer and various "foreign" spirits, they have played an important role in promoting the state's pulque and mezcal to various socioeconomic strata. Carlos notes that "If we were considered insane for selling mezcal, we were considered raving mad for selling pulque." However, a place like this where people from various walks of life can enjoy a beverage without feeling out-of-place is important to returning these beverages to their rightful place in SLP culture.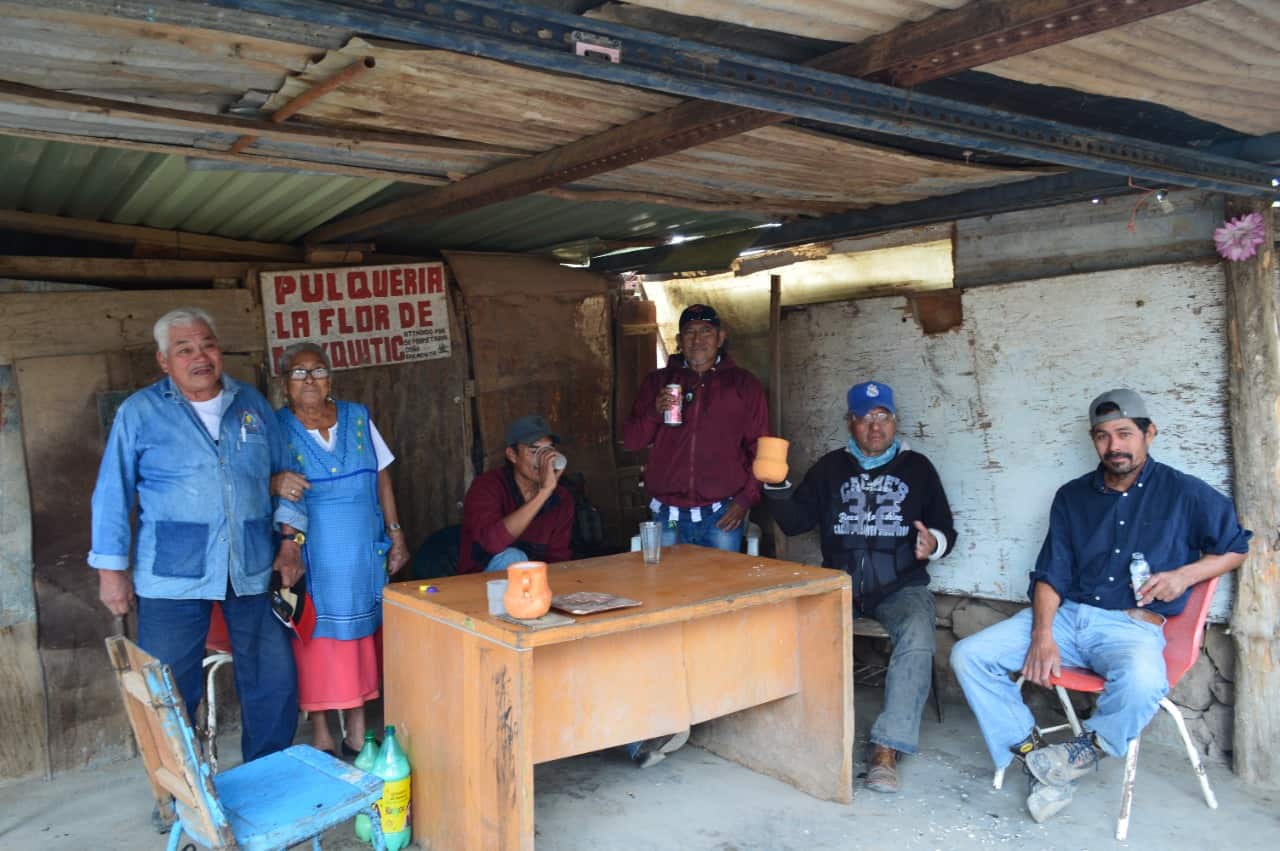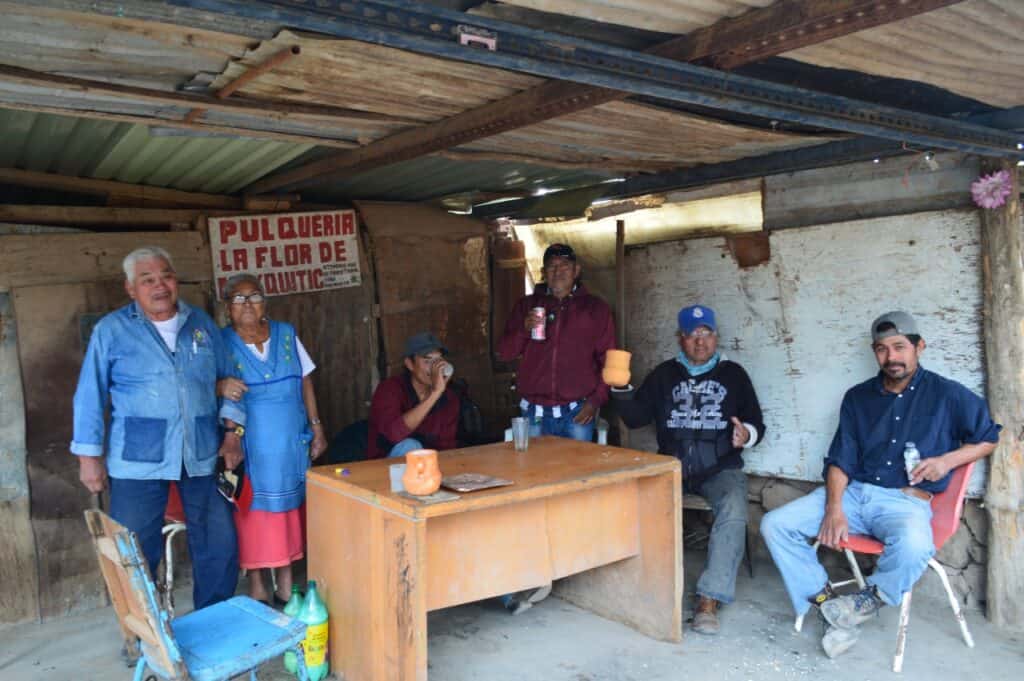 East meets West in SLP mezcal
As important as pulque is historically, mezcal has had a greater impact in the state.
Its history here shares much with mezcal in the rest of Mexico, with some local twists. It was certainly established by the 17th century, but one reason tracing its history is very difficult is because records are scattered in archives in Zacatecas and even the National Archives in Mexico City. The second problem is the official ban on its production for most of the colonial period means that most records have to do with legal actions against makers and sellers. Interestingly, these records reveal two important facts. The first is that the drink was so in demand by miners and travelers along the Camino Real de Adentro (Royal Inland Road), that the rewards often outweighed the quite significant legal risks. The second is that some of these records show that native Guachichilis and other Indigenous groups had not been wiped out soon after the arrival of the Spanish and Mesoamericans as previously thought, with references to defendants' ethnicities attesting to this.
Mezcal became an important product in the state in the colonial period despite prohibitions in 1585 and 1695 against all alcohol production in New Spain to protect wine-making in the mother country. These prohibitions were never completely enforceable, but it did steer alcohol making and consumption to that made from the wild agave found over most of Mexico. Enforcement waxed and waned until Mexico achieved its Independence. In 1724, the viceroy warned about mezcal production, but noted that the Jesuits were making it. Later in that same century, rations of the alcohol were included in food packages to Indigenous groups.
One story not told by the documents, but rather production techniques still used today is the east-west influence in the development of distillation in San Luis Potosi. Today, there are essentially three types of distillation processes that can be found. Ancestral uses a large clay pot still in which the agave mash is boiled and the condensation is achieved with the use of a small bowl full of water on top to cool the steam. This still is similar to many found in other parts of Mexico, although the use of large clay pots is fairly unique to San Luis. Artesanal refers to copper stills in which condensation is achieved by running the steam through narrow looping tubes in the air. The last is modern industrial tanks usually made of stainless steel.
The ancestral stills demonstrate Asian influence in Mexico's mezcal story. The basic setup is Mongolian in origin, making its way to Mexico via the Manila Galleon. Originally used to distill a beverage made with coconuts called tuba, the prohibition on this distillate turned bootleggers' attention to agave, and to the start of mezcal/tequila. The technique continued east towards San Luis Potosi. Here, alternative names such as the Huichol or Tarasco still (named after Indigenous groups in Jalisco and Michoacan) forget the Asian connection but indicate that their use was first established in western Mexico.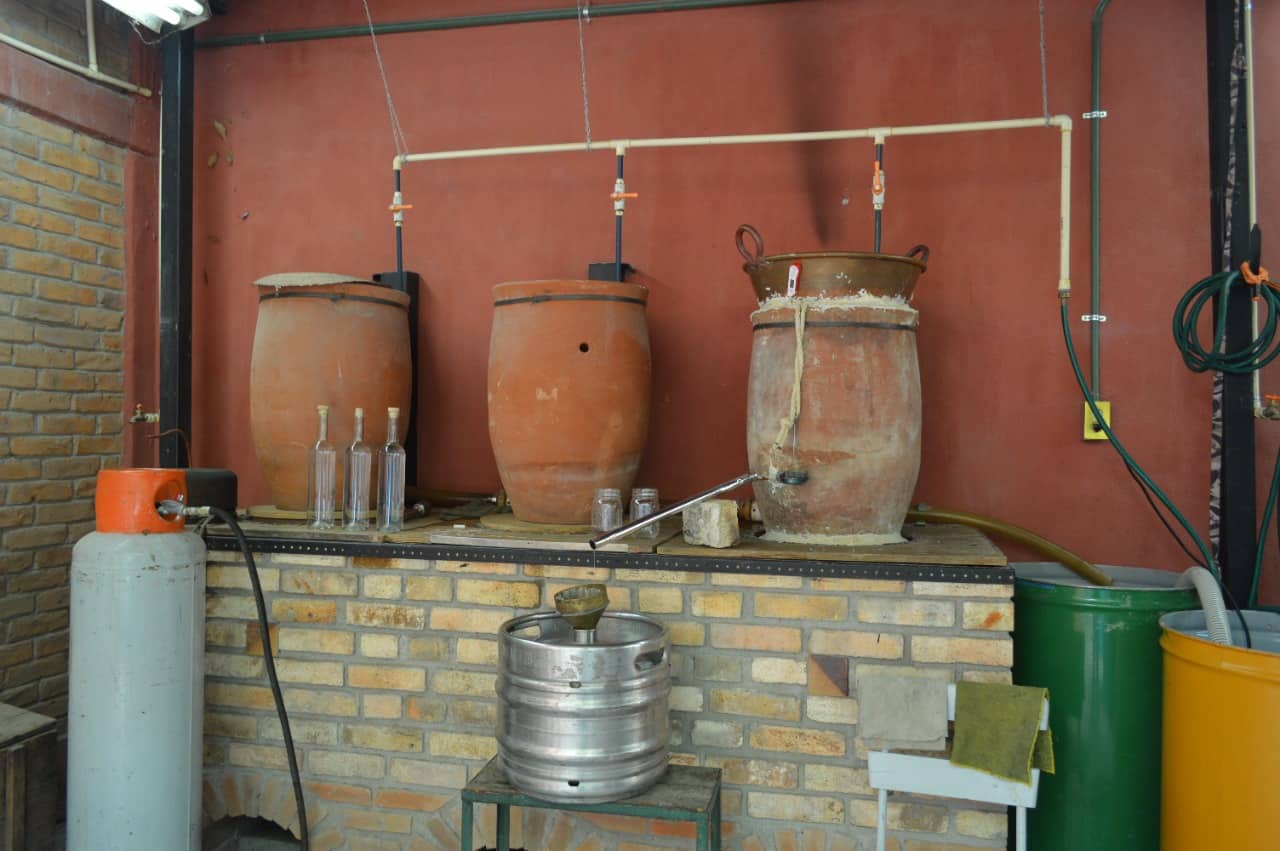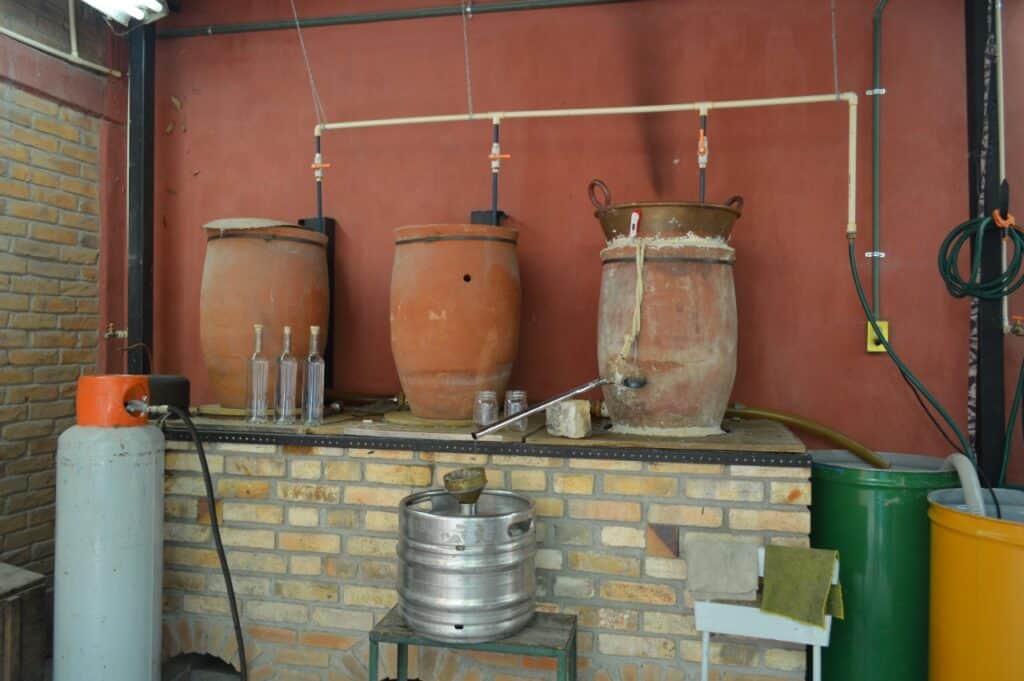 The artisanal still is essentially the one that the Arabs invented, brought to Spain when the Moors conquered the peninsula, where it would become important for the making of brandy. This still did not replace the cruder ancestral stills. Even today, the ancestral method is considered to be the most "authentic" and it can be seen in places like Palmar Segundo in Mexquitic de Carmona, home of the regionally famous La Campanilla. But respected producer La Flor in Ipiña, Ahualulco uses copper stills.
Stainless steel distilling equipment is a modern introduction and is relatively rare in the state, especially compared to the mega tequila industry in Jalisco.
Independence in 1810 ended the prohibitions on the making of alcohol, and mezcal production skyrocketed in the 19th century. The Altiplano was dominated by huge haciendas, which could harvest the wild agave, make mezcal and ship it. One important development was the building of railroad lines, which allowed these haciendas to ship their products to more markets. One important line was the Ferrocarril Central Mexicano which in the latter 1880s connected Aguascalientes, Zacatecas and San Luis Potosi (crossing all of the prime mezcal areas in SLP) with the port in Tampico. Product was not necessarily shipped to Tampico but rather to any of the many stops along the way. By the very early 20th century, 20 municipalities were producing, often in the same places making pulque. According to industrial heritage researcher Miguel lwadare, SLP became the main producer of mezcal in Mexico accounting for 70% of the entire country's production. Oaxaca would not take the top spot until 1935.
As with pulque, the Mexican Revolution disrupted this industry, a much bigger blow to the Altiplano's economy as mezcal was shipped to many more markets. Despite this, when the war was finally over, the industry did not recover in large part because the giant haciendas were broken up into smaller holdings and redistributed. Vast fields are essential to significant production because the wild agave salmiana native to the Altiplano produces less sugar than other species, requiring more tonnage of plant to produce the same amount of alcohol.
Mezcal was replaced by spirits such as whiskey and vodka in popularity, a trend reinforced in the later 20th century with the rise of globalism. Mezcal production nearly disappeared, with only a few families in very rural areas still making it, often clandestinely. In the early 21st century, mezcal began to make a comeback in Mexico and in SLP haciendas such as Hacienda de Bocas, Hacienda de Guanamé, Hacienda de Santa Teresa, Hacienda El Corte, Hacienda de Peotillos, Hacienda de Peñasco and Hacienda de San Antonio de Sauceda restarted production.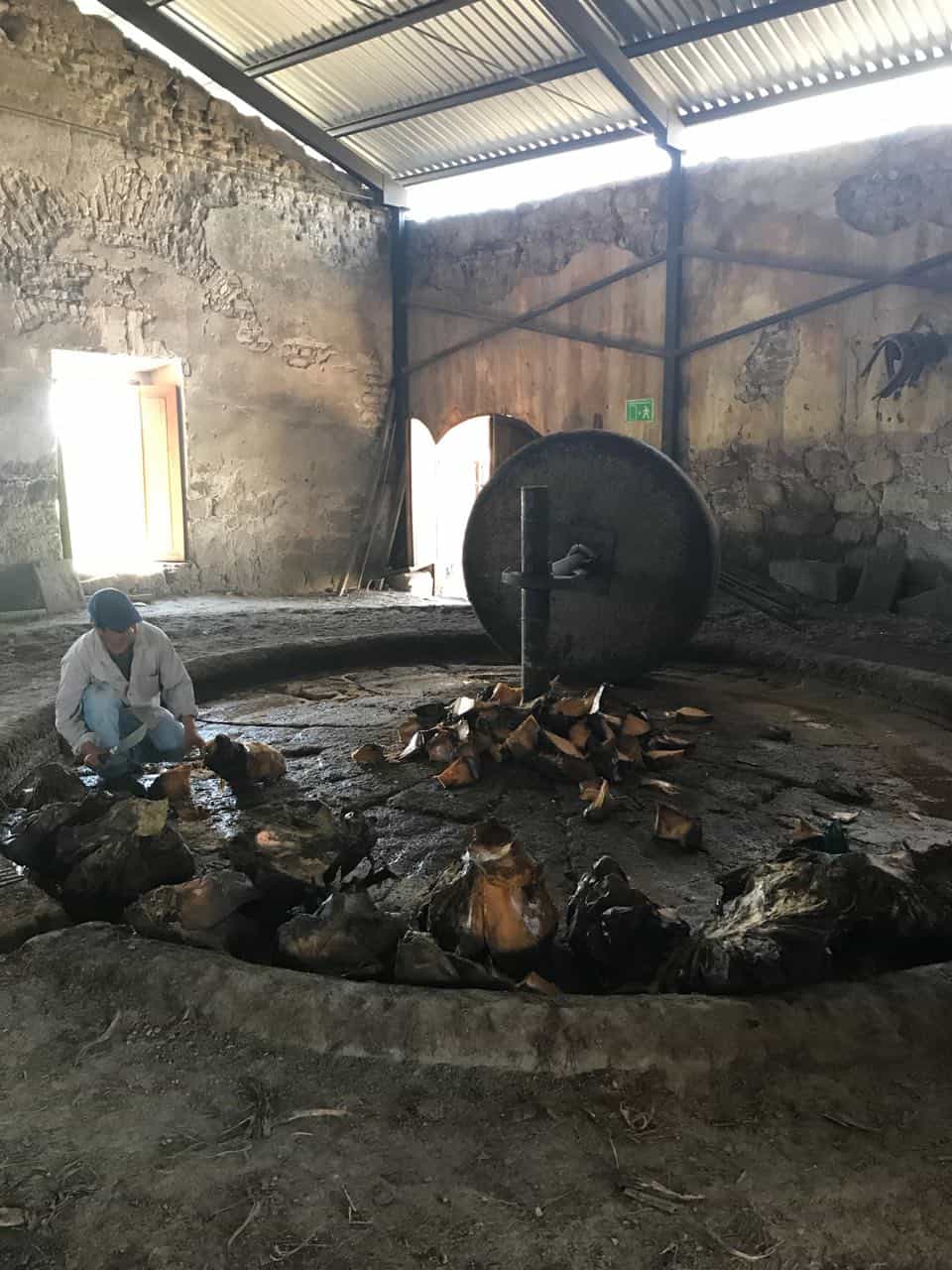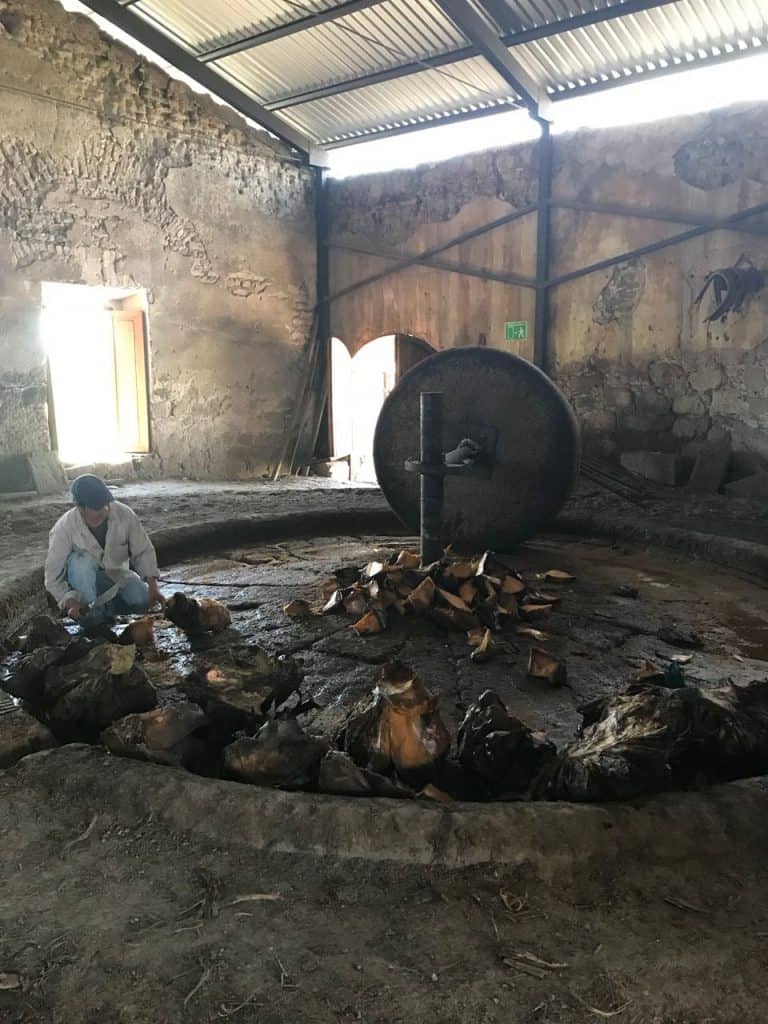 But challenges to many small and start-up producers today relate to regulations and high taxes. The state has tried to get more producers, especially those who have conserved traditional techniques, to register with entities such as the Instituto Mexicano de la Propiedad Industrial, and the Consejo Regulador. Those who have include Mezcal Ipiña in Ahualulco, Mezcal Laguna Seca in Charcas, Mezcal Santa Isabel in Villa de Guadalupe, which have been included in a nascent Mezcal Route program.
The last issue with SLP mezcal production lies with the exclusive use of wild agave. There are two species used in the state, maguey verde or mezcalera Agave salmiana var crassispina Trel. (which is also found in Durango) and maguey manso Agave Salminana var Crassispina also found in Zacatecas, Coahuila, Guanajuato and Nuevo León. Biologist José Luis Flores says the pressures on the wild agave is not yet as dire as in other parts of Mexico because the SLP's mezcal remains a niche product, something he expects will continue. A number of ejido (communal land) organizations have started growing the agave species in preparation in case that changes, but none of the fields are yet ready for harvest.
SLP's rich mezcal history means that the state's production has the same denomination of origin status that mezcal from Oaxaca and other states do. The mezcal boom came here a little late, says Tomas Nava but it is here to stay. The state's cultural and economic agencies are paying more attention to the product as it gains more national and even international attention.
Is wine SLP's future?
Various areas of the Altiplano are quite suitable for the making of one other alcoholic beverage – wine.
Wine grapes were planted here in the very early colonial period, but being impossible to hide, authorities managed to stamp it out. The idea of wine production (with the notable exception of Parras, Coahuila), did not come back onto Mexico's economic radar until the latter 20th century. The runaway success of Baja California wines have led various other regions to explore the viability of growing wine grapes, with SLP one of the newest emerging regions.
The Altiplano's geography gives it some unique economic advantages. The region began its modern economy with mining. When the silver gave out, what saved the city was its location along several major roads and railroad lines. Today, it has the added advantage of being halfway between Mexico City and the Texas border, meaning it has connections to Mexico's largest wine market and international markets as well.
Compared to mezcal, winemakers need little acreage to make a profit.
The Altiplano has a variety of microclimates and conditions with variations in rainfall, underground water supplies and soils because it lies in a transition zone between the Bajío and the Chihuahua Desert and the northeastern Sierra Madre Oriental. This means that quite a few varieties of wine grapes can be grown here. Although, as we will see below; there was a little winemaking done here as early as the mid 20th century, the Altiplano has captured the attention of oenologists and aficionados of emerging wine regions only in the past 10 or so years.
That attention is fostered by the region's balance between heat and humidity, compared to Baja California and the Bajío of central Mexico, says Argentinian enologist Matias Utrero who has worked in just about all of Mexico's major wineries.
Most SLP vineyards so far are found north and northwest of the capital which also overlap with its pulque and mezcal producing areas. SLP produces classic wines such as Cabernet Sauvignon, Merlot and Chardonnay, but can also produce lesser-known varieties such as Gewürztraminer, Cabernet Franc, Pinot Noir and even Nieluccio. Mexican sommeliers like Midred González of Pozo de Luna are optimistic about the market potential of SLP wine. Despite having no cultural connection to the product (indeed often mistaken as "cowboy" country), she feels the world is tired of California, France and Chile and looking for new and "exotic" places and flavors, and so is willing to be more open-minded about origin.
Depending on your point of view, modern winemaking here began 10+ or 70+ years ago.
The state's first modern winemaker is Viña Cordelia. It was established by Luis Abella, a refugee from the Spanish Civil War who made his way to Mexico in 1939. He and his family eventually settled in SLP, where they worked to produce milk, almonds and olives, planting a vineyard to make mistela, a sweet wine popular in the northwest of Spain. The wine was originally made for family and friends, but had some popularity locally. In 2014, the family decided to expand wine production into Malbec, Cabernet, Grenache and Chardonnay. Today, their wines can be found in 5 Mexican cities, with plans to increase production to 50,000 bottles per year but keep production small.
Viña Cordelia owner Jordi Abella credits the state's major producer, Cava Quintanilla, for detonating a wine industry here. Like the Abellas, the Quintanilla family migrated to SLP from the state of Hidalgo about 50 years ago, eventually establishing a thriving farm called Rancho Sureño which grows hothouse tomatoes and other produce for export to the United States.
Carlos Quinantilla traveled to France in 2010 and noticed that vineyards there existed in climates very similar to that surrounding his farm. In 2011, he imported a number of vines from the country and planted 20 hectares as an experiment. The grapes did extremely well.
He looked to the state to support the endeavor but despite the existence of Viña Cordelia, officials did think wine grapes had potential. So Quintanilla supported his development of both wine and eating grapes with his own resources, tapping into expertise from Casa Madero and other Mexican wineries, and hiring international experts. His first bottles sold in 2016, and quickly attracted attention from oenophiles looking for new wines.
Cava Quintanilla is considered to be the first major winery in the state, now with 120 hectares, growing 14 varieties: three whites, eleven reds and a rose producing 150,000 bottles per year. Quintanilla still has many hectares of greenhouses, but wine seems to be the future.
Quintanilla's success has spawned others in the area to start vineyards. Quintanilla sees this as a very positive development because the existence of a number of noted wineries raises the stature of all of them in the market.
SLP's wine zeitgeist continues with Pozo de Luna, founded by three SLP city businessmen and today run by Manuel Muñiz Werge and José Cerrillo Chowell. Like Abdella and Quintanilla, none had experience in wine, but they didn't have any experience in agriculture either, they were simply wine lovers that invested in three parcels of the former El Jaralito Hacienda on the northern fringe of the city.
In the early 2010s, they decided to have this land evaluated for possible wine grape production and when the results came back positive, they began investing in not only vines and equipment but also expertise, says sommelier Mildred González. That includes one of Mexico's most highly regarded oenologist Dr. Joaquin Madero Tamargo of Casa Madero. They started with Chardonnay, specifically because they wanted something to pair with Mexican seafood.
The result is a boutique winery with only 15 hectares producing about 150 cases per year for very niche markets. One reason for this is that they refuse to buy or sell grapes, insisting that they control the entire production for quality. Their wines are relatively young for the time being, generally 1.5 years from field to consumption. The first wines were produced in 2013, but the label was not established until 2016. But that same year, they won a number of awards from their first vintage of Sauvignon Blanc. Pozo de Luna credits the work of Dr. Madero for their rapid success.
Despite the desire to remain a boutique producer, Poza de Luna is expanding, with distributors in Mexico City, Guadalajara, Tijuana, Cancun, and 26 US states.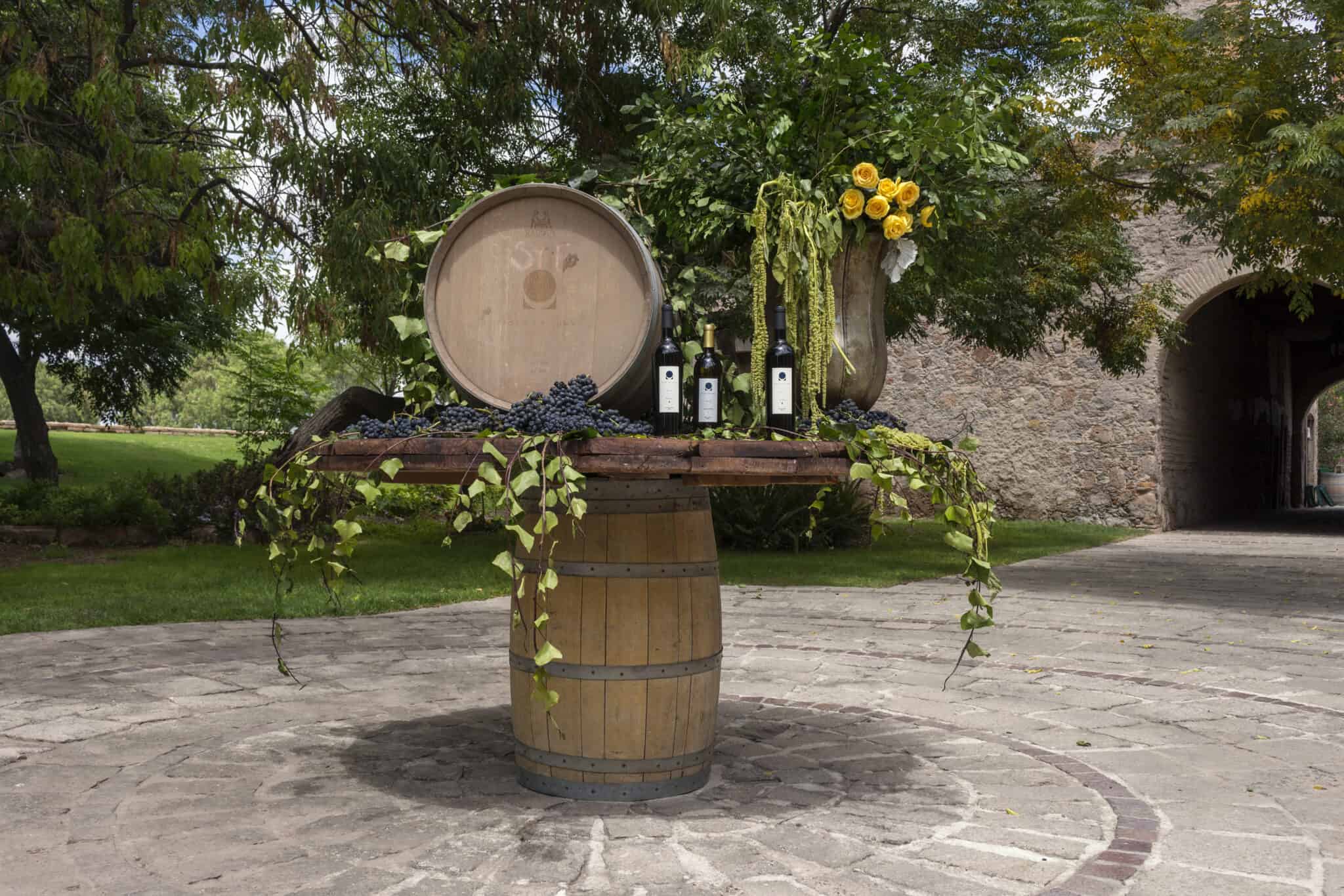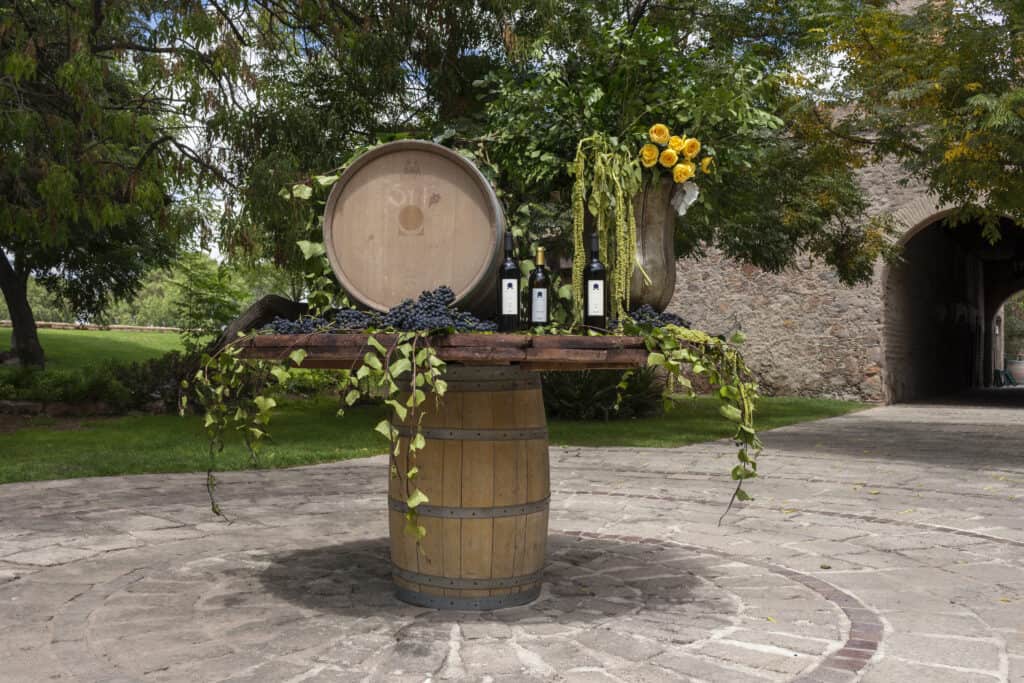 Other beverage possibilities
Oddly enough, just about all of San Luis' alcohol production is in the western Altiplano. The much wetter eastern portion can and does produce sugar cane, but does not have any significant production of rum. It did have one brand in the 20th century, Ron Potosino, that was created in1938 in Ciudad Valles. For several decades it was an extremely important company and product, exporting to the US and Europe. However, the company went bankrupt in 1966, and the rights were sold. You can find "Ron Potosino" today, but it is from Aguascalientes.
One traditional beverage on the brink of extinction is colonche, a fermented cactus fruit beverage. It is made only during a very short time when red, green and yellow prickly pear fruit is in season in the arid areas of the Altiplano. However, that cactus fruit was one inspiration for El Gran Tunal, an experimental distillery founded by Tomás Nava. He has experimented with all kinds of sugar-producing foods, making mezcal, rum and even cactus fruit gin. However, his main line of work these days is developing lines of whiskey featuring Mexican heirloom varieties of corn. Work like this is important because these products have the potential to support Mexican farmers in ways that selling produce does not.
The challenges of beverage tourism in the northeast
One of Mexico's main industries is tourism and Baja California has had wine tourism for decades; however, San Luis has a ways to go to take advantage of its spirits culture in this way, despite the fact that the area is easily accessible to tourists from both Mexico City and the Texas border. First, both pulque and mezcal were considered "poor peoples' drinks" for decades, hardly worth attention by locals, never mind outsiders, but there has been progress in this regard. The other stumbling block is that not all of Mexico has benefited equally from the country's tourism industry. Federal authorities have focused on the Pacific coast, Yucatan and parts of Central Mexico, with most foreigners and even most Mexicans thinking that mezcal is almost exclusively produced in Oaxaca. North-central and northeast Mexico has hardly received any attention from tourists or foreign immigrants, many of whom mistakenly believe that the vast region is very dangerous and/or there is nothing to see here.
So there is a kind of chicken-and-egg issue. States like San Luis Potosí need to see tourists come in to justify investment in services for them, and tourists need to see certain infrastructure to sense that they are welcome and the state is worth their while.
There has been nothing to entice tourists to explore pulque. Only very recently, there have been a few articles and TV spots about Doña Chencha, the owner of La Flor de Mexquitic bar, and one article in English. For English speakers interested in the topic, your best bet is to contact La Piquería bar in San Luis Potosí city, as both Nava brothers are native speakers (their mother is Australian) before you go to the state/city.
The situation is less dire for mezcal, but tourism here is still in its infancy. The economic and critical successes of brands such as La Penca, Metiche Joven, San Martín and Corneta Dos Cuñados have helped to get some cooperation from the city's and state's tourism authorities. When I was there in the spring of 2022, I found only some information about a "Mezcal Route," but it was impossible to find out details or even contact a tour company. It was only after the fact I learned of Mezcalistas' research on the topic.
Since then a new website has appeared/been revamped which does detail a number of municipalities related to mezcal production, other attractions in them,but no direct contacts with distilleries. The site pushes contacting one or more "authorized tour operators" to be found at hotels and state tourism offices rather than providing information needed to travel on one's own. Hopefully that will change in the future. One reason for this is connections, but it is true that producers are far apart and often not prepared to take in unexpected visitors. Mezcal producers that are often on tour companies' itineraries include Laguna Seca, Santa Isabel, Zaragoza de Solis, Santa Teresa and Ipiña as they are fully registered with authorities. In July 2022, the state opened the La Marca Ciudad tourism center on the "libre" highway between Villa de Reyes and San Felipe, mostly to promote Villa de Reyes and its mezcal and wine, which also has an archeological site. For help in English about SLP mezcal while in the capital, La Piqueria is a good place to start. Not only can it help orient you as it can with pulque, you can try various brands here to find out which distilleries pique your interest.
One tour operator that does come recommended by researchers, Mezcalistas and La Piquería is Auténtico San Luis run by Miguel Galarraga. It has tours in Spanish and English about the state's various beverages called Bebidas Ancestrales, and those to well-known spots such as La Campanilla and Doña Checha's place. Mezcal de Haciendas focuses on the major production sites and includes mezcal cocktails.
The wineries are behind mezcal although tourism is more important to this beverage in general, and there are still different experiences to be had. Cava Quinanilla is a classic winery experience, surrounded by acres of vineyards in a rural environment. Carlos Quintanilla acknowledges that tourism is an important part of developing a wine industry, and is important to him because their location in the Valley of Moctezuma west of the capital is poor and "receives little attention from state authorities." Despite all this, their latest harvest festivals have attracted over 1,000 visitors mostly from Northeast Mexico and Mexico City. As of 2022, the winery was still in the process of building a restaurant and lodging, and visits are still by reservation only with groups of 10 or more.
Instead of denying its urban environment, Poza de Luna takes advantage of it. The restaurant complex under construction is set to open in spring of 2023, and is built in a kind of urban chic with both fine and casual dining. Also in progress is a garden in the middle of the vines to rent for special occasions. Lodging is lacking because the business is looking to day visitors, logical given its location.
Both wineries hope that their tourism efforts will pay off not only as another income stream but help promote and clarify the state's agricultural heritage in people's minds as well as help foreigners locate the state on a map. Both are extremely optimistic for the long run, noting that Mexico's and the world's consumption of wine continues to grow beyond what the country can currently produce.