The growth of the Mexican wine category is very exciting, though not without challenges, particularly when it comes to competing with Mexico's neighbor to the north, the juggernaut of the California wine industry. But as high end Mexican dining in the United States helped open the door for mezcal, mezcal has opened the door to a variety of Mexican craft spirits, and now Mexican wine.
Mexican wine has been on our radar for a while, in fact at our first Mexico in a Bottle in San Diego we featured several wineries, and a trip to the Valle de Guadalupe in Baja is something we were aiming to do before Covid got in the way. Located just a couple hours south of San Diego, it has become an increasingly popular getaway for not only Mexicans, but also for folks in Southern California. A mecca of delicious food, it has staked its claim as the Napa, or Sonoma, of Mexico.
The stars finally allowed for a getaway, and the morning after our recent Mexico in a Bottle, I jumped in the car with Chris Pastena, owner of Calavera and Chop Bar in Oakland and we headed south where we would meet up with the rest of our group. Our fearless leader was Tom Bracamontes, founder of La Competencia Imports. He has slowly been building a market for Mexican wine in the United States and organized our whirlwind adventure to visit several of the vineyards he works with.
It's been two long years since I last stepped foot in Mexico and it felt strange that my first foray south would be to drink wine and not mezcal, but I am never one to pass up a road trip opportunity. As we sailed through the border, and wound our way around Tijuana, I couldn't help but notice all of the agave that dotted the landscape, the quiotes swaying in the wind. Spoiler alert, we did not stumble across any hidden palenques, though we did hear mention of a few people trying their hand at distilling local agave.
The roads here are easy to navigate, the signage clear, and while there were a few topes, it was nothing like driving the backroads of Oaxaca. The turn off from the coast to the Valle takes you through the coastal mountain range. They were brown, a reminder that this area is a desert, more so after several years of drought. While the comparisons are made to Napa and Sonoma, the landscape is more what you find in Palm Springs and Joshua Tree, rocky hills, cactus and desert shrub. The rise of the wine industry here is coupled with a serious water issue that is amplified by droughts, so it was disconcerting to descend into a verdant valley. Irrigation is the lifeblood.
Our first stop is Bruma, an architectural wonder. Like most vineyards in the Valle, it produces both white and red wines. It is also home to Fauna, the world renowned restaurant created by David Castro Hussong. We are led to the private tasting room which overlooks the northern end of the Valle. A cheese platter was placed on the table and featured an incredible selection of local artisan cheeses, marmalade and olive oil. The olive groves have taken hit with the drought and many have been left to fend for themselves as water has become more precious and is prioritized for grape growing.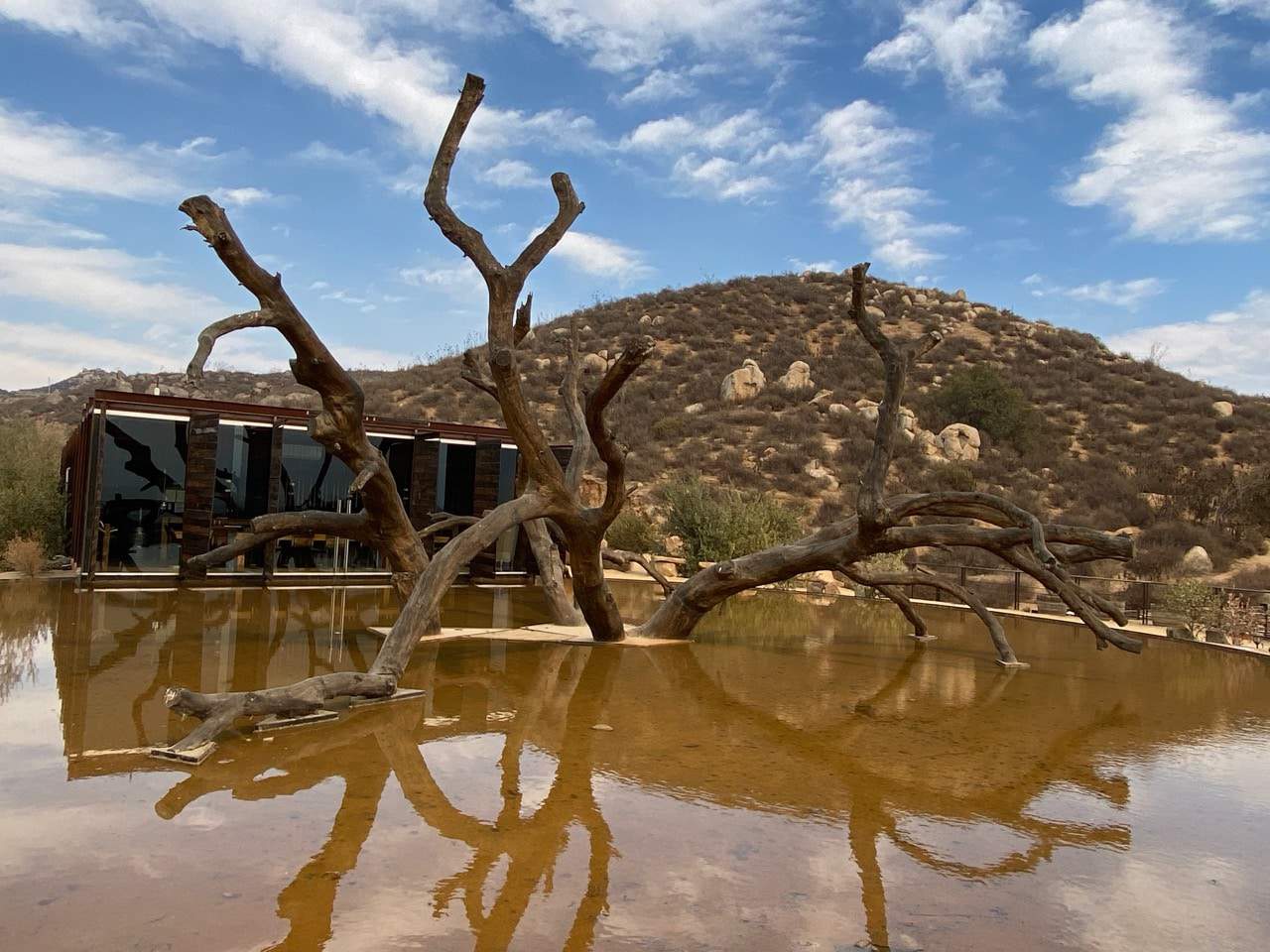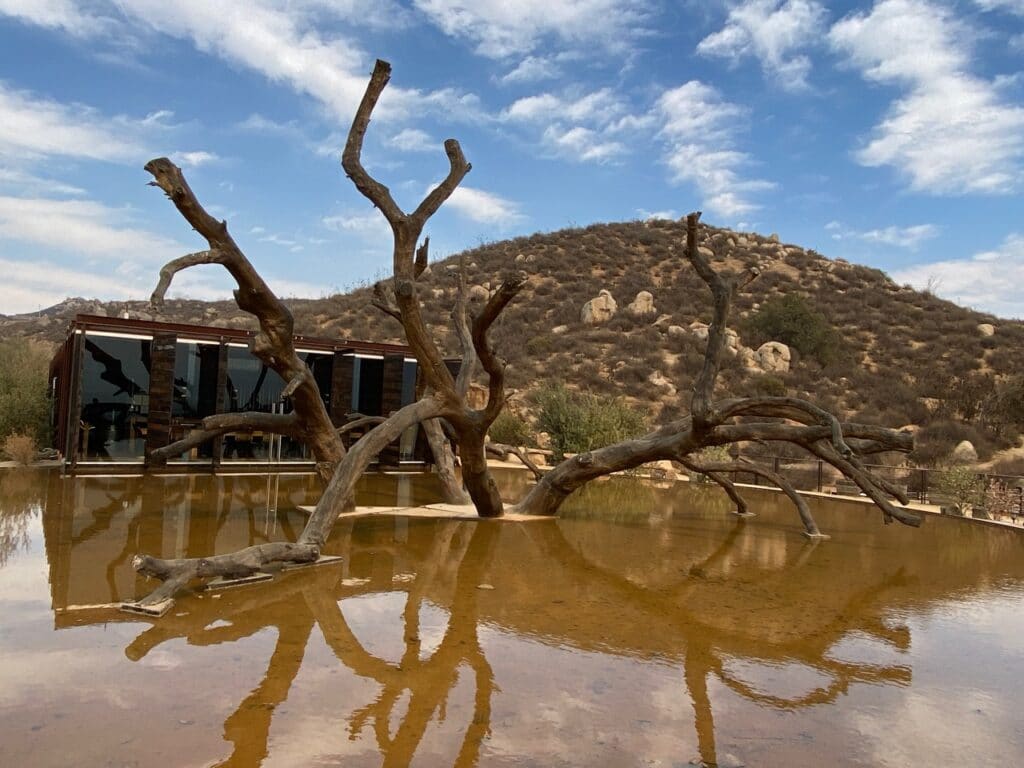 Bruma's winemaker is a young woman named Lulu Martinez Ojeda and she is known for her innovative blends and "minimal intervention" approach, which is to say not quite natural wines, but close. We sip through a Carignon Noir, a white wine made with the red Carignon grape, a Sangiovese Rose, a Sauvignon Blanc, and then a red made from an ensemble of six varieties including Mourvedre, Grenache, Syrah, Malbec, Merlot and Montepulciano. I hear Tom explain that Lulu, like other young winemakers in the valley "are breaking all the rules" when it comes to creating these blends. Later, I ask Tom what that means and he explains that so much of winemaking is based on a European model where identity and quality are defined through traditions and customs, and protected by regulatory councils. Winemakers in the Valle are playing around with everything in creating their own unique flavors and identity based on their ideas rather than the traditional models.
More than 126 varietals of grapes are being grown in the region, which gives winemakers a lot to play around with. About 40% of Bruma's production is estate grown grapes, with the remainder coming from Lulu's uncle, a renowned grape grower in Valle de San Vicente, the southernmost wine growing area in Baja. The wine is absolutely delicious and created to pair with food which we discover during our lunch at Fauna. Making our way to our table, we notice a smell of smoke in the air and a haze in the valley. We see a plume rising from a ridge in the distant, and as we sit, we need to brush the ash that has fallen from the table and our seats. The wind changes direction and just like that, the smoke smell and ash have disappeared and we go on to enjoy an absolutely incredible lunch of roasted broccoli, sashimi, grilled octopus and oysters with a clarified roasted tomato sauce (!) I actually giggled with joy when this were announced as a menu special, I mean really, clarified roasted tomato sauce!!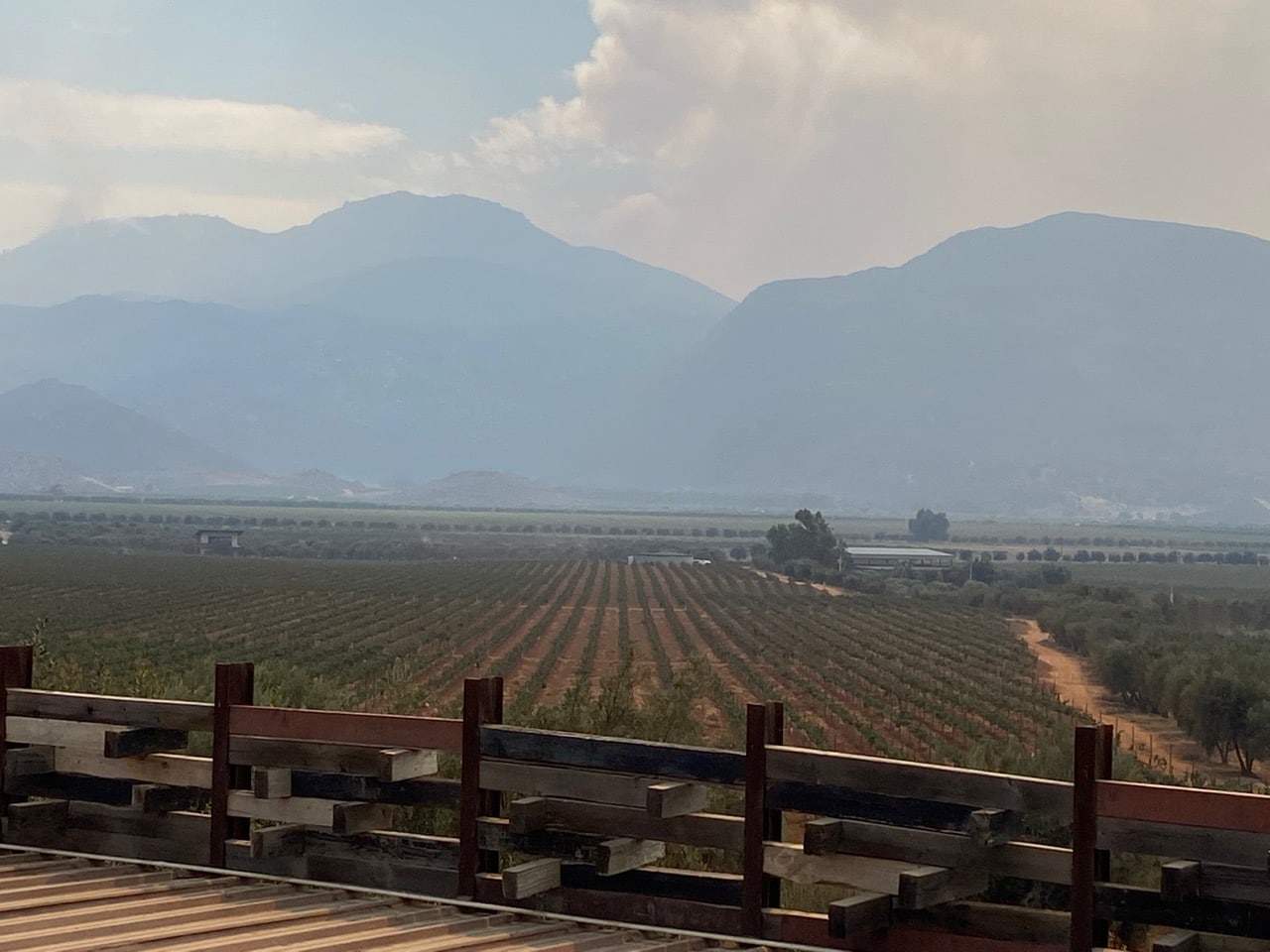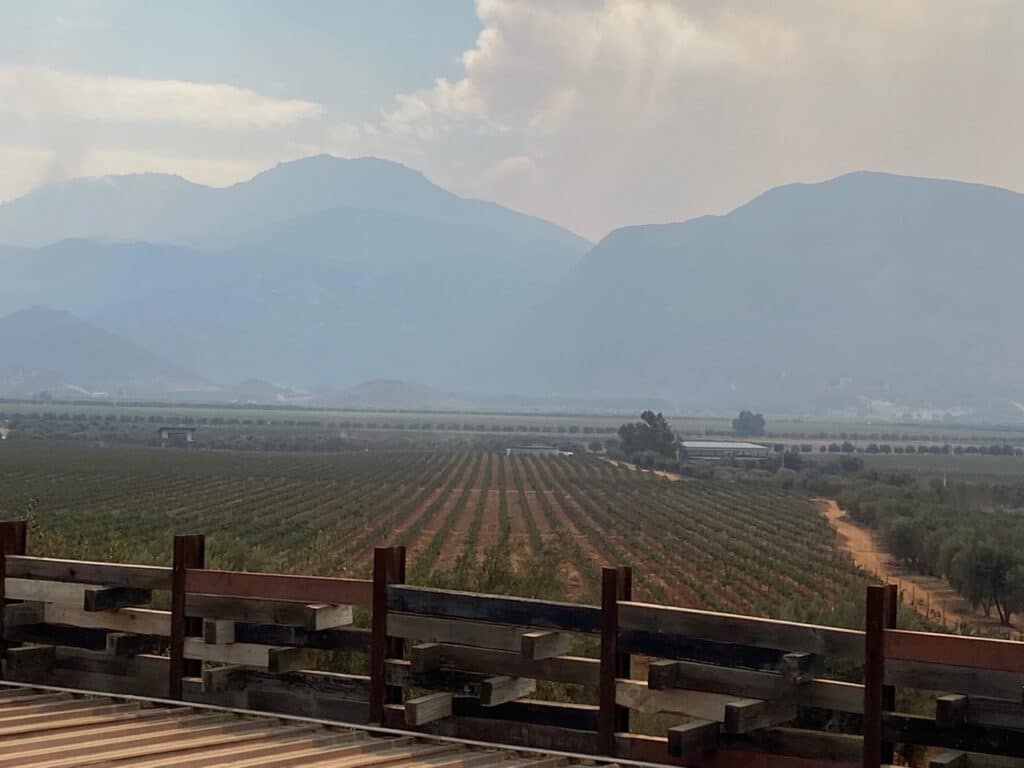 Our next stop of the day is Adobe Guadalupe Vineyards and Inn. While Bruma is the perfect example of the modern architecture of the Valle, Adobe is the embodiment of old school colonial architecture. The hacienda is grand and built in the traditional closed square surrounding an open courtyard. It feels old school in the best way. We are introduced to owner Tru Miller while standing in a cook's dream kitchen – spacious and airy but everything within easy reach. The walls are adorned with wooden clogs, a nod to Miller's Dutch roots. We are led to the tasting room, passing fields of grapes with a row of agaves near by. There is a change in the air and it smells like rain. Most of the harvest is done for the season but there are still some grapes on the vines. A classic conundrum, rain is desperately needed but just not right now as it could cause the hanging grapes to mold.
The tasting room is in the wine cave, where the barrels are stored. It is cool and musky. We are led through a tasting of Sauvignon Blanc, a Tempranillio and then a series of red blends – full bodied and yet like Bruma's perfectly balanced to pair with food. Adobe's winemaker is Daniel Lonnberg, a Chilean who made his mark in the Chilean world of wine. Something that every winemaker (and grower) wrestles with in the Valley is the salinity issue. The desert environment, which is perfect for creating a minerality in the terroir, also harbors salt given its proximity to the ocean, and the boom and bust cycle of rain. It gives unique characteristics to the wine, and probably creates a unique relationship between the grower and winemaker.
It's at this second stop where we really start paying attention to the bubbles that sometimes appear in our glasses. Traveling with Erick Rodriguez is always an experience because of his attention to little details – like bubbles. He asks our guide if the bubbles in the glass are an indication of alcohol content. No is the answer but we don't get much more information beyond that. As we make our way to leave, it is clear it has rained a little, and the clouds in the sky have become a little more threatening. We grab a bottle of wine from the Adobe tienda and head toward our dinner destination, Deckman's, an outdoor restaurant nestled against hill overlooking the valley founded by Drew Deckman and his wife Paulina.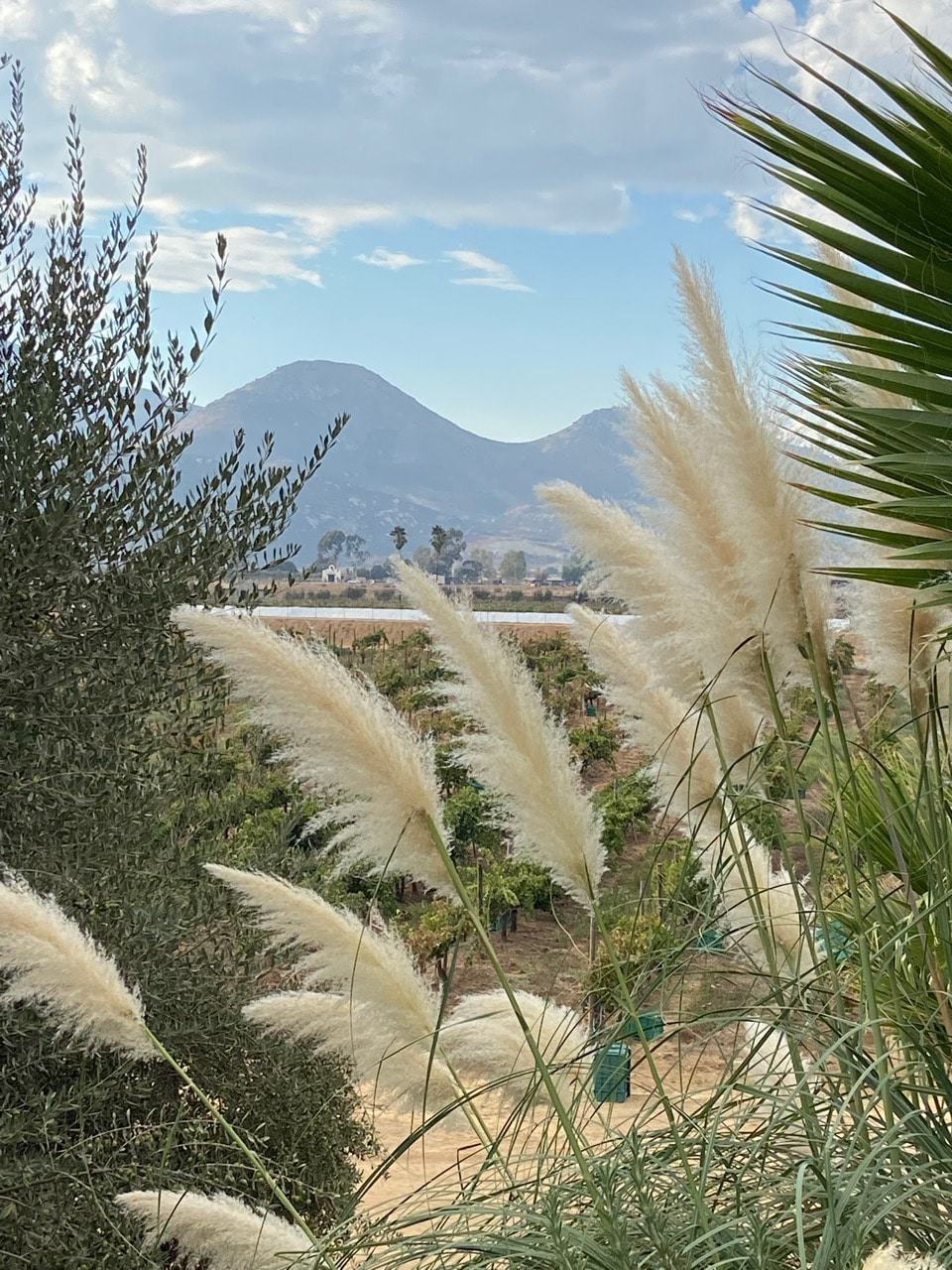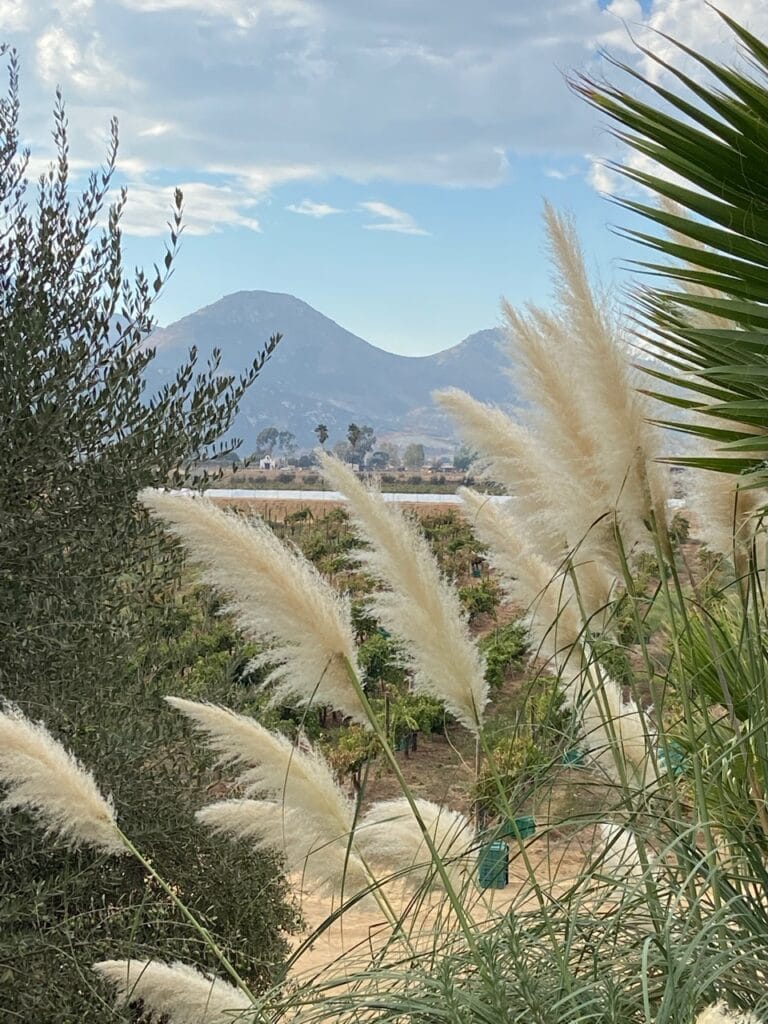 Parked at the entrance of Deckman's are several fire trucks and federales, presumably resting from battling the fire just over the ridge. The sky has darkened further and it is clear we are about to get hit with major rain. As we are seated in an area covered by a tin roof, we hear the rumble of thunder before the sky opens and heavy rain begins to fall. Lightening zig zags across the horizon and the thunder booms louder. I look over to the open air kitchen and wonder how dinner will come together. Miraculously, courses arrive, perhaps more slowly than usual, and we eat and drink to our hearts content. It is still raining when we eventually leave to head to Ensenada where we are staying. We chase the storm and as I settle into my hotel room, I make my way to the terrace, covered, and watch the lightening play over the water. It is beautiful.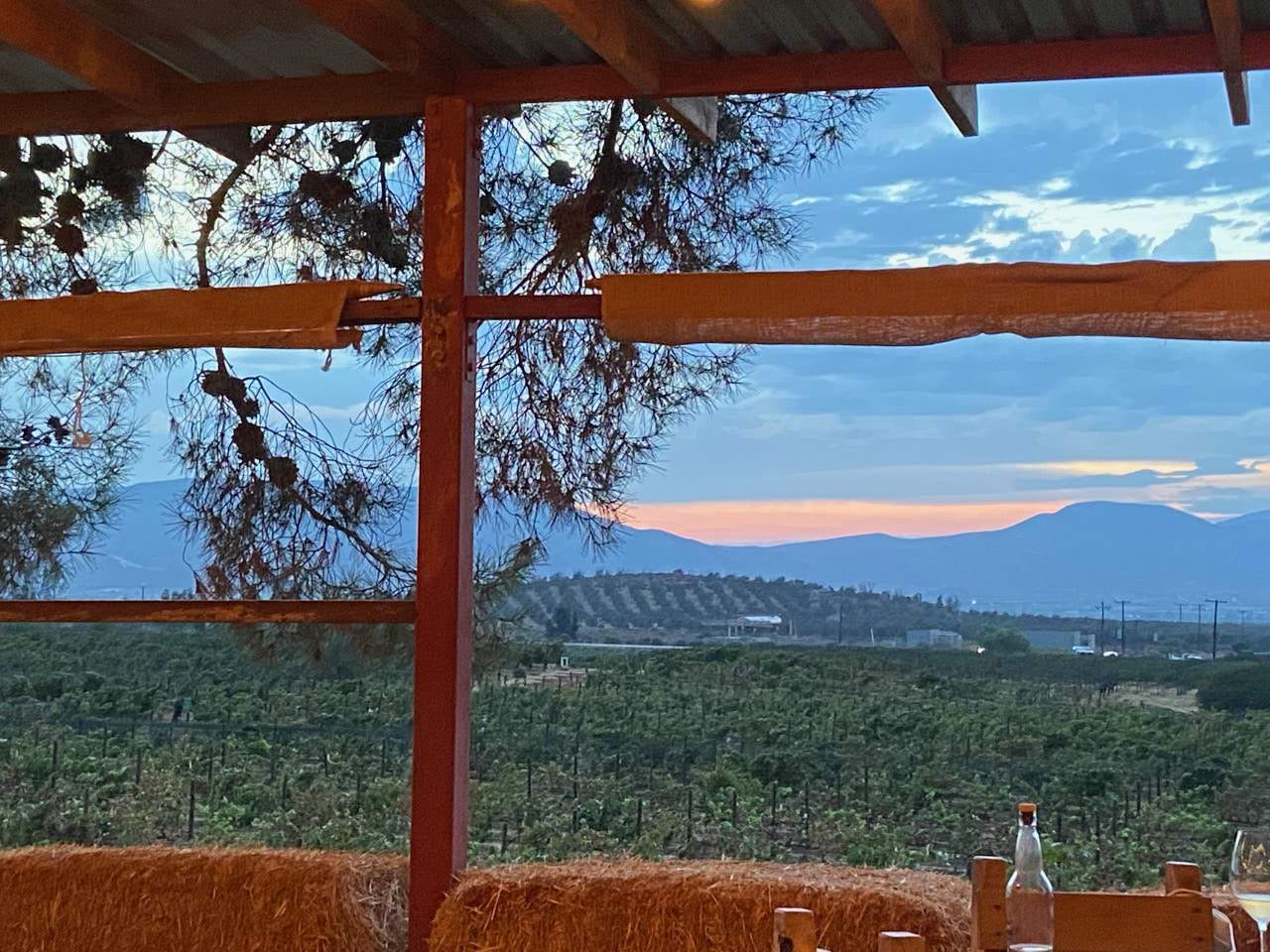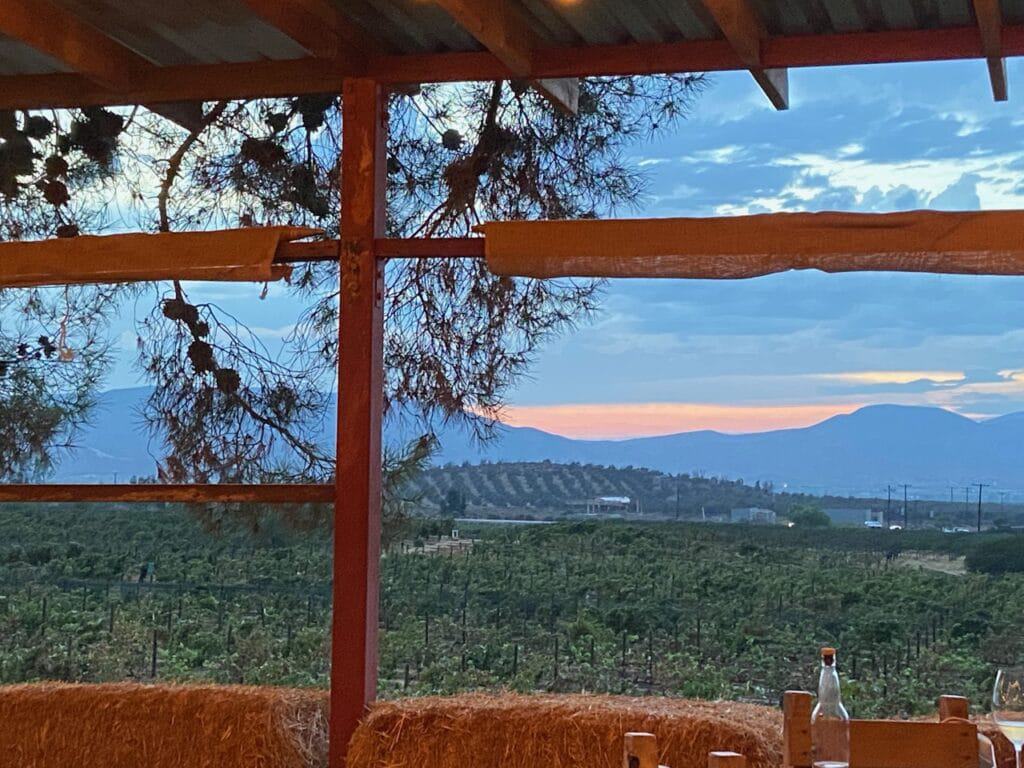 It is humid the following morning as we gather to head back to the Valle. Puddles are everywhere and the sky is a bright blue, the rain having cleared out all dust and haze. Our first stop is at a complex of micro wineries, including Vinsur, the side project of Daniel Lonnberg. They are finishing the year's harvest with several tanks full of fermenting grapes. It is an incredible sight, and Lonnberg moves the top layer of grape skins and other detritus so we can see the juice bubbling below. We taste thru several wines including an incredibly crisp Rose that is perfect for a hot day like today. It is at this small warehouse where Lonnberg experiments with blends – another rule breaker in the Valle as he blends varietals at different percentages to craft some truly interesting wines which again are made with an eye to pair with food. This might in fact be the unique aspect of wine in the Valle, its symbiotic relationship with the innovative food scene the region has become known for.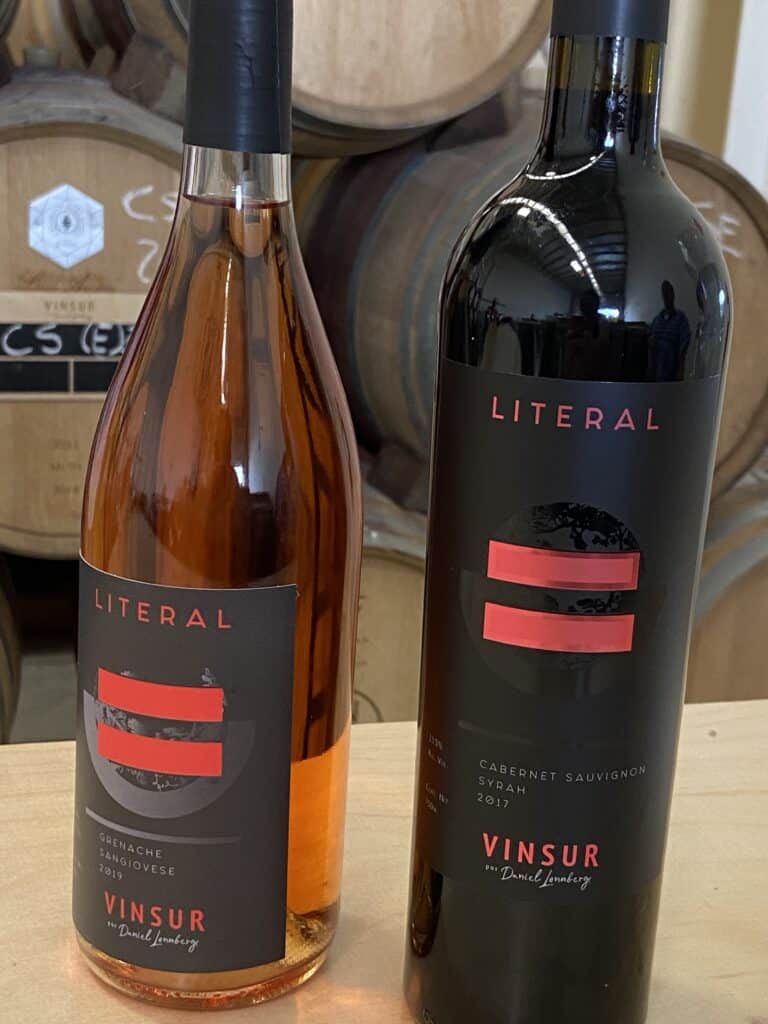 From the warehouse, we walk across the parking lot to Aguamala, a craft cerviceria. We taste thru a Japanese style lager, a hard seltzer and a seasonal stout so full of flavor. There is also a light pilsner and an Imperial IPA, though it only clocked in at 7.6%. A direct translation of Aguamala is bad water, but in fact it means jellyfish in slang. Founded in 2005 in Ensenada, it is deeply tied to the ocean and the flavors and expressions of each beer is meant to reflect the diversity of marine life. The labels are beautiful and reflect that spirit.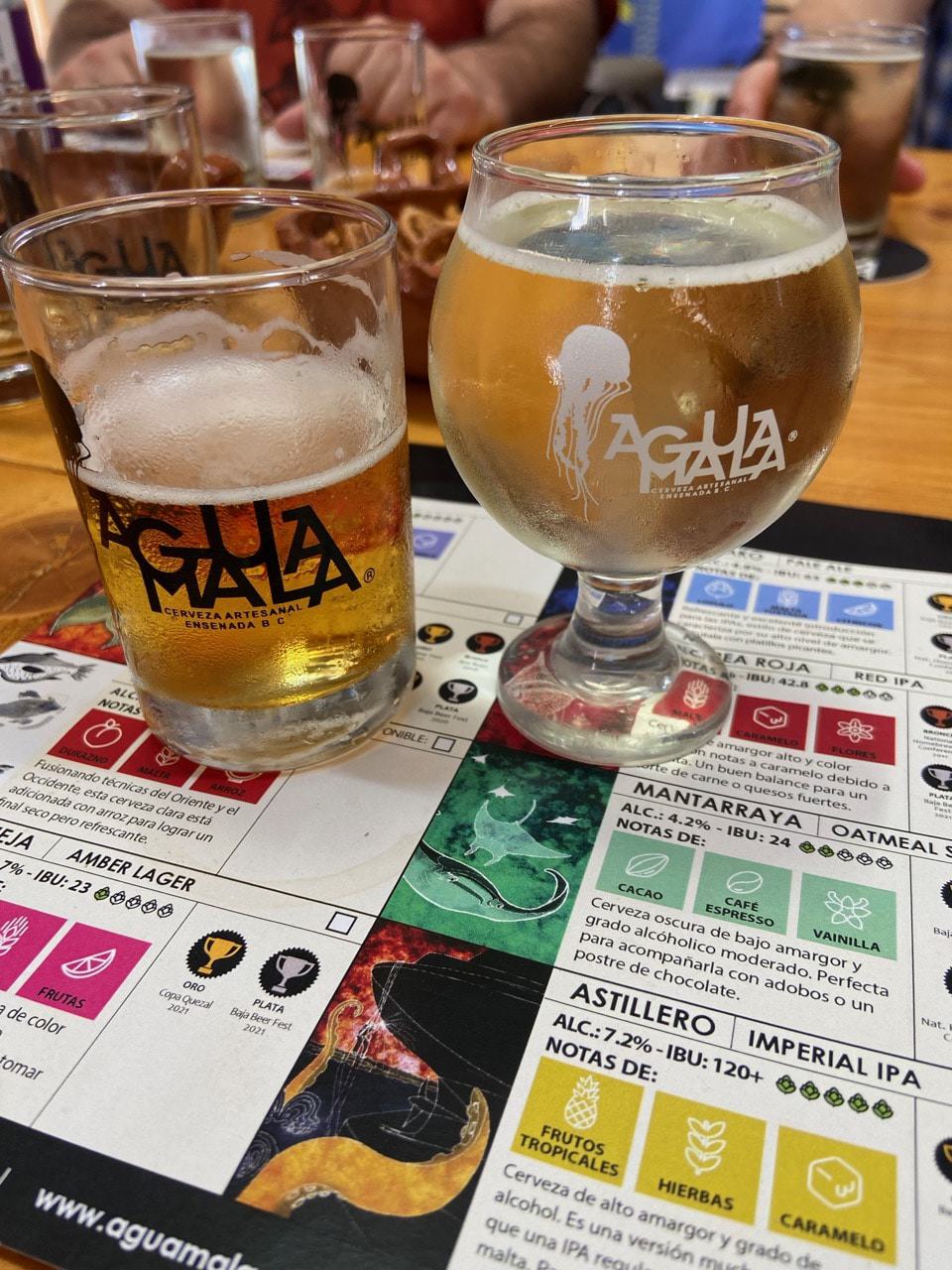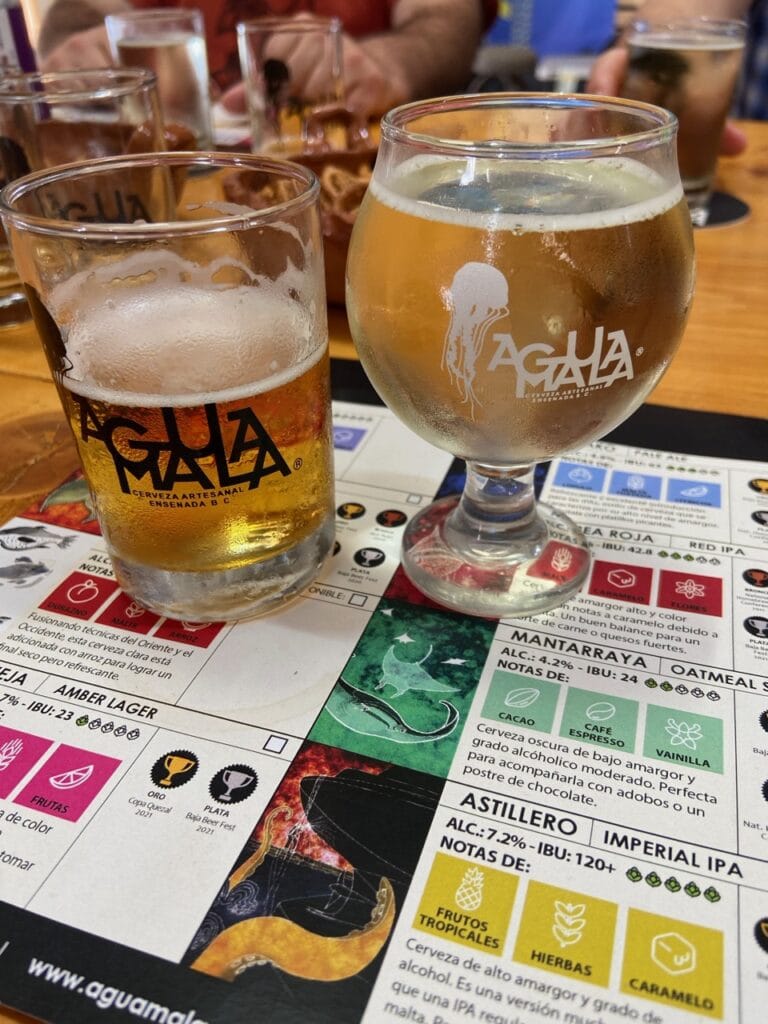 It is soon time for lunch so we head to Finca Altozano, Chef Javier Plascencia's restaurant in the Valle. Probably more than anyone, Plascencia was responsible for putting Valle de Guadalupe, and Tijuana, on the map for gastronomy. Like Fauna and Deckman's, it is open air with a view of the Valle and the surrounding mountains. It abuts the Casa Magoni vineyard and is surrounded by gardens and sheep and goats, the latter of which are being raised to supply the restaurant. We sip on a bottle of a Casa Magoni crisp white wine and feast on burrata from Querétaro, octopus roasted with cacahuates (peanuts) and roasted lamb. I order a Carajillo, an iced coffee with a splash of Licor 43 and a bit of cream and am reminded of a summer spent in Salamanca, Spain and how I spiked chocolate milkshakes with so much Licor 43.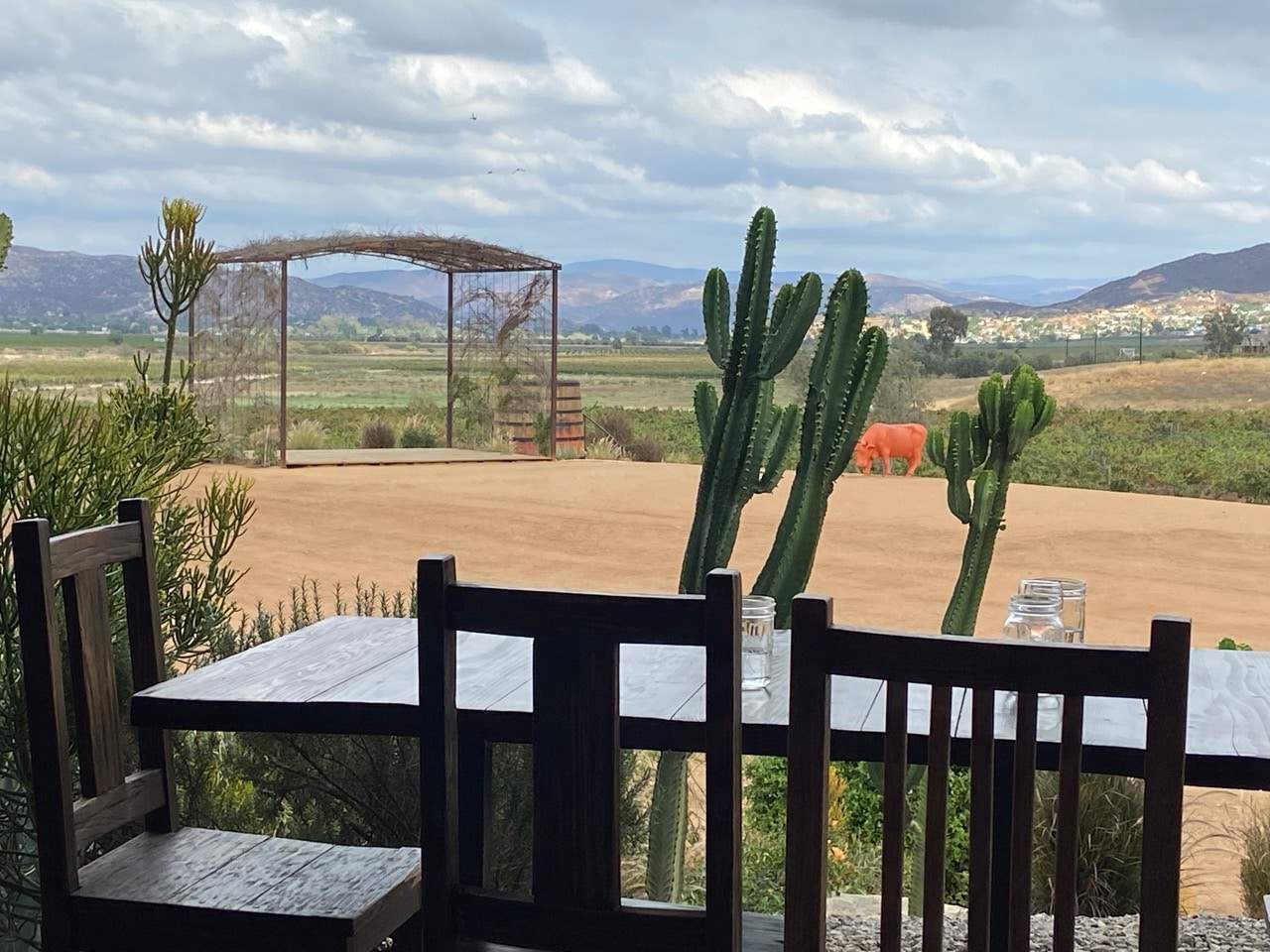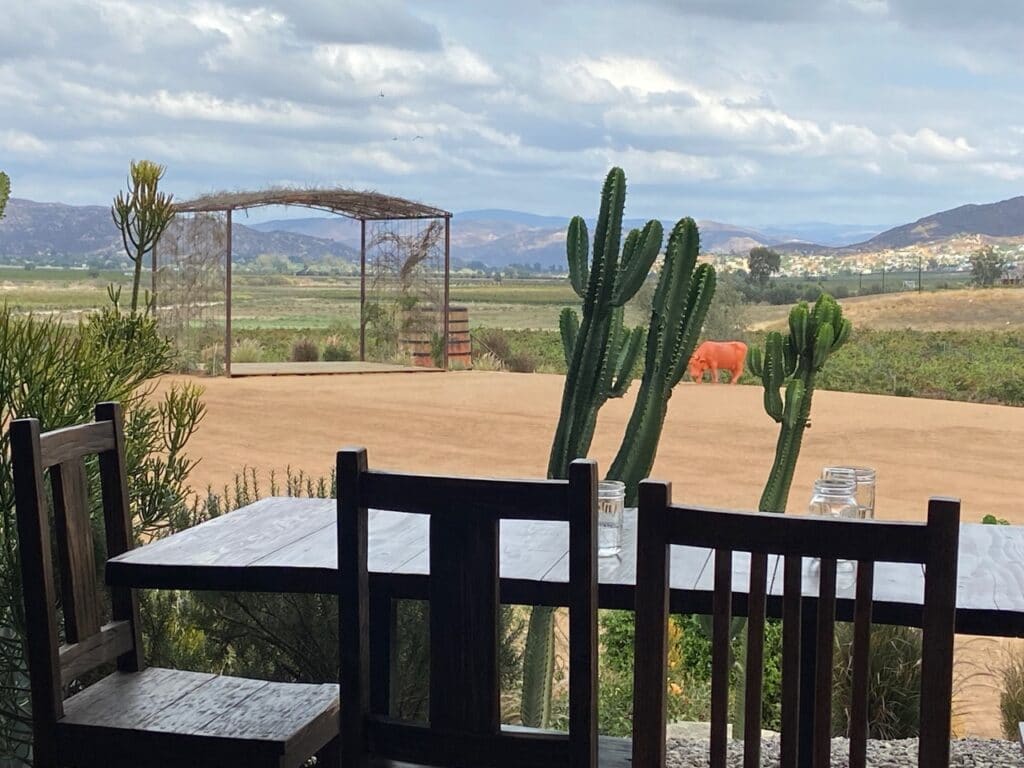 Completely full, we head to Casa Magoni for a full tasting. We are seated under a gigantic Oak tree, more than 300 years old. Despite the humid heat, it is cool under the tree. Owner and Winemaker Camilo Magoni is one of the most revered winemakers in the Valle. Born in Morbegno, Italy, Magoni studied Enology and Viticulture at the prestigious Enologica a Di Alba, located in Piedmont, Italy. He moved to Mexico about 60 years ago and joined the team at L.A. Cetto cellars, one of the oldest and most prestigious wineries in the Valle. He spent 40 years with L.A. Cetto before embarking on his own to create Casa Magoni. He grows more than 110 varietals of grapes, everything from Greek, Italian, French and Spanish varietals and has even tried to register his own varietal, Nebbiolo de Baja. At a little over 80 years old, he remains spry and industrious.
Magoni has a cheese and charcuterie platter brought to our table, and despite all of us having full bellies, we indulge. The opportunity to taste local goods is too much of a temptation. We discuss the many projects Magoni has underway including not only the grapes he has in cultivation, but also the aging balsamic vinegar and olive oil projects and several others that might not see fruition for another 10 or 20 years. And we finally get some answers about those wine bubbles. According to Magoni, the greater clarity of the bubbles in the glass indicate a very good and clean production process. The viscosity can also indicate a higher alcohol content. If the bubbles are not clear, it can indicate that something went wrong in the production. It goes without saying that the bubbles in our glasses were crystal clear and perfectly shaped.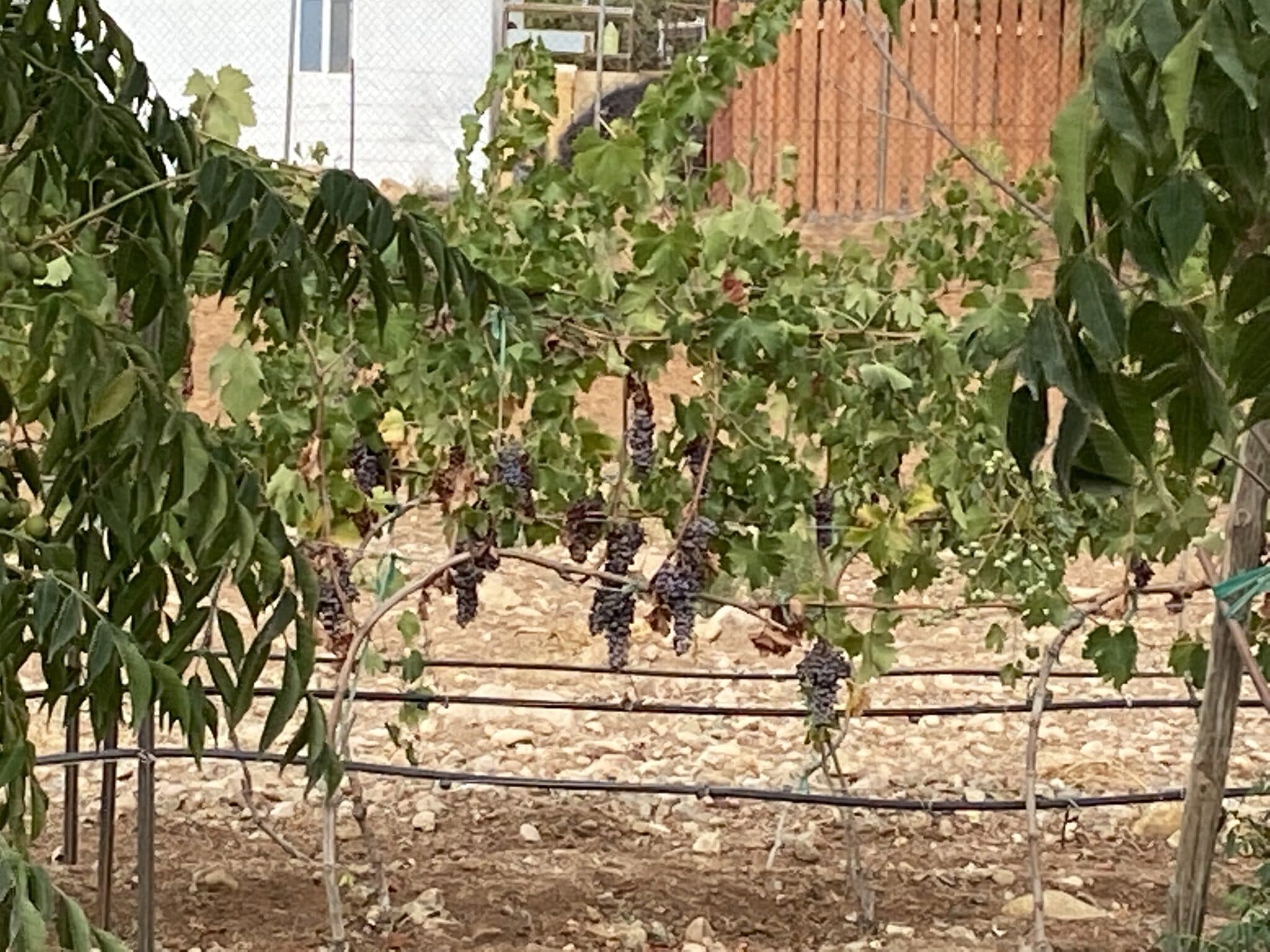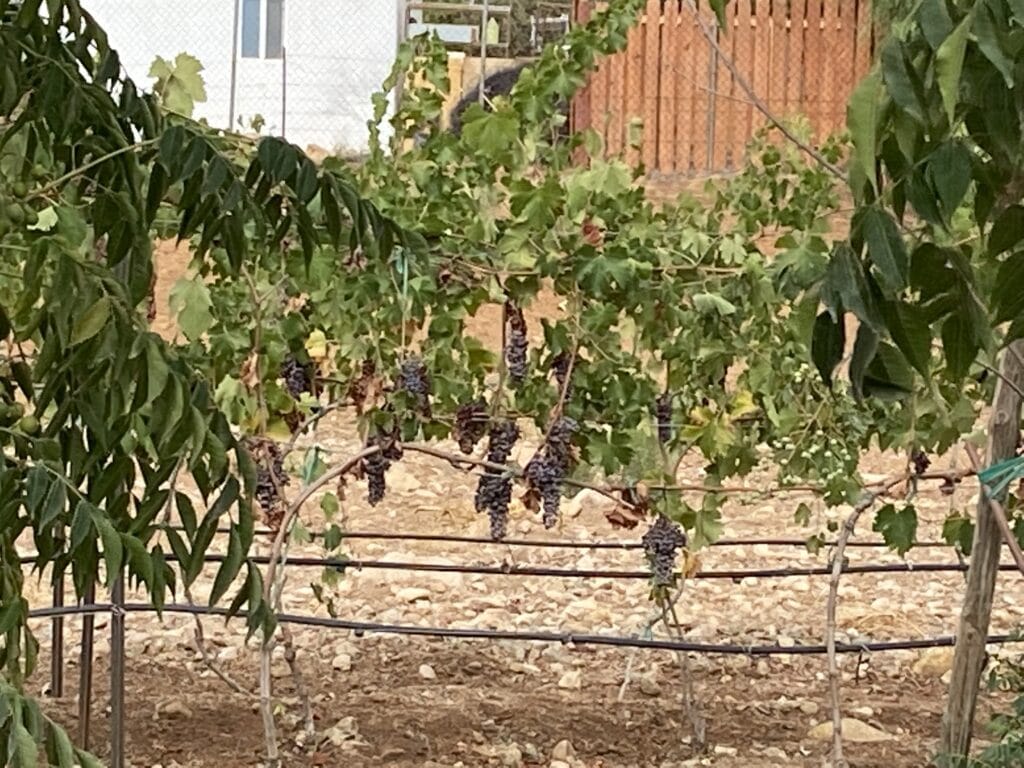 Our final stop of the day is at Clos Benoit, a small vineyard just up the road from Magoni. Owner Ben Benoit and his wife Bonnie founded the winery in the aughts after visiting the Valle in 2005 and falling in love with the region. Benoit had worked in the wine industry for 35 years, designing cellars and wineries. This seemed a natural next step for him. We made our way to the patio and sipped on the signature white wine La Paloma, the house white at Deckman's. A blend of Grenache, Viognier and Roussanne varietals it is crisp and full on the mouth. And good luck getting any with just 30 cases of it made a year. As Ben discussed his red wines, opening the just released and not yet in the market 2019 red blend of Grenache, Syrah, Counoise and Mourvèdre, Bonnie appeared with a platter full of cheese. We also had the opportunity to taste both the 2017 and 2018 blends from the same varietals which side by side completely reinforced how like with batches of mezcal of the same agaves, each vintage is so dependent on those key elements of soil, air and water that vary from season to season.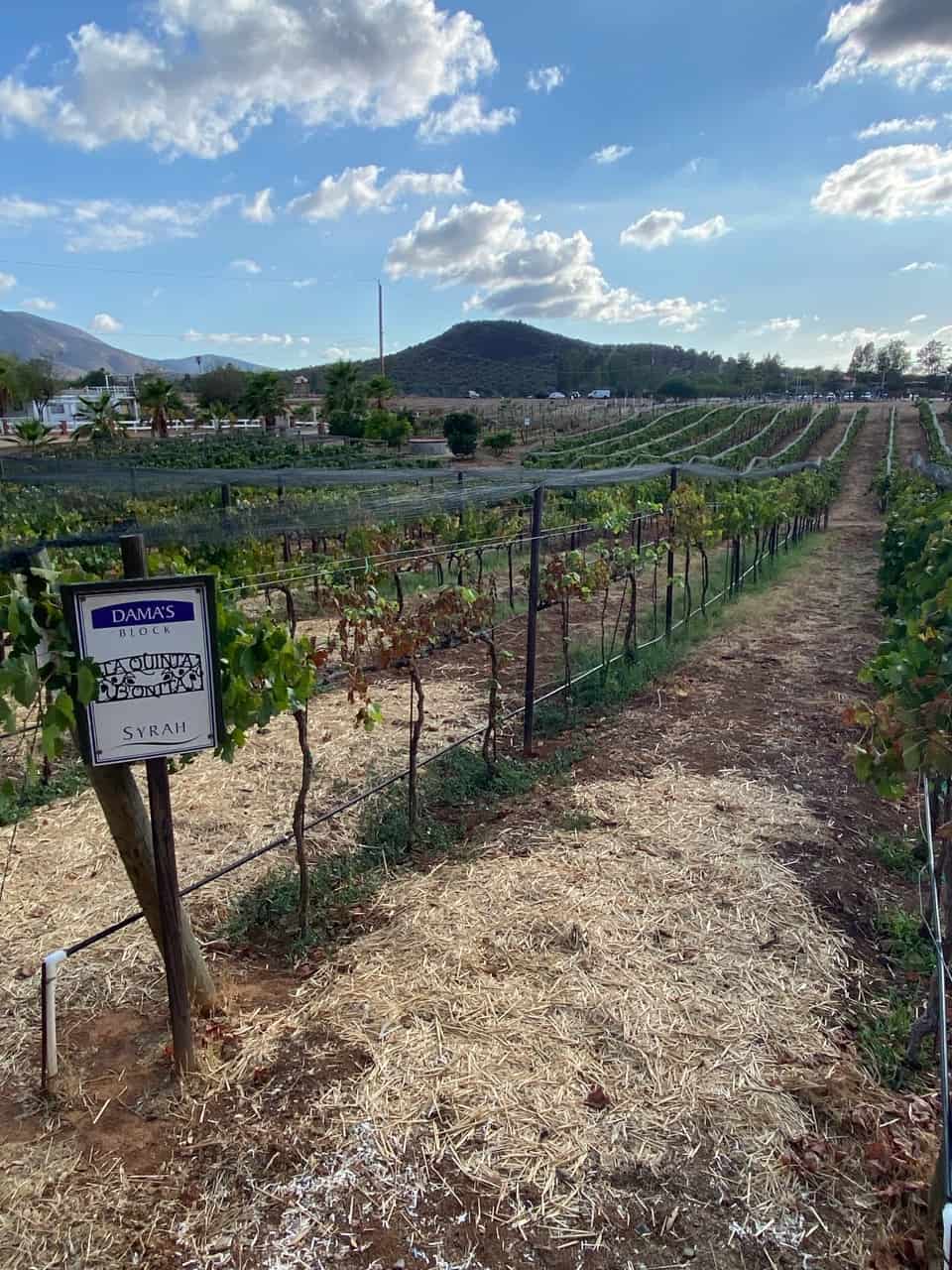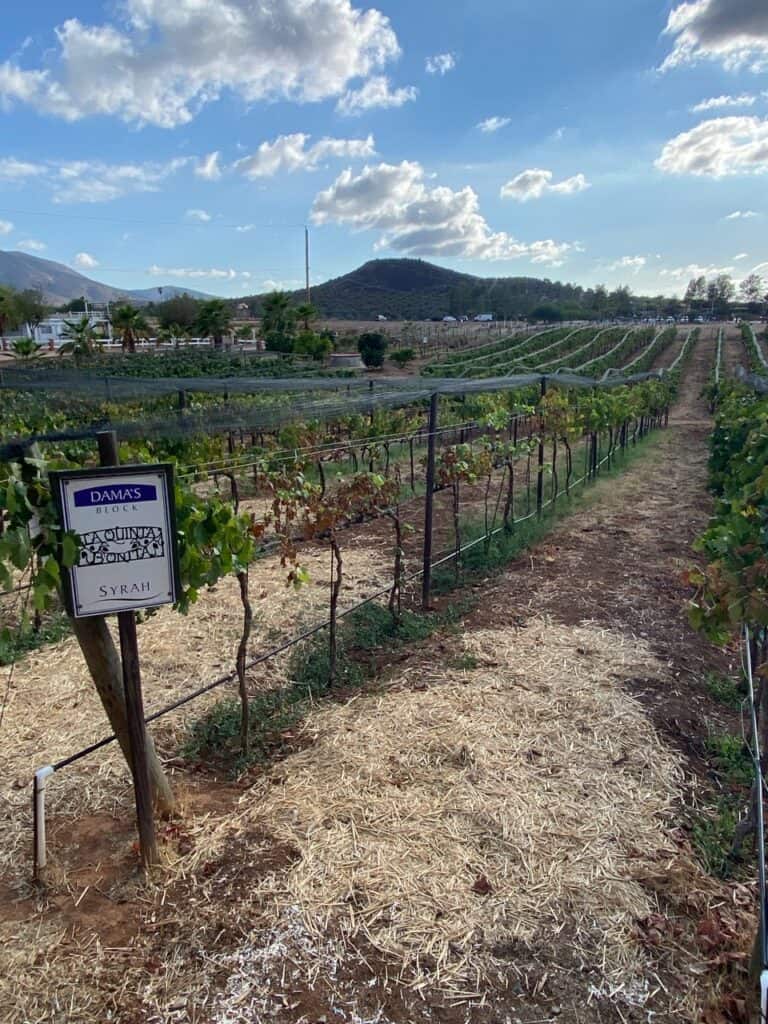 This last day is topped with a quiet meal at a local haunt in Ensenada, Ophelia. We are all exhausted and stuffed, swearing that's it, no more, until the following morning when we pack up the car to head back to San Diego and we decide a stop in Rosarito for lobster and tacos is necessary. The season for spiny lobster had just opened so after asking an older woman on the street where we should go, we ended up at Langosta la Guerita and stuffed ourselves silly with spiny lobster and tacos.
On our way to the border crossing, we make a quick detour for tortillas, loading about 8 packages into the packed trunk. It is a Wednesday afternoon and the wait time is not horrific. We've all followed the rules, bringing back only one bottle of wine each, you are allowed a liter when crossing by land. We see a car ahead of us have what looks to be a case of wine confiscated. This is the one drawback to driving to the Valle from the US, that bottle limitation.
Later that night when I land back in Oakland, I swear I will not eat anything for days, a lie as in the coming days I will feast on those flour tortillas, seriously the best I have ever had.