A daytime adventure in Tequila tourism
I wake up my girlfriend at 4:30AM and it's a rough one. We have been celebrating her cousin's wedding along with the celebration of the town's fiestas where they pay tribute to San Francisco de Asis, Ixtlan de los Hervores' patron saint in Michoacan. At this point, I am already beat after being on the road for two weeks looking for fermented drinks throughout Guanajuato, Jalisco, and CDMX. I long for nothing more than sleeping in and taking a dip in a pool of lime flavored Electrolit. I am walking blindly through the darkness of the room and corridors of her family's enormous house, where each room houses a family member or family unit. As a self-proclaimed agnostic, I find myself praying to any deity willing to hear the pleas of a hungover disbeliever to save me from being stung by the tiny scorpions we've been killing off or these creepy giant flat spiders that chill on the wall that are left unharmed because they, too, share our disdain for the scorpions (and kill them too). 
Within the hour, half the house is bustling with people fighting for bathrooms and telling each other to hurry up. Not even 12 hours ago did we find out that the bride and groom organized a trip to Tequila, a supposed 2 hour trip from Ixtaln. From what I am told, it was an extremely rare occurrence for their entire family to be reunited in the pueblo, and like the planets aligning, it was also special that many came from afar: Some from South Gate, West Covina, Inland Empire, CDMX, Zamora, Guadalajara, and so on. This Tequila trip would be an opportunity for many of the primos and primas to hang out and even to get to know each other. By this point, I am also getting to know everyone and being introduced as "the boyfriend" while those I have met already call me "primo" or "tio", and each time I hear it, it melts my heart to be accepted by a wonderful and loving family aside from my own.
It's 6:30 in the morning and it's as dark as the circles under everyone's eyes and as cold as the beer I am handed by one of the bearded primos with that southeast LA accent: "Have a chela, foo." It is apparent that vacation and party mode is still activated amongst them but I am echelons behind the crew and reminiscing the flavor of water and the sensation of being hydrated.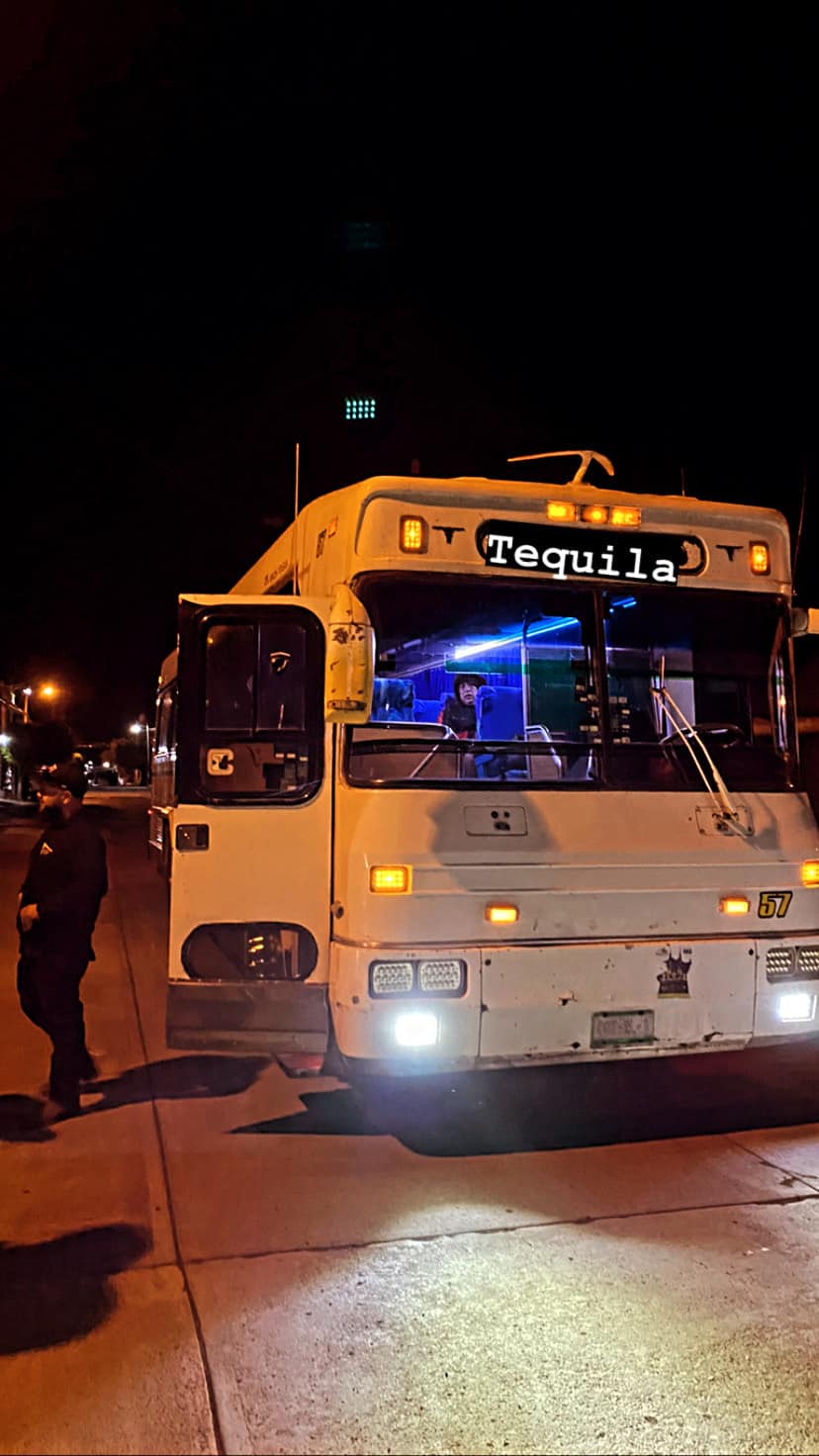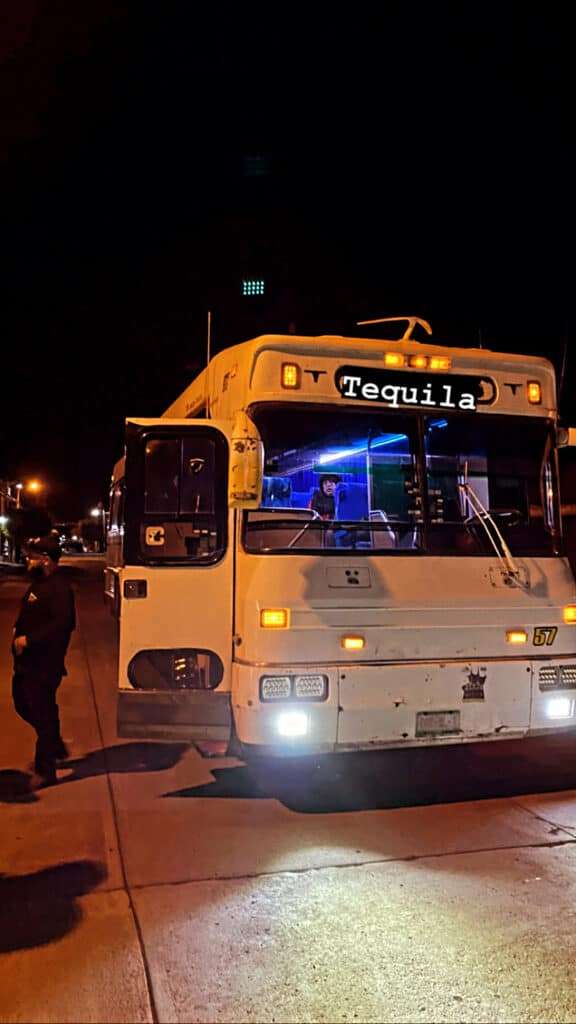 We meet at another family member's house off of the side of the main road where the bus they rented waits for us. It's an old white tour bus that has definitely seen better days and reminds me of the buses Mexican bandas toured with in the 80s and 90s. Boarding the bus I am reminded of school bus days on a field trip and the seating hierarchy: Cool kids in the back and every other clique to themselves. In this case, all of the primos along with the newlyweds sit in the back while the tios, tias, and kids sit in the front. Spanglish bounces throughout the interior and it hits me that many of them have never been to Tequila so the excitement is understood. I recall my first trip to Tequila before being involved with agave spirits in my early 20s and that feeling that I was going to partake in an authentic cultural experience to get to know my roots.
In accordance with the unspoken law of Mexican punctuality, we take off an hour later than expected with the sun just rising over the trees that outline the pueblo. The seats are semi plush and would give the seats of Viva Aerobus a run for their money. The route is set northwest where we will pass through Guadalajara and eventually to Tequila. Once on the main road, we stop at a roadside Oxxo, the first of many bathroom breaks since we commenced drinking early and what always fascinates me is the selection of alcoholic drinks at the Oxxos.
Many of the primos buy the usual big Mexican beers: Corona, Modelo, Indio, all those water draining brands. I am intrigued with the RTDs (ready to drink) cans that are available. Jimador's New Mix has been around for ages and I am guilty of buying their palomas from time to time. The Topochico seltzers are the only seltzers I see on the shelves along with other canned micheladas from the major brands. Another popular RTD I see I am surprised I haven't encountered in the states are the Jack Daniel's RTDs in black cans with different flavors like Cola and ginger. Behind the counters lie the usual Oxxo suspects: Centenario, Bacardi, Passport Scotch, and my beloved Tonayan, a mixto served in these short, squat plastic bottles with ridges and a plastic handle wrapped around its neck, a must for your corner squatting drunken tío or Mexican teenagers/college aged kids for their agua locas, the Mexican equivalent of jungle juice. I succumb to the appeals of my "refined palate" and submit to the pleasures of gas station coffee and triki-trakes, stale and crumbly cookies, though on my way out I am tempted to grab just one New Mix Paloma for nostalgia's sake.
The group is outside the Oxxo and one of the younger primas is recording a Tiktok on her Tequila outfit and gets a couple of other primas to join in and everyone pokes fun at her for being an influencer and I begin to wonder what kind of things not just she but everyone else will document in their first experience out there. We queue and get back on the bus for the last leg before arrival and end up catching traffic in Guadalajara, where our two to three hour trip has become a grueling 5 hour trip. It occurs to me that it is Sunday so I already expect tourism to be on the high end not just with foreigners but with Tapatios and those, like us, arriving from other states surrounding Tequila.
Growing up and visiting Nayarit in the summers, tequila was something that was as common as the mariscos we ate and the cañas, sugar cane, we chewed on as treats. Tequila, like bacanora on my moms side, is used interchangeably with vino and mezcal when referring to the beverage, and a Tequila outing was almost as common as a day at the beach or at the rancho. Every house I visited in my youth had a visible keepsake or knick knack souvenir purchased in Tequila laying on a shelf or tabletop. Even for the locals, Tequila is very tourist oriented and rarely did I hear about people visiting Amatitán, Amatlán, Atotonilco El Alto, El Arenal, or other tequila producing towns for the sake of trying tequila.
Minutes before pulling up into Tequila, we pass by el Arenal and my heart sinks a bit knowing that just a couple of blocks away from the road one can find Cascahuín and their amazing distillery. A part of me struggles to tell someone about the distillery but I remain silent. Through my struggle of wanting to visit Chava and the crew I acknowledge that I am a part of this tour and am here not for work nor self-indulgence but to spend time with my girlfriend's family and to engage in partial self-indulgence. I establish myself as a tourist and as I do so, I come to terms with the idea that perhaps this trip could still be informative to me if I approach the trip under the guise of "first time visit to Tequila as an ignorant tourist".
Getting into character I start to feel a thrill of my personal little charade and wondering what I will come across as this persona. Looking out the window of the bus and pulling up into town I see the names of several tequila houses and distilleries, each one with advertisements and announcements hand painted on the walls of their haciendas or factories. Pulling into the dusty parking lot behind a baseball field with similar tour buses parallel to each other, there stands a lady whom I assumed was another tia but turned out to be the tour guide. Prior to boarding the bus, we all paid a fee which covered the ride to and from Tequila and our tour. The tour guide begins to yell over the commotion over what our loose itinerary would be. The first few hours would be us wandering the plaza and grabbing a bite to eat followed by a tequila distillery tour and to be ended with a trip to Cantarito El Güero, a famous roadside stall that specialized in cantaritos, a tequila based cocktail made with fresh citrus and Squirt served in their famous cantaros, clay mugs.
Tequila, the town, does not allow buses into the centro, the inner limits of town, since the streets are so narrow. It is a vibrant colonial town, partly chaotic due to all of the music blaring from every shop and by the taxis, motorcycles, and locals bumping music perhaps as a mating call to attract one of the foreigners in town. Every couple of meters we are hounded by people offering us distillery tours or tours of the towns, and though I respect the hustle and understand we all gotta eat, after the 10th inquiry it becomes tiresome. It has been years since I have set foot into Tequila, and most of my recent trips have either been straight to the Fortaleza distillery or passing on through to visit other distilleries in the area. Tourist mode is now engaged and I gawk at the shops and the plethora of recuerditos, souvenirs, like keychains, mugs, shot glasses, pens, candy, questionable bottles of questionable distillates or flavored tequila based cremas. One small store catches my eye, Mayahuita Cerveceria, selling craft beer based somewhere in Jalisco but unfortunately there were no samples and they only sold gift packs with about 4 to 6 expressions in each box, more than I was willing to purchase just to try the beer.
Every couple of minutes these modified windowless trucks would drive by blaring reggaeton or banda causing heads to turn and cameras whipped out due to their entertaining and sometimes even phallic shapes. Vehicles in the form of chile peppers with sayings like "ride the chile" or vehicles in the shape of tequila barrels were in no shortage on the streets of Tequila. Some of these vehicles even had stripper poles onboard. I try to look beyond the overly sexualized tourist experiences of Tequila and while trying to take in the view of the colonial architecture I am approached by a child carrying highly sexualized mugs in the shape of breasts and dicks.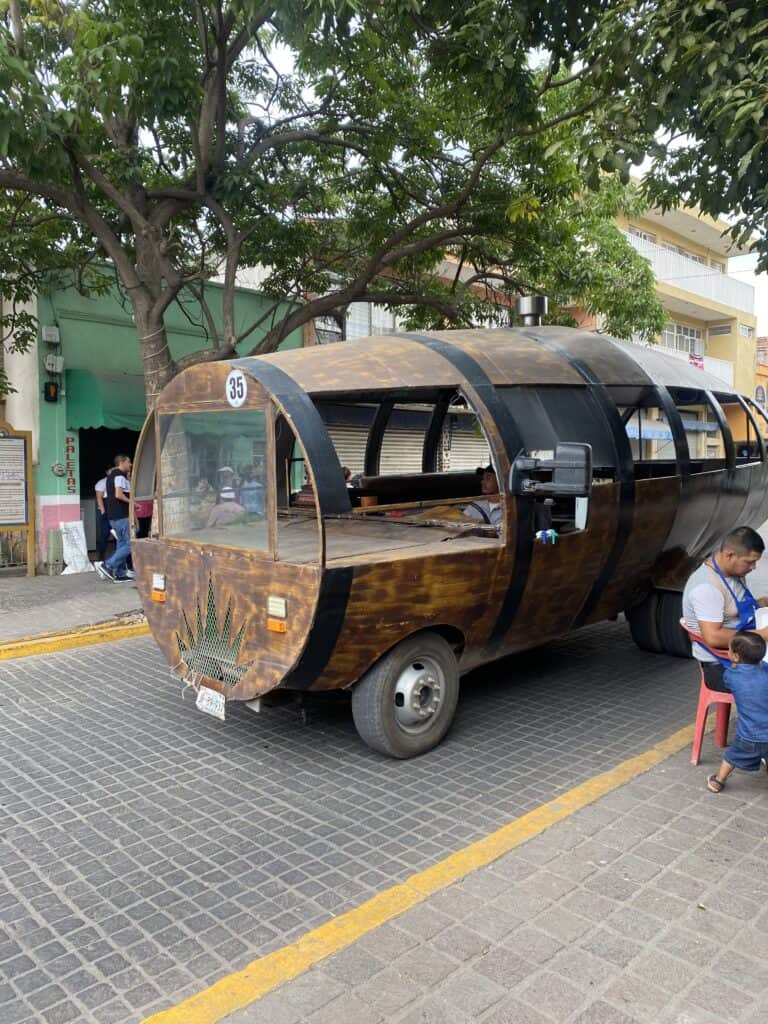 The main plaza of Tequila surrounds the cathedral like most of the pueblos throughout mexico. I'll leave the colonization conversation for another day but being Sunday it is apparent how important the church still is to many of the inhabitants of Tequila. There is a speaker over the door of the cathedral and the blaring from afar sounds like prayers of a mosque but I don't dare tell that to any of the Catholics in the group. Surrounding the plaza are benches with people resting from what I can assume is a midday post tour rest and carts that sell sweets, fruit, snacks, and more dick mugs.
We walk away from the placita in front of the cathedral and walk towards the main plaza adjacent to it. Our eyes are filled with more vibrant colors left over from El Grito, Mexico's independence day. Papel picado hangs from the surrounding buildings and meet in the middle where they are attached to the kiosco, the colonial styled gazebo, a second tourist favorite photo opportunity in this plaza right after the colorful "TEQUILA" sign next to it. Passing by the long line of tourists and aspiring influencers waiting for their turn for the perfect picture "para el face", we bump into a three piece norteño band. Three men are dressed in red shirts with the singer, a robust pot bellied man belting so loud I can only assume it undid his shirt and expose his undershirt, are singing "tragos de amargo liquor" and as if in a trance I find myself belting out the song as well, fueled by joy and the colorful atmosphere of la plaza but then and there I am reminded that once again, I am a tourist, and at that moment I was a tourist without a drink in hand.
Tequila (the distillate) aside, the town of Tequila is famous for its other beverages. The Cantarito, for one, sounds refreshing in the slightly muggy and overcast weather but I know we will be having plenty of them at Cantaritos El Güero later in the day.
The Bantanga, a simple cocktail made with tequila blanco, Coke, lime, and salt, was created by the late Don Javier Delgado Coronoa at La Capilla, and is still immortalized at that existing cantina. At La Capilla the Batanga is served in Collins glasses rimmed with salt. The drink itself is mixed vigorously with the same knife used to cut the limes. There are many videos on social media on the Bantanga being made at the cantina. But today I am not in the mood for any soft drinks after having so many tequila and squirts, the iconic Tío Paloma, at the wedding just days before.
Another iconic drink found in Tequila is the Pachecada, and this would be the drink to quench my thirst! A couple of meters left of the Tequila sign reside a couple of carts donning a sun worn banner that reads RICO TEJUINO Y PACHECADAS "DESDE 1980". On the other side of the cart is another banner with the history of the Pachecada along with a brief biography of the creator of the drink, Señor Marcos Pacheco Jiménez. This cocktail is an effervescent mix of tejuino and beer (a light lager) with lime and salt.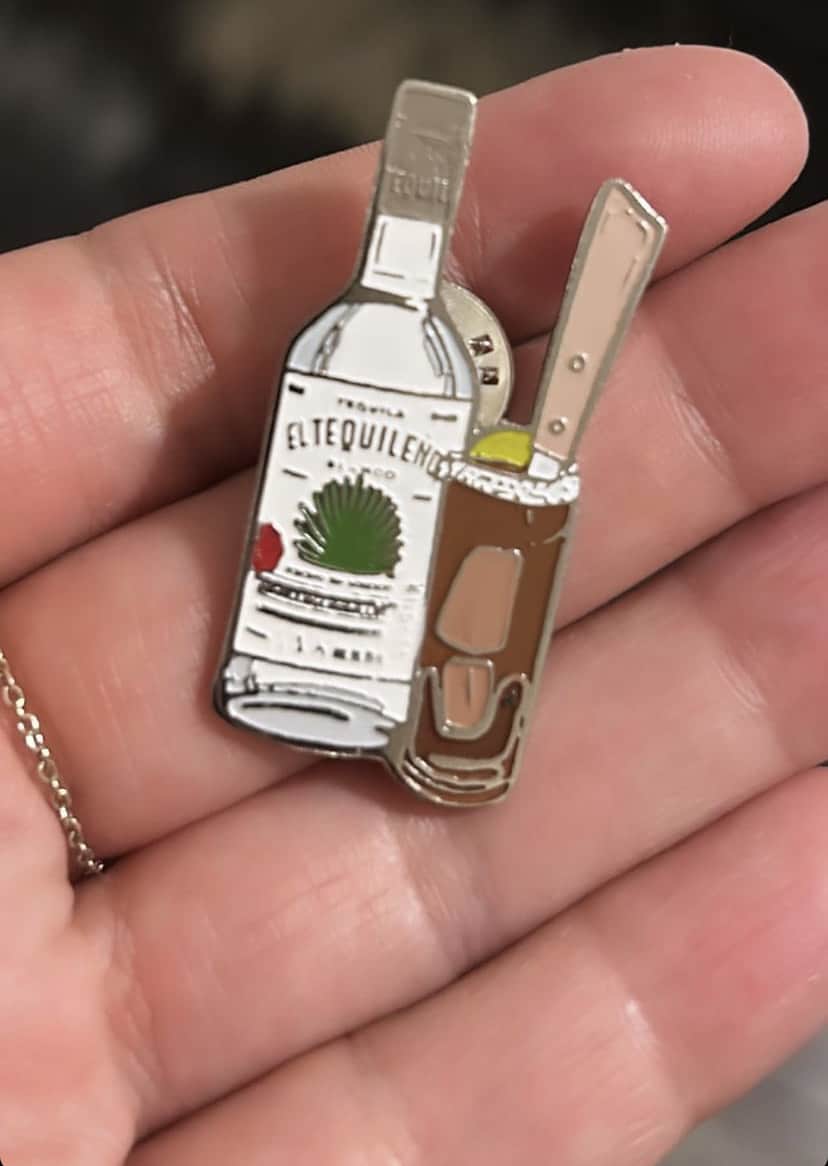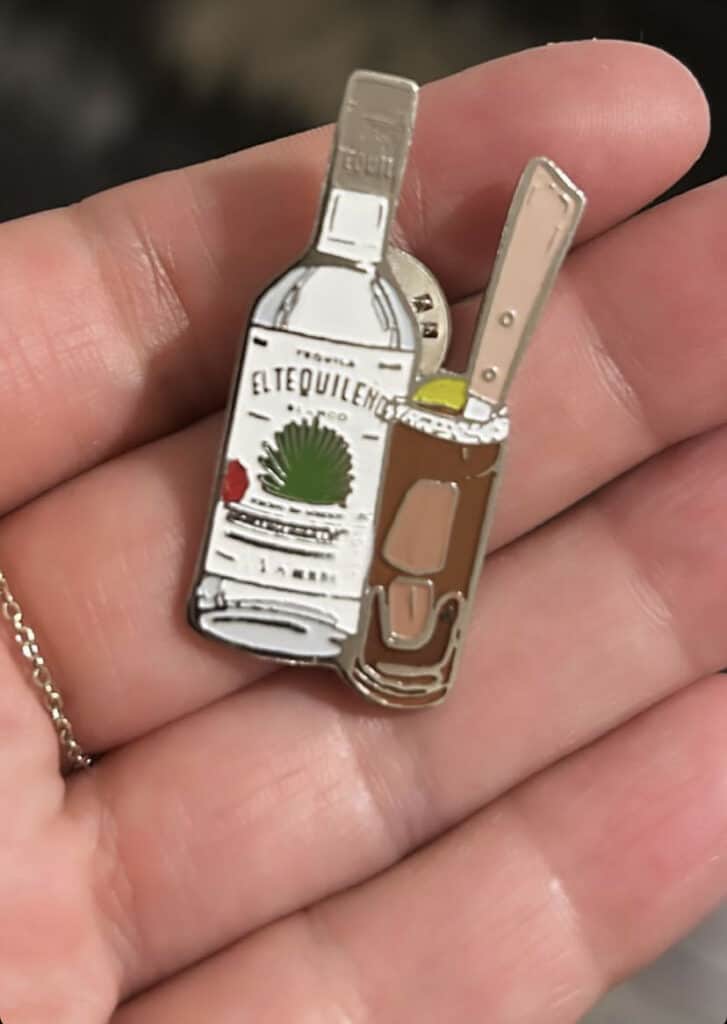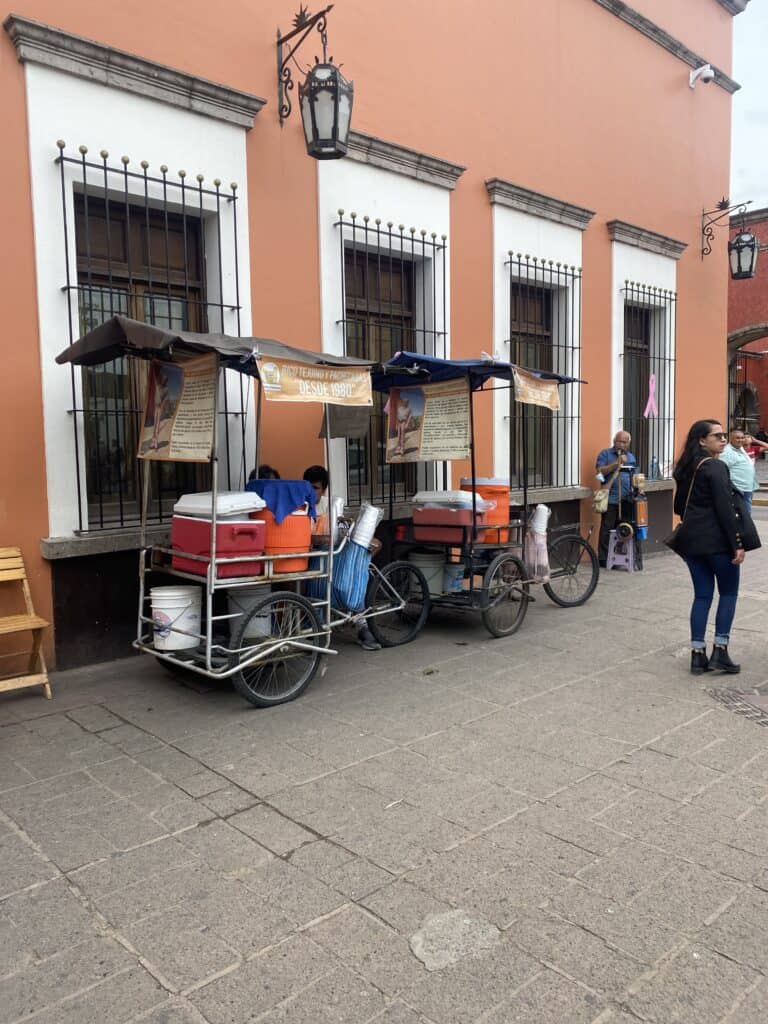 Tejuino (te-hui-no) is a beverage made from fermented corn (usually in its masa form), water, and piloncillo. It is found in some of the northern and western coastal states of Mexico such as Jalisco, Nayarit, and Colima. It's more potent predecessor, tesgüin (tes-gween) is found in parts of Chihuahua and other northwestern states of Mexico and retains a cultural importance to Indigenous groups such as the Rarámuri, Pima, Yoeme, Odami, Wixárica (just to name a few), where it drinks more like a corn beer.
It is definitely an acquired taste, one that can be described as sour and funky, but depending on who makes it, could also be sweet, viscous, slightly carbonated (if baking soda is added or due to fermentation) with hardly any flavor of corn. And depending on where it's found, tejuino can be served on its own with ice, tossed with fresh lime and rock salt, or served with a scoop of lime sorbet (nieve de limón), with each iteration of tejuino perfect for combating the hot and humid climate of the coast.
I decide to go with a Pachecada. I speak to the young man making it for me. I ask him how long this tejuino was fermented for and he replied "four days, the magic number". He goes on to tell me that if it's left to ferment to over 15 to 21 days, it becomes a "vino fuerte called tesgüin". Though I feel like questioning him or even pressing the issue in regards to tesgüin, I remain silent and await my Pachecada. The heat and now waning hangover has me thirsty. I make a joke about being pacheco (stoned) and drinking a pachecada but I feel that he's heard the same joke dozens of time before. I feel his eyes rolling. I feel like a jerk.
There is a cooler filled with ice and another round orange cooler where the tejuino is fermented in and served out of. He begins to make the drink: First the lime is cut fresh and he uses about 4 key limes, and next to his limes is his kosher salt. He adds a couple of small spoonfuls of salt to the giant styrofoam cup. Next, the tejuino is served into the cup with a giant ladle, but it is only served halfway since the drink will eventually be mixed with beer. The mixed concoction is then rolled back and forward between the cup and the ladle, and after a couple of rolls the guy grabs an open caguama, a 32 oz/750 mL sized beer bottle, and pours it in the cup violently to integrate both drinks in a display of showmanship and the craft. He offers to rim my cup with tajin and chamoy (a bit too late for that now) and I shudder, reminded of my hatred for tajin and chamoy.
I get back to my girlfriend and my cuñada and they both sip my drink. Their faces say it all. It is semi-viscous because of the doughy tejuino, carbonated because of the beer, tart with key lime, salty, savory, and has the slightest bit of funk from the fermentation. It's a balanced cocktail and satiates every taste bud.
My pachecada revitalizes me. I grab my girlfriend by the waist, hold my drink in the other hand, and I take her to dance a couple of pasitos in front of norteño musicians while sipping my drink. I feel the goofy smile overtaking my stony and travel worn face. I came to Tequila and ended up drinking tejuino.
Lost in thought, I ponder this drink and its simplicity. I begin to admire the duality of this drink. I ponder the origins of tesgüin and tejuino. I think of its ancestral origins, how the indigenous of the northwest and the western coast utilize tesgüin in ritual where it is carefully imbibed and wonder why this drink, tejuino, isn't more common around the other corn producing regions of Mexico.
I think about Mexican beer, and the pilsners and lagers found in every Oxxo, every expendio or deposito, in every party and celebration and corner store and tio's trucks in the city or the rancho-pueblo countrysides, and ponder its origins and how it was brought over by the influx of German immigrants in the late 1800s and early 1900s.
I ponder that the drink in my hand, like Mexico, like myself, is an amalgamation of indigenous origins and colonization, and before I go any further my train of thought is disrupted by another sip and the norteño music.
God damn this is delicious.
My girfriend's cousin arrives and asks me what I am drinking. I am now the Pachecada ambassador in the family. He comes back with the same face of elation and satisfaction. I joke with her cousin "me estoy poniendo bien pacheco", a play on words with the Pachecada but also a reference to being pacheco and attempting the lame joke again. We laugh it off but now in the back of my mind I want to try this drink while pacheco'd.
We grab a bite of food before our scheduled distillery tour and the family decides to dine at this tourist trap of a place. One of the cousins steps up to the host and asks for a table of 11, changes her mind and asks for a table of 15, then takes into consideration the rest of the bus and in an instant raises the number to 21. The host is dumbstruck and I am sympathetic to her annoyance. A big ass party showing up with no reservation for Sunday brunch? And in the restaurant next to the plaza! I feel for her and the servers but I remind myself again (at this point it's like my mantra) "I am a tourist I am a tourist I am a tourist I am a tourist….
I can tell by the numerous Frida Kahlo portraits and the amount of sugar skulls painted in the interior that this restaurant is a bigger tourist trap than what I expected. I overhear someone mentioning the mercado nearby and I convince my girlfriend to escape the Frida Kahlo portrait laden restaurant and her family for a bit.
We sneak away from the giant family brunch fiasco and head towards the mercado, tucked away behind the cathedral where we grub on menudo blanco, a menudo in "white" broth served with spearmint, onions, diced chile serranos, a red salsa de chile de arbol, handmade corn tortillas, and lime. Red menudo is also served but red menudo is for chumps. We finish off with a torta ahogada, a must when in Jalisco! The torta is served with birote salado, a salty roll filled with carnitas, a spread of refried beans, and drenched in a tomato salsa. It is topped with purple onions that have been cured in lime and salt and served with an extremely spicy salsa on the side. I ignore my future heartburn and eat blissfully.
The atmosphere is jovial, bumping, and that Sunday brunch feeling is definitely in the air. Unlike the touristy restaurant, the walls here are lined with menus that belong to all the different restaurants and eateries. Squared, wooden tables are packed as close as possible to each other making it a challenge to squeeze into my seat. Despite the crowd, the service is fast, the food is hot and delicious, and I can pound another beer and agua fresca.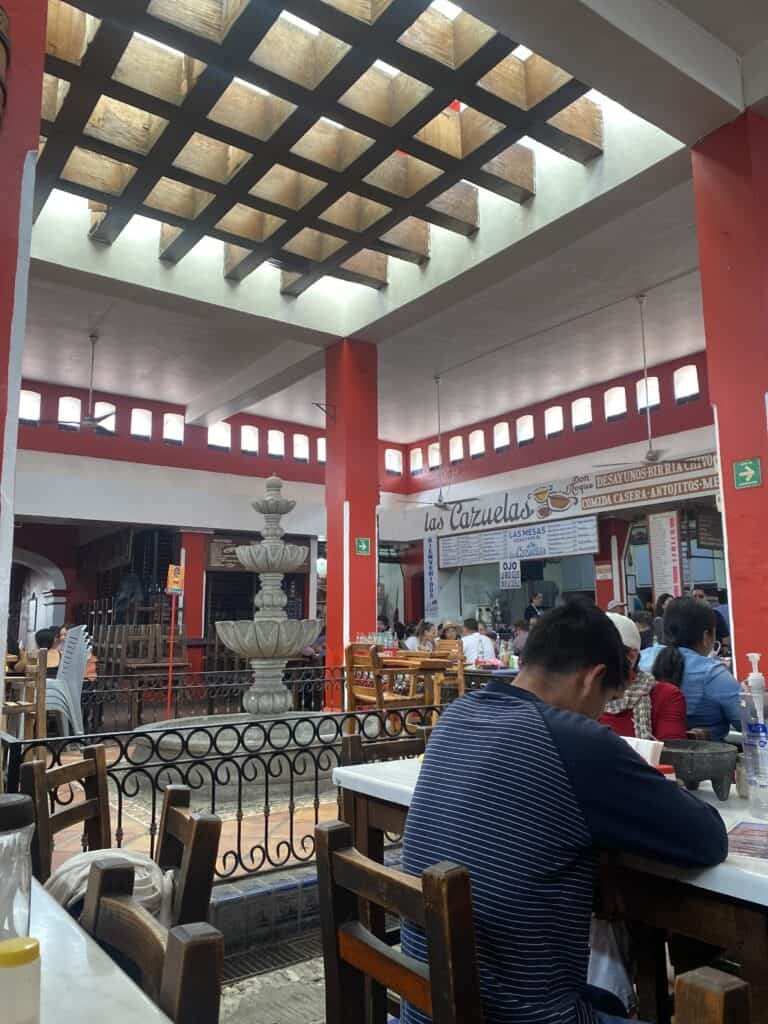 The musicians are blaring and the waitresses flutter from table to table like hummingbirds in aprons while loquacious hosts pull in potential guests by flashing menus and pressing the day's specials. There seem to be other corridors outside of this part of the mercado that sell a varying amount of trinkets and souvenirs (and dick mugs) but everyone in the vicinity seems to be drawn by the food.
We finish up our hearty meal and all traces of my hangover have been diminished to a mere memory of the night before. We make our way back to the restaurant where the family is and make our way in. It is visibly apparent that everyone is in a foul mood. The scattered tables meant to unite their large party are in disarray: Half-eaten guacamole and copious amounts of empty glassware are piled on the tables like chips in the basket.
"We've been waiting for our food for an hour and nothing has come out!" exclaims one of the cousins.
They ask for the bill and it seems that their food order was never fired or input by the server. It's a nightmare situation for the server and the kitchen. I've been there before and I cringe internally upon hearing those words. The server looks distraught and the manager is nowhere in sight. It sounds like so many places I've worked at in the past and I feel the tension in the air. Everyone settles up and I distance myself from how everything was resolved. Everyone is hungry and they all spill out of the restaurant and into the plaza to the first food stands in sight. We talk about our wonderful mercado experience and a couple of the primos mutter that they should have gone with us. I can't tell if I feel resentment on their part or if it's the "hangry" sensation that's eaten away at their previously chipper moods.
The herd is rounded up and we make our way back to the bus. Everyone is unsure how we are getting to the distillery. There are mentions that the bus will take us there. A cousin mentions that we are taking the barrilito, the barrel shaped truck, to the distillery and I am both horrified and amused at the possibility of taking the barrilito, preferably one blaring banda or reggaeton.
One of the primas hands me a beer. I let out a belch that Barney Gumble would be proud of and my girlfriend smacks my arm. Some little boy nearby laughs out loud and I shrug unapologetically. I remember an old Mexican meme in my head: "Si ya saben como me pongo pa' que me invitan?" If you know how I get why did you invite me? Further burps are now made under my breath and hidden from everyone.
The bus is parked in a giant dirt lot outside of a soccer field lined with vendors selling more Tequila keychains, shirts, visors, sunglasses, but to my dismay, no dick mugs. Confused whether to board the bus or wait for the barrilito, it turns out the distillery we are to visit is on the block adjacent to the parking lot. I am a little disappointed and had already accepted my barrilito fate. We dodge the dirt bikes and incoming busses parking in the lot and we walk towards the distillery. I am skeptical about the proximity of the distillery to the tourist bus parking lot but regain my tourist consciousness. "I am here for the ride. I am a tourist today".
The wall in front of the distillery is painted dark blue and green with the images of mountains, and at the forefront of the mural are three jimadores painted with shaved agaves. DESTILERIA La Aguirreña. I have never heard of this place before and wonder if it's one of those maquilarias, distilleries that crank out tequila for other brands. I haven't tried their tequila and I am already sickened. I take a quick look on the tequila matchmaker app and nada- there is nothing on this distillery. Could be it a new distillery? Do I get bragging rights on "discovering" a new distillery? Do I get to flaunt my new finding on the tequila subreddit or on the endless amounts of tequila groups on facebook I lurk on? The internet warrior in me puffs its chest and with that inhale I take in the aroma of that sweet and sour fermented agave smell.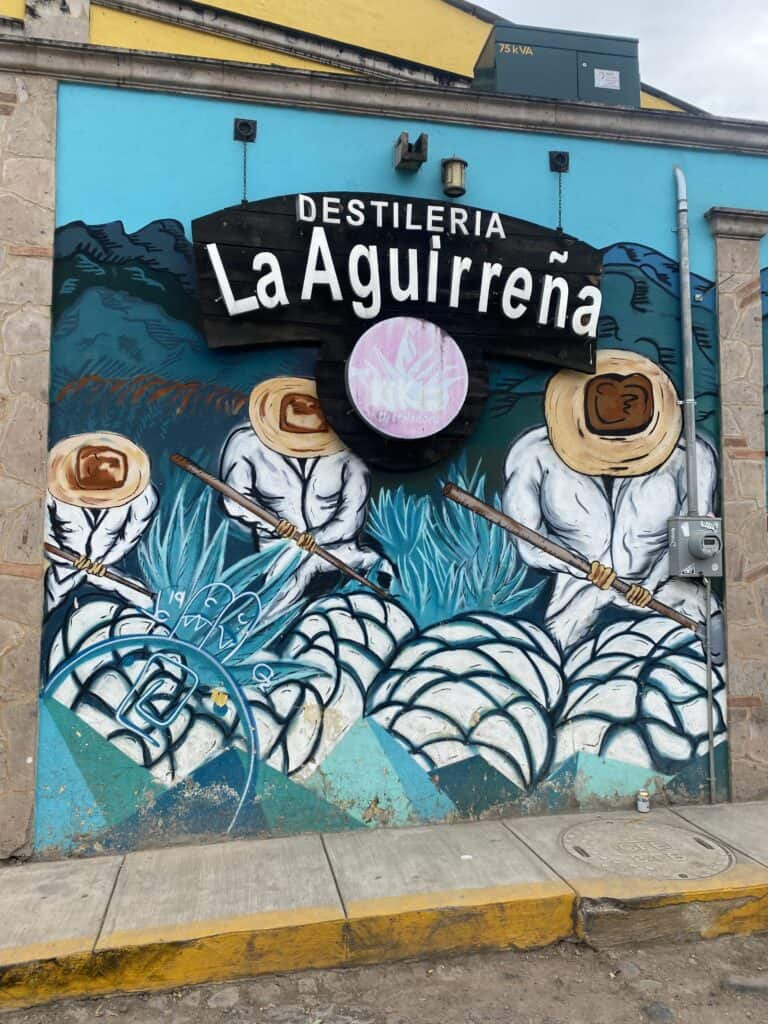 We mozy inside and huddle near the reception desk. Inside there are two other tour groups being led by the guides, each one distinguished by their uniforms; button down long sleeve white shirts with the distillery name embroidered over the breast pocket and jeans. They remind me of Mexican politicians trying to campaign in rural communities in Mexico. I try to listen into the tour to see what kind of information is being blared over the megaphones but it's impossible to distinguish. There is so much commotion between both tours going on and the cacophony is carried by the sound of machinery within the distillery.
Inside the distillery I am still meeting the primos formally and putting names to the faces I've seen these past few days. My girlfriend tells a couple of the primos "Bryant is an expert! He works with tequila and mezcal!" I love her and her enthusiasm to show me off to the family but fuck! My cover is blown! I was hoping to gain a new perspective on these tours as someone with now years under my belt working within the confines of the realm of agave spirits. I'm not mad at her. But now, even before our own tour starts, the barrage of questions commence from the family, and I am unsure if these questions are ways to further their own personal interest in Tequila or a way to interrogate me.
The feedback from the megaphone breaks up the inquisitions and our attention is drawn to the lady that leads our tour. I lean against one of the giant stainless steel tanks and take in the familiar scene of the distillery. Brick walls, a half-shaven agave, a coa standing against the wall near it, agave fibers strewn across the floor, old barrels piled on racks against the wall, and non-operational mechanized mills, perhaps lulled to sleep by the scripted speeches given by these tour guides or the humming of distant machinery…
I can't understand a single thing our guide is saying and two minutes into this tour I'm bored and await the sampling. She points at machinery and I assume she's talking about their function. A primo asks me "What did she say?" and I shrug but since she somewhat aimed at the roller mill, I explain to him with some gusto and detail about how the roller mill works. I explain the idea of extracting the "juice" and fibers of the agave and the precursor to fermentation. It seems that I catch the attention of a couple of more people in our group. I now find myself giving my own brief tour of this distillery, and though each distillery contains its own magic and its signature, at some point you start seeing all the similarities of the distilleries.
The tour guide pauses after another wave of speech and I freeze. I think she's angry at me for speaking while she's speaking. I feel like that talkative kid in class just caught by the teacher. My head darts towards her like a prairie dog but she continues to speak. It seems that the pauses are also scripted. It also turns out that prior to the pauses, she asks if there are any questions and if everyone understands.
"Amiga, no one here can understand you" I think to myself. Some of those on the tour don't even speak Spanish. But we carry on over to the fermentation room. Given the size of these stainless steel tanks I assume that this is an industrialized operation. Thousands of liters of mosto lay dormant in these vats and we're encouraged to take a whiff over the vats on the steel walkways that transerver over them. At this point a smaller circle of the group follows me and asks me questions about the process, and though I feel out of practice and out of touch with almost 10 months of not talking to a guest about tequila or mezcal professionally, the information flows out of me organically and for a brief moment I miss being able to educate those willing to learn about this world.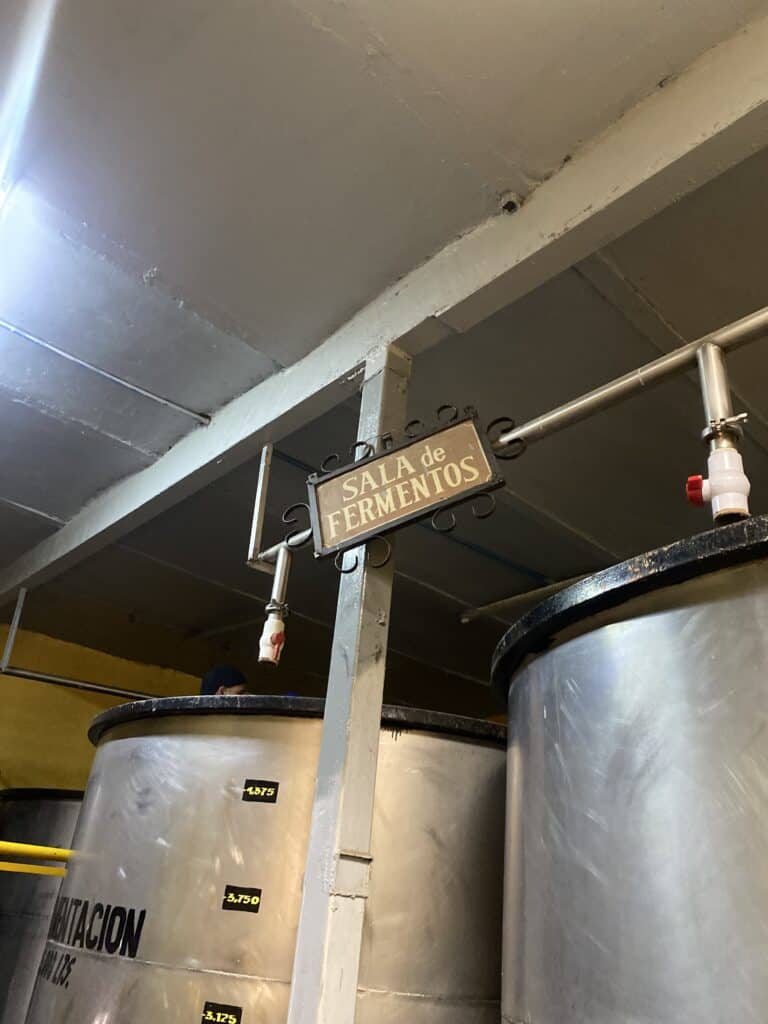 The second to last room is the aging room. There are more barrels stacked here and I jokingly mutter "racks on racks on racks, son!" The joke falls on deaf ears. I give up on trying to be funny. At this point I dont think anyone is paying attention to the guide. There is a part of me that feels bad for her. I know she's doing her job so I feign interest and try to finish up this tour strong. In an attempt to engage her and add to the tour, I ask her where the barrels come from. She responds with a brief, blank stare and assures me that she will get a response for me at the end of the tour. I shrug it off and now feel like an asshole. I feel like those dudes that try to "stump the bartender" or ask about the most minute details around an agave distillate on different online forums.
We finish off at the final room, a hybrid of tasting room and souvenir shop. There are about a dozen wooden tables, each one occupied by participants of previous groups. Despite the lack of a kitchen, this area looks like a bustling restaurant. Here I thought I was safe from the feedback of the megaphones and the muddled blaring of the tour guides but now they are tableside! And there are several of them, each one trying to speak over the other! It's madness and I am overstimulated, and at this point I want my samples. Seven of us, about a third of our group, sit at a table and each of us get five empty sample cups. I try to guess what we are about to be served. Blanco, Repo, Anejo, XA, and…? Joven? Mixto? I get technical with my educated guesses.
Blanco, Repo, Anejo, XA. I guess correctly! But the last is a dark, syrupy looking liquid that resembles molasses. What the hell is this? I give it a whiff and it's straight up coffee! It's like a more agave forward kahlua. It's their house coffee liqueur and I see that it's one of their many "cremas": Sweetened and flavored tequilas with thick and cream consistencies. A wall at the giftshop is lined with these cremas and my stomach churns just thinking about the sugar they contain, but I contain myself and bring myself down the high horse I rode into the distillery on. I personally know members of my family that love these cremas as a sort of digestif. Others in my family will say that they straight up just don't like the flavor of alcohol. Others will use some of these cremas and add it as a Baileys to their coffee or piping hot canela, a cinnamon tea.
Although cremas are not my jam, they can be the bread and butter, or another form of income for some producers I have met across my travels and studies. I am reminded of the whole "aging mezcal in barrels" fiascos and arguments I have witnessed and even participated in in the past. Tequila, mezcal, and other distillate aficionados scoff at the idea of adulterating a spirit and push for the ideal of enjoying these distillates in their raw essence and form.
Just recently I ran into a friend, maestro Dolores Gonzales from Cumbrita de la Sierra, in Mexico City, who has made waves with his newly imported lechuguilla from Chihuahua. Aside from his phenomenal lechuguillas, ensambles, and pechugas, he showcases the cremas when we meet up. Lechuguilla based cremas, and though I already feel the haters cringing at the idea of these cremas, I encourage people to try these cremas before spewing the hate.
I stare at the wall of cremas at a distance and wonder if I should pick some up for my nana or my mom, both fond of sweet flavored alcohol, but I decided to hold off until after the tasting. Maybe a little liquid courage will loosen the apprehension of buying these syrupy substances. And while the guide starts the tasting over the megaphone by teaching us the basics of how to taste the tequila, I jump ahead and begin my own judgment.
I start with the blanco. I have about ¾ of an oz in a plastic cup. Given my years of craft bartending, I am certain on the measurement. But there is something off. There are some cooked agave notes. I didn't see a diffuser on the premises. We seem to have skipped over the hornos in the tour but the smell of roasted agave lingers in the air. I switch nostrils and look for any definition of the word tequila in each whiff I take but it's all so…muted. It's bland. This tequila is face down in the water, just floating away…
Perhaps it's the quantity I am served, so I give it another chance. I ask our guide for another splash and she feels up my sample cup. Not the best vessel to embrace the nuances of a spirit but I give it another go.
Flat again. Maybe this blanco is a creeper. Maybe, just maybe if I sip it the aromas will pop out… The first drops of the blanco swish and swirl across my tongue. I feel like Denethor in Return of the King when he pops the tomato in his mouth to make those nasty tasting noises. And for lack of a better word, this tequila is "smooth".
I feel my tasting and booze mentors spiritually writhing in anguish because I am unable to come up with another descriptor in my head. Cream cheese is smooth. Tom Cruise in Cocktail is smooth. Velvet is smooth. But this tequila isn't right. It's just that: Smooth. Like almost cooling on the palate. Alcohol is present but shy in its presence. There are no discerning pepper notes nor those wholesome, roasted notes, nothing herbaceous, nothing chemical, it almost feels like a slightly boozier soju with a tinge of tequila.
I blame my cup and temporarily ignore the blanco. I move on to the repo and aside from feeling similar to the blanco, there is a tinge of vanilla and it reminds me of borrachitos, the vanilla flavored, sugar coated gummy candy found throughout Mexico. The anejo follows the same course just with a more concentrated vanilla flavoring. I hold off on the XA because though tasting these samples in a logical succession, I feel like I'm going to experience similar flavors. I take a moment to myself and watch everyone around me taste their samples. People are shooting their samples so I succumb to peer pressure and shoot the blanco. No wince, no cleaning of the throat, no recoil. It goes down the hatch with ease. But I am not at ease. I hold no stake in this distillery and prior to half an hour ago, I didn't know this place existed. But for my own peace of mind (and perhaps arrogance) I ask to see the bottle they were served out of.
It turns out the bottles are 10 liter plastic jugs with a sticker slapped across the front of it. I'm not mad at it. It's bulk, it's efficient, and it probably hasn't had much contact with plastic if it's made onsite. Everytime I see these jugs I am reminded of the time I was leaving Cascahuin's distillery riding that high, or rather buzz, from tasting through their line up with the homies Chava and Tetsu. While at the giftshop, a local man comes in and buys a similar jug of tequila and walks off. It was then when I learned that these distilleries must also cater to the pueblos that they belong to and that even distilleries need to keep the lights on.
So there is nothing menacing about this jug, and I try to flaunt my palate to my girlfriend while she gives her samples away to me (she actually just left them there but she may as well just have given them to me). "36%, just watch!" I make the call in front of her and the family. And when I finally see the alcohol percentage on the label, I let out a hearty "HAH!"
Not only was I wrong (slightly). The percentage read an exact 34.9%. "Thirty-four point nine" I mutter. I sip my repo as if reassuring my palate that the label is incorrect. I ponder the importance of this number while the chaos ensues in the tasting room. Another group adjacent to us is now in the "cheers" portion of their tour and the guide walks them through some of the traditional toasts and tequila sayings that mask sexual or crude connotations.
And it hits me, but before I complete my thought, I search the label for the actual word TEQUILA. And like this morning's hangover, it's gone. Nowhere to be seen. I double check the label. Nada. Maybe the 'destilado de agave' was a misnomer on the label so I search for a NOM. Nada again. And now the result on tequila matchmaker makes complete sense.
According to the Norma Oficial Mexicana NOM-006-SCFI-2012, the document that states the parameters and laws of Tequila production, a Tequila is considered a Tequila when the alcohol content falls in between 35% to 55%.We are accustomed to seeing 40% on most bottlings in the states and I see many commercially available tequilas at 38% in Mexico, but to see this 10 gallon jug listed at 34.9% seems almost comical! I mean, talk about loopholes! So close to that 35% mark and yet eons away from being legally considered a tequila!
Giving them the benefit of doubt I check the other labels on the other expressions. All of them read 34.9%. In an almost "I got you!" moment, I feel like hopping out of my seat and talking about my finding. I want to tell everyone that this isn't tequila! Urging these thoughts of being the ultimate Tequila gatekeeper I arrive to the conclusion that nobody gives a fuck.
Everyone here is having a blast! People have arrived from all over Mexico and the world to be here to sip an intoxicating beverage among their friends and loved ones. People are embraced in dance, in song, and the memories being forged here supersede any necessity to be the bearer of this finding. Again, I feel my inner internet neckbeard rising. When the hell did I become such a snob? When did I become "that guy"?
I look over to my girlfriends godfather while he embraces his grandchild and sips on this questionable distillate and though the shots that I am now throwing back with the family are now probably taking effect, I feel their warmth and love and imagine that one day in the future this child will be told about the time they were taken to Tequila.
Our tasting comes to an end and like the group next to us, we all engage in some generic cheers and clink plastic as we down this smooth liquid that isn't tequila in a distillery in Tequila. Our guide points to an exit and also mentions that she accepts any form of compensation for tips. I pull out a 100 peso bill and thank her for the wonderful experience. She pockets a fist full of cash and I can only wonder how many more times she has to do this today…
I walk past the souvenir shop and take a last glance at the bottles of "tequila" and cremas. I wonder if there should be any responsibility placed on this distillery for using the name tequila for their 34.9% distillate in these tours. Nowhere in the distillery does the word tequila appear in print which is probably a way for them to cover their ass from the hegemony of the CRT. I also wonder why the hell I care so much? Why should this bother me? Chances are that I will never step foot in this distillery again in this lifetime. Is my life so bland that I have to make a big fuss over a 0.1% of alcohol missing on a label? If anything, this distillery is probably extremely profitable for the tours they are running without having to abide within the parameters of the NOM and the CRT.
We finally gather up behind the distillery on a backstreet that spills out to a main road. The travel worn group has now been resuscitated and are now lively, joking, laughing, and ready for our final stop before heading back to Ixtlán. We buy some road beers from a stall on the street and the cold beer revitalizes my palate. Any sugary remnants of the tasting disappear forever.
Our final stop is at Cantaritos El Güero #1, the original roadside cantaritos made visible by its vibrant signage and giant cantarito with the name painted on it, El Güero has found internet fame in recent years and chances are you have seen videos of these drinks being prepared on your feed. Many of these videos showcase their giant cantaritos, that on its own, resemble a pot one would place their large monstera or other large houseplant in. Spanning over a foot in diameter and over a foot in height, these clay monstrosities, in the best sense, are shown to be filled with liters of Squirt and multiple bottles of tequila along with fresh squeezed citrus and salt. It's like a tiki mug on steroids, a terra cotta punch bowl, or approximately 113 cocktails in a single vessel, based on a 6 oz cocktail.
The notoriety of these cantaritos exist beyond internet posts. I've had aunts, uncles, cousins, and regulars on both sides of the border talk about the immensity of these cantaritos. I will always promote the safe and responsible consumption of alcohol but the existence of these drinks can only signify that somewhere or someplace these rules become mere suggestions.
Located on the road in between Amatitán and Tequila, Cantaritos El Güero was once a small stand selling these refreshments for passersby on their way to or from Tequila. I have met many Jaliscienses, also on both sides of the border, that pride themselves on having been to El Güero before they got famous. Available in smaller sizes than the 20 liter certain-to-black-out option, the cantaritos are made with fresh grapefruit, limes, and oranges that are poured into whatever size one picks. When picking the individual servings, the tequila is measured out by one of the many charismatic bartenders, each one ready to pose for the pictures or videos, in cuernitos, animal horns, with quick and precise pours. The bartenders are young and quick and spare no moment to joke with the guests; they tell jokes, they jeer, they laugh either with or at you, and they set the tone for the atmosphere to come.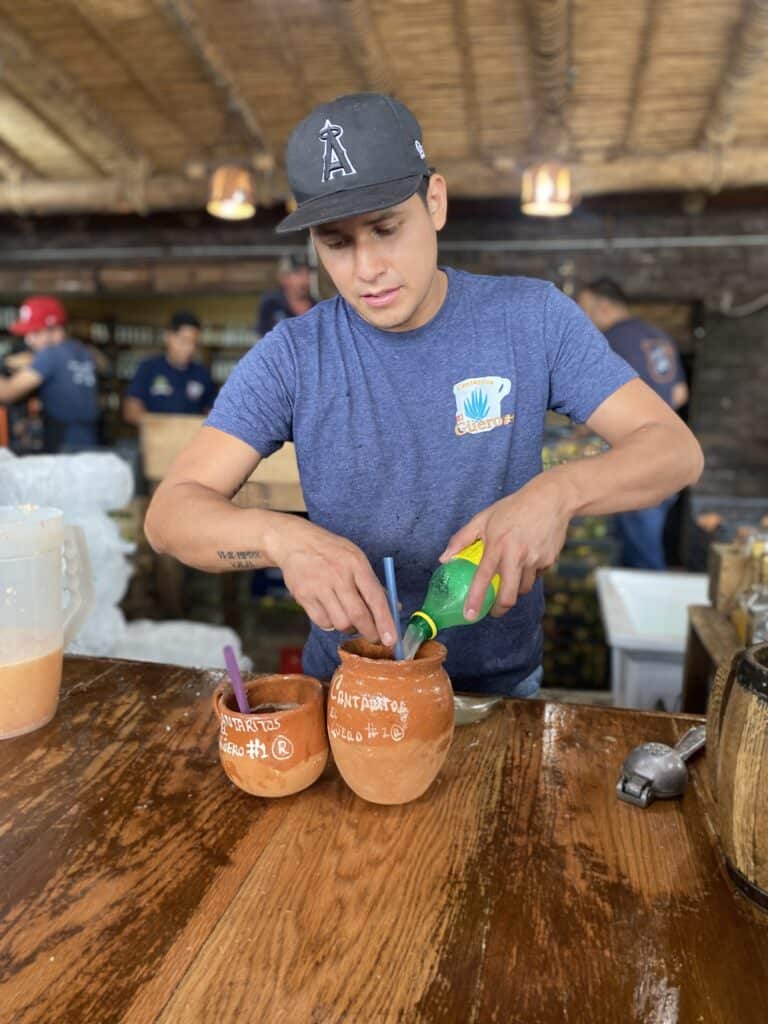 We walk from the parking lot towards El Güero and immediately we are greeted by the clusterfuck at the bar. There is a horde of thirsty guests, about 60 if I had to guess, all trying to wiggle their way towards the bar. Though chaotic at first I start to see some semblance of organization. There is a walk up window much like a ticket booth where an order is placed. Accepting cash or card, one places an order based on what size you want and what kind of tequila. After placing the order, one is given a ticket. Then from the one line one heads to another with the bartender that is ready to make the order. This is where it gets a little complicated. There are several bartenders working at the same time but there are more lines than bartenders. It is unclear where each line will take you and at some point, one must just inch their way towards the bartender with their ticket clutched in hand. After the handoff, the show begins. These bartenders already know their cue and some wait while the guest fumbles for their phone to record the preparation of their cantaritos.
Once the cantarito is made, there is the optional tipping of the bartender. With the drink in hand, one must walk towards the right to consume their cantarito at one of the hundreds of tables or benches on their property while dodging the hordes of people in the way. To order another one, the process must be repeated. The same must be done with the botanas, the snacks to accompany the drinking. There are duros, chips, and other street snacks available but the selection evades me. At this point my memory begins to get hazy as I gulp the tart and carbonated cantarito.
Beyond the madness of trying to get a drink, I take some time to just stand and gawk at the efficiency of El Güero and find the amount of volume that they are doing absolutely incredible. It is apparent that the bartenders have complete muscle memory and probably make cantaritos at lightning speeds in their sleep. Behind the bartenders seems to be a brigade system mirroring that of a restaurant kitchen: Some people are loading bags of assorted citrus. Others are cutting citrus, also at incredible speeds that allow them to pile up in mounds that quickly vanish with the people juicing the citrus in industrial juicers. The juices are mixed in pitchers and the pitchers are taken to the bartenders in the front by the barbacks.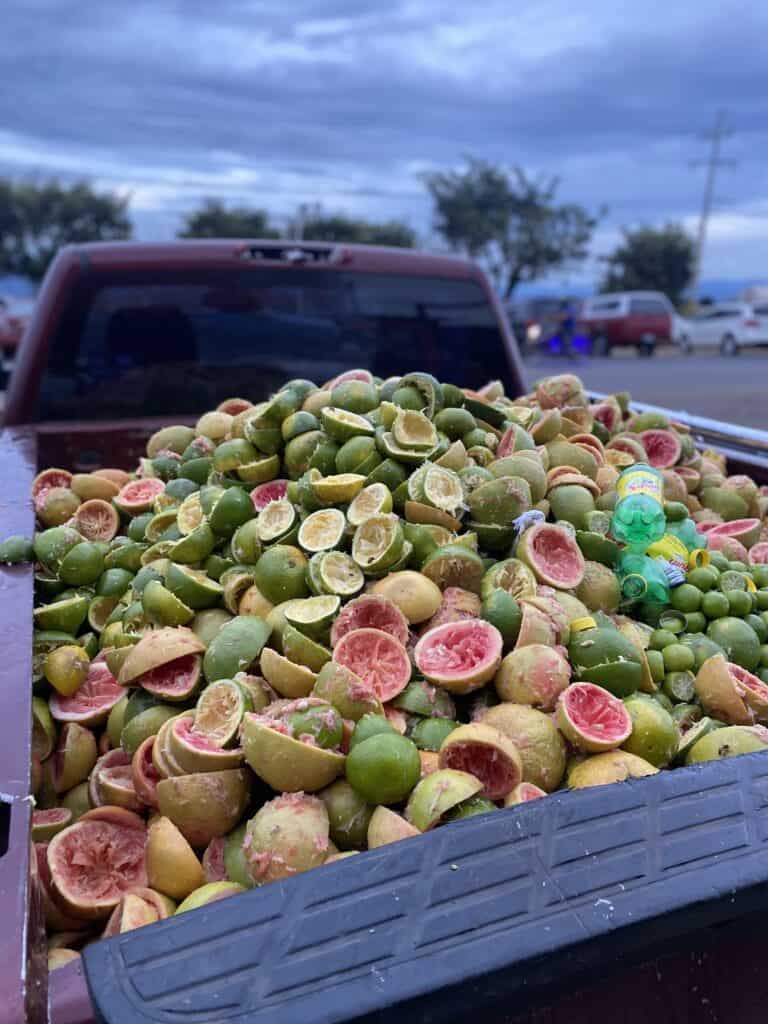 I watch the harmony that everyone works in, amazed by the efficacy. Still in awe, I glance up to see the sizes of the cantaritos and can't help but laugh at the idea of a 20L cantarito. I am tempted to order one to share with the family but see that depending on the tequila these big boys can average about 5000 pesos, approximately $280 USD (at the time of this publication). I order a serving for my girlfriend and I to share instead.
As I peruse the tequila selection, I notice the shelves of bottles and clay cantaritos of varying sizes behind the juicers. Despite the United States being the largest consumer of tequila in the world, I begin to wonder if perhaps El Güero is partially responsible for the amount of tequila being consumed in the world. The menu hangs over the bartenders and the tequila is categorized by price ranges and size. Different brands fall over the price ranges. On the low end of the scale, there are brands like Cabrito and Jose Cuervo Especial Plata or Reposado. Age statements on tequila do not seem to reflect their pricing. Moving right, the prices on the menu increases as does the quality of the selection of tequilas. I see Tradicional and Hornitos are mid tier tequilas, but in between familiar brands there are so many that i don't recognize. On the higher end of the spectrum I see some selections that pleasantly surprise me: Cascahuin and Arette! I take a minute to let my inner snob out and wonder why anyone would order a 20 liter cantarito made with cascahuin. But hey, it's not my money.
I lean against a log mounted as a standing rail which adds to El Güero's already rustic aesthetic. Pillars of similar logs and tree trunks hold up a thatched, inclined roof. Some of the tables and chairs I see in the distance are also made of carved tree trunks. Behind me there is a pick up truck that is loaded with the discarded citrus peels from the bar. It is a mountain of organic waste and a composter's dream come true. Between the live music in the distance, the gassy spritzes of Squirts being opened and dumped into the cocktails, and the yelling of orders between guest and bartender and bartender to barback and barback to juicer and juicer to their fingers, I am amped up and ready to get my drink on!
Leaving the bar, I turn left into the common area and the amount of movement going on is ridiculous! I can't even begin to keep my eyes on a single place. To begin with, there are hundreds of people here. There seems to be hundreds of tables under the rustic looking canopies and each one is occupied. Prior to ordering the cantaritos we sent a couple of scouts in our group to find a table, which in retrospect was a great move. There are huddles of people waiting for tables to free up to snatch them up immediately.
There is live music everywhere! And it's not just a single band but multiple groups of musicians playing at the same exact time! It seems that each group is attempting to play over each other creating a never ending feedback loop that raises the decibel level to unfathomable yet enjoyable levels. At some point a table near us hires a norteño to play some jams and a nearby banda, tubas and trumpets and tamborazos and all, walk over with no shame and begin playing a new song, intentionally drowning them out (and probably trying to take their fare). It's straight up ruthless and that's just among the musicians!
I walk over to the table where the family waits and on the way I scope out one of the restrooms, a measure I take in order to avoid getting lost in my later drunken state. The men's line is long but it moves quickly. Outside the line there is a man puking out his cantarito and everyone is unfazed by this. There is another man nearby laid out and being cared for by his party. I imagine this is what the gin alleys of England looked like in the 16 and 1700s. I am concerned for these folks but the atmosphere just seems to invoke and permit this.
There is plenty of dancing going on and I awkwardly dance again between the crowds of cantarito bearing folks. People are dancing on tabletops and on benches, some are falling over without a care in the world. I begin to check if there is any security or order here but my concerns quickly wane as I approach another banda.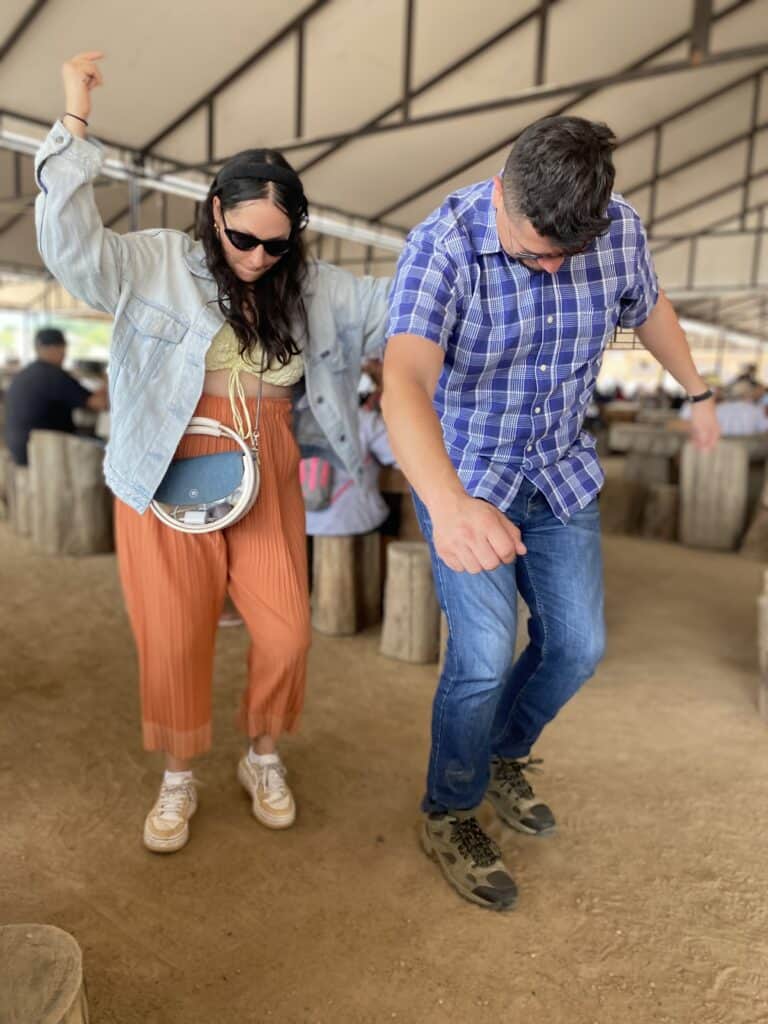 Despite the drunken depravity and debauchery, it is oddly enough still family friendly. There are families with children sipping on sodas and non alcoholic cantaritos (I hope) and grandmas and other visible matriarchs just vibing with the atmosphere. The floors are made of dirt and it slowly grounds me. I walk away from the common section towards a chain link fence and I take a glance at the scenery outside of the festivities. I am surrounded by gorgeous mountains and light gray clouds that shield us from the overbearing tequila sun. Beyond the chain link fence are rows and fields of blue weber agave, picturesque and humbling. As big as Cantaritos El Güero is, it is only a point of a blade of agave that is the valley of Tequila.
I realize I am in the smoking section by the waft of weed that reaches me. I am brought back down from this transcendental moment and glance over the canopies of El Güero. That's where I want to be. That's where I want to party. I trip over a rock caked into the ground and I notice that it's a shiny black rock. It's a volcanic rock. It's shiny, it's sharp, and it's sleek…
Obsidian. The dirt floor has obsidian embedded in it like stars vaguely visible in a city night's sky. I am not a geologist but obsidian is my favorite stone. And in childlike wonder, I stare at the dirt and try to spot the obsidian. This, too, also reminds me of the landscape around us and the volcanic activity (or lack of) in the region. I wonder about the minerals that are found on this soil and what they contribute to the growth of the agaves on this land. I am spacing out on this dirt and quickly snap myself out of it, suspecting a contact high from homeboy smoking that joint by the fence.
I sit my drunken wandering self down at the table but it's hard to resist wanting to walk around and be a spectator to everything going on within these canopies. I hold my girlfriend's hand in part because I cherish this moment here with her and partly because I know that doing so will prevent me from walking away and getting lost in the crowd. My mind wanders and I have no idea what anyone is talking about at the table. There is just so much to take in.
And then, out of the blue, a primo, the newlywed, arrives at the table with the big boy, the 20 liter (which after fact checking turns out is a 21 liter cantarito) held in his arms the same way one would hold a child. It is massive in person. I don't know why anyone in their right mind would order such a monstrosity, but luckily no one here is in their right minds. In one of his hands he holds several straws and I get handed one.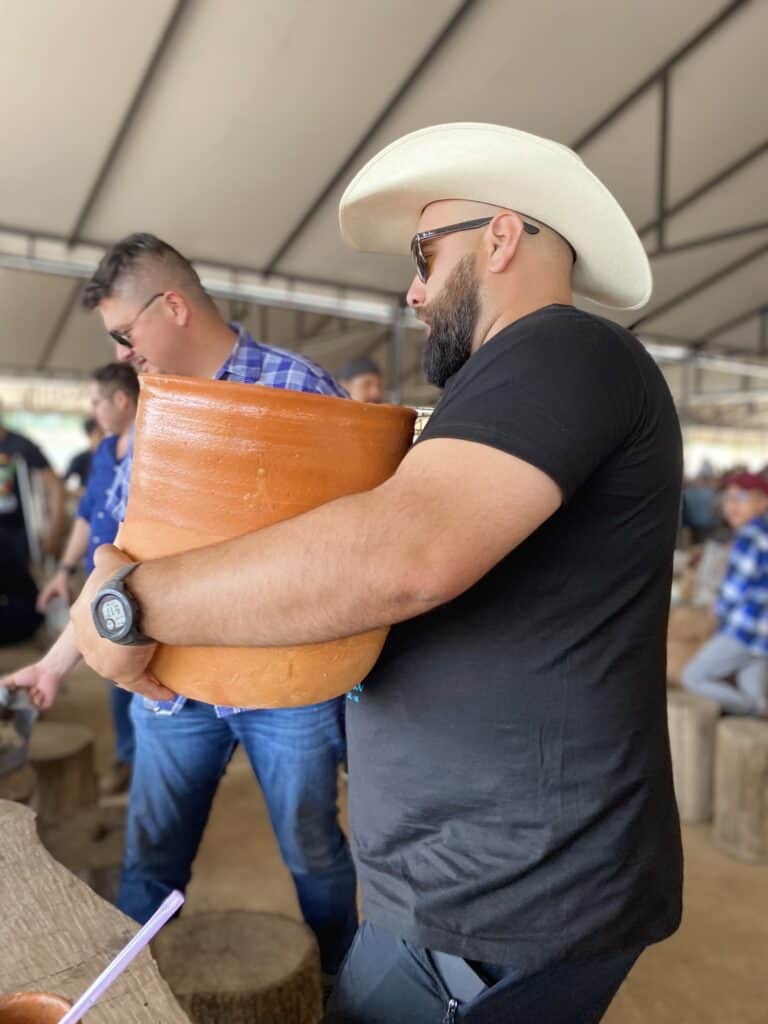 "Date" I am told in Spanish. Help yourself. I am finishing off the cantarito I bought for both my girlfriend and I but she is not a heavy drinker. I can tell by her slight flush and the amount of dancing she has done she is a little tipsy. I stick a straw into the giant and take a large swig. The wash line on the drink doesn't move. It looks to have the same volume, but as a bartender at heart, I am amazed by how despite the size of the drink the flavor remains consistent!
I mean, its hard to fuck up a drink that's largely composed of a grapefruit soda and tons of citrus and booze. My palate is also not at 100% either but the enormous drink itself is palatable. Nearly everyone at the table approached it with their straw in hand and stuck on it like boozy hummingbirds or butterflies on nectar. It is also the perfect photo-op and we each take turns on carrying the giant cantarito. Some pose with it by holding it up over their heads and others pretend to drink out of it like a regular mug.
We dance amongst ourselves as do the other tables within the vicinity while the sun is still somewhat out. It is approaching dusk and we still have to make another 3 to 4 hour trip back to Ixtlan. It feels like we're about to call it a day but everyone still seems to be having a good time. Out of the blue there is another giant cantarito at the table! This surely signifies that we are here for another hour or so, and in an act of desperation to leave or maybe just having a good time, we all get at the giant cantarito and it seems to disappear quicker than the first. The cantarito easily has about 5 inches of drink left in it but we finally call it. There is no way in hell we can remain there sucking down these drinks until nighttime. Someone brings the leftovers on the bus to finish it off. I feel wobbly and intoxicated but in a good place. We walk towards the bus and, as our last attempt to remain in tequila country, we take pictures in front of the giant cantarito structure in front of the parking lot in a true touristy Tequila manner.
The bus ride back to Ixtlan de los Hervores seems quicker than that morning's trip to Tequila but that's because half of us are asleep and half of us continue the dance party on the bus. There are bottles of tequila still being passed around the bus and my girlfriend, at one point leading the dance party in the aisle, is fast asleep on my shoulder. We get back into town around 1am where the pueblo's fiestas are still going on, and we, still raging with the energy of El Güero in our veins, continue on with the festivities for another couple of days.