It's been awhile since I had a chance to get to Los Angeles for a pure mezcal weekend, couched with the perfect excuse of a baby shower, Oaxacan style. This time, I took the bus down and back as I had the time and the hills and fields of the Central Valley were green – it's been a while since that has been the case here…
I love Los Angeles, I suppose that makes me a rare San Franciscan. The food is amazing, and well, it is super chill and friendly. And catching up with dear friends is always a treat.
It's interesting to see so many changes since I first started going to Los Angeles on a regular basis – primarily the explosive growth of public transportation, bike lanes, and well crafted beer; so much craft beer that the LA beer scene certainly gives the NorCal beer scene a run for its money. Much of it is lighter and crisper (a session IPA from Golden Road Brewery – so refreshing!) But back to mezcal…
After the baby shower, a group of us decided to check out La Cuevita in Highland Park – a quickly gentrifying neighborhood northeast of downtown Los Angeles. La Cuevita was an old neighborhood dive bar that has changed ownership and been updated. It's a beauty of a space – dark and small just as its name implies. The bar is simple, though awash in craft spirits, including a whole wall of shelves completely dedicated to mezcal.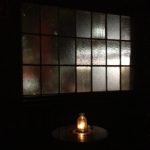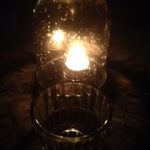 It is famous for its "late night" happy hour that runs from 5-9pm and features $5 cocktails. Apparently good ones too as our table was awash in manhattans, margaritas, mezcal mules, and more. Oh, and they have Indio beer. But one look at their mezcal wall steered me clear of the cocktails.
These guys know their stuff (lately we've been on the war path pointing out how important this is) and Sol, the bar manager with the fantastic name had equally fantastic suggestions on what to try. I went for Enmascarada 54 – a strong full flavored 54%er thus its name. I love this mezcal and was thrilled to see it in a US bar. We also had some La Niña del Mezcal Espadin and a surprising madrecuishe from Los Javis. The latter is potentially a sign of the problematic supply of wild agaves as these guys produce a lot of mezcal for the low-mid market.
This might just be my new favorite mezcal bar north of the border. I loved the aesthetic, the vibe, the mix of young people that did not give any of us "old" folks the look of what-the-hell-are-you-doing-here, the tangy and spicy sal de gusano they dipped their oranges in, the guy working the back bar who had the most amazing 'do I have ever seen, and the Mexican guy who said to me as I ordered my mezcal – "whooa, you drink that shit?"
Yes, yes I do.