It is never too late to create or update a home bar, especially if you are interested in making it more agave centric. This is meant as a starting point to help you get going on your mezcal journey. We know that once you start down that road, it is full of endless possibilities. There is no right or wrong direction, and you should let your taste buds and personal flavor preferences guide you. And if you need a refresher or introduction to the basics of mezcal, be sure to check out our Mezcal 101 page.
Basic tools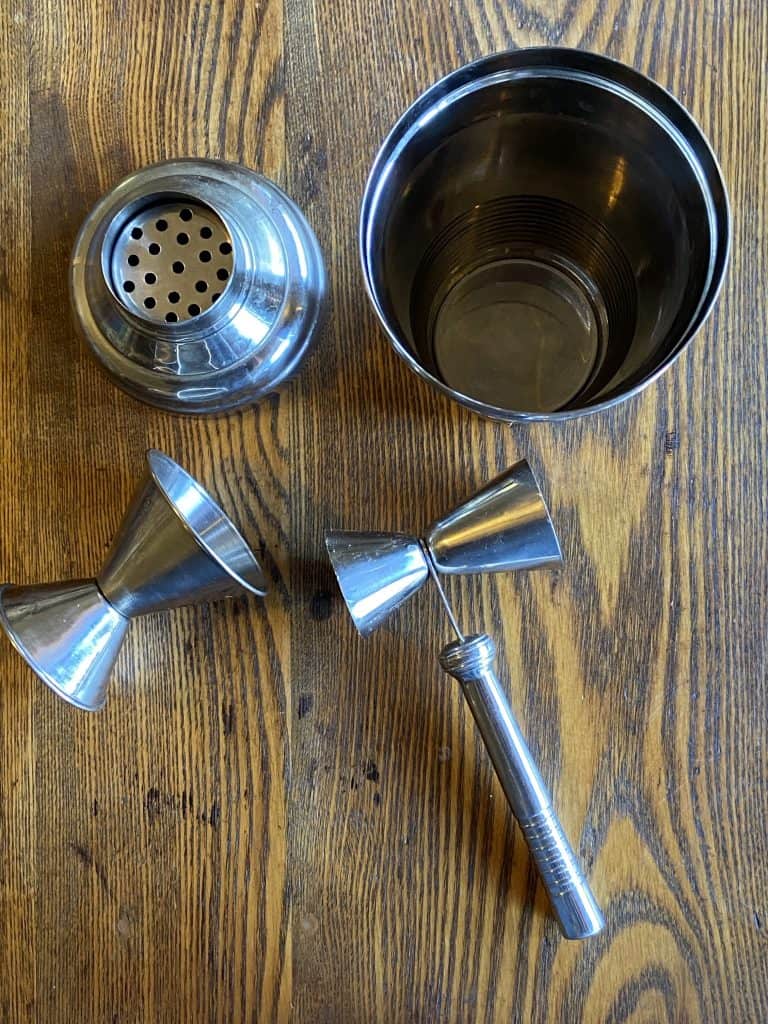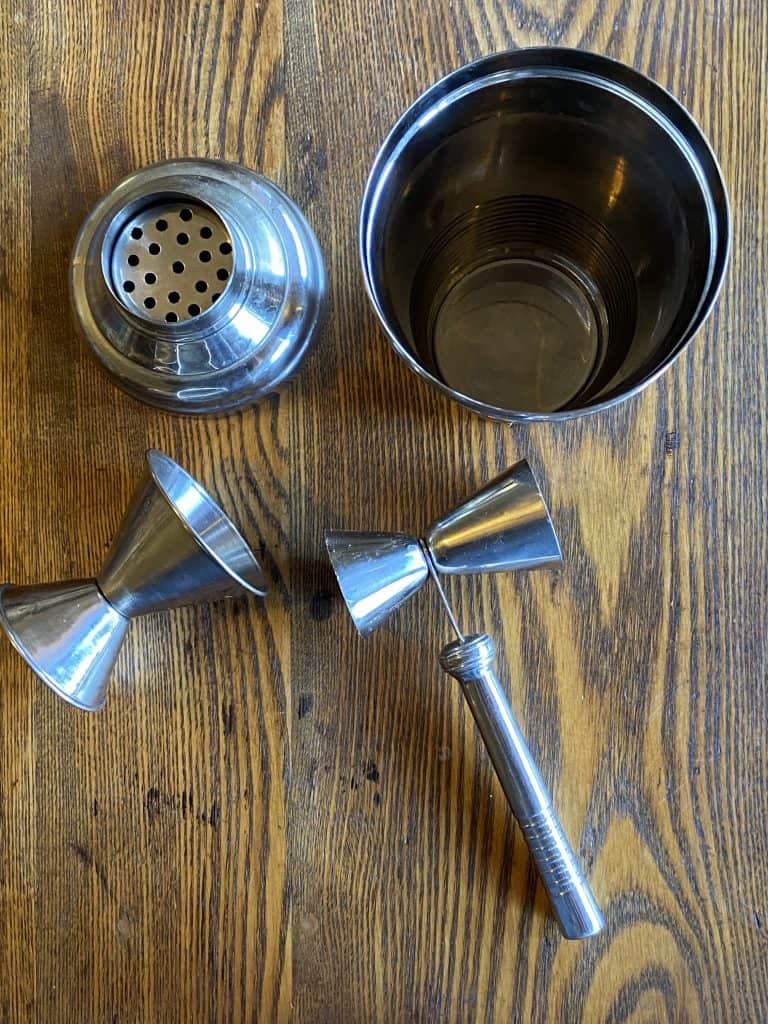 Most people are introduced to mezcal through cocktails. Being at home means you get to experiment and improvise. If you don't already have a basic cocktail kit – jigger, shaker, strainer and stirrer, Cocktail Kingdom has a cocktail set available at their online store. Or you can use what you have on hand – a pint glass, a tall spoon or chopstick and a basic kitchen sieve like these.
If you want to up your glassware game, check your local Goodwill or Salvation Army, they always have a plethora of glassware to get you started. If you want to go higher end, again Cocktail Kingdom is a great resource for pretty much any style of bar glassware you want. The vaso veladora has become the unofficial glass of choice when drinking mezcal neat. You are not mistaken if you think it looks like a candle votive because it is exactly that. They are commonly found in the places where mezcal is made because they can serve the dual purpose of holding a candle and as a drinking vessel, you use and reuse what you have on hand in Mexico and these vasos are durable and do not break easily. They also happen to be a perfect size and have a good width at the top to let the alcohol breath a bit so you are not overwhelmed when you sip.
Recipe guides
You'll also want a basic cocktail recipe book. Gary Regan's "The Joy of Mixology" is a great introduction to cocktail basics and talks families of drinks, bar tools and glassware, a kind of Joy of Cooking for bartenders, while Lou Bustamante's "The Complete Cocktail Manual" is a great all around guide that comes with the blessing of the USBG. For a mezcal specific guide look to Emma Janzen's "Mezcal: The History, Craft & Cocktails of the World's Ultimate Artisanal Spirit". It's a great resource for mezcal focused recipes and information.
Basic bar ingredients
Building a bar is a lot like stocking your kitchen pantry. There are essential ingredients, building blocks really, for creating cocktails. These include:
Vermouth – Sweet and dry.
Basic liqueurs like Creme de Cassis, Orange Curacao or Triple Sec, and St. Germain.
Amari – Campari, Aperol, or Mexico's very own Granada-Vallet.
Bitters – Angostura and Peychaud's are the basics.
Depending on how deep you want your bar the basic spirts to have are gin, vodka, and whisky in addition to mezcal. We suggest you play around with the mezcal you will use for cocktails. There are some good, price friendly options and each has different flavors. Vida, Ilegal, Banhez, Sombra, Mal Bien, El Silencio, Vecinos del Campo, Peloton del Muerte, Mezcal Union, Amarás Verde, and Montelobos are all from Oaxaca and made with espadin and work for mezcal cocktails. While at a higher price point than the others, Mezcal Vago's Elote is another good option, plus addition of that corn flavor gives another layer of flavor. For a non-Oaxacan cocktail mezcal there a cupreata from La Luna or Matchetazo are also good cocktail options. Should you want to try using a reposado, the Wahaka Reposado con Gusano makes for nuanced flavors.
If you want to have a Mexican flavor focus to your bar, there are some great non-mezcal craft spirit options now coming out of Mexico that are now more widely available that you can swap in for your other bar spirits. We've been focusing on the idea of a bar centered on all Mexican ingredients through our Mexican Pop Up Bar series.on Instagram on our @Mexicoinabottle feed.
Gin – Gin Katun
Whisky – Abasolo, Maiz Nacion, Sierra Norte
Rum – Paranubes, Uruapan Charanda, Gustoso Aguardiente, Dakabend.
Bitters and Liquors – The aforementioned Granada-Vallet, Amargo-Vallet, and Fernet-Vallet. Ancho Reyes Chile Liqueurs. Nixta Corn Licor, the Casa D'Aristi line up of coconut liquors and more.
If you want to add some specialty salts, chapulines or gusanos, Merci Mercado and Don Bugito have great selections. You can also create your own salts and syrups. Christine Wiseman of Broken Shaker did a great talk with us about how to use the whole lime, from juice to syrup to salt and more. The important thing is to not be afraid to experiment and have fun.
Building a mezcal shelf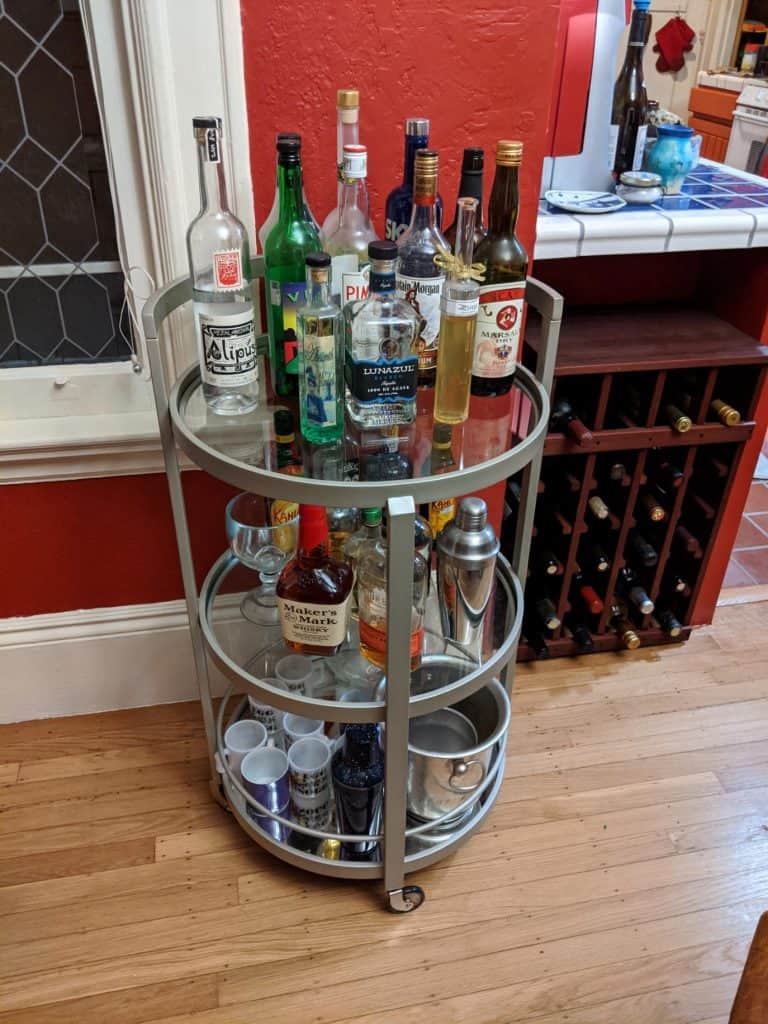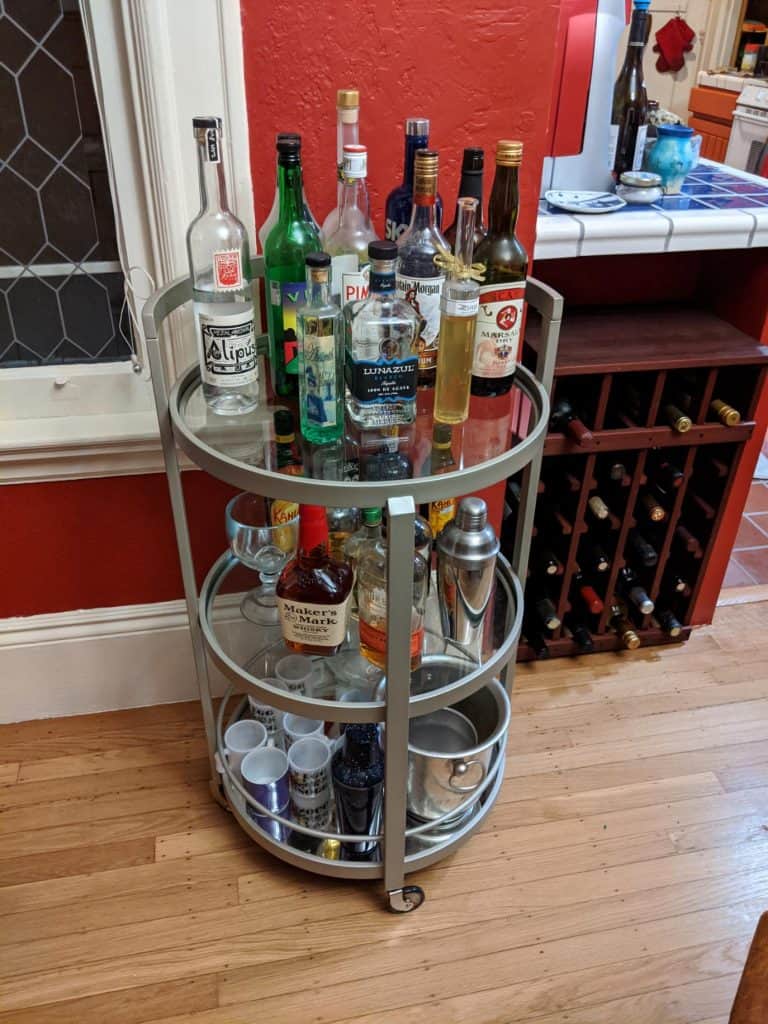 As we have said before, one silver lining of Covid-19 is the boom in 200ml bottles. This is such a great and affordable way to try different mezcal and get a sense of what you like. We worked with Old Town Tequila to put together a few sampler boxes to help folks explore regions, agaves, and flavors. We've also put together a Where to Buy Mezcal list of retailers around the US to help you shop local in addition to online. There is so much out there so learning what you like is a process of trial and error. Susan has broken her mezcal bar down by easy to reach, mezcal for every day; mezcal for special occasions; mezcal to wow her mezcal nerd friends.
The Espadin
The majority of mezcal in the market is from the state of Oaxaca, and of that, most mezcal is going to be from the agave variety espadin. It is the workhorse of the category because it is easy to cultivate and takes "only" seven years to mature. It also has a higher sugar content than other varieties. You definitely want to begin with a few different expressions. Flavors can vary due to altitude, water, distillation process – no one espadin is like another. Start by exploring the different processes and get an espadin distilled in clay and one in copper. Real Minero, Del Maguey Minero and Don Amado Rustico are good introductions to clay pot distillation. Maybe then try one from the Ejutla or Miahuatlan regions where they use a single distillation process in copper giving the mezcal a different flavor note. These include Banhez, Espiritu Lauro and Neta Spirits which is technically not a mezcal as it is an uncertified agave distillate. And then try another from Matatlan, San Juan del Rio or San Dionisio where double distillation in copper is the traditional production style. You can check our mezcal database for details brands that have espadin agave in their line up. And you can also search our site for tasting notes or stories about producers, regions and production styles.
Wild Agave
There are several species of agave that are used in making mezcal and within these species there are different varieties. Espadin is a variety in the species Angustofolia as an example and while it can be found wild, it is primarily cultivated. The over harvesting of wild agave has become an issue and there are several projects underway to "semi" cultivate wild species and varieties. Wild agave can take anywhere from 10-25 years to mature depending on the species and variety. Some familiar species names are Karwinskii, Cupreata, Salmiana, Potatorum, and within these species are varieties like Madrecuishe, Bicuishe, Tobala to name a few. Look at adding a couple of bottles from different species to get a sense of flavors and then you can dive deeper into each one by adding more varieties from within a species. There are also ensembles which are combinations of different agave. These are actually very traditional, in the past mezcal makers would produce very small batches and would make mezcal with whatever ripe agave they had on hand. Different from blends which are created post production, the agave in ensembles are cooked, crushed, fermented and distilled together. Prices can vary on wild agave expressions depending on the variety and you should expect to pay between $80-120 for them.
Regional explorations
In addition to all of the great mezcal from Oaxaca there is now more mezcal available from other mezcal producing regions in Mexico including Puebla, Michoacan, Guerrero, Durango, Zacatecas, Tamaulipus, San Luis Potosi and Durango. Derrumbes, Mezcales de Leyenda, Legendario Domingo and Mezcal Nacional have expressions from different regions in their portfolios. La Luna and Don Mateo focus on Michoacan, Origen Raiz, Sacro Imperio and Lagrimas de Dolores present mezcal from Durango. Del Maguey and Montelobos have a few expressions from Puebla and 5 Sentidos, also not technically a mezcal, has several. Matchetazo and Amaras both have mezcal from Guerrero. And Almamezcalera, another destillado de agave, has expressions from Durango, San Luis Potosi and Guerrero now available in the US..
That one mezcal
It is often said that mezcal is meant to be shared, and that is very true even if sometimes you find that one mezcal that speaks to you and so you keep in the very back of your shelf, only pulling it out for very special occasions. Or maybe it is the opposite and you place it front and center as a showcase mezcal, never intending to drink it, which of course would be a tremendous shame. You can fall down a very deep rabbit hole here, obsessing over specific batch numbers or years, there is a very fine line between wine collectors and mezcal collectors. Susan has a few she has picked up through out her travels in mezcal country – ones that will never be found again. It reminds us of a joke about a one legged pig on a farm with the punchline, well a pig that good you gots to eat it real slow.
Beyond mezcal
Colloquially speaking, mezcal means anything distilled from the agave plant, today it means it is from the Denominacion de Origen and has been certified. You can find Destilados de agave in the market which are uncertified mezcal or from outside the DO. There are also other destilados categorized in different DOs, Tequila being one example, Raicilla and Bacanora being others. Mezcal has opened the door for Raicilla and Bacanora and you should definitely give them a try. Often times lumped in with agave spirits is Sotol, though it is not made from agave and in fact belongs to a completely different family, the Asparagaceae. The process of making Sotol is very similar to mezcal and why they are usually lumped together.
Final thoughts
There is no right or wrong in setting up a home bar – it is all about building a set up that is easy to use and filled with spirits you like to drink, whether it is just a few bottles or more. You can make a showcase in your space, or it can be as simple as a shelf in a cabinet. For additional ideas, Porch.com has a handy post on creating a bar in tight spaces along with other helpful tips on what you need for a bar set up. But one thing is pretty much guaranteed, once you start down the road of mezcal, you will find yourself adding more bottles so make sure any set up is scalable.
Basic Cocktail recipes to get you started
Mezcal Negroni
1 1/4oz Mezcal
1 1/4oz Campari
1 1/4oz Sweet Vermouth
Orange twist for garnish
Stir all liquid ingredients with ice. Strain into chilled rocks glass filled with ice. Garnish with an orange twist.
Mezcal Paloma
2 oz mezcal
3 oz grapefruit juice, freshly squeezed
1/4 oz lime juice, freshly squeezed
1/2 oz simple syrup
2 oz club soda, to top
Garnish: grapefruit quarter wheel
Add the mezcal, juices and syrup to a shaker with ice and shake. Strain into the prepared glass over fresh ice.then op with the club soda and garnish with a grapefruit. quarter wheel.
Mezcal Manhattan
2 oz Mezcal
1 oz Sweet Vermouth
3 dashes Angostura Bitters
Mix all ingredients in a shaker and add ice. Stir for 15 rotations and strain into desired glass. Can be served 'up' or on 'the rocks.' Garnish with a charred orange peel, maraschino cherry, or a brandy cherry.