Summer produce is in full swing, which means making the most of the fresh fruit and gardens exploding with fresh herbs. While playing around with combinations, a particular fruit and herb blend reminded me of one of my favorite varieties of agave used to make mezcal- Madrecuixe, a Oaxacan variety of Karwinskii. The Fidencio Madrecuixe shows off fruity, floral, and herbal notes, while also hiding some lactic and toasted undertones. This recipe hits all of those flavors, complementing and contrasting the qualities of mezcal to enhance the spirit's complexity.
The mezcal
This mezcal is made from wild agaves that take 12+ years to reach maturity. The long maturation time of this variety may be one of the reasons for its characteristic complexity that balances fruit, flower, earth, and herb notes. This expression is deeply concentrated, making it well suited for a pairing, as the bold flavors ensure it won't be overpowered by other ingredients. Made in Santiago Matatlan, Oaxaca according to artisanal methods, the agaves are cooked in an in-ground pit, open air fermented with wild yeasts and double distilled in small copper pot stills by mezcalero Enrique Jimenez, who carries 100+ years of family tradition.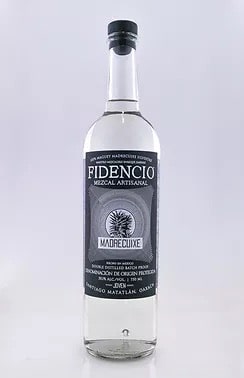 The fruit & cheese pairing
The thyme and blackberry combo is the star of the pairing, with the cheese serving as a base to allow the flavors to pop. For this pairing the ideal cheese is a classic buttery, rich, creamy triple creme like Saint Andre or Delice de Bourgogne, both of which should be easy to find (or something similar) at a well stocked cheese counter. If you opt for a classic brie or other bloomy rind cheese, be sure to choose one that is not too heavy on mushroomy flavors which can compete with the fruit and herb notes; those would be better suited to other varieties of mezcal made from Tobala, or Jabali, for example. To accompany the cheese and preserves, use biscuits, crackers, white bread, or these delicious cookie/cracker hybrids.
Blackberry thyme preserves
This is a quick fruit preserve, it will not be thick like jam. The more sugar, the thicker the syrup, though I prefer a more tart flavor with a looser syrup. Pro tip: any leftover or extra syrup can be used for cocktails- ideally with a botanical gin-inspired agave spirit, a splash of tonic and a squeeze of lemon or lime.
Ingredients
1 quart fresh blackberries (you could use frozen as well)
10 sprigs fresh thyme
½ cup sugar, or more to taste
Method
Combine all ingredients in a small saucepan and heat over medium heat until bubbly and syrupy, about 10 minutes. After 5 minutes, taste and adjust by adding more sugar or thyme. The thyme will continue to infuse as it cools. Once cool, remove thyme sprigs and store in an airtight glass container for up to 2 weeks. Chill for 1 hour before serving.