A rundown of where to drink mezcal when you are in Puebla.
With or without reason, I am skeptical of most so-called 'mezcalerias.' My first experiences of mezcalerias across Mexico were usually small modest places where locals and friends of the producers would come to sample the offerings, and maybe buy a bottle. Oftentimes someone from the brand or production team would be the one to serve and chat about what was being poured; casual places with the focus on mezcal and conversation.
Fast forward a few years and all of a sudden the United States and tourist cities across Mexico were overflowing with highly decorated bars with full cocktail programs, beer, music, dancing, etc, calling themselves mezcalerias. To me, a mezcaleria has been a place to sample a variety of mezcals, and importantly, a place where there is a knowledgeable and passionate person to guide you through the tasting. If there is not someone on hand to tell you about the bottles, help you choose what to sample, and provide insight into what's behind the bottle- it's not a mezcaleria in my book. That said, I was pleasantly surprised by the quality of the mezcalerias in the Centro Historico of Puebla. This is by no means an exhaustive list, and only covers the historic center, or main tourist area, of Puebla.
Where to drink
Without a doubt, THE place to drink mezcal in Puebla is Miel De Agave. Recently moved, this mezcaleria from Poblana chef Liz Galicia is about 6 years old. The style is contemporary and could actually be Los Angeles or Brooklyn, with an expansive concrete bar, low lighting, hand painted wall art, and a colorful and huge back bar of mezcal. It's clearly the cool hipster hangout for agave spirits lovers- locals and visitors alike. The bartenders are young, friendly and knowledgeable. Rafael is almost always there, and is full of knowledge, passion, and good recommendations. He even made recommendations about which mezcalero to try, spanning a few different brands- expert tip! They have the most extensive selection of mezcal from Puebla, that span a range of prices, styles, and varieties. They also offer fresh pulque and snacks that serve as a reminder that this is a chef owned spot- the torta de pipian verde comes with crispy potato chips on the sandwich and is a flavorful way to soak up the many copitas you will want to enjoy here.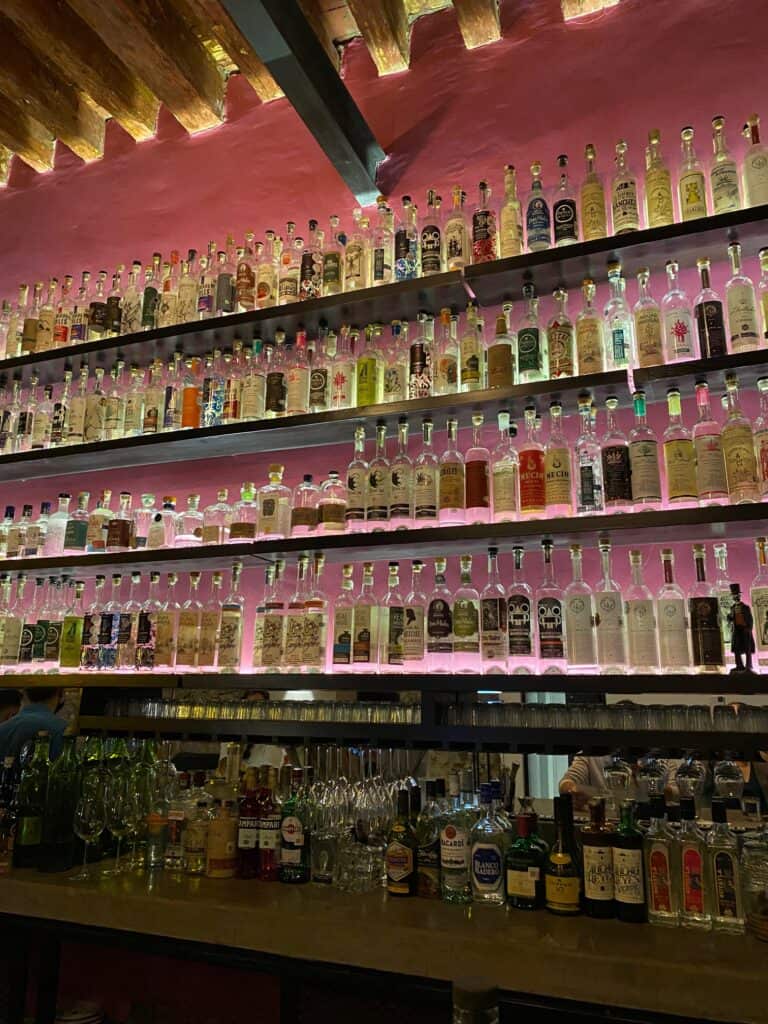 Another good option for sampling a wide range of mezcal, including a healthy selection from Puebla is Salon Mezcalli. This bar/restaurant is a large atrium attached to Hotel Cartesiano located in the picturesque Barrio De Los Sapos. Despite the super touristy location and fancy upscale design and vibe of the place, the prices are reasonable. The bartenders are young and know their selection well, similarly able to offer recommendations, though their time is split between servicing the restaurant with cocktails. The setting is bright and airy, and would be ideal for cocktail hour, or meeting with a friend for a drink or two, not necessarily spending a few hours tasting through mezcal- though the selection is sufficient to do so. They also offer pulque, which was pretty fresh, and the most delicious curado de guanabana- typically I am only a fan of natural pulque, but their seasonal curados are well worth a taste.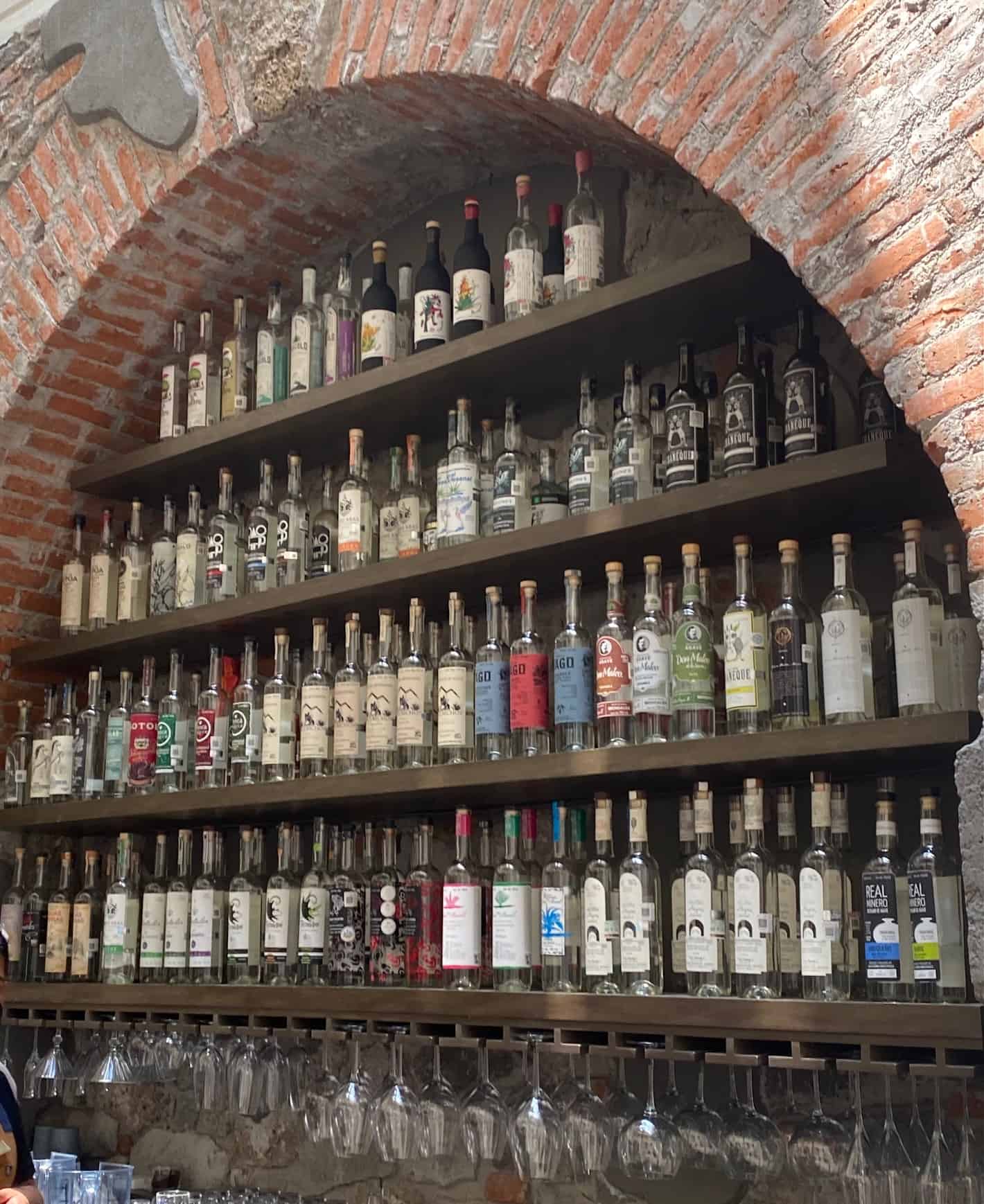 By luck I happened on another mezcaleria, Mayahuel, the bar of the Marqués Del Angel Hotel, that was not listed online anywhere. Small and with a colonial design, it feels like a gamble, but it paid off. Serving mostly hotel guests, and offering live music on Friday nights, it is not a destination for agave distillates, rather an under the radar gem, where you can find good prices on old and limited bottles. The best part is that Francisco, the bartender, is super knowledgeable about his selection of mezcal, especially from Puebla, and also has a passion for making bespoke agave spirit cocktails. They offer flights at good prices with a few different options spanning $6-$25 which includes four pours. They also sell bottles if they have them in stock.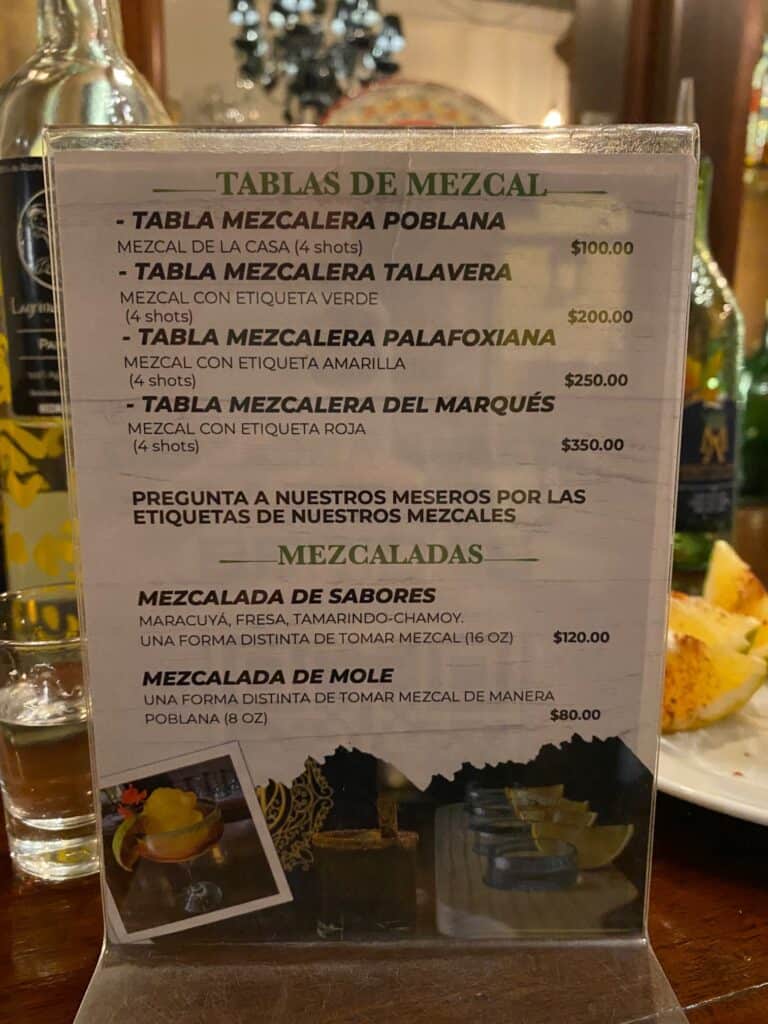 Honorable mentions
Comal, a restaurant right near the zocalo with a terrace, great prices, homemade food, and a solid mezcal selection. Their pulque is also fresh and cheap.
Mural De Los Poblanos, a well known restaurant that specializes in typical Poblano food that has an extensive mezcal menu, and now a small little shop where you can buy mezcal bottles, though most of the selection is from Oaxaca. The prices are elevated but not outrageous for the most part.
Destilado Urbano, a highly stylized small cantina that has a lot of commercial brands and a few good options of artisanal mezcal from Puebla. Located on the Callejon de Los Sapos, it would be worth it to stop in to taste mezcal if it was on your tourist route and you had no other option- though it's best if you already know which brands you like or want to taste. (Also make sure you don't get charged extra- when I told them to add 50 pesos for a tip they added 75.)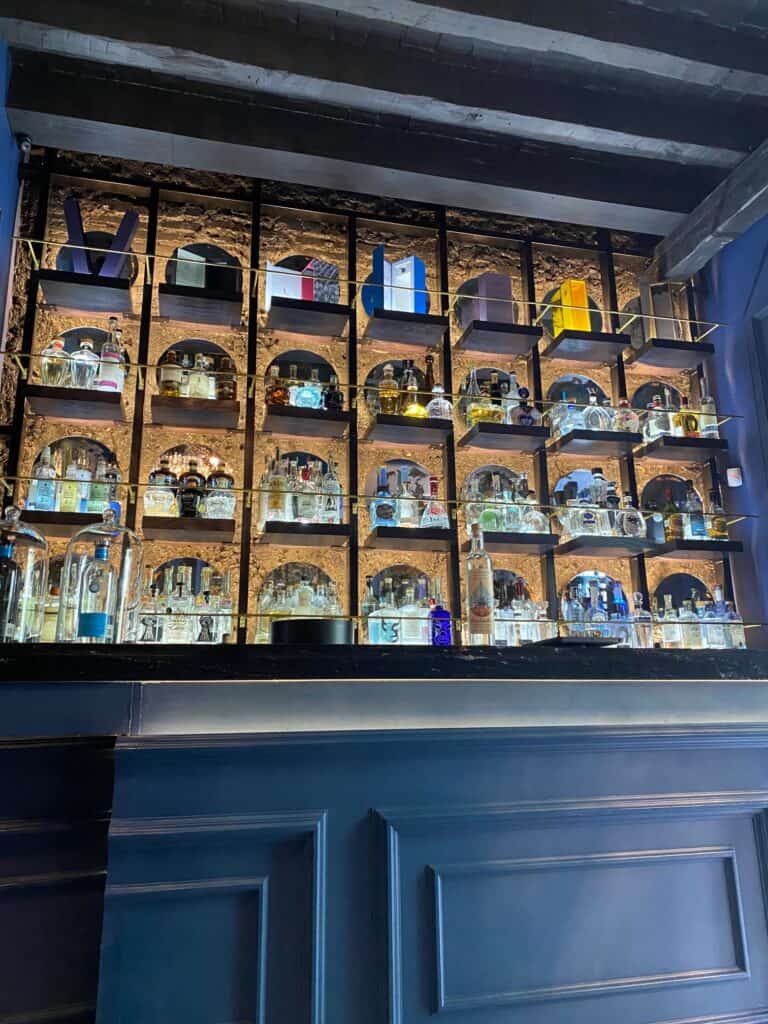 Many of the contemporary restaurants have small mezcal menus, mostly from Oaxaca with one or two from Puebla. As the interest and demand grow, I expect to see the menus of restaurants flesh out with more local mezcal, and hopefully a tasting room or two that are geared toward education and tasting artisanal mezcals. For now, the demand is more than met with Miel De Agave, hands down one of the best mezcalerias I've been to anywhere in the world, and where I plan to happily spend many more evenings indulging.
Where to find the mezcalerias