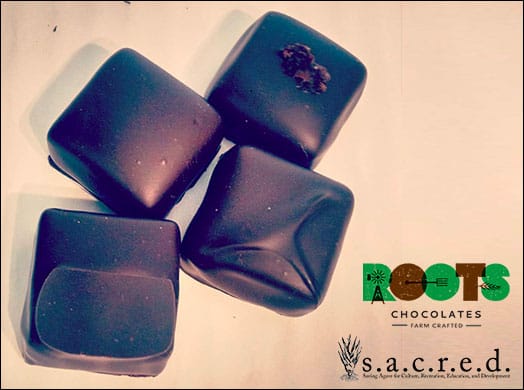 A post from our Chicago partner Lou Bank, who we first met in Oaxaca over mezcal, of course. 
---
Lisa Nelson is a fourth-generation farm owner in rural Wisconsin. When she took over the family farm, she knew she wanted to do something that leveraged the heritage of her farm, but did so in a unique way. "Farming is a hard enough business," Lisa said. "It's harder still if you don't have a way to differentiate yourself." Her point of differentiation is one that piques both interest and appetite: she uses the bounty of her farm to make artisanal chocolates.
The terroir of Lisa's farm is displayed in the over 40 fruits, vegetables, herbs, and honey she infuses into the treats she releases as Roots Chocolates. But she doesn't stop there: She has also established partnerships — what she calls "cho-lab-ah-ray-shons" — with other farm-related businesses. And that's where this suddenly becomes a topic of special interest to readers of Mezcalistas.
This past October, I met Lisa at the Fermentation Fest in Reedsburg, WI. For the past three years, this rural-minded food festival has invited me to host an agave-spirits dinner, serving samples of the rare, artisanal spirits I bring back from my trips to Oaxaca, Puebla, and Mexico City. While the spirits are certainly the focus of these dinners, the purpose is to raise money for quality-of-life projects (the building of libraries, the replanting of agave, the maintenance of water-security systems) in rural Mexico.
Lisa was wowed by the spirits and invited us to participate in one of her cho-lab-ah-ray-shons — a series of four chocolates, each infused with a different artisanal Mexican spirit. And true to both her objectives and my own, twenty percent of all sales of these chocolates is donated to those programs that support the farmers in rural Mexico.
We spent a couple hours tasting through a dozen bottles, and Lisa finally settled on these four expressions for the infusions:
• An Ixtero Amarillo agave spirit from fifth-generation master distiller Miguel Angel Partida Rivera. Maestro Miguel uses a Filipino still that has a wooden-mount condenser fashioned from a hollowed-out tree trunk. This spirit was sourced and bottled by Cinco Sentidos in Oaxaca, a line that is bottled by El Destilado.
• An Espadin agave spirit that was distilled pechuga-style through fruits, nuts, spices, and chicken by Eduardo Angeles Carreno in his wood-fired clay-pot still. Eduardo — known as Lalo to his friends — bottles his spirits under the name Lalocura in Santa Catarina Minas, Oaxaca. Lalo is also the mastermind behind the greenhouse project that is saving rare agave varietals from becoming extinct, and the system that has simultaneously both secured that town's water future and reduced its likelihood to be damaged by El Nino rains.
• A Sotol spirit from Ventura Gallegos of Nombre De Dios, Durango, that was sourced from Erick Rodríguez of Almamezcalera, known as the Indiana Jones of artisanal Mexican spirits.
• A Papalote agave spirit from Tío Chuchi and Tía Victoria, a family of maestros in Chilapa de Alvarez, Guerrero. This spirit comes to us from El Tigre Mezcal, an organization that devotes a portion of its earnings to sustaining this artisanal process that guarantee its preservation in the land of the ancestors of the tigermen.
The chocolates are available now, for a limited time, at $10 per box (plus shipping). Get your box today!