It's been months since the CRM or Consejo Regulador Mezcal, the new name for COMERCAM, dropped their annual report Informe 2015, a 72 page powerpoint presentation on the state of the industry. It's fascinating stuff and less daunting than its page count threatens because most of the slides are exactly that, bullet points or graphs synopsizing the industry. In many ways it's a rallying point for everyone invested and interested in the fate of the agave spirits industry because, while it doesn't cover tequila directly, it does speak to the larger questions on everyone's mind starting with identity because this is first, and foremost, a positive pitch for Plan Mezcal from Hipócrates Nolasco Cancinco, the president of the CRM. While not written with much voice it very clearly comes from his desk and retains a degree of personality usually washed out of C Suite presentations. Among the many things mezcal needs right now, it's that sort of cheerleader-in-chief just to keep getting the branding message across while keeping everyone positive about the future.
And Hipócrates clearly sees himself in that role. He casts the CRM, the agency that certifies anything that legally calls itself a mezcal, as the "punta de lanza de la industria," which is quite forceful language for what has been something of a whipping boy for smaller producers. It's high time that mezcal's representative organization stood up and stood for something positive. This presentation is the clearest indication of that ambition to date. And Hipócrates isn't making this a, pardon the pun, purely militaristic charge. Right there on the same page he says:
Algo inedito sucedió hace tres años, arstesanos y empresarios se unieron en una sola voz y se llamaron a sí mismos "hermano maguey" para convertir al CRM en su aliado y conductor de la industria, como resultado del hartazgo de la visión corta y poco efectiva de la autoridades.
In plain language, 'I'm a uniter, not a divider.' Hipócrates wants the CRM to lead and he follows up with much more in that vein through his introductory slides culminating in this statement:
El Mezcal continúa su ascenso en las cumbres internacionales, sus estadísticas son muy prometedoras, en los próximos años se decide si cosolidamos una tendencia o solo somos una moda, para hacerlo bien debemos prepararnos en todos los ámbitos y estar a la altura de lo que el consumidor nacional e interncional exige: autenticidad, identidad, cultura, sustentabilidad, calidad, etc. (emphasis added)
There you have it: 'I'm growing brand mezcal and we're at a transformational point, either we continue with mezcal as a hobby or we make it into a globalized industry based on a brand identity built on the ideas of authenticity and Mexican culture.' That's the most succinct and clear description of a brand for mezcal I've ever seen and the only one to really rise above the daily chisme. So, pay attention, the man has ambition, whether he can pull it all off is a question that the rest of the report really struggles with.
A quick note about numbers, unless otherwise noted I'm citing certified production numbers which obviously don't include anyone who hasn't received certification. No one has a good estimate for how much that undercounts mezcal production in Mexico but it's significant.
Growth is the Story
If there's one master narrative in this report it's that mezcal is growing. More is being made, more types, more states, more exported. As always it's the details that matter and they tell a more complex story that bears out much of what we've been hearing and reporting.
The report shows point after point of growth starting with a huge jump in asociados, an additional 46 from 2013 to 2014 for a total of 526 which is an even more impressive total when measured against the base of 303 in the rather ambiguously defined baseline of 2003-2011. That's all good stuff, presumably asociados means brands registered with the CRM which means that the market is vivacious, possibly even crowding up. Of course that probably doesn't measure the sum total of mezcal producers in Mexico which would add hundreds, if not thousands, to this total. That points up the larger problem in certification, lots of mezcaleros haven't managed to certify their mezcals because of the expense and complexity. We have heard rather constant laments from a variety of mezcal makers who are desperately trying to get certified, for some any process is too much, for most it sounds like the CRM doesn't have enough resources go make the process run smoothly for everyone, everywhere.
Who's Growing?
While Oaxaca still accounts for over 90% of mezcal, the one state that is suddenly growing is Michoacán which was only added to the Denominación de Origen in 2012 but is rapidly becoming a top tier mezcal producer. That only confirms what we've seen and heard, many of those laments about difficulty getting certified come straight from that state. Still, it only accounts for 0.5% of all mezcal making it third in total production behind Guerrero which was add to the DOM way back in 1994. That should tell you plenty about the untapped production in Michoacan even while some locals worry about the opposite.
Boom, Bust?
Certified mezcal production is surging, in 2011 more than 980,000 liters were made. In 2014 that total eclipsed 1,450,000 liters. But growth hasn't been linear, in 2013 production suddenly spiked at 2.5 million liters before dropping by more than a million liters in 2014. The report attributes this to an agave surplus which hints at a lot going on out there in the Mexican landscape. Who is growing all that agave? What compelled them to start in the early 2,000's?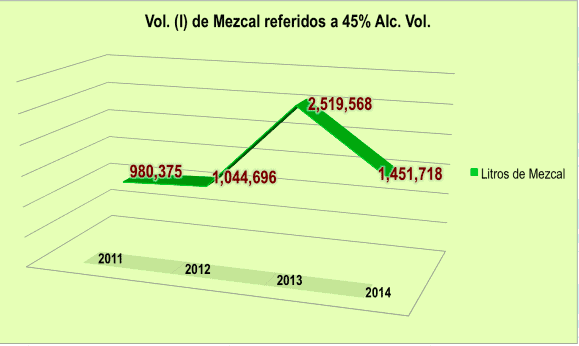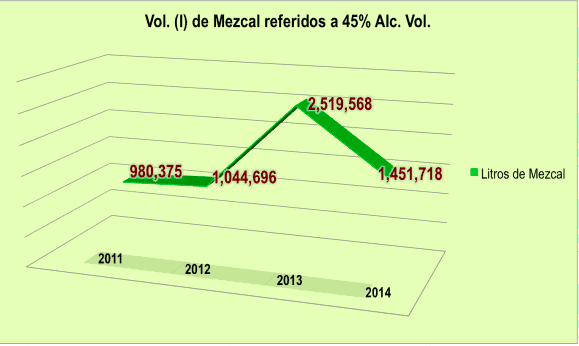 Even though mezcal is growing it still barely registers for Mexican drinkers. In Mexico it still only counts for 0.2% of spirit consumption just behind cognac's 0.3% but far behind tequila's 16.3% and aguardiente's 15.3%. The presentation highlights that mezcal consumption has grown 36% year over year which is important, especially since drinks like cognac are decreasing but it's still a bit of a downer when you consider how important mezcal is to all of us. Of course mezcal is worth far more than its competitors, more than double the value of tequila by bottle, the report gets back to that point later, so will we.
Where's it All Going?
Mezcal is increasingly going abroad – just under 650,000 liters were exported in 2011. By 2014 that number had popped above 1,150,000 liters. That's a leap of 79%. And while the major export market has been consistently the United States there's a strange story to be told about other export markets because Chile has been consistently second or third changing places with Australia until 2014 when Spain muscled into the third spot. Other markets have opened over the past three years including potential powerhouses like China but also lesser known markets like the Emirates.
How Many Agaves in Your Bottle?
No doubt you've seen many different species of agave popping up on bottles lately and the CRM's figures bear that out. In 2014 only 77% were angustifolia, aka espadin, and 23% from other species. That's a huge drop from espadin's absolutely dominating 95% in 2013 and the trend line in previous years. While somewhat difficult to believe exactly because the reported change was so sudden and dramatic, it is potentially great news for the people who have figured out how to cultivate other species. It's equally potentially troubling news for the sustainability of the industry because plenty of agaves are still being harvested from the wild and they're probably not going to exist in the wild much longer. Definitely cherish those silvestres bottles on shelves today, maybe even store them for the future, because once those truly wild agaves are harvested they're probably not coming back.
Making the case for quality
The presentation repeatedly mentions the growth of premium market categories and how well mezcal fits into that trend. Page 49 makes this case most clearly by noting that the value category has dropped 1.3% by volume while premium rose +3.1%, high end +5.8%, and super premium +5.1%. Those categories are notoriously squishily defined but it's the thought that counts and it gets all the elaboration you need on the following page when the growth of higher quality spirits is paired with the higher value placed on artisanal products and the growth of emerging markets, especially in Asia which put a high value on premium products. If that's not an argument for a different industrial path from tequila, I don't know what is.
Do you see where this is going? This is a clear argument for mezcal as a special brand and for the CRM itself. Now that we've checked that box, the next step is defining the importance of the Denominanción de Origen del Mezcal and the CRM's role in regulating it. The presentation digs into this argument and talks of defending and defining mezcal globaly as a signal goal while enumerating all the progress points the organization has made in recent years. Just to remind you how much ground the CRM has covered recently, the enumeration consumes six pages. Sure, much of this is of critical importance but you wouldn't be the only one wondering whether there's a bit of old fashioned resume padding because the whole report concludes with another list, "Plan de Trabajo 2015-2018." For its next act the CRM will do important things like finally elaborate and pass NOM 70 and build out mezcal.com. That domain was originally registered by the smart people at Del Maguey and recently handed over to the CRM. Kudos to Del Maguey for taking one for team mezcal. Now the ball is in the CRM's court to hire a decent design firm and really make their digital presence sing the song of maguey.
A Mystifying Absence
There's a torrent of information here and Hipócrates is clearly trying to rally the troops while consolidating the CRM's grip on everything. It must feel like herding cats with issues like sustainability exploding while small producers continue to complain about not being heard. In the interim the market isn't getting any smaller and bigger companies are suddenly appearing on the scene. If that wasn't tough enough, what about all the producers who are doing an end run around the CRM altogether and just creating destilados de agave? So many questions but this is a great foundational document.
And yet, for all the structure and good intentions, there is still one major mystifying absence, what is NOM 70? It's been hanging in the air for quite some time so the gossip has gone through quite a few cycles. Everyone is anxious to hear the final proposal and rumors are that NOM 70 should be released this week. Perhaps we'll know soon enough but, man, it's been a long quiet period and this company isn't even going public.