Several years ago, when doing some background on Mezcal Vago, I heard about a grand, wild agave cultivation project happening somewhere in Sola de Vega, a region known for its tobala. I knew there had been success with cultivating tobala, and that there were projects underway to try and cultivate madrecuishe and a few others. What I didn't know was that the guy doing this grand project in Sola de Vega was pretty much THE guy for agave cultivation projects – Luis Mendez. I decided that at the next opportunity, I would visit him and learn more.
Luis Mendez looks nothing like I had pictured. His reputation as maestro mezcal turned wild maguey savior had me imagining age which is the complete opposite of the vibrant and handsome man en vivo. I love these pleasant surprises.
His house sits just beyond and above the town of Sola de Vega, off the highway to Puerto Escondido. The yard is filled with wild agave starts in various stages of growth. According to Mendez, there are about 20 different wild maguey varieties native to the Sola de Vega region and he is experimenting with all of them.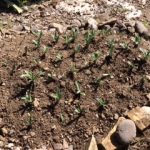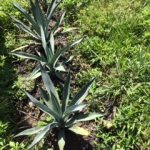 Upon arrival, he walked us through the garden, pointing out the sierra negras, coyotes, tepestates, mexicanos, arroqueños, and barrils, to name just a few. While he continued to talk about all the varieties and time necessary to grow them his voice passed into background noise because I couldn't stop staring at a giant quiote whose weight was so great it had fallen over and was being held up by a ladder, the blue sky and clouds above and the mountains in the distant. It is so breathtaking.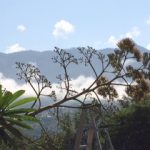 "If only more people would let just one plant bloom, we would go a long way toward solving the crisis," I hear Mendez say.
As Max has written previously, there are three ways for maguey to reproduce– hijuelos, seed and bulbils. Seeds provide the greatest genetic diversity, but are the most difficult, inconsistent, and time consuming way to grow maguey. The quiote I have been staring at with its beautiful branches of flor de agave waving against the sky, has enough seeds to produce up to 1,000 agaves. This is what Mendez is talking about.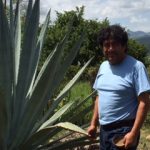 Demand for silvestre mezcal has put a lot of pressure on natural resources; without strict rules and regulations for harvesting these wild magueys, it is a free for all. Add to that the continued monoculturing of espadin, and you have ripe conditions for a maguey crisis. In the rush to "supply the beast," and to supply the tequila industry which uses green Oaxacan maguey as accelerants in tequila production, demand could soon outstrip the supply of available and mature maguey for mezcal production. But this is anecdotal at this point because no one is really tracking the total number of maguey currently being grown; yet another area where some form of regulation might help.
After walking through the garden, we headed to the covered terrace to escape the heat and talk some more about Mendez's work. Originally from the Sierra Norte, Mendez settled in Sola de Vega after working on public works projects focused on water  into  the area. He fell in love with both mezcal and a woman and eventually switched over to the mezcal industry. His title as a Maestro Mezcalero (a term that was developed more for marketing purposes as the industry began to grow) is a bit misleading as Mendez himself does not make the mezcal, he oversees the process. He has worked with several brands over the years including Alto Cielo, Piquetezina, La Piquería, and the most well known, Siete Misterios. All along his true love has been cultivating maguey, especially the so-called wild varieties. He first began experimenting with tobala in 1996. The complexity and diversity of the maguey amazed him, soon thereafter one thing led to another and he began experimenting with other varieties. His project may be the largest in Oaxaca. He is planting about 3,000 maguey each year.
So what does he do with all this maguey? He sells starts to other farmer/producers, supplies mezcaleros with the magueys that mature on his property, and is working with government agencies to plant his starts along the highways. Not only do maguey make for good windbreaks, they also control erosion, are beautiful to look at, and maintain true biodiversity through wild pollinated quiotes.
And of course he is using the maguey to produce his own label La Solteca (a nickname for people from Sola de Vega). We try a couple of different types as we enjoy a leisurely lunch getting to know one another. The great question people have is whether this sort of cultivation of wild maguey will change the flavor. This remains to be seen as more mezcals are made from cultivated varieties. But it seems clear that these types of projects are necessary to preserve maguey. And frankly, his mezcal is delicious.
"You have so much government money going toward the end process. There are these mezcal "kits" that people can get that include fermentation tanks and stills, underwritten by the government. You have support for bottling and rudimentary marketing support to help attract buyers and distributors," Mendez says. "But what you don't have is money going into the actual production of maguey, most particularly of wild maguey. Where will the industry be without maguey?"
Other cultivation projects exist, but communication and sharing of information is difficult, particularly in rural Oaxaca. And with no central, organizing body, there is reinvention of the wheel.
Mendez eventually pulls out a logbook of visitors over the past few years. There are names I recognize, a who's who of other brand owners, mixologists, and some brand ambassadors. In addition to all of his other traits, Mendez is a great storyteller with a marvelous sense of humor. He has one of those voices that simultaneously draws you in and completely relaxes your guard. He soon has us in stitches with completely inappropriate tales of too much mezcal, nudity, and the always present next day. He shows us how to properly smell a mezcal – dab a bit on that space between your thumb and forefinger, wave your hand over it to help dry it a bit and then smell. This leads to another story of Ulises Torrentera identifying specific mezcals and regions using this method, with a punchline that gives whole new meaning to the phrase "scent of a woman." I will not repeat these stories because I hope one day he publishes them; plus, I cannot do them justice.
I of course have to ask Mendez what his dream is for his maguey project. He is a big thinker and a visionary.
"The maguey is so incredibly beautiful and symbolic of who we are as a culture. We can't let it die. It is life and we have to save it and revive it and use to paint our landscapes and exploit its properties for pharmaceutical and food and nutritional purposes. And we have to drink it."