The fermented pineapple drink so prevalent in Mexico hits the US market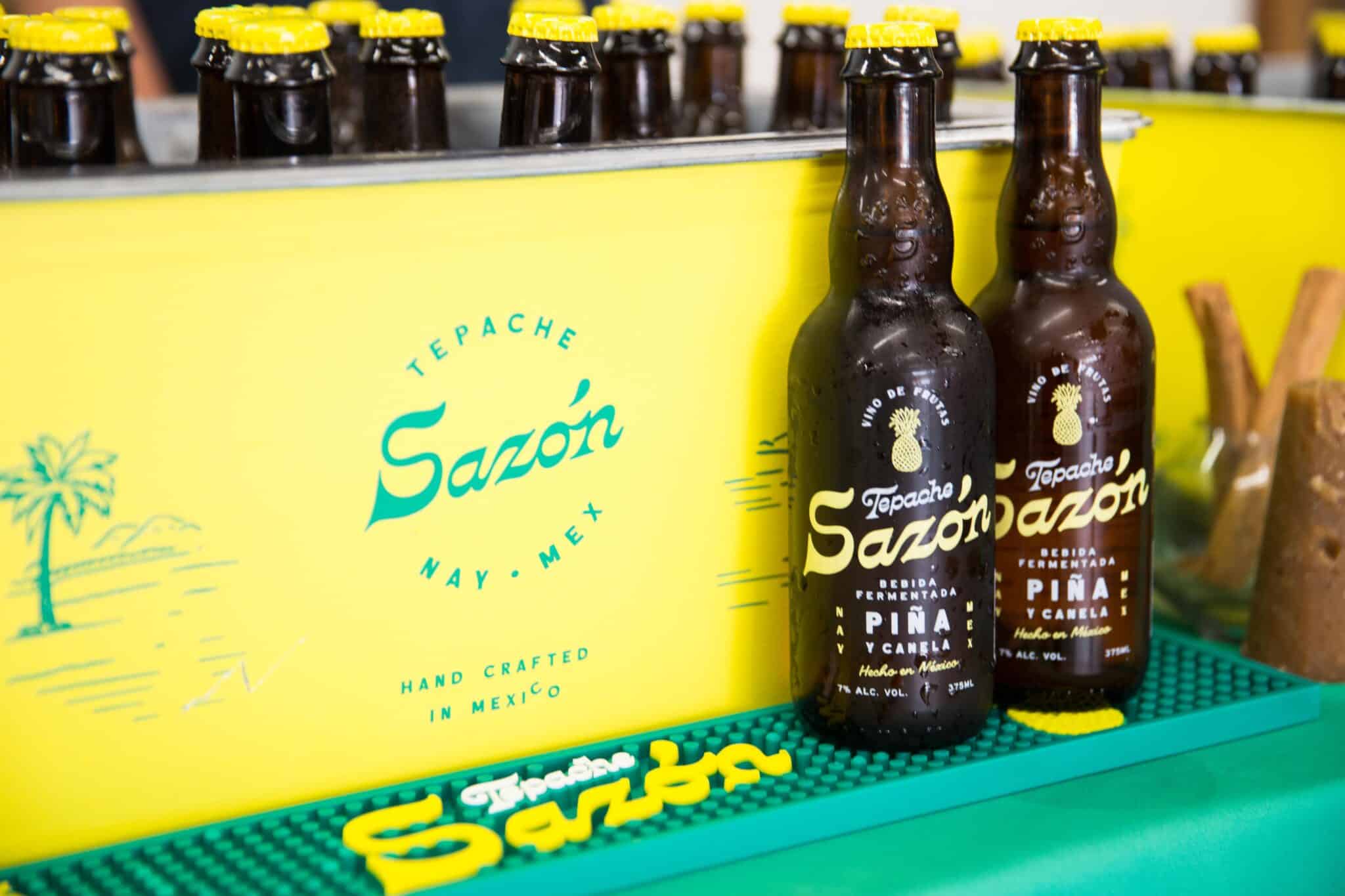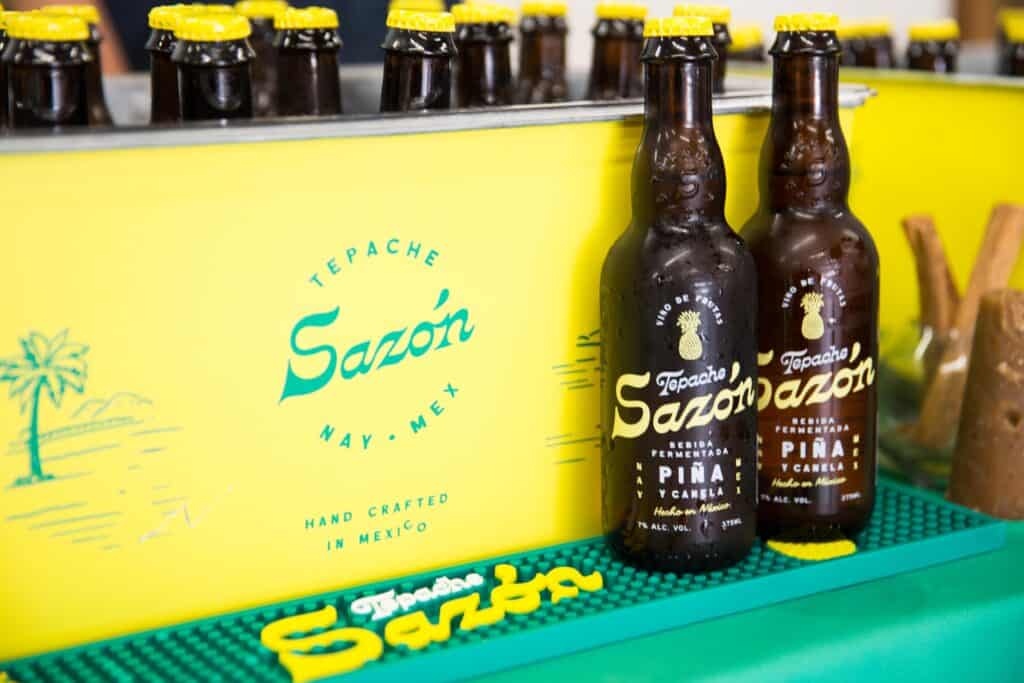 Tepache is a traditional fermented beverage found throughout towns and markets in Mexico. Made mainly from pineapple, piloncillo (a type of raw cane sugar), and spices, the drink is slightly effervescent with a low abv, similar to beer. With origins dating back to pre-Columbian times, this beverage holds a special place in Mexican culture, representing both history and resourcefulness in using available ingredients.
Tepache Sazón began as a passion project among employees at the taberna for Estancia Raicilla, where one of the mezcaleros from Michoacan was making it on the side. Rio Chenery, owner of Estancia, took an interest and learned how to make it, initially sharing it with visiting friends and within the community. Through various experiments, sample batches at Rio's mom's house in Sayulita, and plenty of sipping, the flavor profile was perfected.
Like any regional ferment, there are endless styles and variations when it comes to Tepache. The style of Tepache Sazón is a celebratory one, that might be made for and enjoyed at a Quinceañera or other community celebration. The process is similar to the charmat method used for Prosecco, producing a fine creamy bubble that is easy on the palate.
It all starts with exceptionally ripe golden pineapples. The tepacheria, run by a small team with a head engineer from Oaxaca, is located in San Pancho, Nayarit near the pineapple fields. This proximity is important in order to get the juiciest ripest fruit, which is too fragile to transport long distances when fully matured. They lease the fields and work with local 3rd generation pineapple farmers, prioritizing the staple ingredient from the get go.
The pineapples are washed and removed from their crowns before being crushed whole with a pneumatic wine press to extract their juice. The fermentation is done using champagne yeast in stainless steel tanks, and left to mellow and clarify before being pumped into another tank for the second fermentation- which is where the bubbly texture is formed. To kick start the second fermentation and to achieve the signature flavor, pineapple juice, piloncillo from a traditional producer and cinnamon are added to the base ferment. Once it goes through the second fermentation and has its full flavor profile and bubbles, it gets pasteurized in order to be suitable for export. It's worth noting that homemade and traditional tepache is typically consumed with live cultures, similar to pulque or kombucha, and while pasteurization kills off the microbes, it leaves the desired flavor intact and prevents any further fermentation in the bottle.
Mexican owned and operated at every step, this project is a source of pride for the young team behind it- being able to create a contemporary version of this traditional drink that can be shared around the world. Since their launch in April 2023, the reception has been good, and it is now in 13 states in the USA with plans to export to Australia and UK soon.
"We want to get people aware of what tepache is, and represent the massive heritage of fermented beverages from Mexico," explains Kaj Hakkinen of Back Bar Project, Sazón's importing partner, "we've had glowing reviews from distributors down to the on and off premise account level…people get it, it's like a hard pineapple a cider."
The brand has also partnered with Entre Amigos, a local organization that focuses on education and sustainability initiatives for their community. The range of initiatives spans repurposing and upcycling materials, processing trash, working to employ women, English language programs for moms, and making libraries and play rooms accessible as daycare centers for moms to be able to study and work. So far the tepacheria has sponsored an English language program and has done a day of service sponsoring the trash and recycle program in the heavy tourist area.
So what does it taste like? The first thing that hits you is the wonderfully fruity and floral aroma- bursting with the kind of golden ripe juicy pineapples found in Mexico. The amber color adds to the richness, with sparkling bubbles that create a shimmer when poured into a glass. At first sniff, it is reminiscent of apple cider, but the unmistakable floral and sweet pineapple notes, with just a hint of earthy ferment, turn it unmistakably tropical. The bubbles are crisp in the mouth, with a light salinity and acidity that keep the flavors lifted. There is a touch of sweetness and cinnamon, but most of the sweet profile is aromatic, making this an easy to drink option for those who are looking for something more along the lines of beer than soda.
The recommended way to enjoy Tepache Sazón is nice and cold. It pairs extremely well with food, offering a bubbly texture with a hint of sweetness to complement spicy and savory foods. It's commonly enjoyed as a beer alternative, on its own, or swapped out to make a delicious (and gluten free) michelada, or as a Mexican Boilermaker alongside an ounce or two of mezcal.
You can find Tepache Sazón at bars, restaurants and stores across the county, and it is available for online purchase for around $22 for a 4 pack, about $6 dollar per bottle, from Astor Wines & Spirits and Old Town Tequila.