I am a big fan of making vegetables the star of the show. Fresh or cooked, veggies as a category have so much potential when it comes to pairing with mezcal. I have noticed that vegetables high in beta-carotene, also known as orange vegetables, tend to pair well with a wide range of mezcals. I'm sure a food scientist could explain why, I just know it to be true from my extensive *research* eating and drinking. For February I wanted to highlight Cuentacuentos mezcal, and along with it a fridge staple, the humble carrot, the hearty root vegetable that has incredible capacity to last in cellars and crisper drawers.
The Mezcal
Cuentacuentos Coyote from Angel Cruz Robles is exploding with flavor on its own. A liquid treasure, the flavors are so well balanced on their own, it is intimidating to try and find a suitable pairing. The spices and roasted carrots work with the layers of flavor by echoing the earthiness, piquancy, and brightness, allowing them to shine even brighter. The sage in particular adds a nice touch, showing off the earthiness of the agave, and creaminess from the clay distillation.  Read complete tasting notes.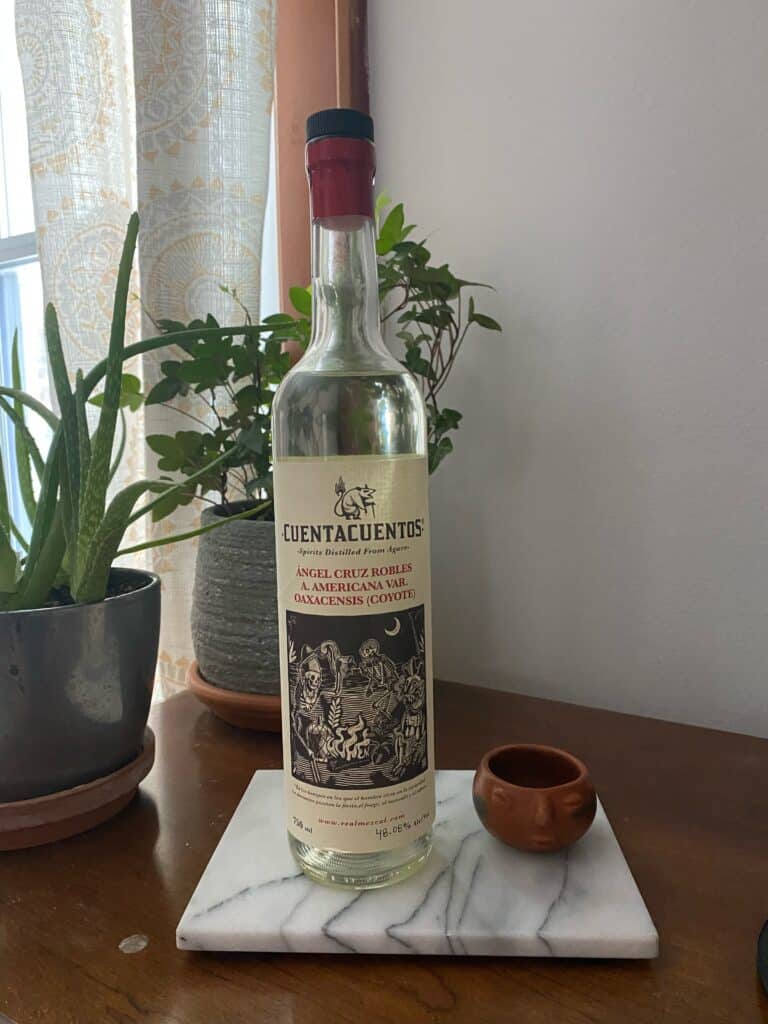 The Pairing
Carrots are anything but boring. They have natural sweetness and earthiness, both of which are enhanced when caramelized. Using high heat and a cast iron pan help to get crispy and brown bits that enhance its complexities while also yielding a variety of textures. The flavors are sweet, spicy, earthy, and mellow enough to complement rather than compete with the mezcal.
For this pairing I chose sage and a jerk seasoning mix that I use as an all purpose vegetable spice; specifically because it echos and enhances the roasted coffee, clay, and chili notes of the mezcal. I would try this with mole paste, harissa, or simply salt and powdered chilies. Keeping the technique the same, and adapting the spices used, provides an almost limitless variation of this easy and quick dish.
Serve it as is for a simple and diet-restriction friendly pairing bite, over a bed of whipped feta or greek yogurt, or on top of toast with ricotta, honey and black pepper for a fancier presentation.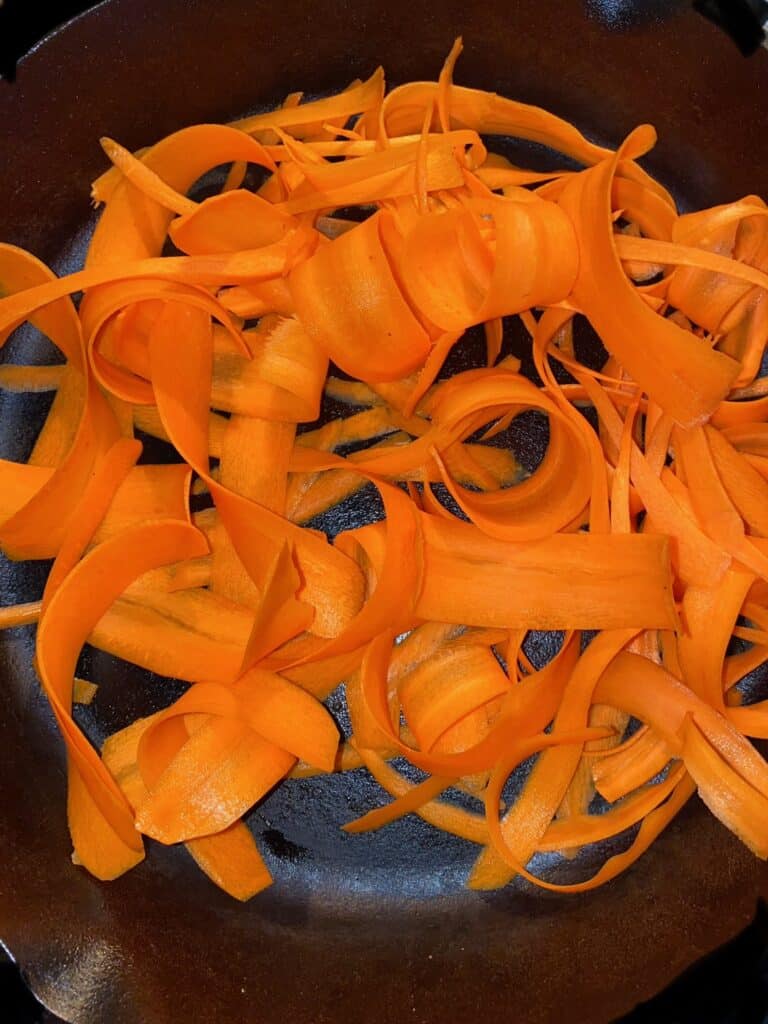 Recipe
(makes 2 portions)
Ingredients
3 large carrots
1 tablespoons butter
5-6 leaves sage
1 tablespoon cooking oil
Seasoning, to taste
Method
Preheat the oven to 450. Peel the outer skin of the carrots with a vegetable peeler and discard; then use the vegetable peeler to make as many ribbons as possible from each carrot, they do not need to be all the same size- the variation in size will provide a pleasant variation in textures once cooked. Once the oven is hot, add the butter to a cast iron pan and heat it in the oven for a few minutes until just bubbling, not browning. Meanwhile, season the carrots with cooking oil and your powder of paste spice blend of choice.
Add the sage then the carrots to the hot pan and let cook for 15-20 minutes, checking frequently toward the end to control the browning. Deep browning is ok, but be careful not to burn the carrots. This method yields a mix of crispy and soft carrots, if you want all of them crispier like chips (also delicious), ensure that the carrots are in a single layer- use a baking sheet instead of a cast iron pan if necessary, and reduce the oven temperature to 400 after the first 10 minutes of cooking and add an additional 5-10 minutes of cooking time as needed.