Mezcal's long arm of inspiration touches a Baltimore distillery
Recently I was perusing the shelves at my local Healthy Spirits store when I noticed an oddity, a pechuga made in Maryland. As the bottle said, this is a "Pechuga style apple brandy" made by Baltimore Spirits in Baltimore, Maryland. I reached out to Max Lents, CEO of Baltimore Spirits, to find out more and learned that, like many, the inspiration of mezcal carried him and his crew into new territory.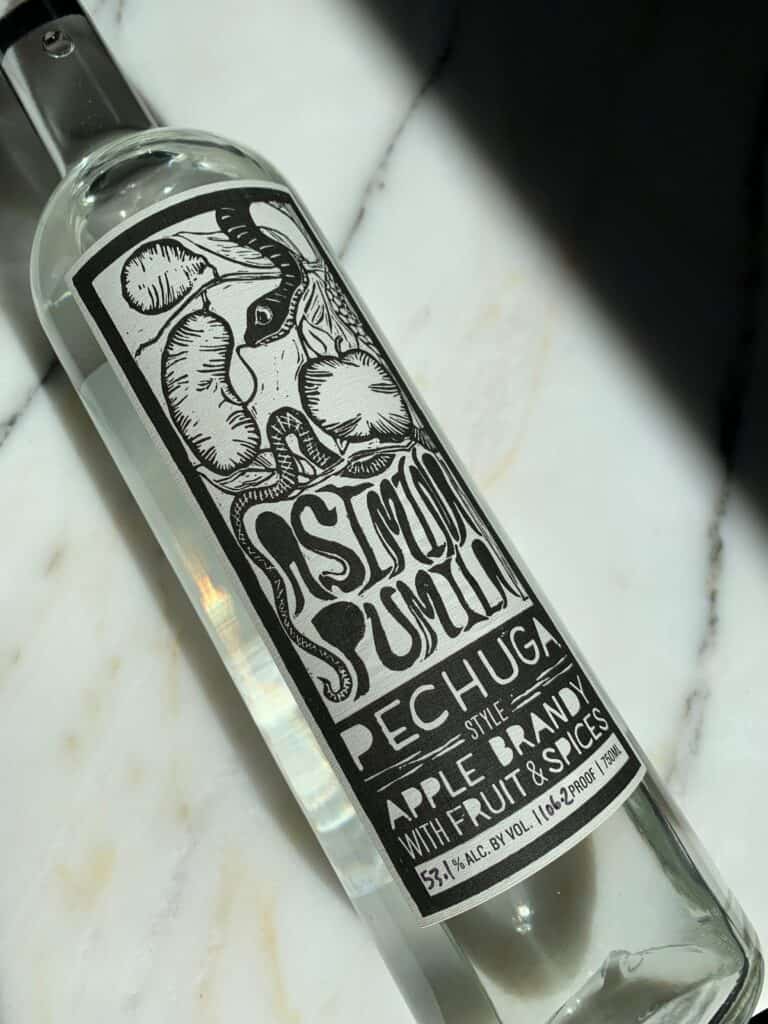 Baltimore Spirits is a local distillery in, yes, Baltimore, Maryland that specializes in heritage spirits, especially local ryes and apple brandy. These are the spirits that defined early U.S. history with apples growing everywhere and rye the amazing grain that thrived in the US Northeast. While the Spanish were importing distilling technologies from east and west into Mexico, colonizers from England and other countries brought pot stills to the Northeast coast and started their operations.
Epoch is their flagship rye. Green is Gold is their solera apple brandy. But they make other fascinating products like three different versions of Amari in the Baltamaro line and small batch spirits with the EB Smith's Singularities label. For the Asimina Pumila expression Lents told me that the staff was "drinking a lot of mezcal at the time. We were already distilling some apple brandy that goes back before rye whiskey, and were kind of remarking that mezcal is a smoked fruit brandy, distilled from agave fruit, smoking or cooking it over coals that are smoking. We started kicking around this idea about what would happen if we took this different American fruit brandy tradition and worked it with our local fruit brandy tradition."
As the story goes about Centzon Tōtōchtin there are 400 ways to be inebriated and mezcal appears to be inspiring just as many distilling expressions. When Lents and his staff got down to experimenting they realized that "we have a pot still, like mezcal you don't just use a heart cut, you bring tails to bring down the proof. We wanted to see if we could pull that off with an apple brandy. " The contiguous distilling technologies and the idea of a smoked fruit pulled together.
Lents says that they "wanted to do a pechuga, to pay to the tradition that is about the local harvest, in Maryland it would be like if we were celebrating the real thing." So instead of the meats, fruits, and spices that you might find in a Oaxacan Pechuga, the Baltimore Spirits rendition features wild paw paws, wild persimmons (these sound like relatives of hachiya persimmons because Lents says that they have to wait for them to get really soft before they're ready to eat), and wild walnuts. And, instead of a turkey, they went local and suspended a local Maryland country ham over the still. Lents knew that Del Maguey had used a jamon iberico for a limited bottling previously so "we knew that it wasn't going to ruin it, they had provided the proof of concept." The name, Asimina Pumila comes from a combination of the taxonomic name for paw paw, Asimina, and the common apple tree, Pumila.
The base spirit is apple brandy which they create with local apples. They separately smoke the apple peels and then add them to the fermentation vat. And then they do a two pass distillation, all the fruits are tossed into the second distillation while the Maryland ham is suspended over the distillation just like a mezcal pechuga. As Lent says "It was an experiment, we didn't really know how it would turn out but if it wasn't really good, then we thought we'd just put it in a barrel and see what happens."
But as soon as the distillation was running they knew they had something. There were "smokey phenols that were coming off the still reminiscent of mezcal." Lents thinks that you can "taste the protein in there, black walnuts come out, paw paw have mango banana thing going on but with this wild fruit thing going on a little funky custardy." As for the ham, it dries out and the salt is compacted into the meat which they cut, vacuum seal, and then give to their employees who shave it into soups for an umami boost.
The 2022 batch was released in November 2022 and, at least for now, is only available in Maryland. What's it taste like? Read my tasting notes to get an idea.