At a time when our planet's well-being is at the forefront of global concerns, forward-thinking companies are reimagining the very essence of their products
In recent years, reducing alcohol consumption has gained significant momentum. While countries like the United States and the United Kingdom have seen a surge in the popularity of zero-alcohol beverages, Mexico is just now catching up with this growing movement. With a young market that is increasingly health-conscious and environmentally aware, in the next ten years Mexico is set to witness the expansion of the zero-alcohol trend, particularly among Gen Z and major beverage companies are already adapting their product pipeline.
Mexico has long been associated with a vibrant drinking culture with tequila and mezcal being integral parts of its heritage. However, among all alcoholic beverages, beer represents about 80 to 90 percent of sales. Between 2015 and 2021 the market for zero alcohol beer grew about 35 percent, explains David Reyes Chauvet, Director of Insights at Pernod Mexico. With these figures, companies opted to invest in the zero alcohol category because it was clear that consumers were leaning in that direction.
The median age in Mexico is 29 compared to 38 in the US. Every year there will be one million Mexicans reaching the legal drinking age of eighteen years old. And in ten years, Gen Z, the cohort-born between 1996 and 2010 will have enough purchasing power to become bigger decision-makers.
Also known as centennials, they are more curious about moderating their intake of alcohol. In Mexico, Reyes Chauvet explains, Generation X or those born between 1965 and 1980, would go out to bars or nightclubs with the sole purpose of drinking. But Gen Z consumers are expressing their need of having a balanced life for which they either prefer to eliminate their alcohol consumption or moderate it. While this shift may seem contradictory, Reyes Chauvet explains that sales for high proof artisanal spirits are still forecast to grow, this is because Gen Z are leaning towards supporting local producers whenever possible.
These forecast trends are good news for a few notable small Mexican companies creating craft non alcoholic spirits that position themselves at the forefront of Mexico's zero-alcohol movement.
Runneght: at the forefront of craft non-alcoholic Distillates
I first heard of Runneght while interviewing Mexican mixologist Claudia Cabrera, she was using its three expressions to create "mocktails" in her menus. So I finally tried the one called Mezquila, in a Paloma at SOD, a bedouin tent inspired speakeasy located in the Condesa neighborhood in CDMX. The Paloma was made with fresh squeezed pink grapefruit and had some notes of smoke but mostly of cooked agave. The spirit by itself, had almost the same notes and very short finish.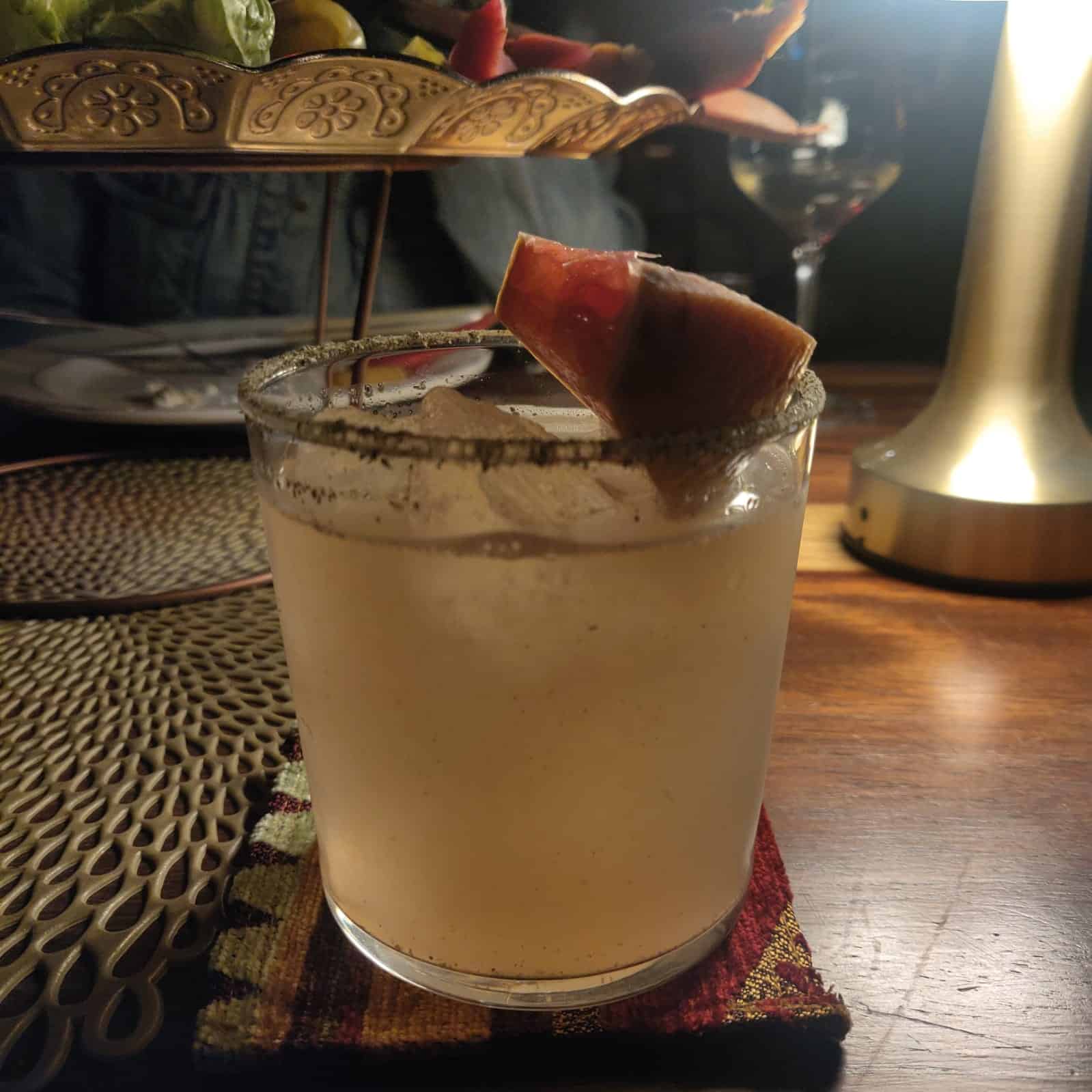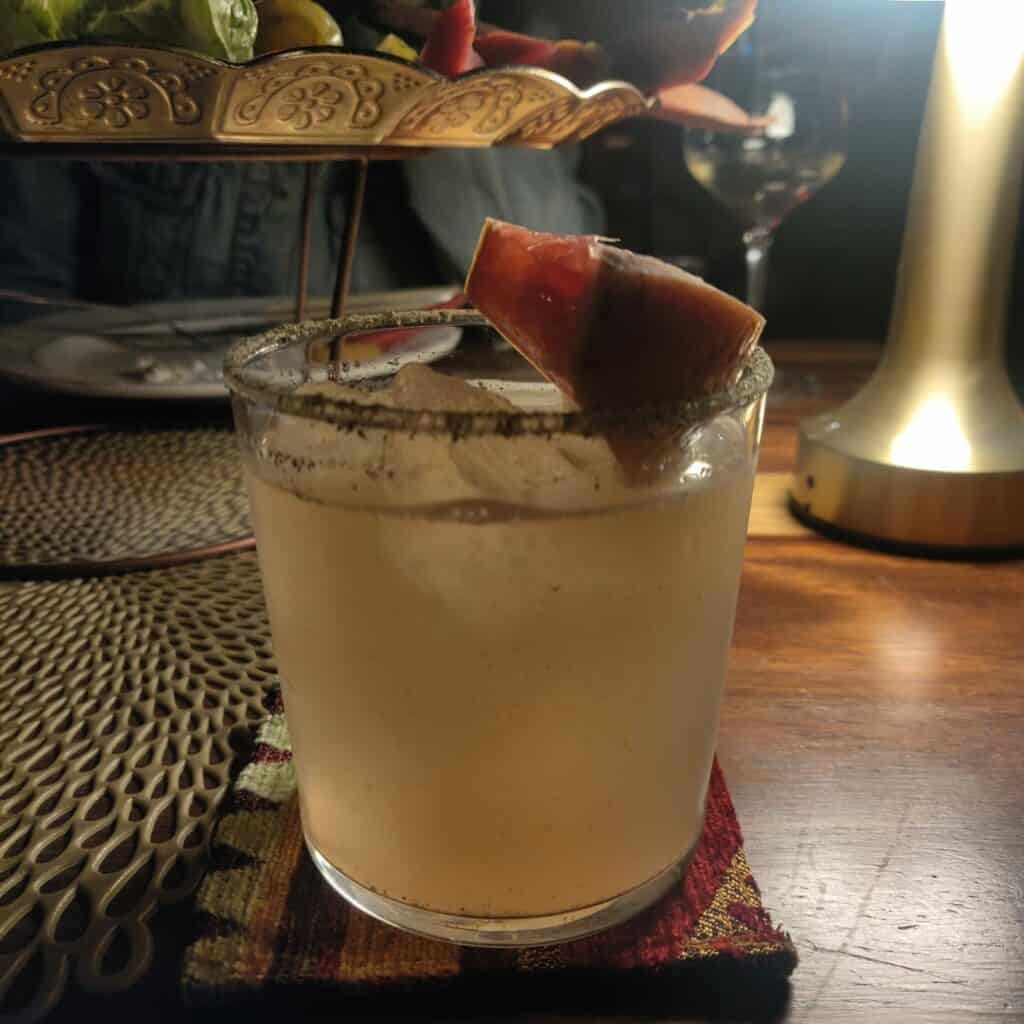 Founded in 2020 by Francisco Calvo, Runneght is a Mexican brand created during the pandemic with the goal of using byproducts obtained from the wine, gin, and mezcal categories to make non alcoholic distillates. By utilizing these byproducts that would otherwise go to waste, Runneght not only offers an alternative to traditional spirits but may become the option for brands to reduce their environmental impact.
Calvo began this project after graduating from college with a degree in food technology. Only non-alcoholic beers were available at that time so he thought of non-alcoholic spirits as a potential business idea. "I started working with gin but little by little I began to explore more options". During the pandemic, he was sent home by his employer and used this time to learn more about mezcal and explore the idea of creating distillates with no alcohol. He traveled whenever possible and learned the processes of agave spirits and mezcal in different regions such as Durango, Guerrero, Puebla, Michoacán, and the state of Mexico.
Calvo's process consists of collecting bagazo resulting from the distillation of tequila and mezcal, picking up what is left at the palenques, fabricas and tavernas he knows. Once at his production facility in CDMX, he washes the bagazo with alkaline water to reduce the acidity, and to regulate its PH so he can distill it again. The bagazo is then macerated in regular water mixed with a small amount of vinazas and then steam distilled in a two-hundred-liter copper still. In their first trials, he and his team realized it needed flavor so he tried taking additional bagazo fresh from the distiller and cooling it down in a basket. After the water is boiled, it then goes through a basket of botanicals where they keep the recently used bagazo. Calvo's unique approach is an interesting take that would not only satisfy the wishes of other generations like mine to reduce our alcohol consumption, especially if you are going out in the middle of the week and you would rather drink something that will let you have a fresh start the next day.
Working only with bagazo comes with its own challenges in which production depends on the daily work of other producers and continuously coordinating timing with them. For Calvo, there was a lot of trial and error, specifically while learning how to address the various communities and how to approach them and explain his project. "In many of the vinatas and tabernas, producers are not sure about how to process the bagazo and the vinatas. After feeding their animals with it, there's still much left," states Calvo.
An additional challenge for Calvo is the time consuming logistics. Calvo is very dependent on each of the producers they work with and the technique they use since every producer has his or her own way of fermenting. It is therefore crucial that he witnesses the whole production process beyond just picking up the waste and driving back to his production facility in CDMX. The different production techniques influence how the byproduct turns out. And since they all have different flavors Calvo needed to create a process that would enable a standard flavor. They ultimately settled on the Solera method which blends in a way that the finished product is a mixture of ages but in this case, the blending is made among the distillations made with different agaves and fermentation processes.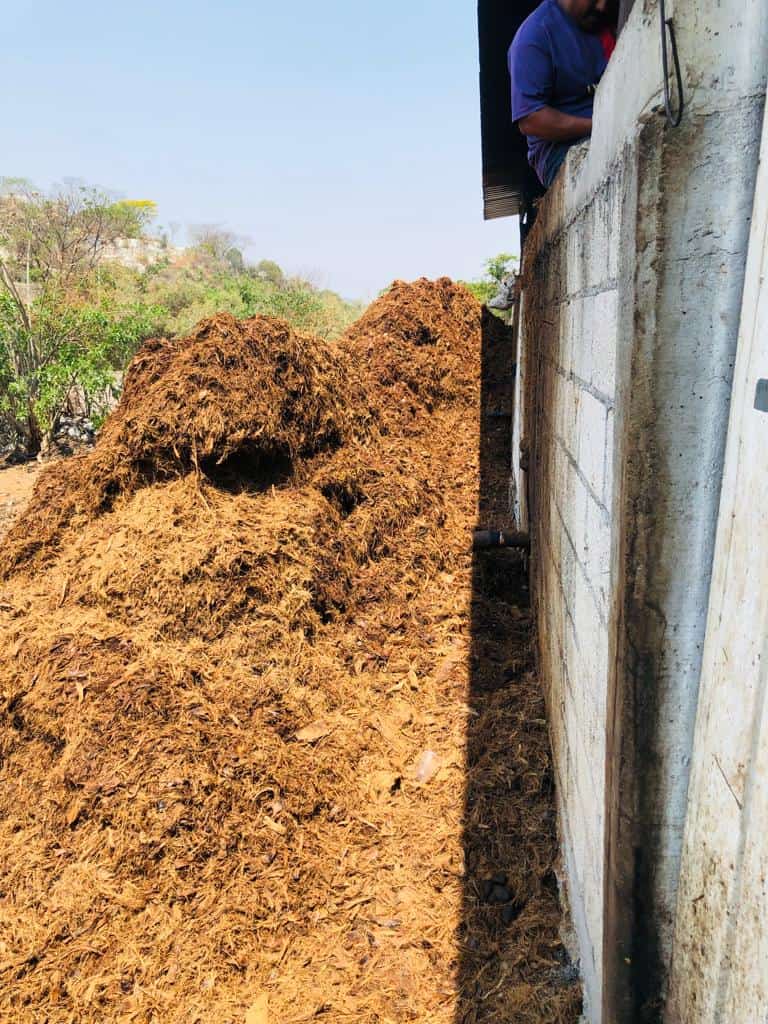 Additionally, if it's not mezcal season in Estado de Mexico where a lot of the material is coming from, they go to Oaxaca because they have seen that there are always producers distilling at least once a month. They work with a tequila brand in the highlands of Jalisco, but because the CRT regulates the amount of waste generated, they work under more restrictions in which they have to declare to the CRT how they are using it.
Creating a profitable business with zero alcohol distillates depends on many factors such as the demand and the cost of producing them. There is no standard valuation on the price of bagazo. Calvo says price can be per kilo or per sack and it varies according to the kind of agreement he makes with the maestros mezcaleros. The amount available depends on the production run of every palenque or vinata and the price Calvo pays depends on his relationship with the producer, some price it per kilo and some others per sack. The price range per kilo is between 18 to 50 pesos and it varies according to the weight of bagazo, and the timing in which producers took the material out of the alembic. The fresher the batch, the more water in the bagazo and therefore, more weight.
Semilla Baja Lab and the regeneration of soil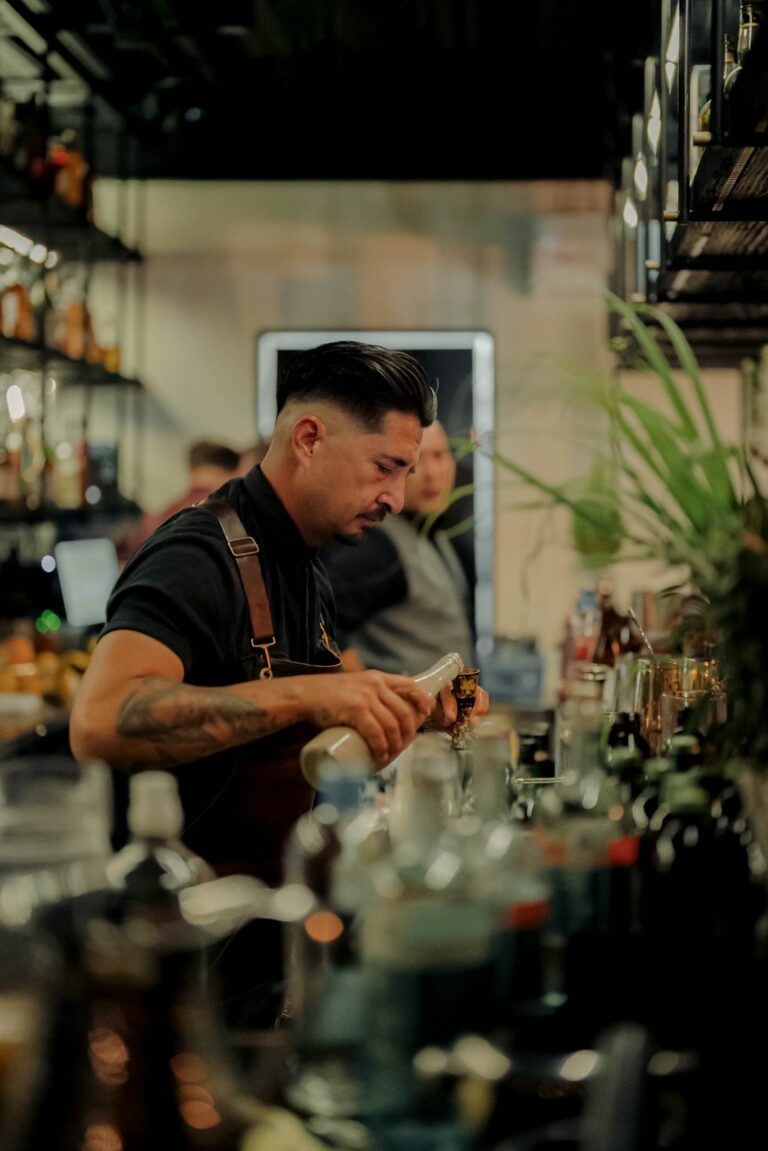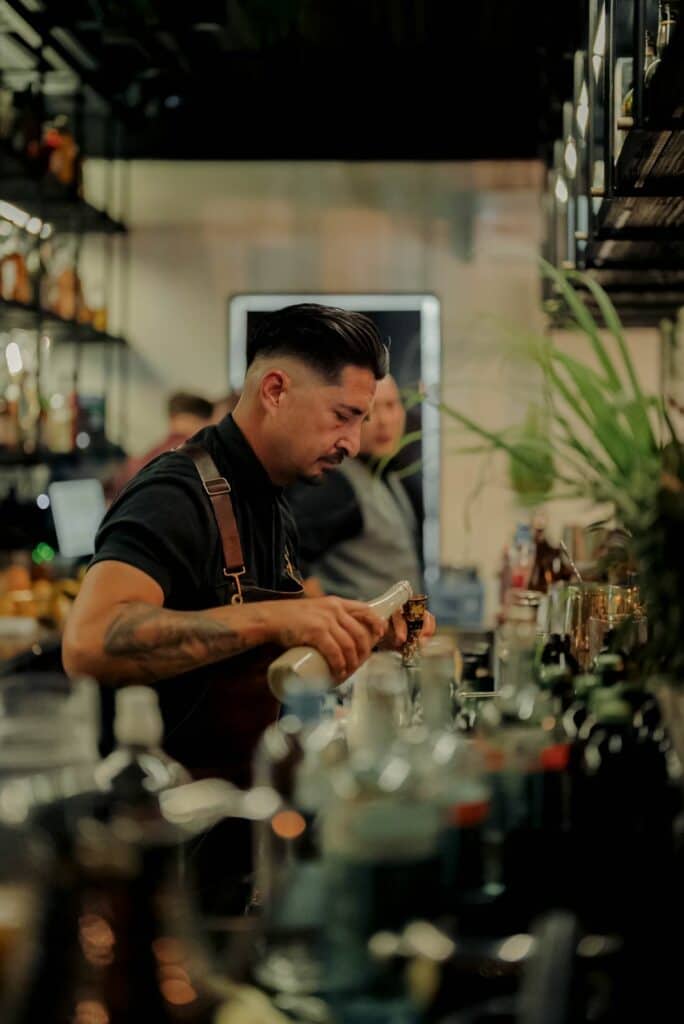 Francisco Oropeza has worked as a bartender in Baja California for the last twelve years. He and Sandra Reyna, a master distiller, became aware of the volume of waste generated at bars. During the pandemic, they started a project called Semilla Baja Lab to produce a non-alcoholic distilled aromatic hydrosol in which they use the plant from root to leaf to avoid waste.
They had some knowledge regarding distillation of herbs and aromatics which helped them create a new product focused on single botanics with concentrated flavors and aromas. Oropeza and Reyna began distilling in their home and made Limoncello, a lavender and a damiana hydrosol. They started selling this product at a local farmers market as a zero alcohol cocktail but soon they realized the potential it had for local bars and restaurants
In 2021 they bought 1300 sq meters of land in El Pescadero, BCS in order to grow their own herbs. They also got two copper alembics, of 40 and 100 liters each and continued producing in their backyard. Since they do everything from sowing to harvesting, they have only farmed a quarter of the land. They practice biodynamic techniques of agriculture which are defined by the moon cycles. Since they grow mostly herbs, their land is basically a pollination area naturally repellent of plagues, where each plant helps each other grow. Their goal is to make it 100 percent sustainable. They currently have 13 different expressions such as rosemary, lemongrass, sage, lavender, a blend of three kinds of basil, wild damiana, eucalyptus, kaffir lime, citronella, oregano, thyme and mano de buda.
They only grow according to their capacity and even though they've received proposals to start exporting, they have refused them mostly because water is scarce in their region and they do not want to deplete the natural resources. However, they collaborate with other small producers so they can have most of their raw materials available throughout the year. Their yield varies according to the herb and the season as well as the climate conditions. For example, they currently own 220 plants of rosemary which are good for three rounds of production. They use about a kilo of herbs per liter, which are basically micro-batches designed as limited editions. These are high quality products made with concentrated flavors and they are available to restaurants and bars.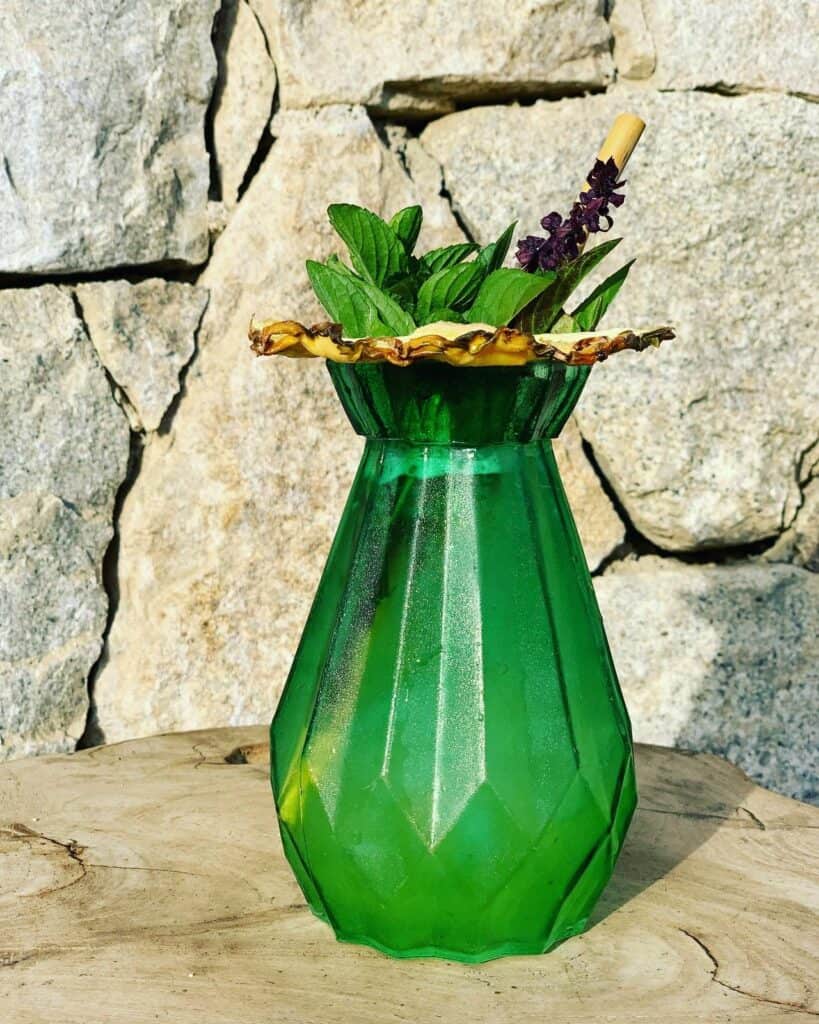 Zero alcohol spirits are not common in the market and are still a bit confusing for consumers. Reyna says their products are an attractive option for people from 25 to 50 years old who are looking to decrease their consumption of alcoholic drinks. So much that their sales have grown 25 percent every year since they began producing. In addition to selling their products directly to bars and restaurants, they continue to sell at a monthly pop-up at the local library to promote their products in collaboration with local artists. They will soon relaunch their expressions under a new brand called Dr. Xantus.
Sustainable solutions for the future
The zero-alcohol trend in Mexico is part of a broader global shift toward healthier and more sustainable lifestyles. Not only does this move satisfy the demands of centennials but it also encourages the development of more sustainable products. By repurposing byproducts from the wine, gin, and mezcal industries, Runneght exemplifies how the alcohol industry can contribute to circular economies and reduce waste. As does Semilla Lab with its focus on regenerative agricultural practices. This sustainable approach not only appeals to environmentally conscious consumers but also sets a precedent for other players in the industry to adopt similar practices. Hopefully, this movement would also inspire the creation of public policy to regulate and promote sustainability programs.
While the zero-alcohol trend is undoubtedly on the rise in Mexico, it is important to note that it does not signify the end of high-alcohol spirits. Instead, it highlights the possibility of seasonal consumption and the coexistence of both categories. Just as consumers appreciate non-alcoholic options during certain occasions or periods, there will always be a place for high-alcohol spirits for those who enjoy them responsibly. The emergence of the zero-alcohol trend provides valuable insights into the evolving preferences of consumers, paving the way for a diverse and inclusive beverage market. For mezcal and destilados de agave this shift could bring a revaluation of its quality so its consumption becomes more seasonal ultimately reshaping the industry and setting new standards for the future.
Note that the first paragraph regarding Semilla Baja Labs was corrected to clarify the roles of the business partners and to clarify the use of the plant in the hydrosol on July 11th.