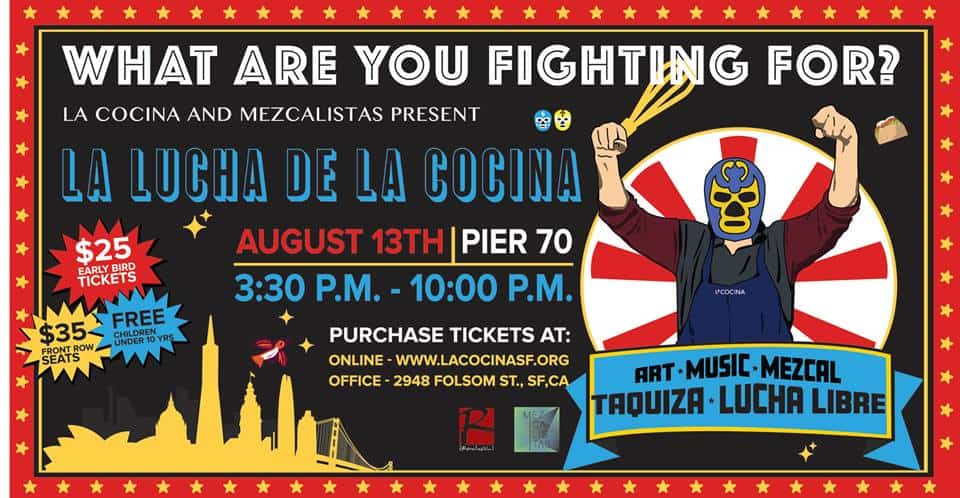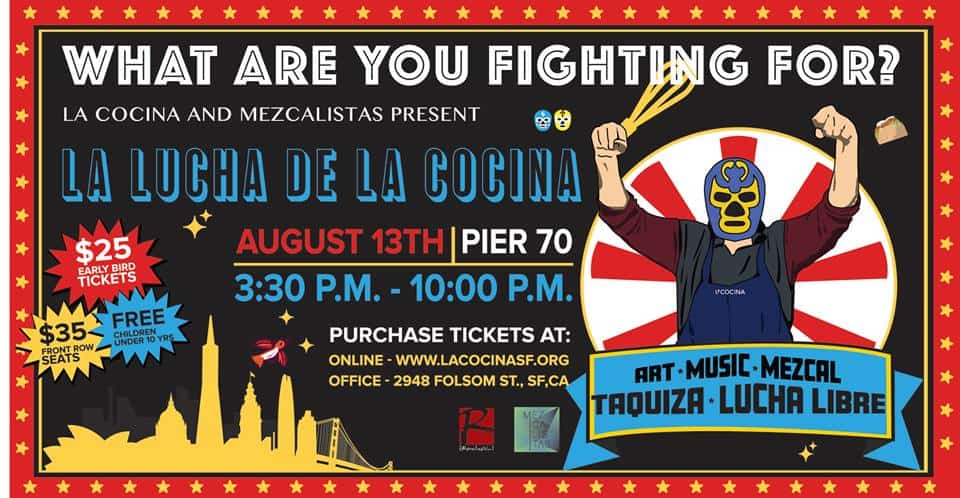 All right folks, this is your last chance, tickets are going fast so you'd better buy now to get down at a fantastic event this Saturday in San Francisco for a fantastic cause. There's so much happening at this Saturday's Lucha at Pier 70 that I have to break down into easy bites:
The Cause
First up, the proceeds from this event go to support La Cocina, a Mission District non-profit which incubates female cooks as they build their businesses into local powerhouses. Find out more about their mission and all their awesome chefs at their web site. Hint: The model for our poster is a chef!
The Schedule
3:30-10PM Saturday, August 13th. We realize that some people really love lucha so you can also buy the "El Ring All-Access Package" to get in early, between 2:30 and 3:30 when you'll get to have your photo taken with a favorite luchadore.
Lucha 5-7PM
Cocktails, mezcal, beer, tacos will be served for the duration of the event.
The Location
Pier 70 in San Francisco. Entrance is on 22nd St. past Illinois. Either buy a parking pass to park on site or park in the neighborhood and walk in. Here's a map:
The Luchadores
Enigma vs. "Familia de Tijuana" Bestia 666
Vaquero Fantasma y Cazador del Alma vs. Anarkia y Lestat
La Migra vs. El Campesino y Mariachi Loco
Christina Von Eerie vs. Thunder Rosa
Los Chicanos vs. Pantera Jr. y Psymon Cross
Grappler III vs. Zucarita
The Mezcal
We don't call ourselves Mezcalistas for nothing. This lucha will feature a special Mezcal Lounge where you can sample the following mezcals:
The Beer
It wouldn't be a summer party without beer, these guys will slake that thirst:
The Cocktails
Stunning examples of summer cocktails from some of San Francisco's best bars:
ABV will be serving up "The Paloma Rosada" featuring Espolon tequila and "El Maximo" powered by Del Maguey's Vida mezcal.
Old Bus Tavern will be throwing down a special take on their "OBT" with Espolon Tequila and fiery poblano chiles. They will also be serving the "El Santo," an Ilegal Mezcal fueled treat.
Novela, working with theBon Vivants, will be packing the punches with their Tito Santana, The Man of a Thousand Masks  and Pepper Gomez featuring Montelobos Mezcal, Ancho Reyes and Wild Turkey 101.
The Tacos
Last but not least by a stretch we'll be featuring a taquiza aka a taco party! You can sample and vote on your favorite tacos from some of the slamminest taquerias in the Bay Area. Here's the full list, keep reading, it's meant to wow you and I'm sure the tacos will.
Aedan Fermented, Chef & Owner Mariko Grady (Japan)
Bini's Kitchen, Chef & OwnerBinita Pradhan (Nepal)
D'Maize, Chef & OwnerZenaida Merlin (El Salvador)
Delicioso Creperie, Chef & Owner Gabriela Guerrero (Mexico City, D.F)
Don Bugito, Chef & Owner Monica Martinez (Mexico City, D.F.)
El Buen Comer, Chef & Owner Isabel Pazos (Mexico City, D.F.)
El Huarache Loco, Chef & Owner Veronica Salazar (Mexico City, D.F.)
El Pipila, Chef & Owner Guadalupe Guerrero (Acambaro, Guanajuato)
Estrellita's Snacks, Chef & Owner Maria del Carmen Flores (El Salvador)
Loló, Chef & Owner Jorge Martíneze (Jalisco)
Los Cilantros, Chef & Owner Dilsa Lugo (Cuernavaca)
Madam Zola's Fortune, The Midway SF (Jamaican)
Mama Lamees, Chef & Owner Lamees Dabhour (Kuwait)
Mi Morena, Chef & Owner Guadalupe Moreno (Mexico City, D.F)
Rasoi, Chef & Owner Heena Patel (India)
Reem's, Chef & Owner Reem Assil (Phili-raised, Arab-inspired)
Sabores del Sur, Chef & Owner Guisell Osorio (Chile)
Sal de Vida Gourmet, Chef & Owner Adriana Lahl (Mexico City, D.F.)
Sweets Collection, Chef & Owner Rosa Rodriguez (Durango)
Tamales Los Mayas, Chef & Owner Alicia Villanueva (Mazatlan, Sinal)
Uno Dos Tacos, Chef & Owner Luis Flores (Guadalajara)