It's so nice to find agave clubs evolving along with great bar talent as they open their own bars. The corner of 24th and Utah used to host one of the city's numerous Jack's bars which was one of the great shot-and-a-beer institutions and then evolved into a fun, and dark, New Orleans bar. Last year David Ruiz opened Junior at the same location but renovated completely. Now it's full of bright San Francisco light with open windows, house plants, and comfortable seats.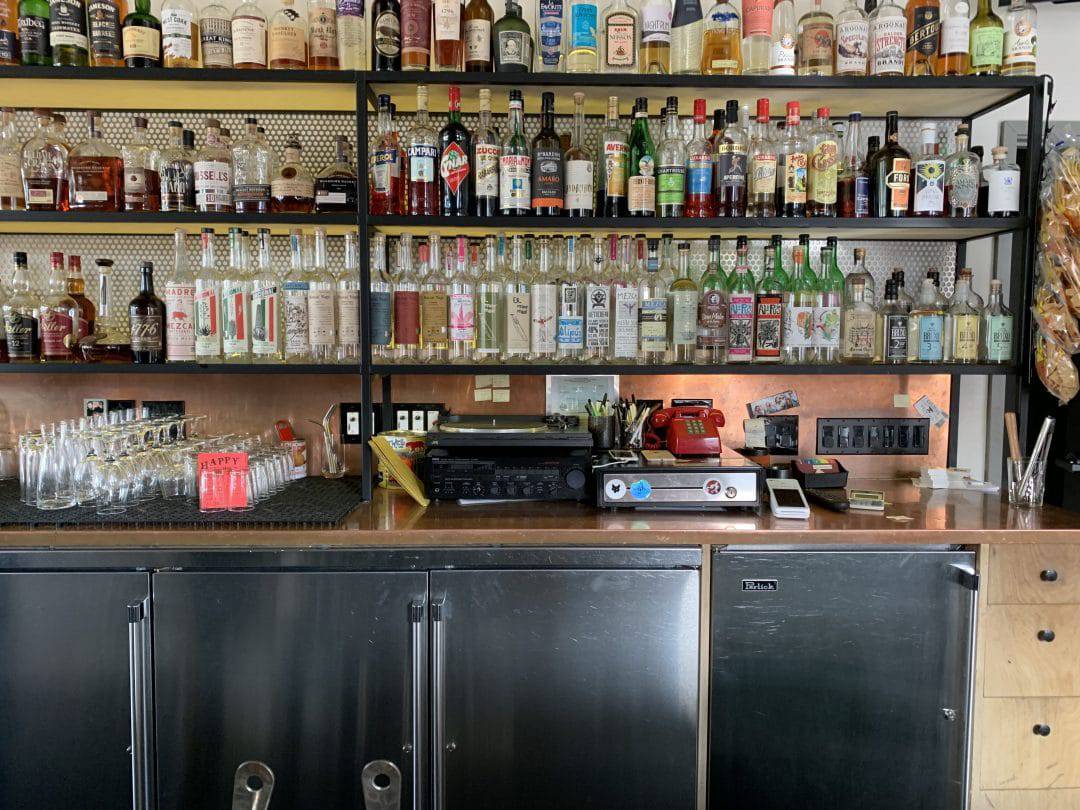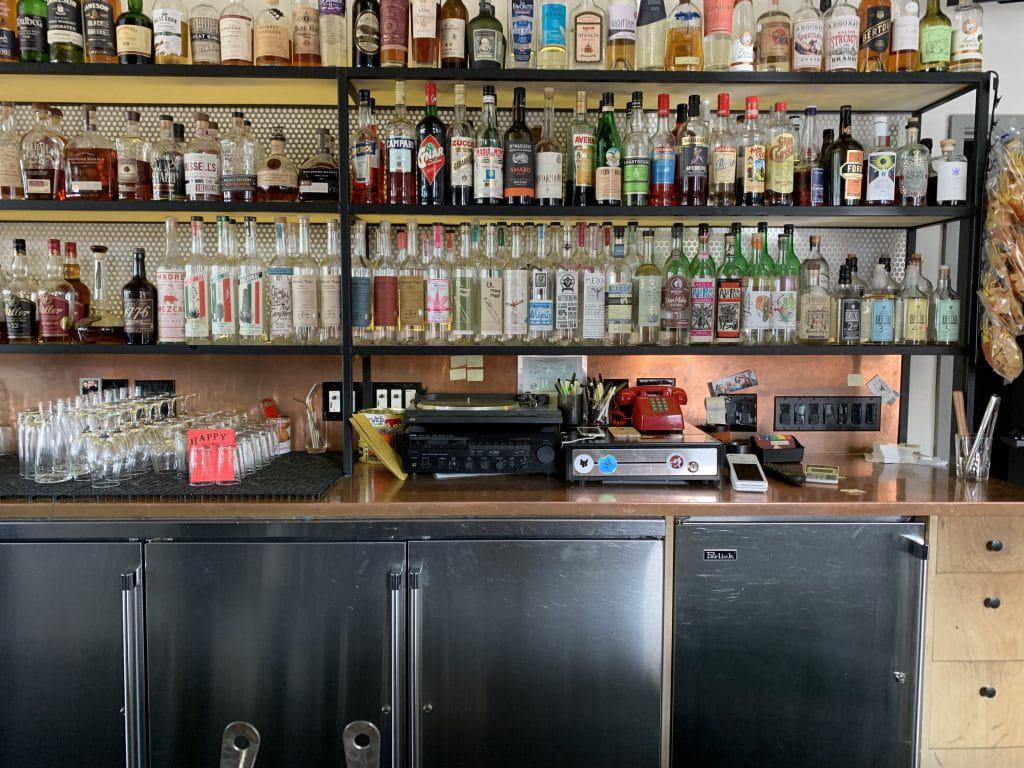 Ruiz has been a long time fixture in the local bar scene. He built the bar at Padrecito in Cole Valley and ran it for four years. Until recently he also represented Bruxo in the Bay Area. Now he's focused entirely on Junior.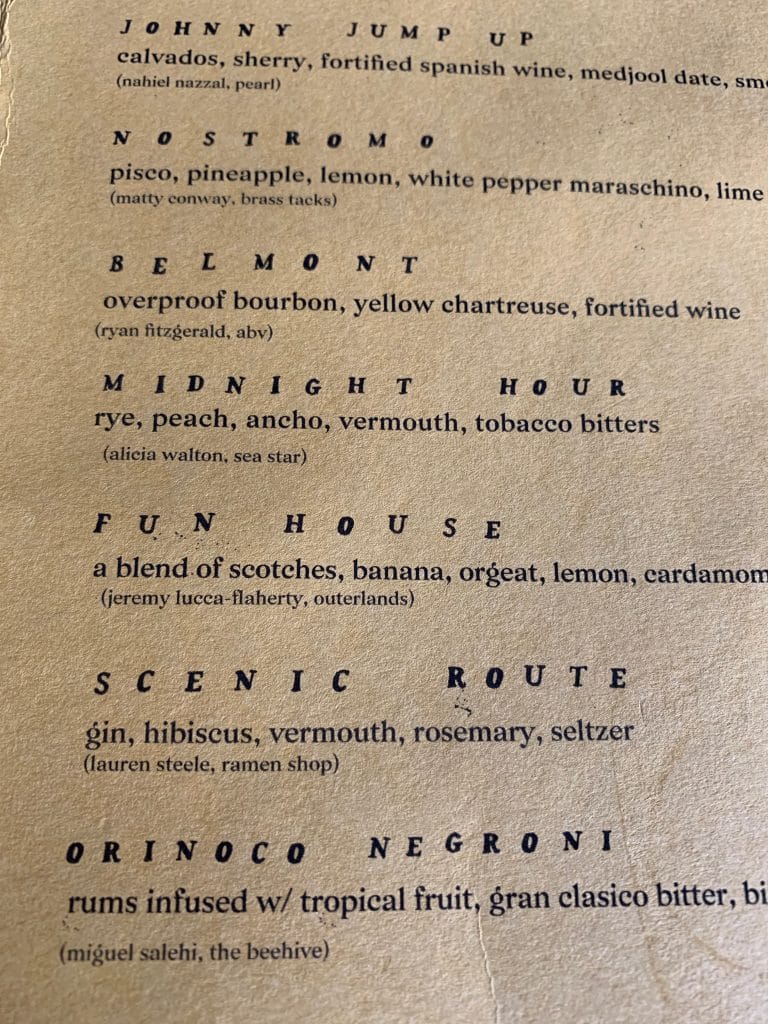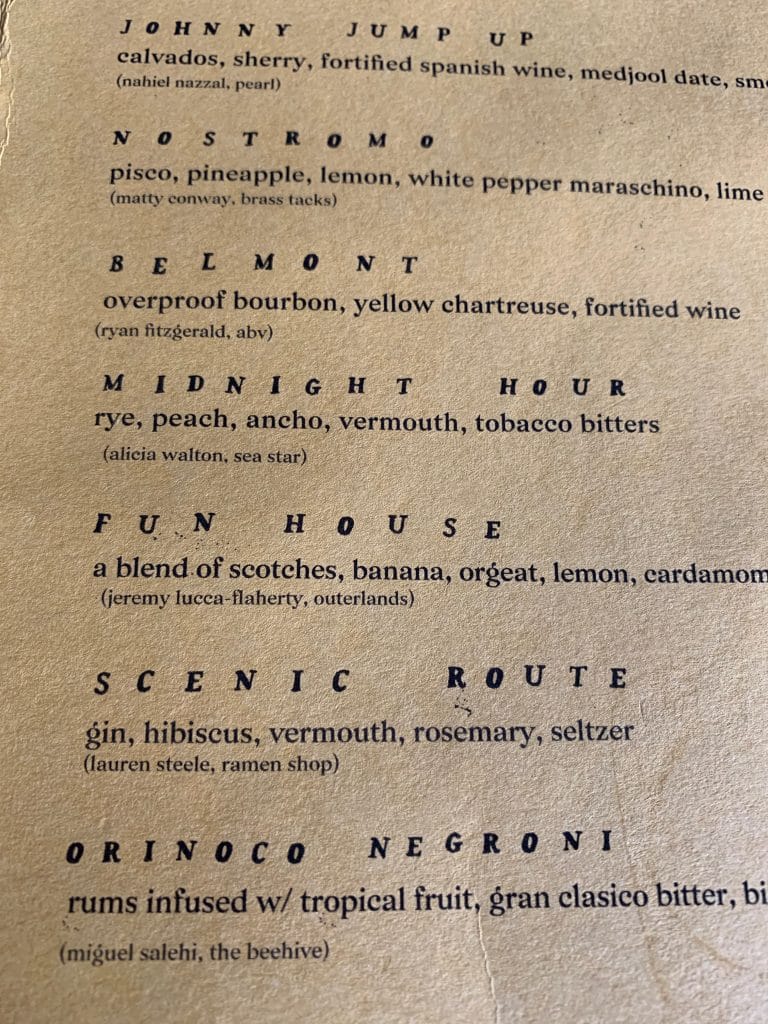 The bar is an experience to match the interior design. The craft beer list is heavy on the local and expansive enough for all tastes. The wine list is all natural. And, the cocktail list is pretty amazing. It's built around local bar tenders and their inventions. Their faces are on the cover of the menu. Their credits are listed below each cocktail. That's a level of attribution that I'd love to see more frequently not only to give credit to our hard working and imaginative bar tenders but also because it paints such an expansive picture of the bar world. There are so many people out there creating amazing drinks and you appreciate just how special that is when you see things like this.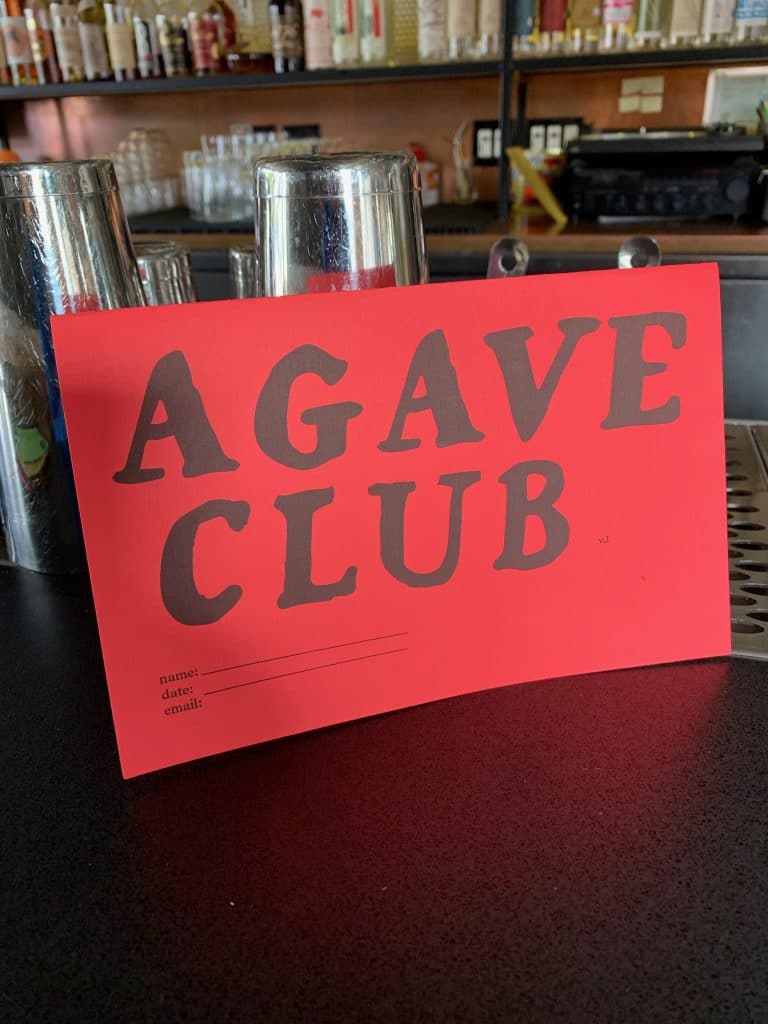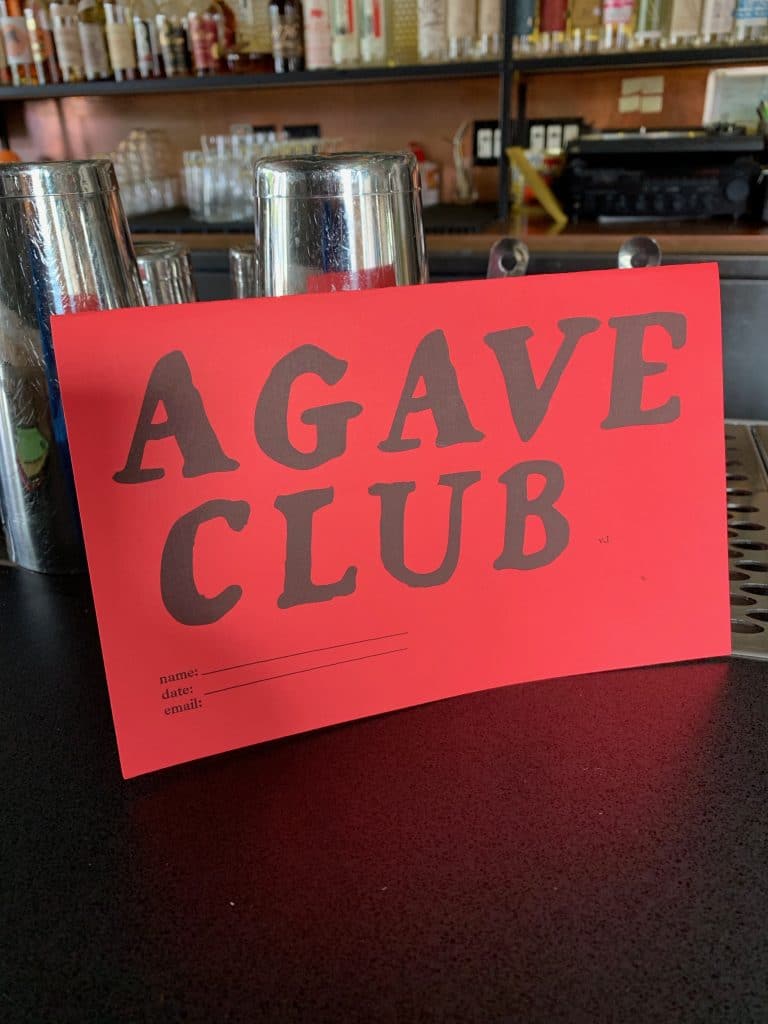 Oh and it features lots of mezcal. About a third of the back bar is given over to agave spirits of one type or another so you can do well by yourself there but you should also really dig into their Agave Club which is structured like a frequent buying card: When you try a mezcal you get your card punched and when you taste everything on the card, you get access to their private stock. The private stock has a variety of special items, bottles that Ruiz brought back from his trips to Oaxaca, discontinued bottles, and other rarities. Recent examples include one off bottles from Mezcaloteca and the last batch of mezcal that Asis Cortes's father made. Plus you gain access to special tastings at Junior like an upcoming staff training with Vago's Judah Kuper.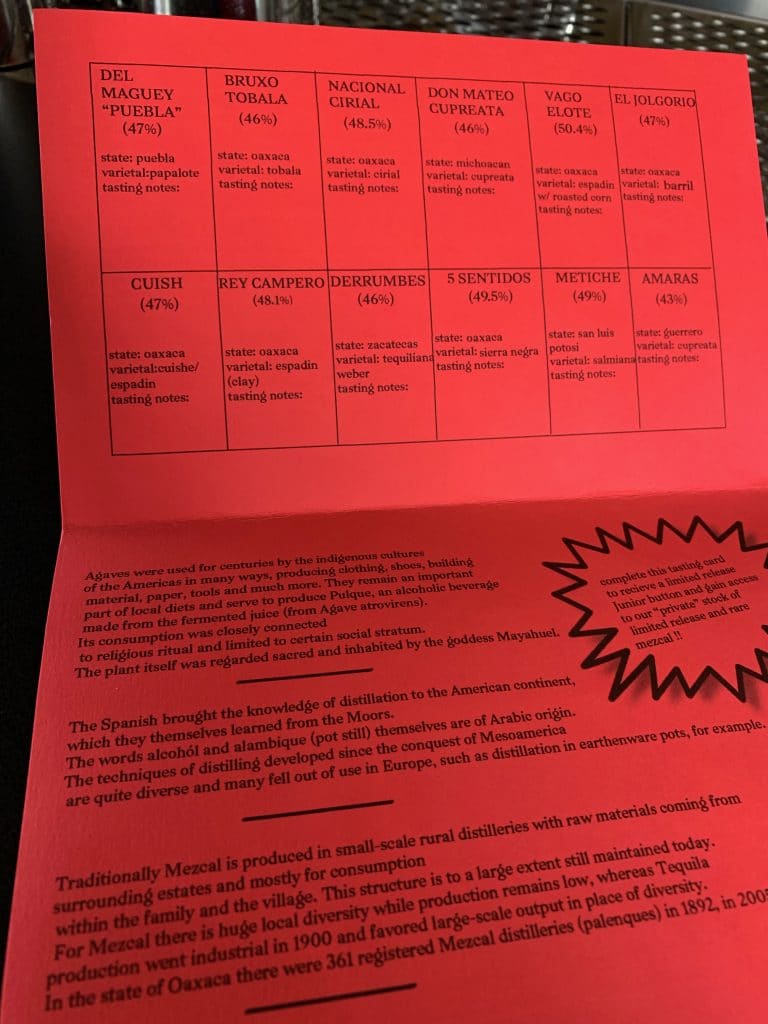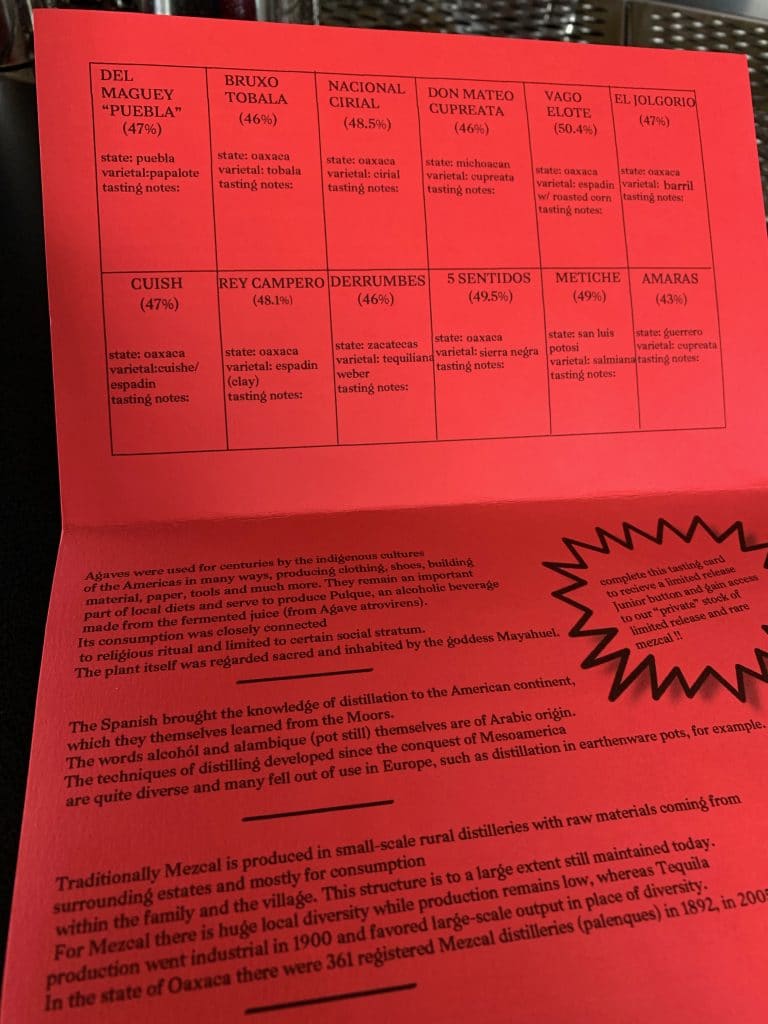 Try a mezcal on or off the Agave Club list and you'll be treated to a beautiful presentation with colorful copitas and the Oaxacan style orange with sal de gusano.