The London agave spirits scene is making a splash


Over the last decade I have been fortunate to witness London's agave spirit scene take off in a big way. Despite being far from the source, connoisseurs and consumers have access to a wonderfully diverse selection of mezcal, tequila, and raicilla. Even sotol has recently been making a splash on the most interesting menus.

Mezcal made its first appearance in the United Kingdom (UK) around twenty years ago. Back then it was viewed as an extremely niche choice of savvy bartenders and travelers lucky enough to have come across it abroad. Several decades later London consumers now have a wealth of options, from the brands available, to the bars and restaurants offering up flights and agave based cocktails.
As a Brit, I was lucky to have my first sip of mezcal in Mexico City (CDMX) back in the summer of 2008 during a trip with friends from CDMX. We drank copious amounts in the moody, atmospheric bar in Roma Norte, while brainstorming hair brained ideas of how we could start a mezcal bar in the UK.
Less lucky was heading back home, only managing to snatch a duty-free bottle of Monte Alban on the way out. With only this reminisce over, I was not really showcasing the wealth of the spirit I had fallen in love with. Although I stayed in touch with my drinking companions in Mexico, years passed and the idea of finding mezcal in the UK began to fade.
The beginnings of an agave scene and a photographer's epiphany
I moved to London from Oxford in 2012, yet, despite working in some central London bars and visiting many more, Mezcal was barely on my radar any more. So it felt quite out of the blue when one night, I stumbled down the stairs to an after party at a hidden bar called Hackney 64, also known as Mezcleria Quiquiriqui.
The decor was eclectic, with ornate mirrors and floral wallpaper located behind a DJ booth serving up old rock and modern cumbia. A house jukebox and a pink-topped bar were stacked with bootlegged offerings brought over by the founder Melanie Symonds. After years of barely finding a sip of mezcal, I had become obsessed all over again.
Melanie had also been introduced to the magic of mezcal while traveling, when she visited Oaxaca in 2010. She remembers, "drinking puntas at midnight in the hills of Sola de Vega, sitting round a fire with the mezcalero and his family, listening to stories about the history and culture that's embedded within these communities. Then his turkeys escaped. Trying to catch amorous turkeys after a full night drinking mezcal is not something I recommend!"
Returning to the UK she sought to make mezcal part of her life, which is why she opened the Hackney mezcaleria. It was hard because few brands were available in London. So she had to ship their own bottles back from Oaxaca for their range of house mezcals.
Melanie reminisces that it was a wild time. " I guess this is when mezcal became more popular in London, we had a lot of bartenders coming in after work as we were the only place to have a late license back in those days, 4am and we only sold mezcal, what could possibly go wrong!" Fortunately she was lucky, "everything went and it was the perfect moment for mezcal."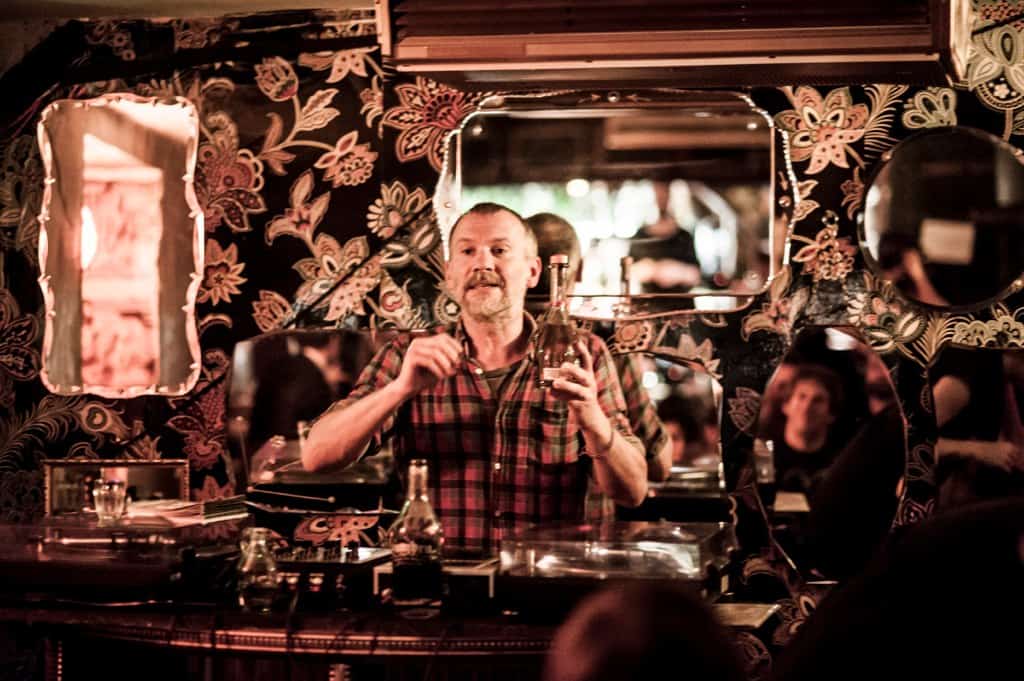 I had been looking for a project to take me back to Mexico, and following my epiphany drinking in the Hackney mezcaleria, I pitched a photography study to the Mexican Embassy. The pitch was an exploration of how mezcal was the 'new import' that could help open minds to the wealth of Mexican culture, and hopefully steer the UK into a more educational approach to consuming agave spirits and away from a perspective built around drinking cheap tequila.
The Embassy supported my project, sending me to Oaxaca in 2013 where I really began to appreciate each incredible step in the mezcal journey.
However, this project wasn't all about escaping to Mexico for a mezcal fuelled experience. Part of the conditions of the support was that I exhibited my work in London when I got back. This weighed on me a little during the trip. My friends in Mexico had set me up with a wonderful network out there, but as a fledgling photographer in London, my network was, let's just say, non-existent.

One of the brands I visited during the trip to Oaxaca was Danzantes (Los Nahuales, in the States), who also have the single village presentation, Alipus. Fortunately they were one of the earlier brands found amongst the agave conscious elite in London at that time, and they were stocked at the bar of the (now chain) restaurant Wahaca.
With this knowledge in hand, I made a three-prong approach to getting my work shown. I proposed to Wahaca, Danzantes and their distributor, Amathus Drinks, to have an exhibition showcasing mezcal, that also highlighted their pioneering efforts in London for the launch. Fortunately this was well received and the show opened at the bar in October 2013.
One step at a time, I was finding my way into the world of London's mezcal enthusiasts. By no means was mezcal prevalent on menus, or even particularly visible on back-bars. However, if I asked, I was pleasantly surprised to find there was usually one hidden away somewhere. It was clearly a favorite with bartenders as well, which made it a fun drink to ask for.
At that time the agave specialist for Amathus Drinks was Eduardo Gomez. He was proactive when it came to helping me get my exhibition together, and following the show we did some other work together, visiting London venues that were beginning to introduce mezcal to their teams.
Eduardo also brought me in on plans for the first installment of the Tequila (and Mezcal) Festival, which opened for the first time in November of 2014. They held the most recent installment on the 8th and 9th of September this year.
At the first event in 2014, I exhibited work from my time in Oaxaca, but more importantly got to spend time with some other major players early on in the London agave scene, such as; Jon Anders who at the time was representing Amathus, Tom Bullock who wrote the Mezcal Experience, Tom Bartram of Speciality Brands and Melanie Symonds (of Hackney 64) who was representing her new brand Quiquiriqui.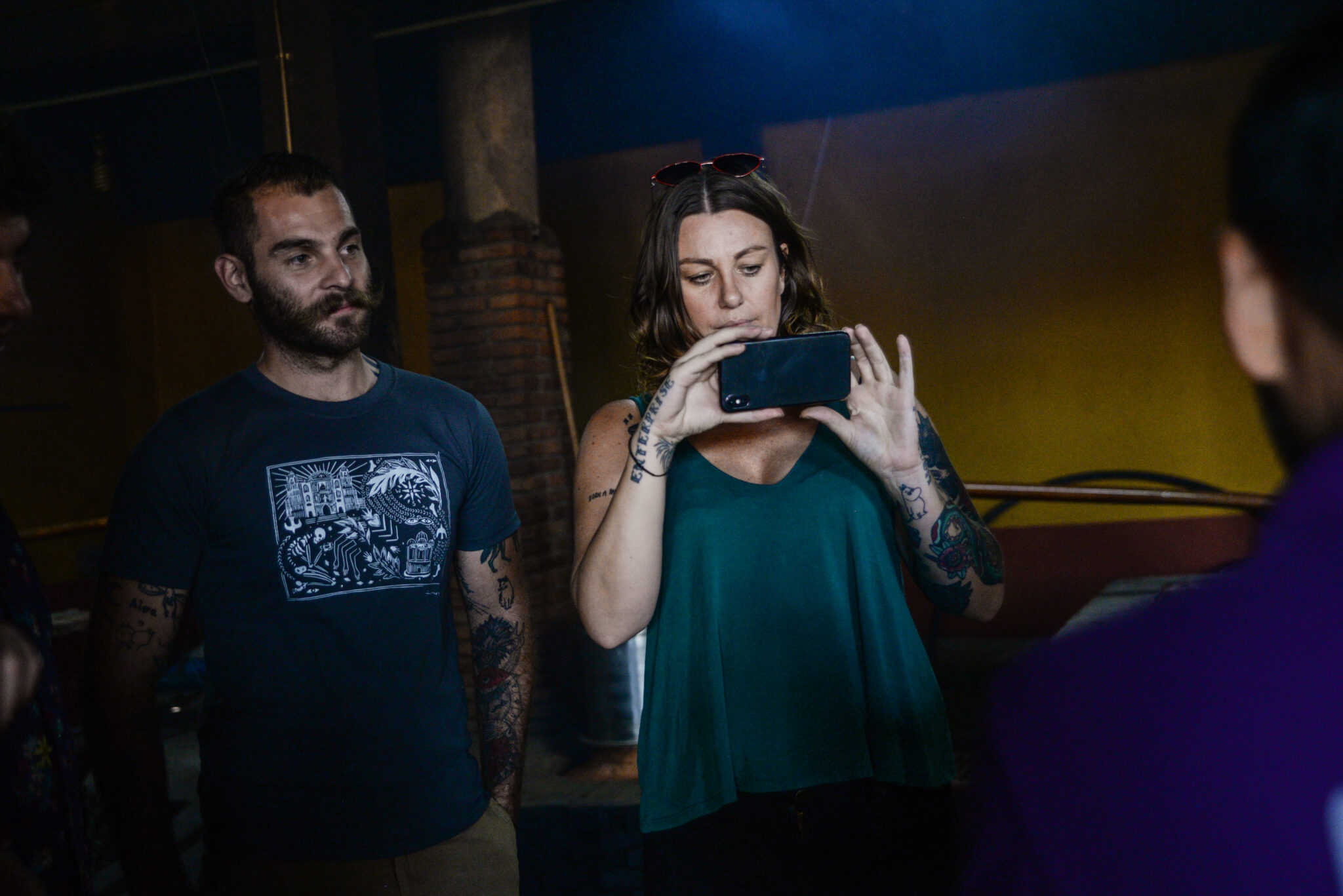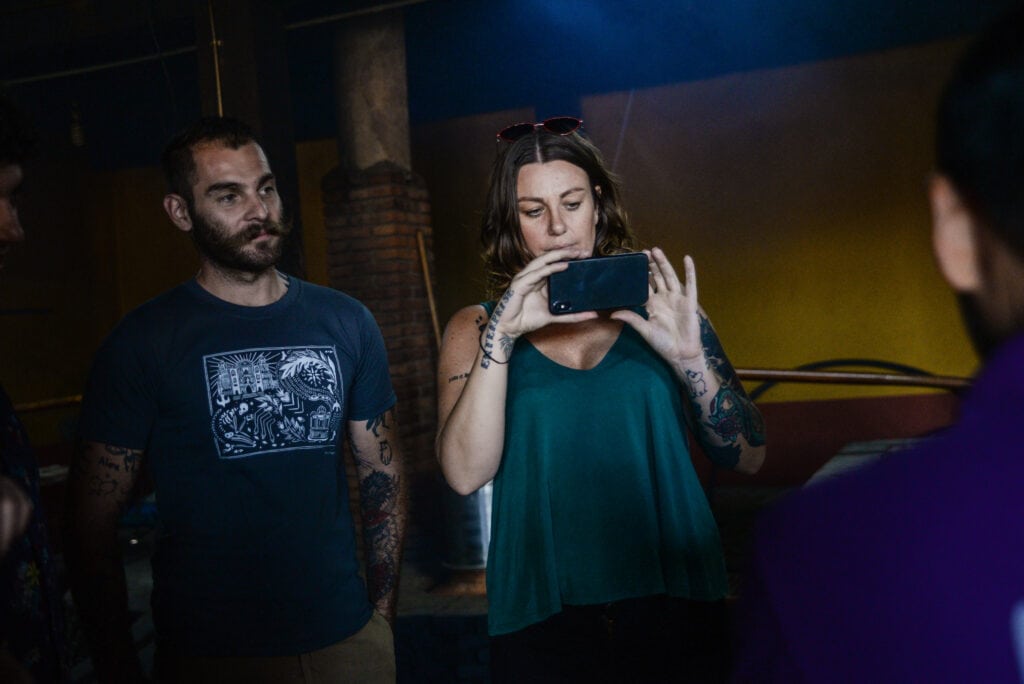 Laying the groundwork
I already knew Tom Bartram, head of agave acquisitions for Speciality Brands, from an agave spirit research trip that he had invited me on in May 2014. We spent two weeks road tripping from Guadalajara and Tequila, along the 'raicilla trail' with Derrumbes founders, Estaban Morales And Sergio Mendoza, then down to Michoacan and finally Oaxaca. If I thought I had the full picture of mezcal from my first trip to Oaxaca, I quickly realized I had only just begun to scratch the surface.
Tom showed me another level of agave connoisseurship, spending hours in each distillery (we visited many every day) talking in detail about the nuances of production with the Mezcaleros. He was even more precise in his note taking on flavor, collecting samples to cross reference back home with his community of trusted bartenders.
Tom pursued his interest through bars in New York, particularly Death & Co, where he tried Oaxacan Old fashioneds and sipped some of the early exports of Amantes mezcal from producer Eric Hernandez, bringing this awareness of quality and variety back to London in 2008 when he began working for Speciality Brands, a premium distribution company base in the UK.
At that time Speciality only represented Ilegal Mezcal, but with Bartram's guidance they have brought on brands like Derrumbes and Venenosa raicilla, which have helped showcase the complexity and diversity of the agave category for London consumers. When we met, Tom was established in London as someone with a deep knowledge and understanding of agave, so I was lucky to learn from a master!
When Tom moved out of London in 2015, Gaby Moncada (sometimes known as Gaby Agave) took over his role as agave ambassador at Speciality Brands. She is originally from Guadalajara, Mexico. She moved to London in 2003, where she began working at a bar called Salvador and Amanda in Covent Garden.
Gaby describes how back then, tequila was a "tiny category that not many people knew, and many people didn't really like." Fortunately, through this work, she got to meet some amazing people "such as Julio Bermejo, Thomas Estes, and Henry Besent, who in my opinion were some of the biggest promoters of agave spirits in the UK."
Although Gaby is now Agave Ambassador for Speciality Brands she remembers how growing up her parents warned her off mezcal "because it did not have a good reputation. I did not know that much about mezcal until I got to London. There I met a lot of people who were passionate about mezcal and tequila."
She can see the growth in London's agave spirits scene: "in 2003 you could normally see only one of different spirits such as tequila. Now you see two or three of each, especially mezcal. It is mostly growing in central London. London is very cosmopolitan, adaptable with access to everything. We receive a lot of people from around the world, including a lot of Mexicans."
"So it's growing, it's amazing. We are probably ten years behind the US, but the UK is doing great right now. I see it as positive because people are looking for quality." "It is growing and helping the Mexican economy."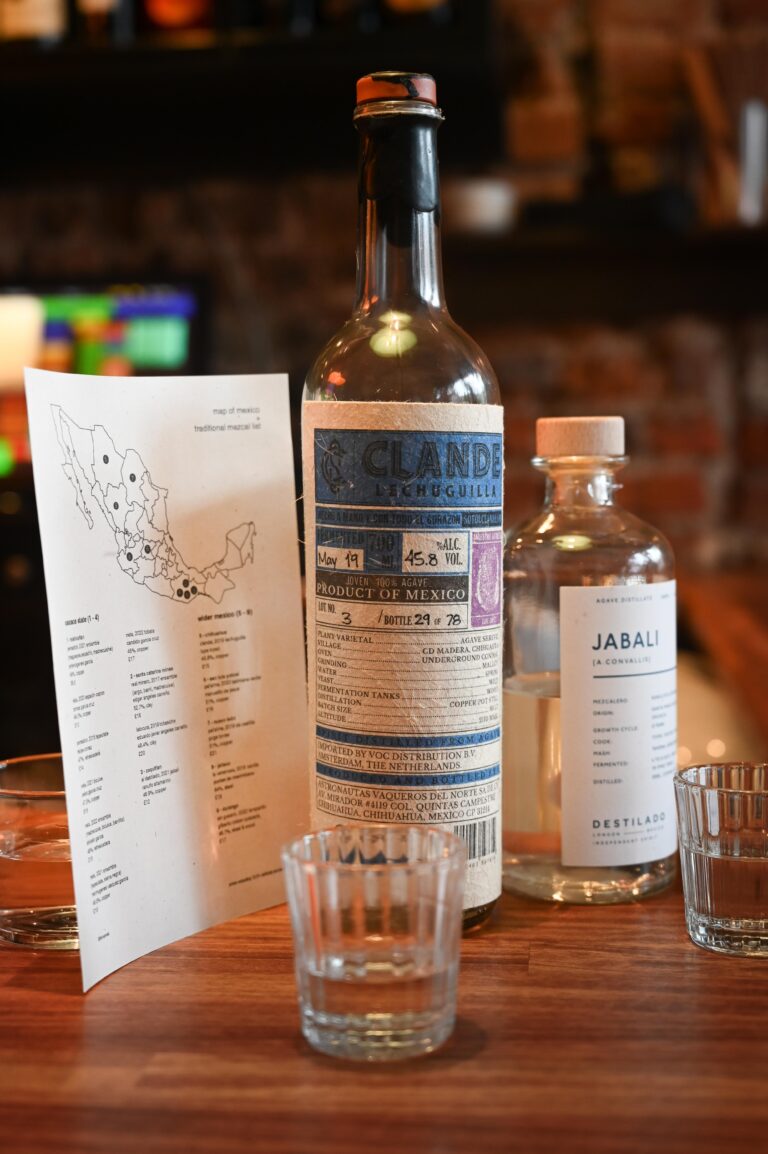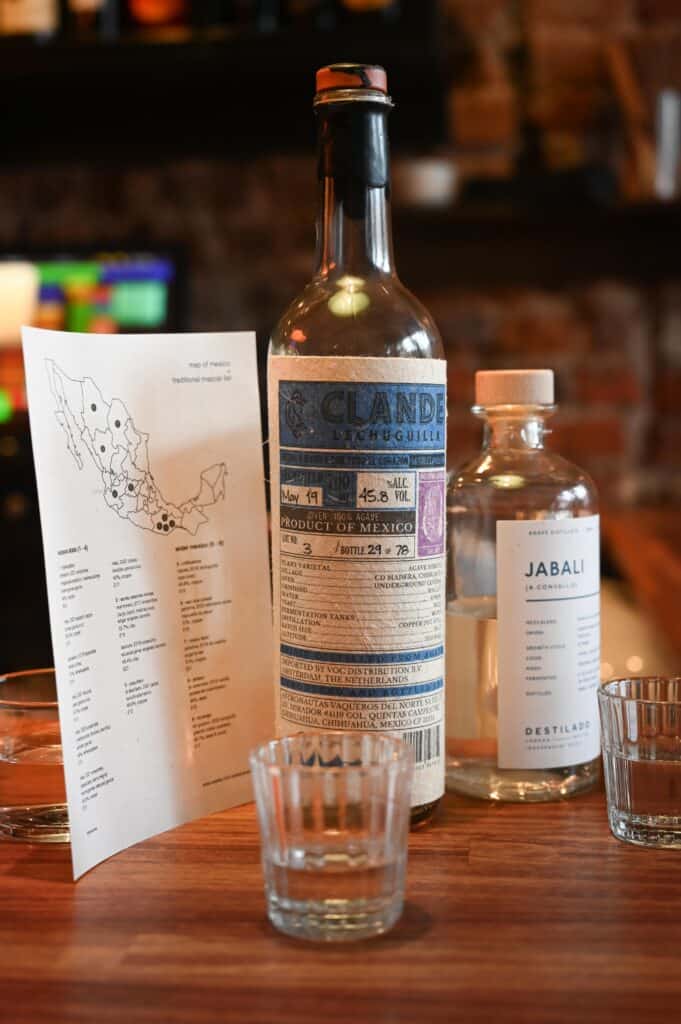 The challenges in promoting an "it" spirit
However, Gaby is also conscious of the concerns around this growth; "it is scary because many people want to make their own brand. I think through their eyes it is business. For me as a Mexican there should be more regulations to protect the cultural side of these spirits." She believes there should be more regulations focused on how these International brands give back to the communities from where they originate. "The producers need more protection. This is happening in Tequila, but it could happen more in mezcal. So producers are well remunerated, and the culture of Mexico is protected."
Gaby says that as an ambassador, she perceives the way forward is to focus on respect and education. "It is one of the most important things. People need to recognise how the product is made so people understand the value."
This value can be difficult to explain when, as Gaby alluded to, many people in the UK have grown up drinking, or shooting, cheap tequila. And suffering the aftermath. Both tequila and mezcal are labor intensive to make. They come from generations of knowledge and are complex to certify and import to the UK, especially high proof artisanal expressions.
Therefore some consider the only direction is to aim for top shelf, five star establishments. There is a sense behind this reasoning, as it helps develop an understanding of agave spirits alongside the likes of family owned scotch from the western isles that can pull hundreds of pounds for a single pour.
There are establishments offering this service, with both tequilas and mezcals fulfilling the need. David Shepherd of Corte Vetusto emphasizes the importance of gaining the respect and support from this level of clientele. However, this approach can leave consumers parched of their opportunity to try well sourced, artisanal agave spirits.
One man who has arrived with a strong focus on Education with agave spirits is Jon Darby, founder of Sin Gusano and M.A.S (Mezcal Appreciation Society).

I first met Jon on his inaugural visit to Oaxaca in 2016. He had just left his career in London's financial district, where he had felt like "a cog in a machine that I came to see as out of control and unfair. I couldn't see a way to effect any change on it." Jon arrived in Oaxaca longing for something different, which is where his passion for agave spirits began.
Similar to my experience, he found upon returning to London, there wasn't much to be had in the way of agave spirits. He remembers that this "was the moment I thought I might try to work with it in some way. I wanted to share this amazing thing I'd enjoyed with my city that was missing it."
The following summer in London Jon ran his first Sin Gusano mezcal pop-up with a range of limited edition varieties he had sourced from all over Oaxaca, presented as tasting flights. These flights introduced a new way for Londoners to taste and learn about the unique subtleties in mezcal, ranging agave focussed presentations, to production style, and even a "river edition," that followed the course of producer by producer along the same river. Jon was on hand to talk people through each experience.
I was also around to help with the first Sin Gusano pop up. It was exciting to be part of such an innovative project focussed on variety and the stories behind each sip being shared. We often had queues of people waiting, so it felt like the right place and the right time – and the right drink.
Jon has observed that since the "first pop-up in Hackney in 2017 there's infinitely more Mexican stuff in general. London seems to have had a little love affair with Mexico… But there's certainly a lot more mezcal focused bars and a much greater diversity of offering in them."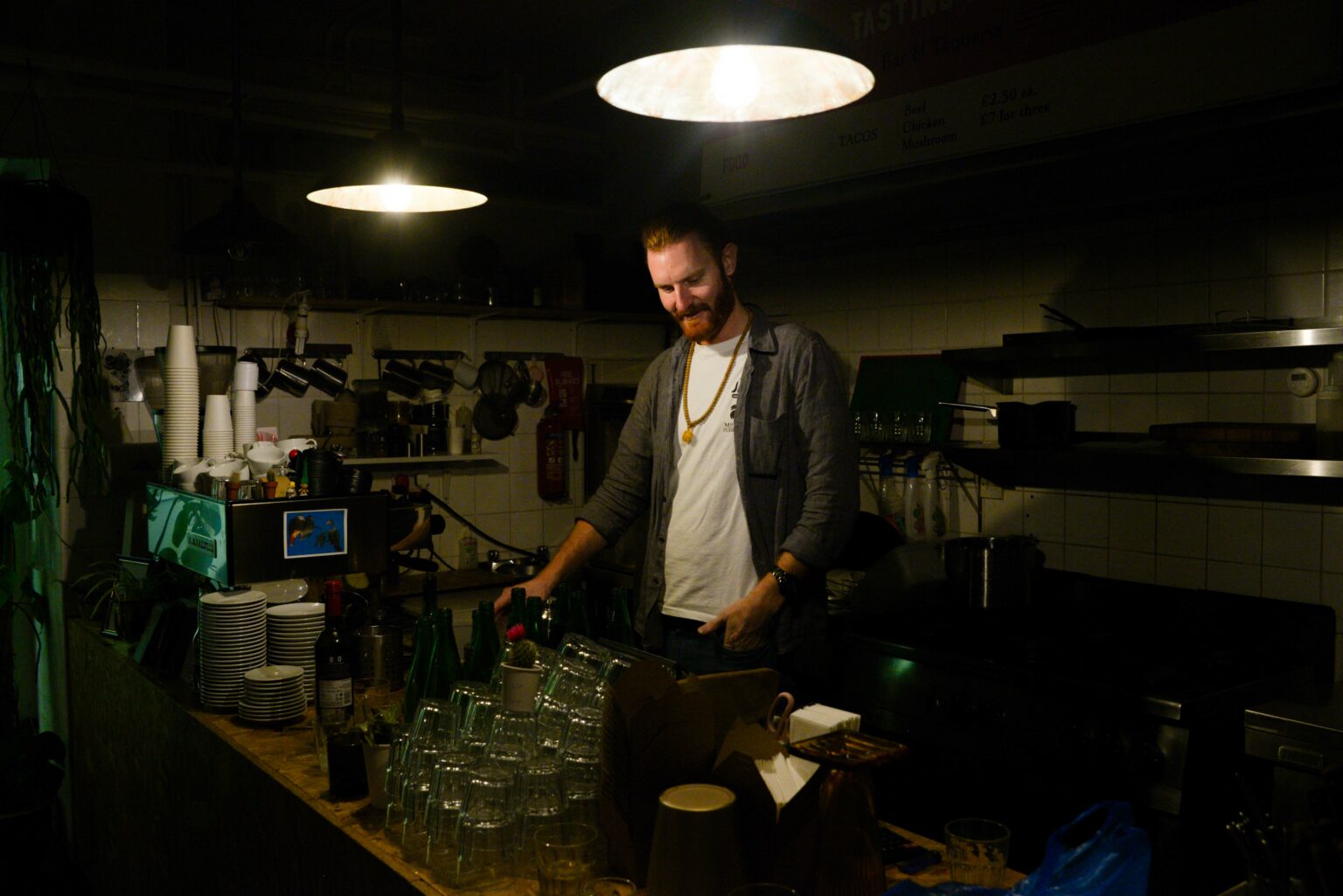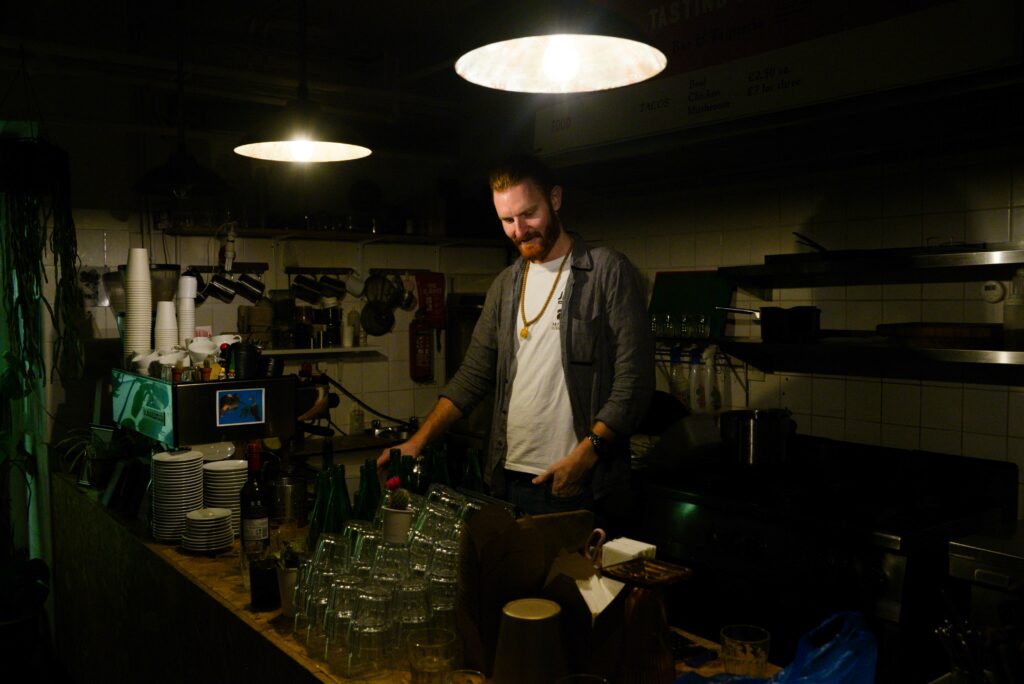 Sin Gusano has now developed into a very particular kind of brand, offering limited editions, often uncertified agave spirits. With Jon's irrepressible passion and knowledge, backed by the very bespoke range, Sin Gusano has become a favorite with respected, agave forward bars like Kol, Hacha and Brilliant Corners.
However, as Jon points out, any agave brand has its challenges in London. "We're a long way from the source in London, and with all the disruption to global supply chains over the last years lots of brands have struggled with supply, us included."
Fortunately for Jon, "Sin Gusano is all about small and exciting batches that change all the time, so something running out is built into our model." He describes that by agave spirits "very nature you can't get a consistent supply of the same thing, even if you make the stuff yourself. That's what's fun about it, and it's why the Sin Gusano model is a batch-by-batch celebration of inconsistency and diversity."
Across an ocean but making local connections
Another impact of London's physical distance from the source of agave spirits is that far fewer bartenders or consumers have ever been to Mexico or seen production up close, which Jon describes as "a game changer for understanding and appreciating".
As Gaby emphasized, education is key, but it can be quite a luxury to access this around agave spirits. So ambassadors helping to guide bartenders who in turn share with the consumer is a great way for this to become more accessible.
Kol is a restaurant with a connected mezcaleria, aptly named "Mezcaleria," that clearly put time into their bartenders' knowledge around agave spirits. Currently they are working with Jon to bring in new varieties. They have a strong back bar with a range of mezcal, tequila, raicilla and sotol. You can drink these as single pours, cocktails or flights, with the option of a pairing with antojitos from the Michelin star restaurant above.
Kol's bar manager is Matthiass Ingelmann, from Germany. However, he picked up a passion for agave spirits in Paris, before taking it to the next level at Kol in London. He describes a contributing factor to the boom in the cosmopolitan clientele. The diversity of people coming through the doors at Kol brings different interests, but as they are a destination location now, they often get customers on a pilgrimage for an agave based drink.
The bar menu complies with Kol's overall concept, which is Mexican cuisine with British seasonal ingredients. Apart from the actual spirits, their cocktails do not contain ingredients that have to be imported. They even make their own infusions, for example a sloe berry infused mezcal. Incorporating specific flavors of the UK with the complexity of agave sounds challenging, but their cocktails and pairings are now award winning. I recommend the carajillo with Pensador mezcal and meadowsweet flower.
Despite building his passion and knowledge in Europe, Matthias described how his work with agave spirits had started to feel somewhat inauthentic, having never visited Mexico himself. Fortunately, with Kol, he has now had many opportunities to visit, learn and share experiences. This includes linking up with other bartenders in Mexico.
This interaction has now taken the form of collaboration with a weekly program connecting their London Mezcaleria with other international agave bars, most recently with Handshake from Mexico City. This initiative is in partnership with the Lost Explorer Mezcal. Led by Matthias, each event has seen a menu of six cocktails utilizing Lost Explorers different expressions, designed by the visiting bartender and Kol team.
This sort of collaboration is at the cutting edge of the bar scene worldwide, and not surprising that it is being harnessed by a high end venue like Kol to make sure their bartenders and clientele get a next level, agave spirit education.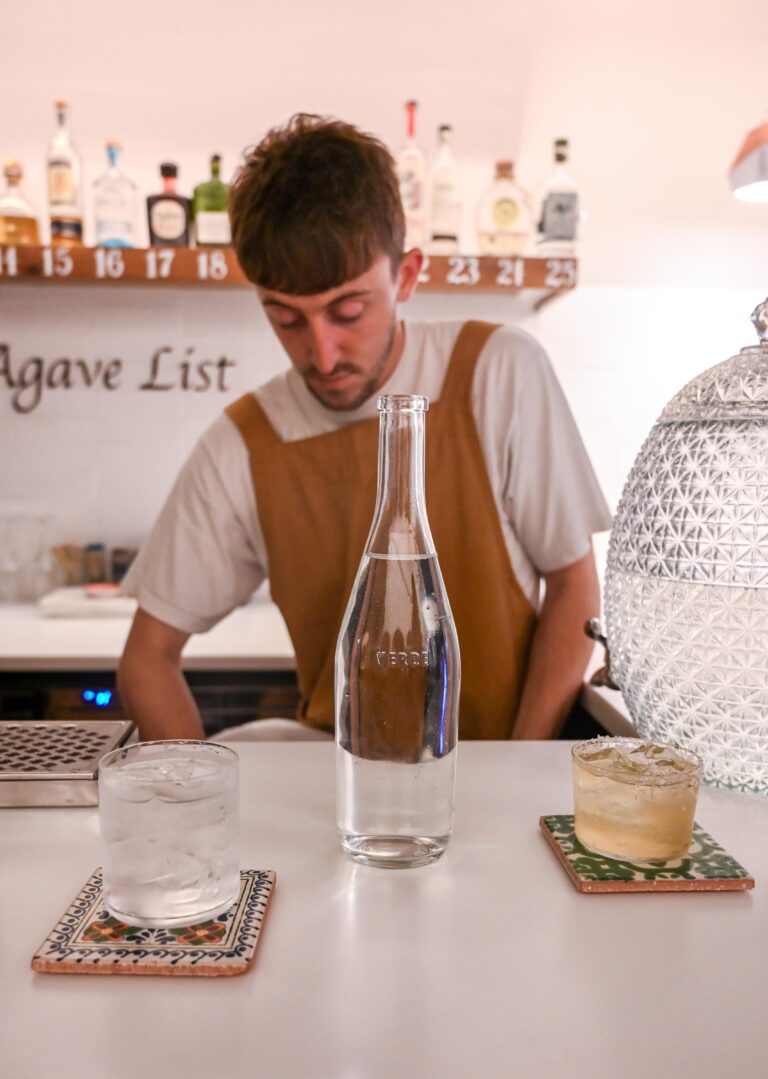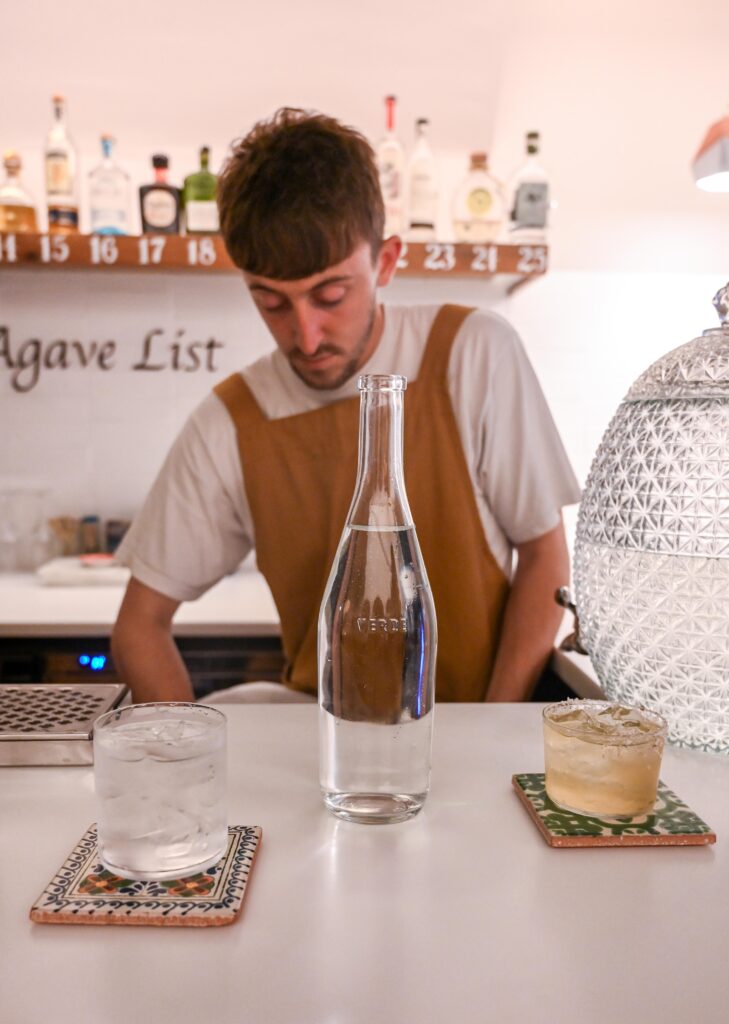 The agave bar growth continues
Two other bars pushing the boundaries of what has been available in London are Hacha and Bar Doña. Two bars almost as different as you can imagine, but both with agave spirits at their heart.
Hacha has a simple, fresh presentation. White walls and a single shelf of agave spirits behind the bar, with a numbered list of agave spirits that rotate regularly. They have many flights to choose from, which have greatly risen in popularity over the last couple of years. They also have a newly minted cocktail that they now sell bottled, called the Mirror Margarita, which you can get with a base of tequila or mezcal.
Deaon Moncrieffe and his wife Emma have executed a very clear vision with Hacha, which makes learning about and trying new agave spirits approachable and easy. So it's not surprising they now have two venues in London. They are also annually host to the UK's best mezcal and tequila cocktail, which has recently been judged this year (check out Hacha for results).
Doña on the other hand is designed around Mexican bodegas and old jazz clubs, yet also has a Parisienne late night vibe. Down stairs concealed by a glittery curtain is a fabulous boudoir of a bar.
It has something of the old Hackney 64 dark glamor (besides the kebab shop).Perhaps the connection is not surprising, as it was founded by Thea Cumming, co-conspirator of Melanie Symonds in the excellent event series, London Mezcal Week (which sadly has been discontinued). Thea also founded Dangerous Don, which began as a coffee distilled mezcal expression, leading the 'distilled with' trend.
"Independent creativity and empowered femininity" are the guiding principles of Doña and it champions artisanal producers from across Mexico in the form of curated mezcal flights and creative cocktails. They also host up-and-coming women artists. Here, they primarily serve female-owned brands such as Dangerous Don and Melanie's Quiquiriqui, although they do have regular events with brands like Sin Gusano and Pensador.
Side note… Women in the mezcal industry has been a subject guiding articles, books and even festivals of late. I am adding to this by putting together an exhibition of portraits of women I have met in the process of learning about mezcal. 'Mujeres y Mezcal' will be hosted at one of London's newest mezcalerias, Mayahuel.
Mayahuel is possibly the most Oaxacan feeling of the bars I have visited in London. Another subterranean space, it is tucked beneath Cavita, the beautiful restaurant from Mexican chef Adrianna Cavita. While the restaurant has a playful flare with pops of pink in the decor, Mayahuel is very earthy, with exposed brick and hewn back plaster walls. They also have a well rounded back bar, if not as singularly curated as some of the previously mentioned venues.
Over the last two decades, we have seen a growing interest in Mexican Cuisine in London, a pandemic that saw spirits clubs on the rise, and now agave spirits finally receiving the space they deserve on the best bars in London.
London plays host to five star offerings and casual tasting nights, and everything in between. There are fruity cocktails, fresh espadins and an ever growing range of every other expression out there, coaxed and curated into the hands of curious consumers by VERY passionate agave lovers who call London home.
Having moved to the heartland of mezcal over a decade ago, when tequila was still a questionable choice, it has been a refreshing and enlightening trip home to find so many people who are as wrapped up in agave spirits as I am.
Mujeres y Mezcal is on now until the end of October at MAYAHUEL
60 Wigmore street, London
Contact @ramblingspirits.photos for more information