In the run up to Mezcal Week we had the great pleasure of partnering with Sombra Mezcal and The Mezcal Institute in launching the Sombra Mezcal Cocktail Contest Home Edition. The focus of the contest was on working with ingredients you have at home and creating a recipe, and picture that could be shared across our virtual world. We had a great response, and our judging panel of our own Max Garrone, writer Emma Janzen, Panorama Mezcal's Jose Maria Donde and the Mezcal Institute's Pablo Payro had the difficult task of scoring the submissions.
The criteria was simple: Create an amazing sustainable mezcal cocktail recipe working with ingredients you have on-hand:
Creative cocktail name
Ingredient list (the creativity of using what you have, including 1oz of Sombra Mezcal). Recipes may incorporate a maximum of five ingredients (garnish and ice are excluded).
Presentation of the cocktail in an Instagram photo
Covid-19 has impacted us all in different ways, financially, emotionally and physically. It was clear from all of the submissions that a great deal of time was put into creating a cocktail, and we thought it would be interesting to understand more of what our winners were thinking. Below, in addition to getting to know who the winners are, we also get a glimpse inside their creative process. Congratulations to our three winners; Katie Renshaw of Chicago, Yaz Reyes of Mexico City, and Jonathan Stanyard of Seattle. Their stories are below.
Katie Renshaw, winning cocktail, La Tierra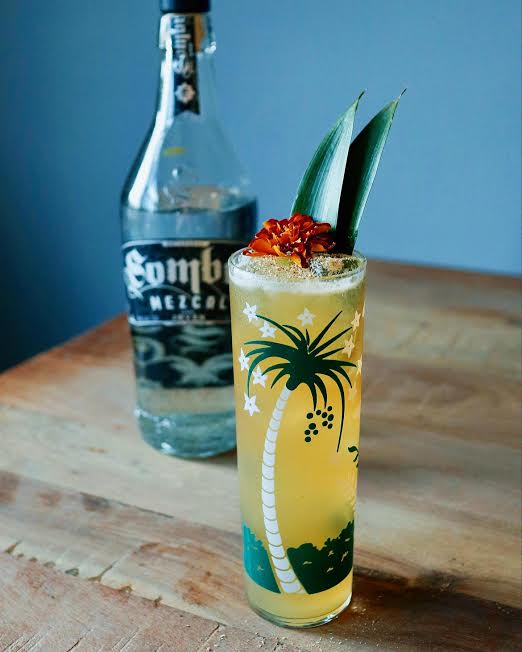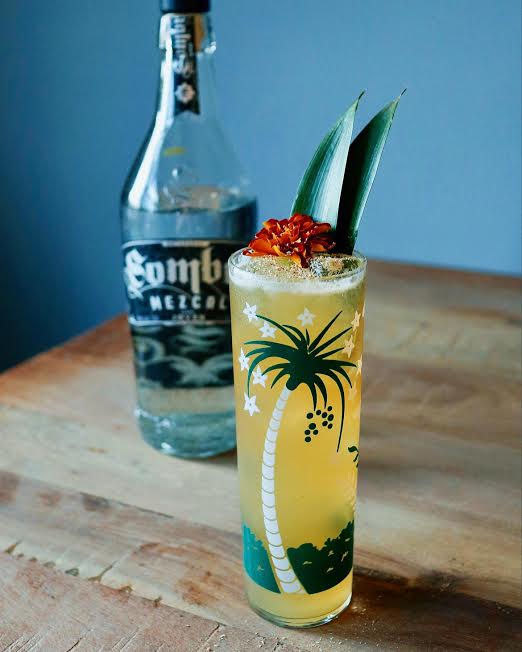 Katie's extreme passion for cocktails and spirits led her to leave her job as a software developer and seek mentorship behind the bar. She started her exciting bartending career in Chicago, IL and has worked at some of the best cocktail bars in the city, including Moneygun, Drumbar, GreenRiver, and Billy Sunday. Her creativity and love of storytelling has caused her to receive recognition in several major national cocktail competitions; most significantly and achieving one of the biggest goals in her career, she was most recently named World Class US Bartender of the Year for 2019. When she's not bartending, she can be found playing music, doing yoga, and cooking to her heart's content.
"During the pandemic, I've been working on developing healthier habits for myself. In sustaining my own health, I've been eating more fruits and vegetables, leaving me with scraps it would be simple to just throw away. To me, a big part of sustainability is showing true respect for an ingredient; extracting all of its unique flavors before considering disposing of any part of it.
After eating a pineapple, I was left with the skins and core, and made an effervescent tepache to complement the tropical fruit flavors in Sombra mezcal (a second fermentation in closed glass bottles yields natural carbonation). I saved the fronds for garnish.
My summer favorite, peaches, also left me with several peach pits; I cracked them to get to the delicious noyaux inside (be sure to roast them so they're safe to use!), and used it to flavor a syrup with bitter almond, to highlight the vanilla notes in the mezcal. And a lime is more than just the juice inside. I threw the spent lime shell into the tin before shaking, to introduce the delicious lime oils into my cocktail. I also used zero processed sugar in this cocktail. The tepache uses piloncillo, an unrefined sugar with molasses-like flavor, and I used a local honey in the syrup, to support my native bee population (bees are essential for sustaining the foods we grow). I've also been growing a garnish garden, which I have to thank for the lovely marigolds that complement the color of the cocktail perfectly. I called this cocktail La Tierra (Spanish for ??? ?????), to honor the extensive sustainability efforts of Sombra mezcal."
La Tierra Recipe
1.75 oz Sombra mezcal ⠀
0.75 oz local honey and noyaux syrup ⠀
0.75 oz lime juice (and empty lime shell)⠀
1 pinch of salt ⠀
2 oz tepache ⠀
Combine all ingredients except for tepache in a shaker tin. Add ice and shake; double strain cocktail into a Collins glass with ice. Top with tepache. Garnish with saved pineapple fronds, edible flowers from your garnish garden, and nutmeg.
Yaz Reyes, winning cocktail, Don Rufino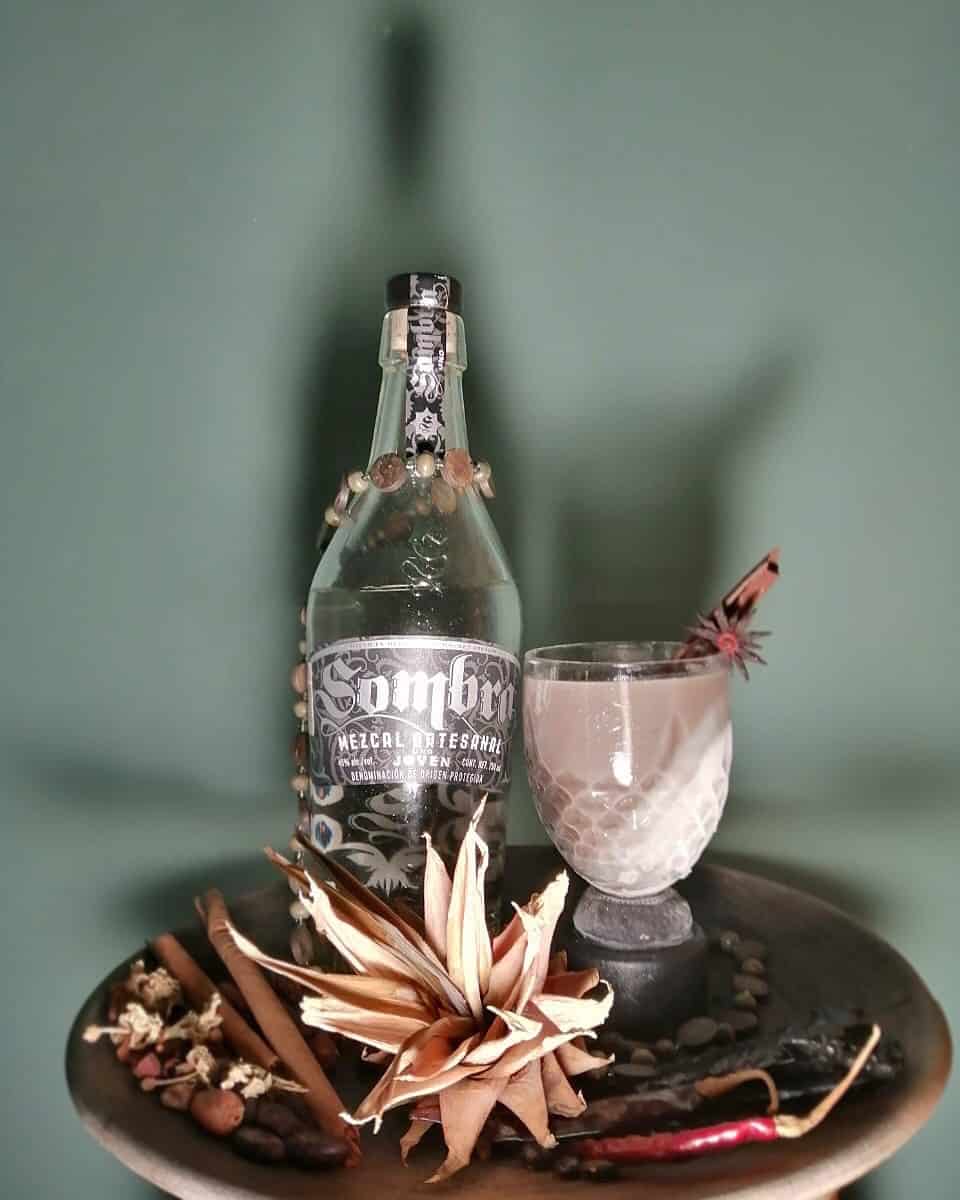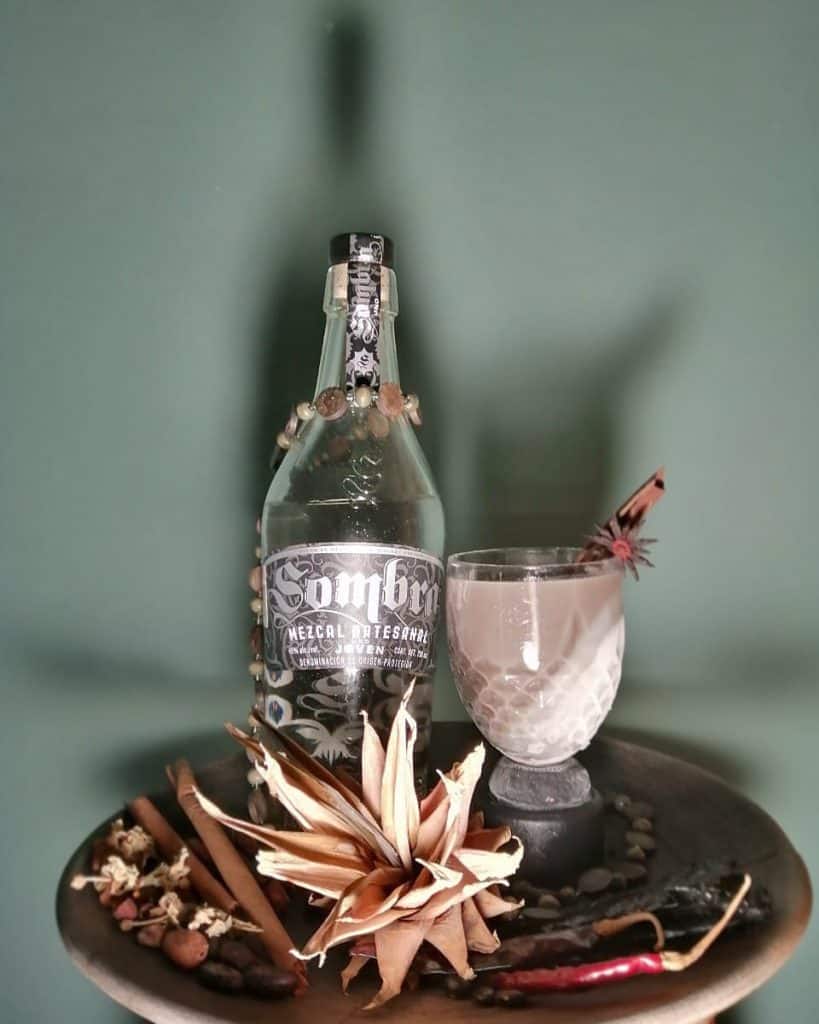 Yaz Reyes has been bartending in Mexico for the past six years in restaurants, bars, and at events. She constantly challenges herself in developing new skills, and has taken the opportunity during the quarantine period to train herself more. She fell in love with mezcal, and it never ceases to amaze her. She is drawn to its history, processes and diversity and she loves integrating it into cocktails. Yaz loves working with local produce and ingredients and concentrates on recipes using Mexican spirits.
"For the Sombra Contest I challenged myself to put into practice everything I had learned during this time and to trust and believe that the possibilities and options you had at home could create something surprising. In my student years, I had sculpture, drawing and design teachers who taught us to make the most of our resources, building on what I had been doing since I was a small child, creating my own tools, using things from a plastic spoon to a popsicle stick. The teachers also taught me not to stop if I didn't have the most expensive compass or pencil and that was the most valuable lesson I have had.
So I opened the trunk of experience and projected it in my "Don Rufino" cocktail. Art has always inspired me when creating drinks. It can be a good fusion when you have an idea and apply a good method to make it real. I think that we must be more observant and dedicate a little time to caring for our environment. We are not perfect but if we have good habits, respect and education, we can definitely generate a better future and a better coexistence.
Art has always my inspired me and the world of the drinks as well, so I think it can be a good fusion when you have an idea and apply a good method to make it real. It has worked for me when I need to open my mind and reach that "light of inspiration", "the witching hour" to materialize something that has me restless and when creating drinks, of course. I think that we must be more observant and dedicate time to caring for our environment. We are not perfect but if we have good habits, respect and education, we can definitely generate a better future and a better coexistence. It all starts at home."
Don Rufino Recipe
1.5 oz of Sombra Mezcal Espadin macerated with toasted cocoa (recipe below)
2oz of Black bean paste (recipe below)
1oz of cinnamon syrup and dried chillies (recipe below)
Homemade coconut milk ice (recipe below)
Garnish: Cinnamon and star anise
Combine all ingredients in a shaker, mix and strain into a glass with the coconut ice, garnish and serve.
Mezcal Macerated with Cocoa:
100ml of Mezcal
5 pieces of cocoa
Toast the cocoa over low heat, let cool and remove the shells. Blend with a macerator and add to the mezcal, let it rest for a few hours. For greater intensity of flavor, it can be left for 1 to 3 days. Strain.
Black bean paste:
Cook beans with a cinnamon stick (without salt or seasonings). To facilitate cooking they can be left soaking in water a day in advance, you can also add cinnamon and 1 piece of star anise.
After cooking, they are blended with the same water that was left but in a 1: 1 ratio (1 cup of beans to 1 cup of water). Strain with a mesh, cloth or fine strainer.
Cinnamon syrup and dried chilies:chili
100 g of sugar
100 ml of water
1 stick of cinnamon
1/3 of dried ancho(cut into thin strips without seeds)
Heat the water and add sugar until dissolved. Add cinnamon and before the boiling point add the Chile). Boil for 15 minutes and remove from heat. Let cool, remove cinnamon and strain. Pack in a jar and chill in the refrigerator.
The syrup can be used to cook with shrimp, fish, chicken, roasted vegetables, hibiscus flower, etc.
Coconut ice:
100gr of grated coconut
100ml of natural water
Blend the water and the coconut until perfectly integrated. Strain and cool in serving glass or ice containers. **Note: It can be without straining the coconut but a different texture will remain in the drink when it melts. If strained, the coconut residue can be used to make cookies, coconut sugar or you can toast it.
Jonathan Stanyard, winning cocktail, Brick by Brick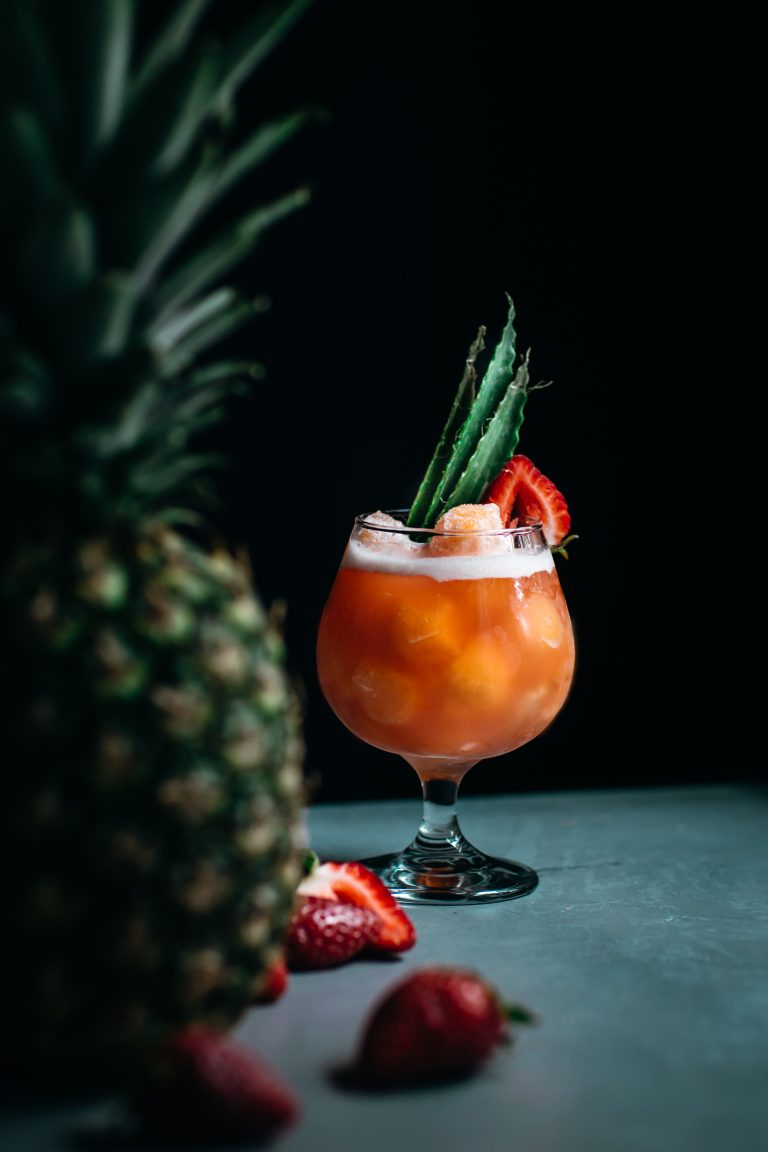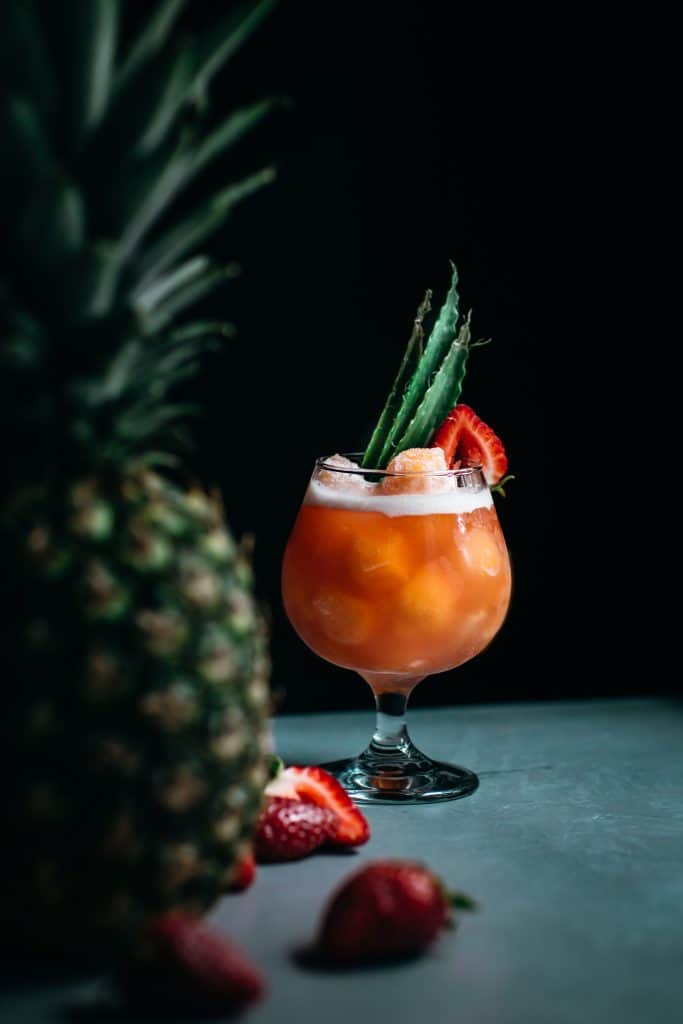 Jonathan Stanyard is a Seattle based bartender and a veteran to the industry. In 1999 he began washing dishes and soon moved to the floor, then into management, and then behind the bar. In 2014, Jonathan moved to Seattle to continue the pursuit of excellence in the cocktail world. The Bitter Gringo Company took flight in 2019, producing micro batched specialty cocktail components. In 2020 he placed in USBG World Class Top 50 and will participate in regional finals in 2021. From dimly lit jazz clubs to Michelin restaurants, cafes, and private events, Jonathan has immersed himself in all service styles. In the most recent years, he focuses on becoming a master bartender and creating the most unique and complete cocktail experiences, physically and digitally.
""Brick by Brick" is about one of Sombra's amazing zero waste and sustainability efforts. Using the spent agave fibers and the liquid by-product from production, they are making adobe bricks. They then take the bricks to create homes for those affected by natural disasters. It takes 480 bottles of Sombra to build one home; however, 20 homes have been built using this method. Simply put, drink more Sombra. Sustainability. I approached this cocktail with the purpose of using ingredients that were fresh and to use them in many ways. Tepache utilizes the skin and some pineapple flesh while I juiced the other unused portion to freeze into pineapple ice cubes. We had a nice pull of strawberries in our garden this year, so I used fresh berries to infuse the Campari. Another fresh ingredient in my yard was rhubarb, which I cooked down and made into a shrub with vanilla bean and a touch of salt. I had a super-ripe melon in my ugly produce delivery, so I scooped out melon balls, froze them, and had the tastiest ice."
Brick by Brick Recipe
1 oz Sombra Mezcal
¾ oz Campari infused w/ Strawberries
¾ oz Salted Rhubarb-Vanilla Bean Shrub
¾ oz Fresh Lime Juice
2 oz Pineapple Tepache
Shake everything minus the tepache in a cocktail shaker with pineapple ice cubes. Shake a bit longer than usual as this adds texture to the cocktail. Strain into a cocktail glass with melon ice balls. Garnish with pineapple fronds and a strawberry.