This is the second in Craft Distillers' Special Bottling series. First came the Mezcalero series, then this. The quality is amazing.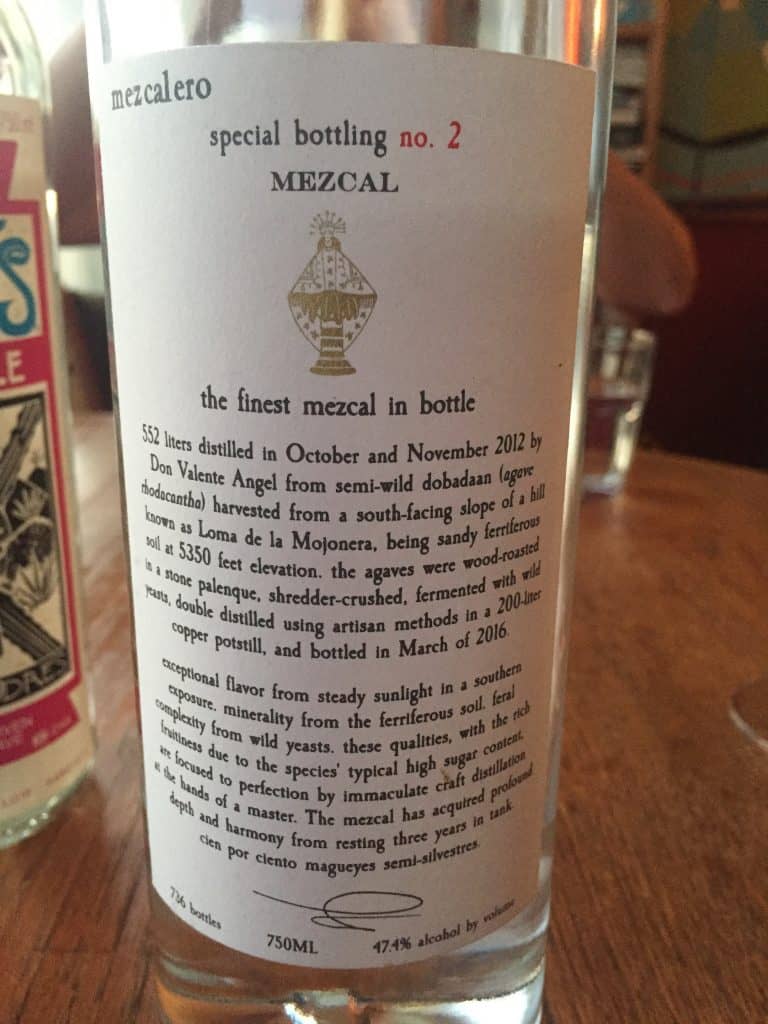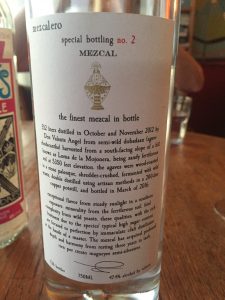 The details:
Location: Santa María La Pila, Mihuatlán, Oaxaca
Agave: Dobadaan aka agave rhodacantha
Maestro Mezcalero: Don Valente Ángel García Juárez
Quantity: 768 bottles
Distillation Date: October -November 2012
Bottled: March 2016
ABV: 48.76%
NOM: O14X
Background:
You can taste continuity in this bottle. One layer is Ansley Coale's taste; he founded Craft Distillers and decides when a special batch of mezcal merits its new "Special Bottling" moniker. As you taste the first two of these and reach a bit further into the mezcalero series a continuity of flavor that emphasizes minerality and a lean body are two distinct points of consistency. It's clear what he likes and these are fantastic demonstration of that flavor.
The other is from the maker; maestro mezcalero Don Valente Ángel García Juárez has made four bottles for Craft Distillers, the Alipús San Andrés, Alipús San Andrés Ensamble, the forthcoming Mezcalero #16, and this bottle. Through them all you can taste Don Valente's signature minerality and the terroir that surrounds him. Since these are all distilled in the same palenque in San Maria Pila outside of Mihuatlan the local wild yeasts and Don Valente's sensibility have to be two of, if not the, primary factors in why these bottles are so similar.
This bottling clearly benefits from more than three years of rest. It's good to see quality mezcals treated with the respect they deserve. It's composed of wild dobadán, more commonly known as Mexicano. If you hunt, you can find more of these dobadaans around from sources like In Situ, they are all incredible.
Tasting Notes:
As I said above, the Special Bottling No. 2 is part of a continuous spectrum with the rest of Don Valente's mezcals. Each mezcal he produces for Craft Distillers is more distinct and clearer than the previous bottling, as if Don Angel is removing the noise to highlight the notes within the minerality like that Maldon salt I detected in the San Andrés Ensamble which also comes across in the Mezcalero Special Bottling No. 2 as even more of a mineral salt.
The sweetness is so subtle and honeyed, that wildflower term isn't used lightly. I had to go buy some wildflower honey to compare with it in order to make sure that my flavor description wasn't out of order. That sweet floral character in this mezcal pulls together all those flowers in the field like honeysuckle and acacia, into one focused bouquet.
But the real high notes that set this mezcal apart from everything else are the spice notes. I taste  cinnamon with a hint of allspice which conjure up all those other dry aromatics common to Mexicanos. These spicy highlights on top of the minerals and sweetness are a crowning achievement. This is truly an extraordinary mezcal.