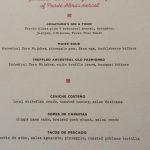 Jonathan Barbieri, artist and owner of the mezcal brand Pierde Almas, knows how to tell a story, as evidenced by the audience at Oakland's Calavera entranced by his words describing the days of selling mezcal when it was illegal contraband. Produced in palenques outside of small pueblos and then sold by women who were more likely to avoid being stopped by authorities, it is a romantic tale and sets a nostalgic mood. It lays the perfect foundation for the bigger story that night – his latest project is producing an "ancestral corn" whiskey from the very palenques that now fuel the burgeoning mezcal industry.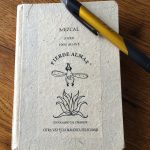 I am frantically taking notes in one of the beautiful handmade paper notebooks so kindly given to us by Jonathan. My phone – where I usually type my notes – was close to dying so this is a lifesaver. Like all of Barbieri's projects, the notebook is simple and elegant. It's also made entirely of natural fibers; Coyuche – a wild cotton from the Oaxacan Pacific Coast, Pochote – a wild tree that grows in agave fields, and agave itself. Developed by papermaker Alberto Valenzuela of Etla, Oaxaca, it is the same paper Barbieri uses to draw on and the same paper he uses for Pierde Almas' labels. He seems pleased by my use of the book, though if he could see my chicken scrawl he would probably be horrified.
Barbieri continues to weave his words, covering the history of distillation in Mexico, the potential evidence that it predated the arrival of the Spaniards, the "rainbow of possibilities" when it comes to the terrior, the varieties of agave used to make mezcal, the number of villages in Oaxaca (120) that make mezcal, and the number of families involved. He builds a strong case for mezcal production as one of the main sources of economic production in Oaxaca. And somehow, we are able to taste some mezcal as we build up to what we are all there for – the corn whiskey.
First we taste an espadin which leads to a conversation about how the ABV varies across each lot and is, as Barbieri says, "culture in a bottle." We then move onto a tobala from San Juan del Rio which leads to a discussion about the different forms of land ownership that exist in Oaxaca – private, communal, and ejido (land that had been part of a hacienda that according to a 1992 law, if not privatized, you could claim by planting on it.) Because of the issues of over harvesting of wild agaves, Barbieri and the palenqueros he works with have a reforestation program in place, and a whole volunteer program which he refers to as an "agave peace corps." The last mezcal we taste is Barbieri's gin mezcal – a triple distilled espadin that incorporates the traditional gin botanicals. It is a remarkable flavor and turns both the idea of gin and mezcal on their heads.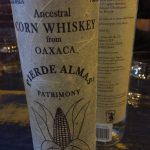 We are now ready for the big reveal – the corn whiskey. Barbieri refers to the corn as ancestral, a different take on words from the usual heirloom. Oaxaca is considered the birthplace of domesticated corn 6,700 years ago, where inhabitants hybridized the wild Teocintle grass which, over generations of cross breeeding, led to what we now know as corn. Mexico continues to have the most diverse range of corn varieties, with at least 35 originating and still growing in Oaxaca. But, corn production, and particularly heirloom corn production is in danger in Oaxaca. The combined forces of mono-cropping, the introduction of GMO seeds (now illegal in Mexico as of 2013), and NAFTA have seriously reduced the amount of native, heirloom corn grown. As anyone who has ever tasted tortillas made from stone ground heirloom corn knows, the flavor is out of this world. Then of course there are the ecological implications from further loss of these heirloom varieties that are more drought and disease resistant. The challenge is creating economic incentive to support the continued production of these varietals – which is how Barbieri came up with the idea of making a traditional corn whiskey in Mexico.
It's a brilliant concept. Currently Barbieri is planning on producing 4,500 bottles for the year, with an additional 1,000 – 2,000 set aside for aging in charred oak and ready for market in the early to mid 2020's. Taking a totally different direction from mezcal, the corn is ground, boiled, and quick cooled. Then a bit of barley mash is added and the whole mash is fermented and then double distilled. The flavor is super corny and earthy and rivals any US small production corn whiskey. As a cocktail whiskey it's beyond compare. Calavera created a "Maize Sour" by mixing Barbieri's newest product with pineapple, egg, and huckleberry bitters. It was sublime.
It will be interesting to see how this progresses. In my dreams, I can't help but wonder what a corn whiskey, estilo mezcal would taste like – roast the whole corn, grind, ferment and then distill. In the interim I'll enjoy this deep corny flavor.