I definitely see the possibilities of a regular mezcal Monday.  Last night it was at Rio Grande on Market Street—a kickoff of sorts for SF Cocktail Week and hosted by Ryan Fitzgerald, former Beretta star bartender/mixologist, driving force for the Tequila Interchange Project (TIP), and now western sales rep for Del Maguey.
The $20 entry fee (all proceeds going to TIP) got you an evening of mezcals, mezcal cocktails, beer ,and tamales. Pierde Almas, Alipus, and Del Maguey were being poured. I am still trying to embrace cocktail culture – I've always liked my drinks neat, or as minimally embellished as possible but, in the spirit of cocktail week, I asked for a mezcal variation on an Old Fashioned.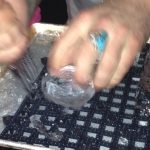 It was still early, the crowd small, the bartender carefully scraped ice from an ice block on the bar, then lovingly measured, poured, and stirred my drink as I replayed Mr. Mixologist over and over in my head.
Del Maguey's Vida is the bartenders' choice for mezcal cocktails. It's versatile and works with just about anything as we've previously written. I think in the coming year or so, Puritita Verda (Pierde Almas' lower price point mezcal) will give Vida a run for the money.
The variation on the Old Fashioned was good – I prefer cocktails that have a more savory flavor. To go the opposite extreme, I asked the bartender to mix a mezcal variation of a lemon drop. I was hoping it could come close to that sublime lemongrass infused mezcal I had in Oaxaca last spring. Sadly the cocktail was far too sweet for my palette and the mezcal was completely overpowered by the citrus.
I tracked down Ryan to get an update from him on NOM-186, which is still making its way through the channels in Mexico. TIP has been at the forefront making recommendations and counter proposals to help ensure that some of the more draconian parts of it (the branding of the word agave for one) are modified and that small producers aren't completely SOL. We'll have a more in-depth piece about this next week.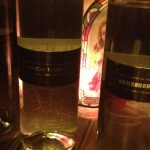 A sweet surprise to the night – a chance to try Tosba, a mezcal produced in the Sierra Norte in Oaxaca (a mountainous and heavily wooded area east of Oaxaca city) and not yet available in the US (though they are working on it). Mezcals from the Sierra Norte are not commonly found outside of the area. They are rumored to be made with the purest and sweetest water in Oaxaca. Tosba is a family operation, and Elisandro Gonzalez-Molina is the US face for the brand. He was pouring an espadin and a pechuga – both were delicious. The espadin was smooth, balanced, and earthy with an underlying finish of sweetness that hung on my lips. The pechuga was divine – with a complex layering of savory, subtle roasted maguey, and fruit.  I definitely put it in the top 3 of pechugas I've had. It was a great way to end the night.
As a heads up, I will be pouring mezcals at the Third I Filmmakers/VIP party this Saturday night at the Castro. On the table will be Pierde Almas, Del Maguey, Alipus, Metl, and the Tosba Espadin.  Of course we'll also have a private reserve surprise. Tickets are still available!