I first met Sal Palacios and his wife Flor at his family's distillery in Tlacolula where they make Salvadores. First impressions of Sal Palacios are of a man with a big smile and even bigger heart, which he wears on his sleeve. His genuine enthusiasm for mezcal and Oaxaca shine so much, it is impossible not to warm to him. I was drawn into his story, rich family history and passion for reviving their traditions.
Sal's family, led by his great-grandfather Tomas Hernandez was one of the first families to start making mezcal in Tlacolula around 1900. He then passed down this work to Sal's grandparents Ramon and Lucia Hernandez. They had a small palenque on Martires de Tacubaya in Tlacolula called "La Superior." Mezcal was one half of their business. Ramon would drive to the Istmo coast, making many stops as he went to sell mezcal. When he arrived he would buy fresh fruit to bring back to Tlacolula and sell at the family's fruteria, the other half of their business.
During one of his regular trips, Ramon was injured in a car accident that put him out of work for several years. Lucille took it upon herself to continue producing mezcal while also looking after nine children. Sal's mother, Juanita Hernandez Castillo (known locally as Juana Palacios), remembers how they would have "play-days" at the palenque, which included activities such as pushing the horse while crushing agave in the tahona and taking the stones out of the oven for the next cook. Unfortunately, even with the children's help, it was too much for Lucia to manage. Hospital bills piled up to the point that the family had to sell their home, fruteria and palenque and move to Oaxaca City.
The early years
Sal was born in 1965 in Oaxaca City, but was raised in Tlacolula with his father's family, under the roof of his abuelo, Jose Palacios Calderon in the "Casa Grande." Sal's father passed away when he was only two and the family moved back to Tlocolula. Being a single mom of four, Juana hustled to keep them fed, clothed and in school. She started the first chicken stand in Tlacolula, and began selling mole, cheese and even jewelry, becoming president of the Tlacolula market. She even managed to go back to study and graduated elementary school at the same time as Sal. Sal talks admiringly of his mother, and says she is his inspiration, "his hero and superwoman."
Growing up in Tlacolula, Sal first helped his mother with her various enterprises, and then worked with his uncle Don Pedro Palacios, learning to drive trucks and to move cattle from Oaxaca to Chiapas. Don Pedro treated Sal like another son. Sal's passion was with horses, training them "to dance." One day visiting the El Lienzo market in Tule market, they found a horse that once belonged to the famous singer Irma Dorantes. Sal fell in love with this horse so Pedro bought it for him. It was his mom and uncle who instilled strong values in Sal, specifically, "to be respectful of others; if you're going to do something, do it; and always pay your debts." Speaking with Sal about his work developing Salvadores and growing the brand, it is clear that these values are still highly respected.
One by one Sal's friends and family began to migrate to the US. Although he was happy working with his uncle in Tlacolula, driving trucks, moving cattle and training horses, eventually he too felt the need to explore the American dream. In 1986, when he was just twenty, he followed in his friend's footsteps and moved to the United States where he has lived for the past thirty five years.
Like many migrating to the states, he had no visa and spoke no English. He started out cleaning restaurants. For anyone who has met Sal, you will know he is extremely personable, so it's no surprise that he quickly rose up through the business, supported by his colleagues to learn the work and English as he went. It was in the restaurant industry that he met his wife Flor. Sal's positive energy is matched by Flor's and together they are a strong unit, sharing values both in family and future goals.
Strong women are key to Sal's story, from his grandmother Lucia who told him, "hijo – whatever you want to do – do the best you can," to his mother's fierce work ethic and to Flor, who is an inspiration both for the brand and his outlook on life.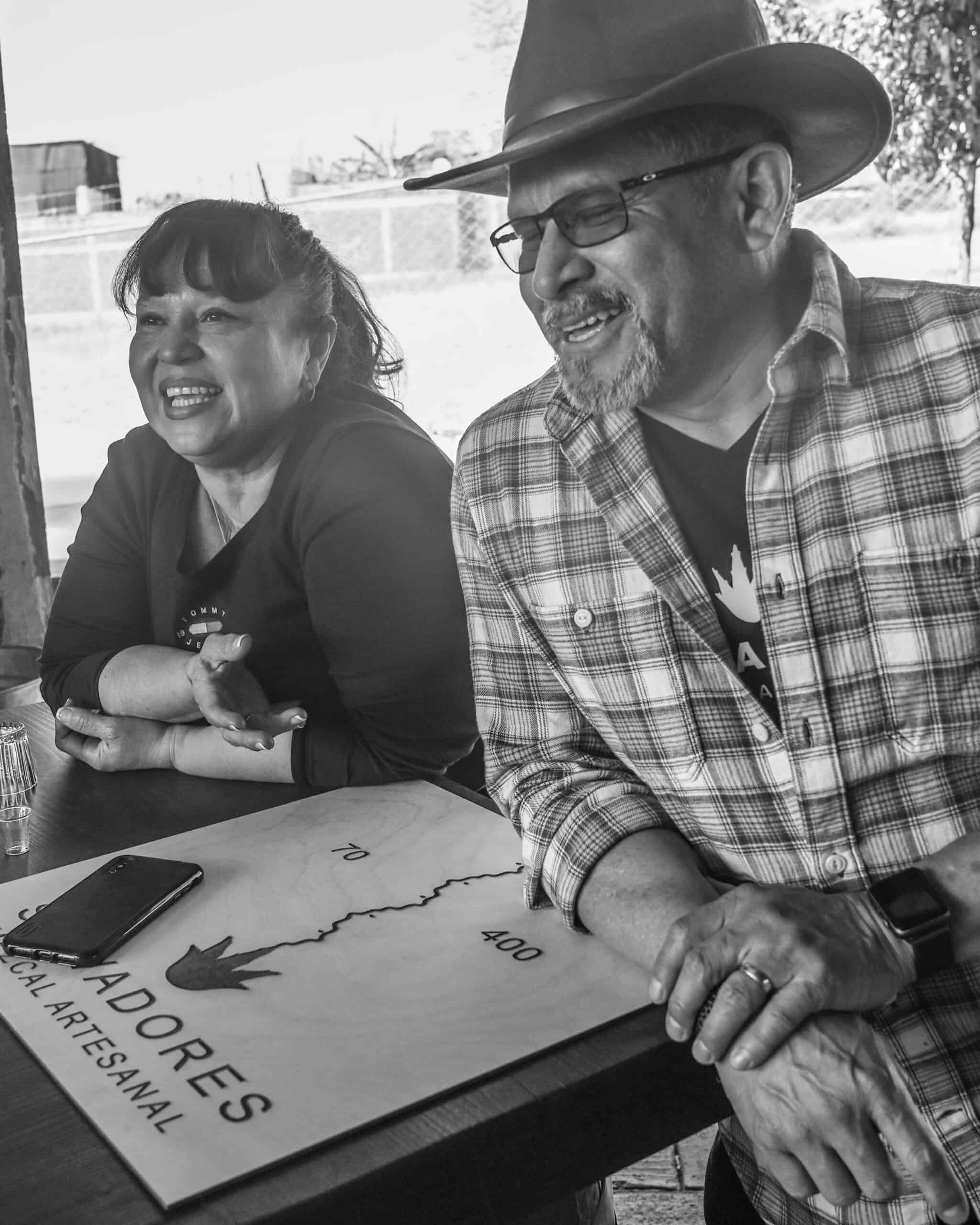 How a dream became a reality
Sal dreams of retiring in Oaxaca, to be there for his family and get back to his roots. In 2005, while he and Flor were visiting Tlacolula, they met with his uncle Don Pedro. Walking on the same land where he had trained horses in his youth they decided to make an offer on a piece of property to build a small home. Don Pedro encouraged them to go in on a much bigger plot, 10,000 square meters, to which they agreed. It was on this piece of property where the dream of reviving the families' mezcal tradition was eventually born.
Reality, however, pushed that dream further into the distance as Sal and Flor worked to pay off the debt on the land. Sal described this waiting period as like putting off having a child, "we will never be ready." It wasn't until 2017 that, during a family meeting, the topic came up again in earnest. It was Sal's nephew Gerry who pushed the project of developing a distillery. He had been working for another brand for six years, and was able to bring his knowledge and experience to the development of a new palenque.
On March 12, 2019 they began construction. When Sal and Flor visited the space he "couldn't believe how excited I was to see a big hole in the ground." But it wasn't just any hole, that was the oven, a volcanic pit that can hold fourteen tons of agave to be cooked for their mezcal. Production started in July, and in September the family began working on the brand concept.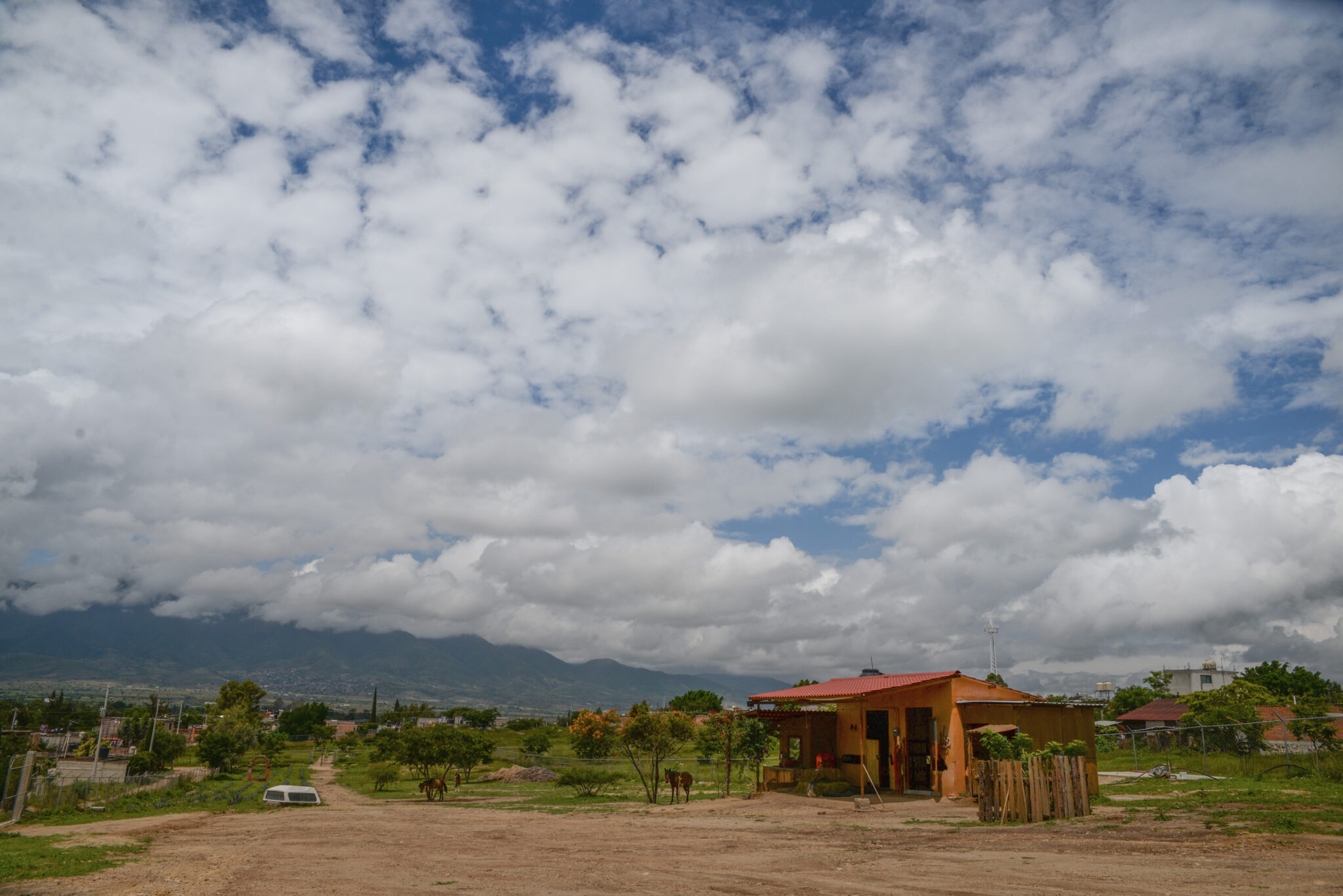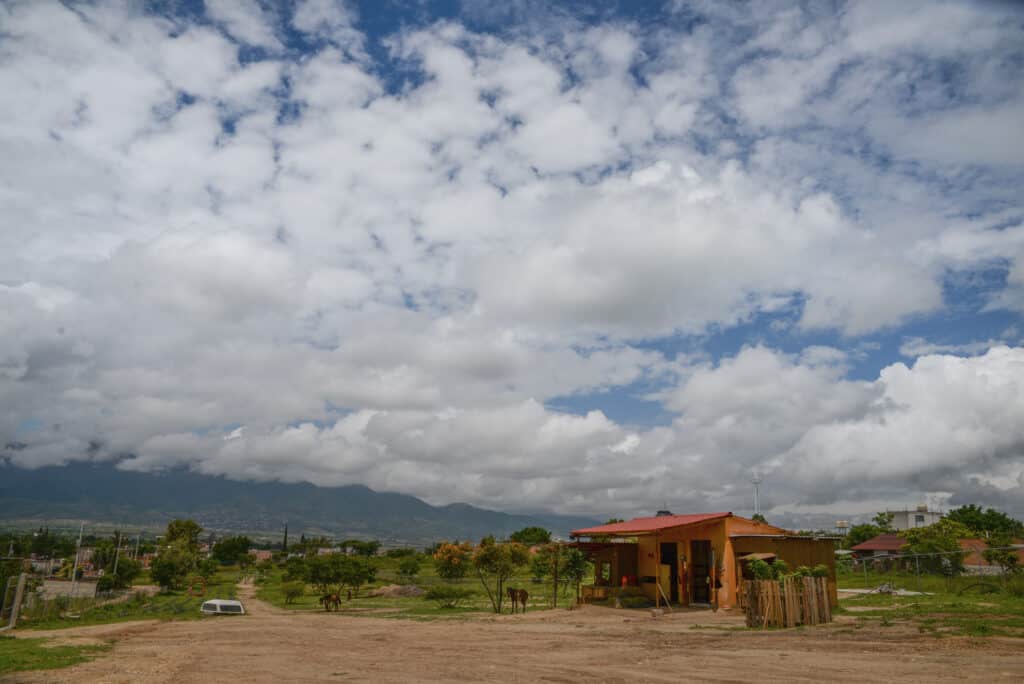 "What is the 70 400 about?"
This is one of the first questions people ask me when I introduce them to Salvadores mezcal. This was actually going to be the name of the brand, and it signifies the postcode for Tlacolula, the area of Oaxaca where this delicious mezcal is made. The goal from the beginning was not just to sell, but to resume the family tradition and draw attention to Tlacolula as a proud mezcal producing region.
Tlacolula is best known for its big Sunday market and tradition of barbacoa, a slow, underground cooking style – usually with goat. Ramon and Lucia's original palenque was about four blocks from the Tlacolula market. The Salvadores distillery today is just beyond the main town as you are driving away from Oaxaca city. It is on a beautiful piece of land overlooking distant blue mountains and it is where Sal learnt to train horses with his uncle Don Pedro.
The family ultimately decided on naming the brand Salvadores which comes from the word salvador meaning savior. This is because they are rescuing skills and knowledge that were almost lost to the family.
Transparency is one of the pillars of the brand's vision. Everything about what's in the bottle is on the bottle, from where it's made to the actual agave fibers that make up the label.
The bottle itself is clean, unique and with a deliberately thought out design. The expressions are a mix of cultivated and wild agave with a line up that includes an espadin at 42%, espadin at 47%, tobala at 48%, cirial at 48%, tepeztate at 48% and a reposado and anejo. The flavor profile throughout has a silky delicateness. This quality denotes the experience, discipline and attention to detail of their maestro mezcalero, Flavio Perez Mendez, a mezcalero known to Sal's nephew Gerry, with over thirty years experience making mezcal.
Another pillar of the brand is the importance of supporting the community, which is a key practice in the history of Oaxaca and mezcal production. This is represented by the brand imagery created by Oaxacan artist ARCH. To create this imagery, ARCH got the family to discuss the brand with an aim to consolidate their vision. He asked them to think of the brand in various forms: If it was a car, what would it be, if it was an animal etc.
Flor saw it like a red jeep convertible; built for adventure. Sal was reminded of a '77 blue ford truck that his uncle Don Pedro used to drive. So for him nostalgia and his memories of Tlacolula and family were essential in the brand development. Other key elements for the brand's vision were tradition, pride and generating jobs that would "make a workforce."
Following this conversation ARCH came up with two designs. One was of the pit oven surrounded by stylized faces, and the second is the design we know today, a quiote with its branches creating the forms of faces, each branch representing the different people involved in mezcal production – beginning with the mezcalero and ultimately reaching the consumer.
The generation of jobs is a big part of how Sal and Salvadores want to further connect with the community. He and Flor have plans to expand on the distillery, building some casitas and communal spaces for guests to stay and get hands-on with production. Sal thinks it is important for mezcal consumers to see the hard work that happens on the ground when making mezcal, and by experiencing that alongside the warmth and richness of Oaxacan culture, it will help consumers make more educated choices with mezcal. And of course that this will generate more jobs for the community, with a focus on employment for single mothers.
Community beyond Oaxaca
Although he is a newer face at the spirit fairs and events, he is committed to being present and "always learning," to help grow the Salvadores brand and the category as a whole. "The goal when we go to fairs is to raise brand awareness, but it is our responsibility to talk about mezcal in general."
Another important factor to Sal for being present at events like trade fairs is the opportunity it creates for brands to come together and find some alignment for where the category is headed. There is a lot of growth and changes that are difficult to navigate, especially for smaller scale producers who are learning the business side as they go. Even within the artisanal category there are increasingly big players that are influencing the market, driving prices and changing expectations.
"Here in the US market, I am like the small producer in the communities in Oaxaca who does not have the resources to bottle and label their mezcal. Big companies put mezcal in a different category and have budgets and resources that are huge. They are making it difficult for the consumer to understand what artisanal mezcal production really is."
He feels that there needs to be a stronger sense of community amongst the smaller producers with an aim to support the overall mezcal category not just individual brands. The biggest concern he feels is when someone who is doing well doesn't support the rest of the community. "We can take one step at a time and try to protect what is most important, which is the agave, the denomination of origin and the cultural significance of mezcal."
Fighting for the word mezcal
For a growing number of consumers, it is becoming more clear why protecting agave and promoting sustainable practices is a good thing. What is less understood by consumers are the producers' incentives for preserving the denomination of origin and the word "mezcal" and why that is so important to them. A particular subject of contention is certification, which permits brands to label their product with the name mezcal. For many years this process has been carried out by the CRM who enforce the standard.
However, certification is expensive and time consuming, often with the economic and time cost falling on the producers themselves. The topic and process of certification has also created fractious relationships among producers that have led to split loyalties, especially now that there are multiple certifiers for the industry. Some brands of note have begun to move away from certification, giving up the word Mezcal and instead using the words Destilado de Agave. Their labels often give a great deal of information and details about their artisanal or ancestral practices.
Currently Salvadores is staying with the CRM. He believes that staying true to the name mezcal is important to respect the traditions and work of those who developed this spirit and category. He describes how choosing not to certify can make it easier for brands and producers to reduce time and cost. However, the certification board needs to "keep the regulations strict for the integrity of the mezcal, but the process easier, faster, and cost effective for small producers. It breaks my heart to see people who have been successful, with a good quality product and ethics, decide not to stay with the name mezcal."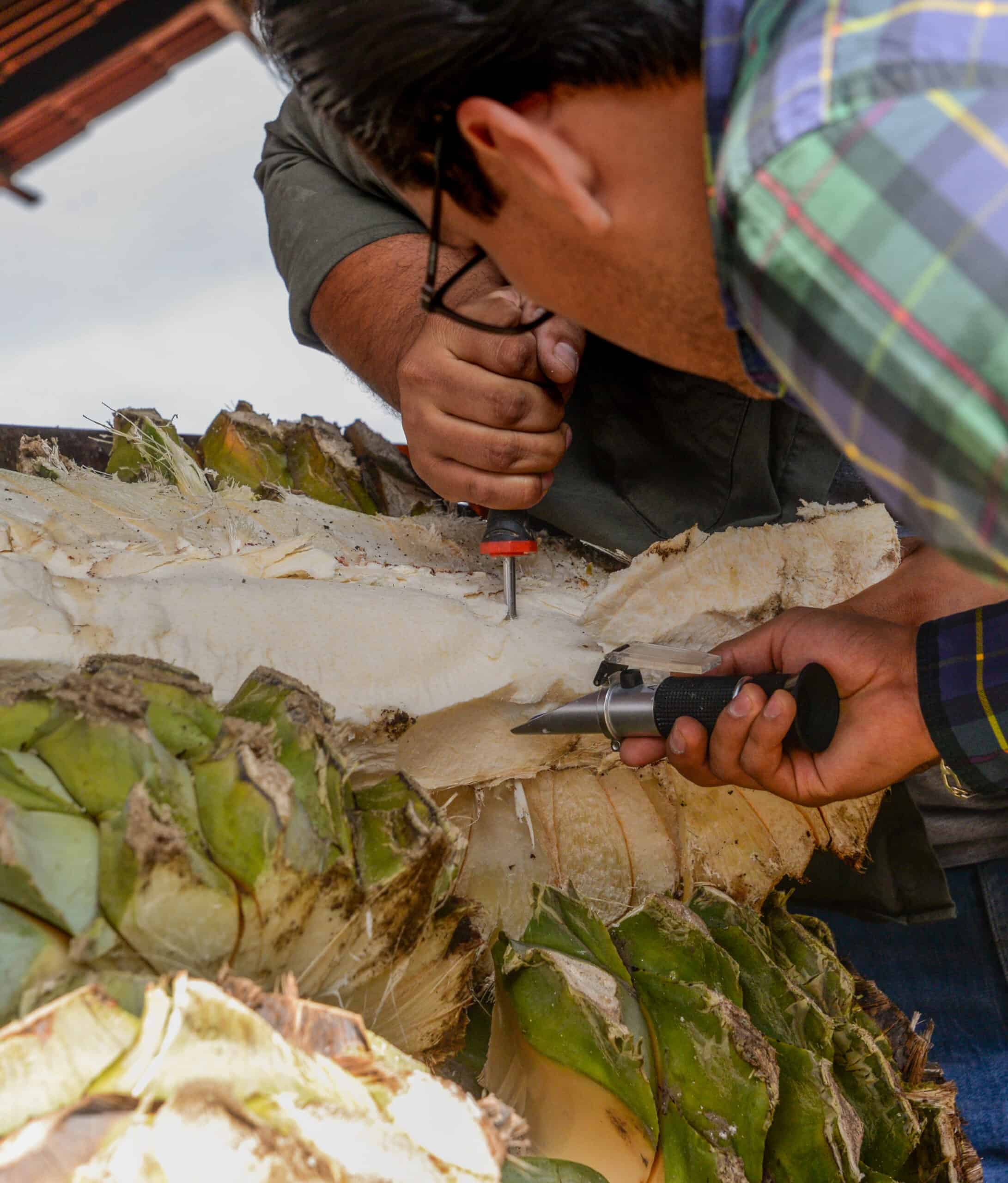 What is the future for small, artisanal brands?
Another hot topic is brands selling-out to larger companies. For Sal it is important to stay autonomous. "I don't want to be distracted from my vision for the business." After working for so long to get back to his family's tradition, he wants to stay true to his brand goals. He says they have been approached many times by investors. However, they have politely declined, as it is essential that Salvadores remains a family and community focused project, and that no-one put pressure on them to grow in an unsustainable way. "We want to grow, but organically."
This is not to say he doesn't feel the need and pressure to go faster in order to keep up with the bigger brands. Recently, however, he took pause to reflect; "I understand that we need to maintain a solid foundation. For now we will move as fast or as slow as we need to in order to grow."
Sal is coming back into this mezcal-life after a pause in his families' tradition. He is humble and keen to learn everything he can to best support his family and honor his ancestors. He is finding his footing in an evolving market, with positive intentions and strong values. "We want to do what's best for the category, to create an environment of awareness and responsibility."
Visiting the Palacios distillery is a great experience. Sal's brother Gerardo and Sal's nephews, Lalo, Miguel and Gerry are on site and ready with great enthusiasm and knowledge. Sal, and his family are reviving their tradition of making mezcal, and they have brought a strong and tasty contender to the market.
Mezcal means more to Sal than sales. It is home. "I remember one time thinking about our mission and desire of 'Rescuing the family tradition of making artisanal mezcal.' At that magical moment, I understood that it was the other way around. The tradition was rescuing me, bringing me back to my roots, bringing me back home, to family, to my people, to my customs and traditions."