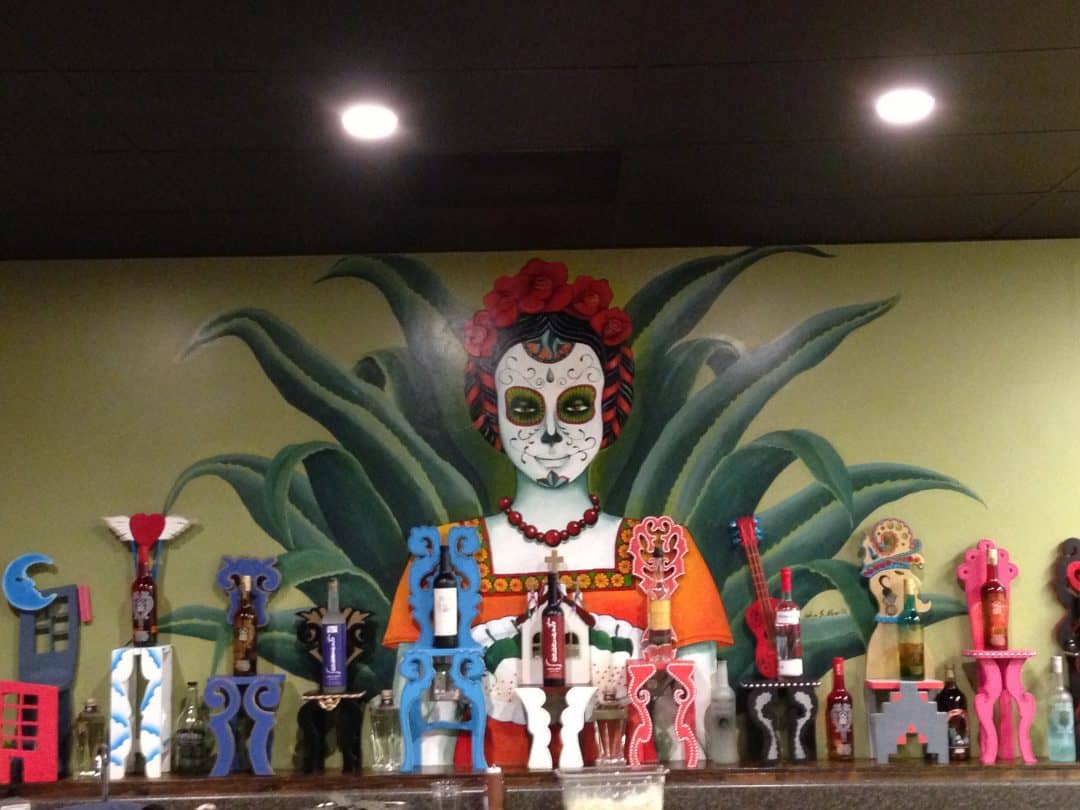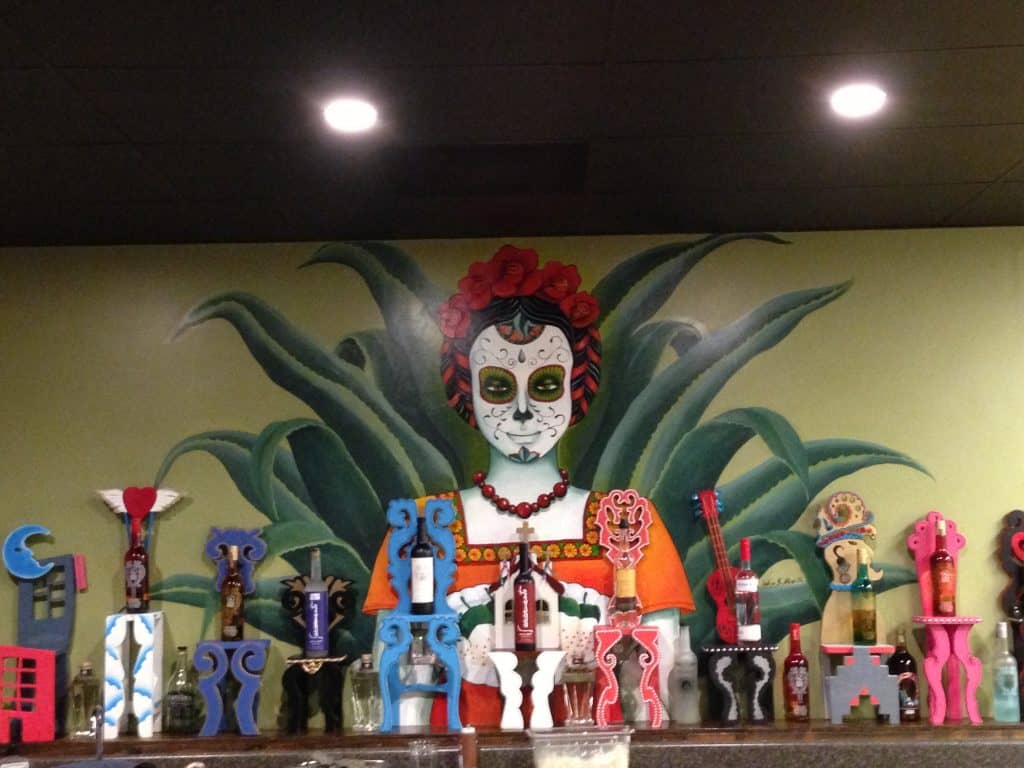 I spent a recent weekend in Sacramento visiting friends and sampling the local mezcal scene. We couldn't find a ton of action but there are promising developments on the horizon. There are some excellent places to drink tequila and where there's tequila, mezcal isn't far behind.
The taco bar at Mayahuel is a happening spot. It's billed as a tequila museum and they definitely offer the full tequila experience but they also feature a rear bar devoted to mezcal and a variety of great snacks like blue corn tacos with rajas and a few others that aren't standard fare. While they don't offer an incredibly wide variety of mezcals they appear to be doing a bang up business in mezcal based cocktails; the night we were there a young crowd was sucking them down like no tomorrow. The main bar is completely devoted to tequila, it's quite a pyramid of bottles, and you'll feel the blue agave asserting its power throughout the restaurant including a really nice set of maps of the Jalisco NOMs in the bathroom. Seldom have I seen drinks better advertised in such a strange location. There's also a huge event room fronted by tequila lockers, apparently it's used frequently for politically events so that should give you an idea of the general scene.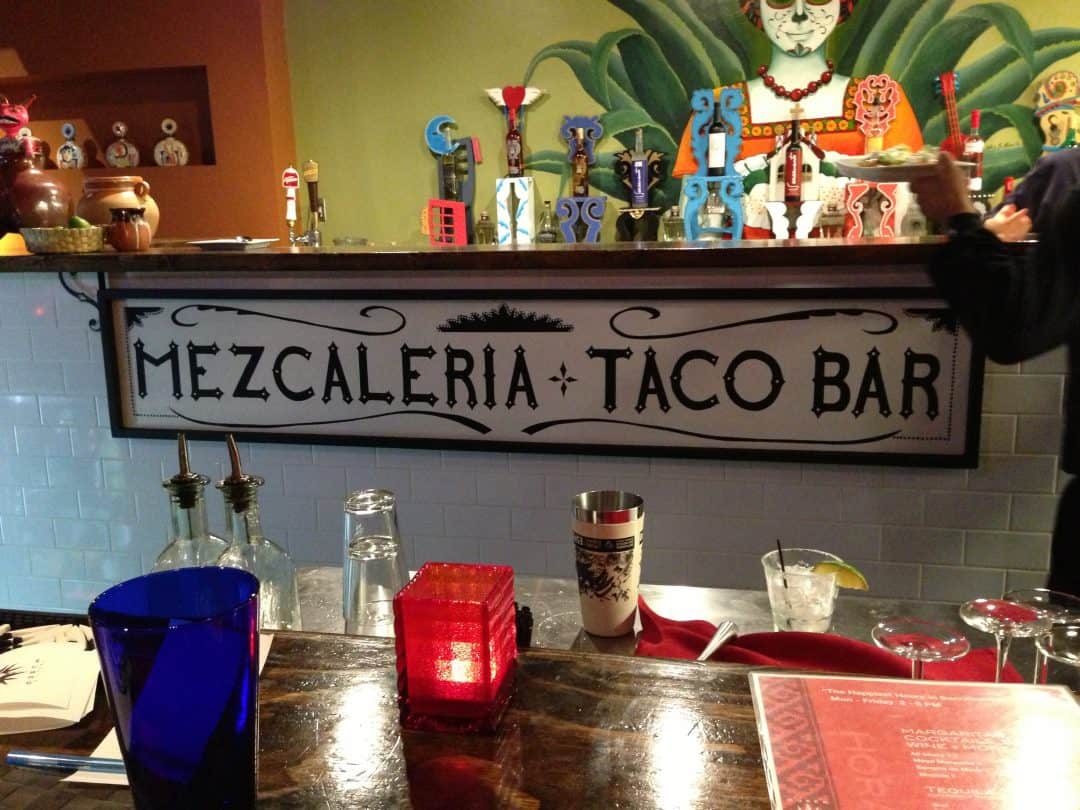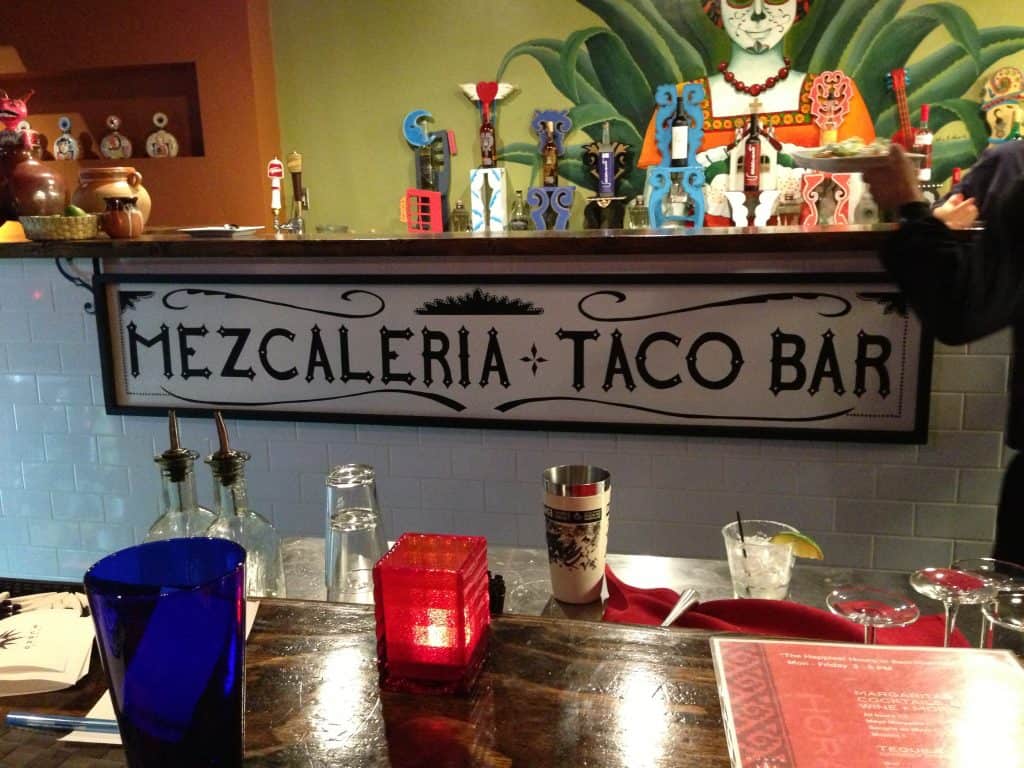 But back to the mezcal bar in the rear of the restaurant. It has its own murals based on Mexican street art and it is run by a bartender named Oscar. He's very enthusiastic about mezcal and happy to set you up with a selection. While his list isn't tremendously deep he does stock the Fidencio line, a pair of Del Magueys, Sacaceunto and a few others. Sadly he didn't have any silvestres. It's one of those situations where the variety that is present, the crowd and enthusiasm behind the bar creates its own little scene. We sampled the Sacacuento anejo, the Fidencio pechuga and the Delirio joven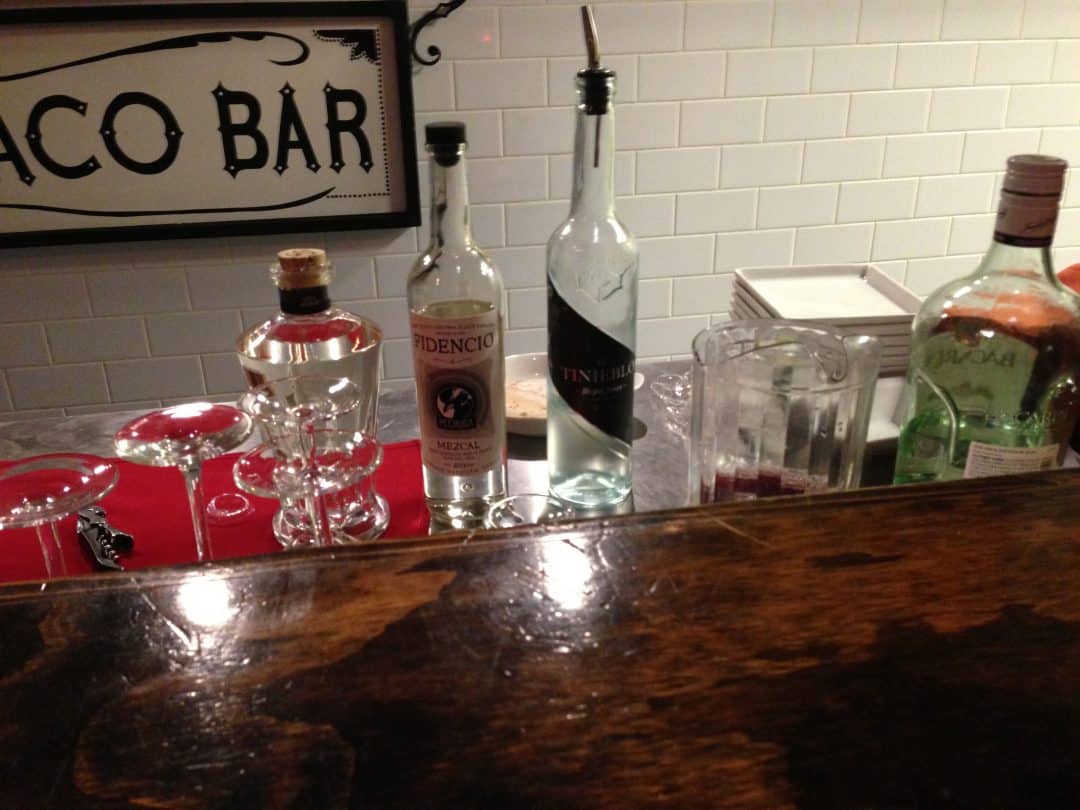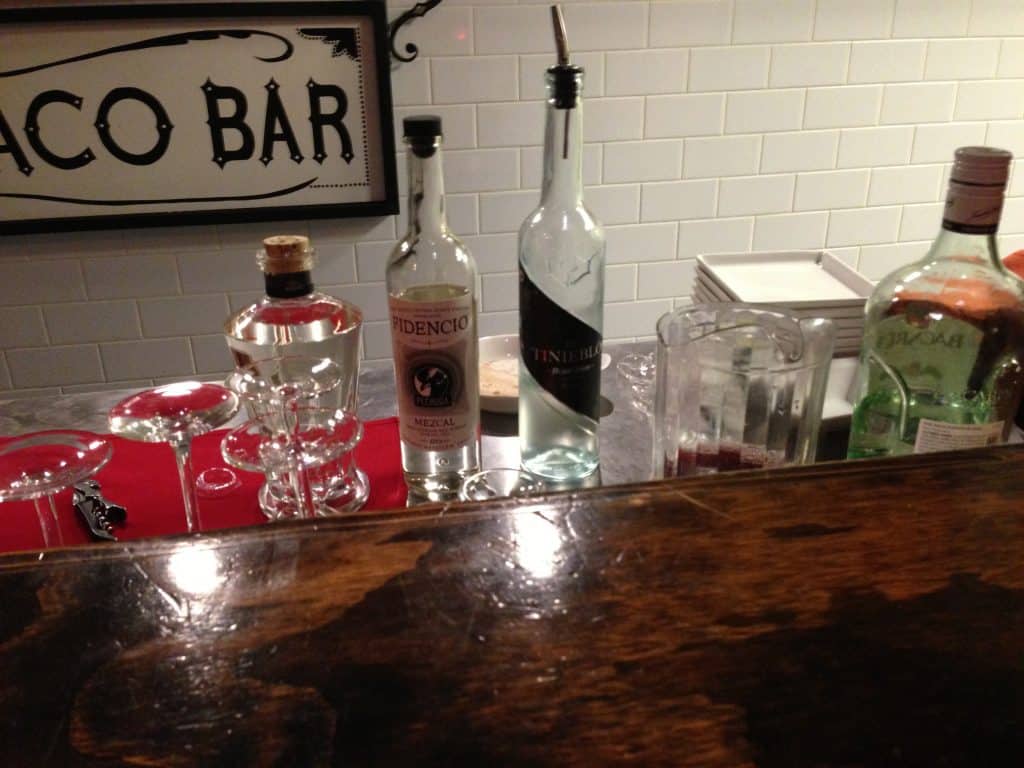 As noted above the stock in trade appears to be cocktails and that's part of the larger mezcal trend in the U.S.. I bet the vast majority of mezcal consumed domestically is in cocktails so we'll probably see more brands targeted at that space. Mezcal cocktails are popping up all over the place and seem like they're the gateway for future mezcal lovers. Bartenders love using mezcal because it's novel and offers a different flavor platform. Like tequila I bet most people never get beyond the margerita but that's par for the course. Not everyone likes or gets to Fortalezza and that's just the way things work.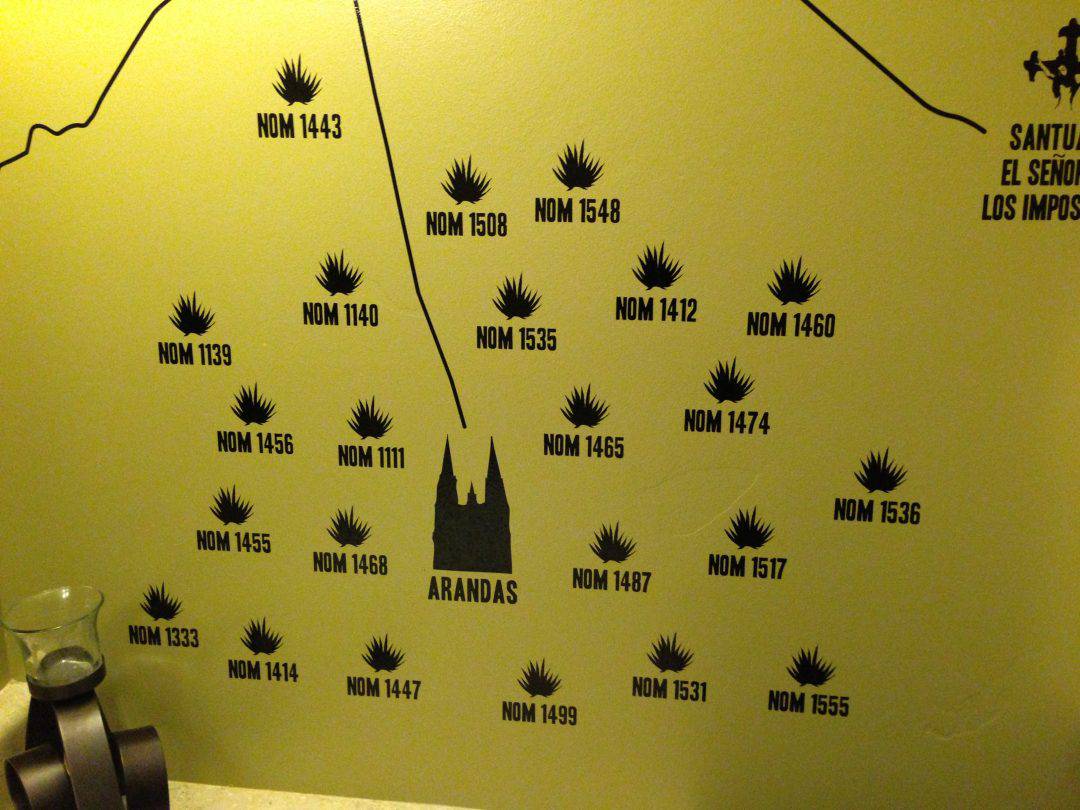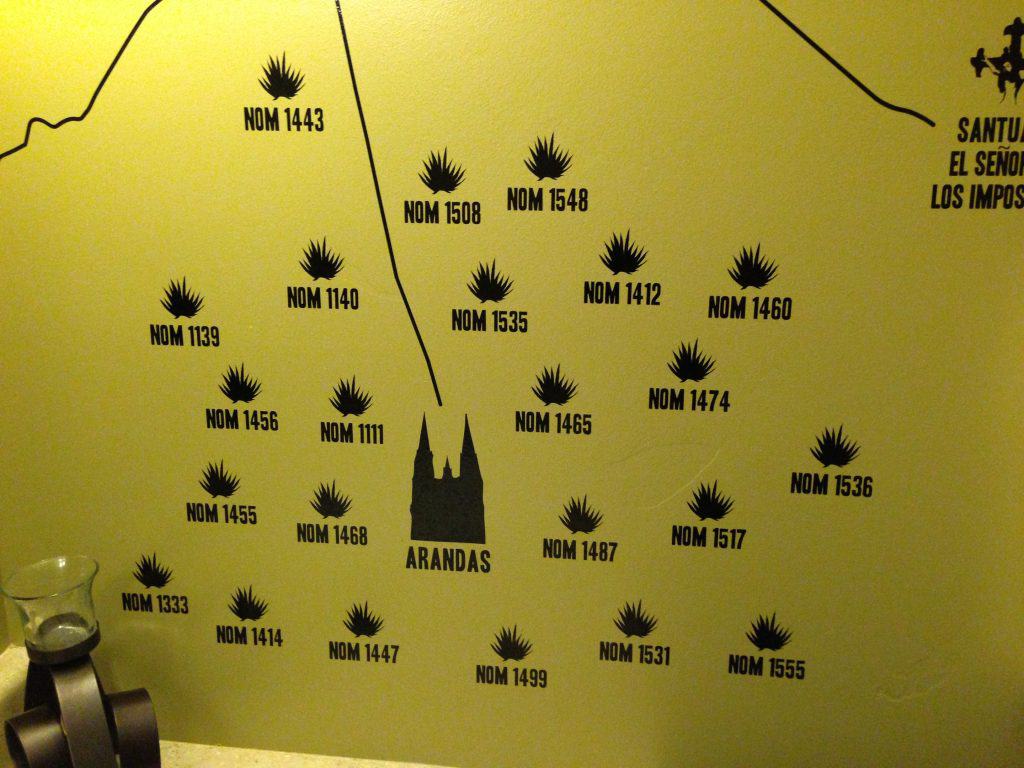 Later in the evening we popped over to Zocolo, another big tequila emporium set in an old car dealership with great floral arrangements. As far as I could tell, and my bartender knew, they only serve tequila so we had to content ourselves with that and a discussion of how Mexican food and tequila are the new sushi and sake.
One of the highlights of the trip and one of the major reasons for being there was to conduct a tasting for a local macher who described himself as someone taken with mezcal but not exposed to much of it. I brought up a diverse line up:
The La Niña Espadin

Wahaka's Reposado con Gusano

Alipus San Andres

Del Maguey Minero

Pierde Almas Dobadaan

Cuish Cirial

Cuish Tobaziche

Cuish Papalometl
As we worked through the espadins our taster said, "yeah, these are more the ones that taste like gasoline, I have a few of these at home." I can understand where he's coming from because many high alcohol Espadins really overwhelm you with their alcoholic power. Plus, you have to be sensitized to the taste beyond the alcohol. This guy obviously saw something there and that became readily apparent as soon as we cracked the Cuish silvestres. It wasn't love at first sight but he was obviously struck by them and gave us the  'this is what I've been looking for!'.
It's fantastic to see that happen. I know he'll be back for more. But it's also deeply troubling because silvestres are an issue of deep complexity. They express the incredible nuance and variety of mezcal because they literally bring the diversity of the fruit at the root of this distillate to light. It's where mezcal makes the wine metaphor sing the loudest and most astute. And, they're the things that really grab neophytes.
The problem and complexity arise from their very being; since they're wild they're very rare. There's a huge divergence between growing marketplace demand and what Mexico, let alone the defined denomination within Mexico, can supply. That demand creates pressure to harvest early and cut other corners which causes environmental issues and can harm the greater brand. So, prices are already high and will inevitably grow higher which is a good thing because the market really can take care of this side of things. If silvestres get marketed as exclusive that will help create a positive image for mezcal that might just leave that stereotype of gusano swill to memory. The down sides are that more consumers are priced out of this market and, I'm almost certain, that the workers and palenqueros aren't seeing their share of the income.
We'll continue writing on this and related topics and, as winter wanes here in sunny California, we are planning a new series of tastings and mezcal related events so stay tuned for a spring full of action. You can always find out the latest on this blog, our Twitter feed and Facebook so stay tuned and, should you have an idea for a tasting, just send it our way.