I am very impressed with the amount of bread baking happening in this time of Corona. Cooking has always been a sort of escape for me, be it an outlet for procrastination, creativity or dealing with stress. If this time at home does nothing more than cause a renaissance of cooking at home and help revive a joy of cooking that will be a big win. I myself do not bake as I can't follow a recipe to save my life nor do I have the necessary underlying understanding of the science of baking to be able to just wing it. I see recipes as suggestions or idea generators and love my cookbooks, so much so that when we did a purge a couple of years ago, we somehow ended up with more books, as a trip to Goodwill yielded a treasure trove – thank you Marie Kondo!
I do not like complicated, multi step, poorly laid out instructions, especially when I am trying to get my teenager to get more actively involved in cooking. Like me, he has a resistance to following instructions, which can lend itself to masterpieces, his fried chicken with sal de gusano seasoning, or disasters, deep fried oreos being made in a saute pan imparting a very serious lesson of grease fires in the kitchen. The time of Corona has given us a simultaneous gift and curse, time together and the need to cook three meals a day, in an easy, economical and delicious way. Enter, Pati Jinich and her wonderful cookbook Mexican Today.
For those of you who do not know her, she is the force behind the cooking show Pati's Mexican Table, author of cookbooks and the resident Culinary Director at the Mexican Cultural Institute in Washington, DC. She is also a primary reason for Mexico in a Bottle taking place in Washington, DC. I had a serendipitous meeting with Jinich four years ago when she was doing the bookstore circuit to promote Mexican Today. The long and short of it is that we decided we should do a mezcal and food event at the Institute, she made the connections, and the rest is history. The complete irony is that Jinich has never actually been able to come to any of the events because they always seem to coincide with her filming schedule. One day!
Born in Mexico City, Jinich has lived in the US for more than 20 years, first in Texas, then DC. She has always been a food fanatic, but before making a career from it, spent years as an academic researcher and historian. She has a true bicultural understanding of the realities of modern cooking in a family household. Mexican Today is a combination of old and new Mexican recipes, adapted to our contemporary lives. "I am a working Mexican mom with a busy Mexican husband and three Mex-American boys. All of us live fast paced lives with packed American schedules, but somehow we find the time to sit down together and enjoy our food on a daily basis. That is what we Mexicans do. My intention with this book is to share that food with you, food that reflects the cuisine I grew up on, and that also reveals the way cultures and foodways have merged and changed both north and south of the border."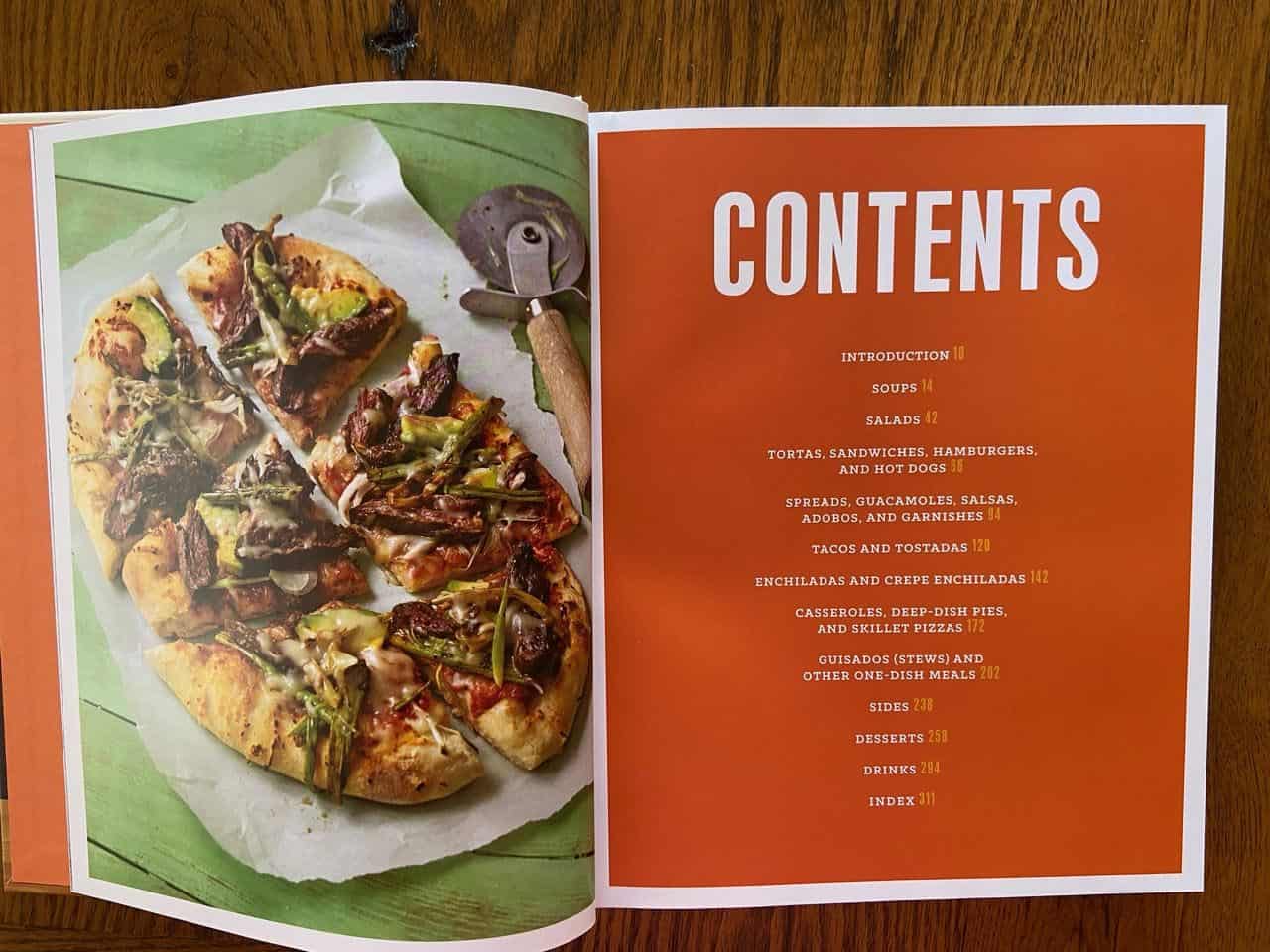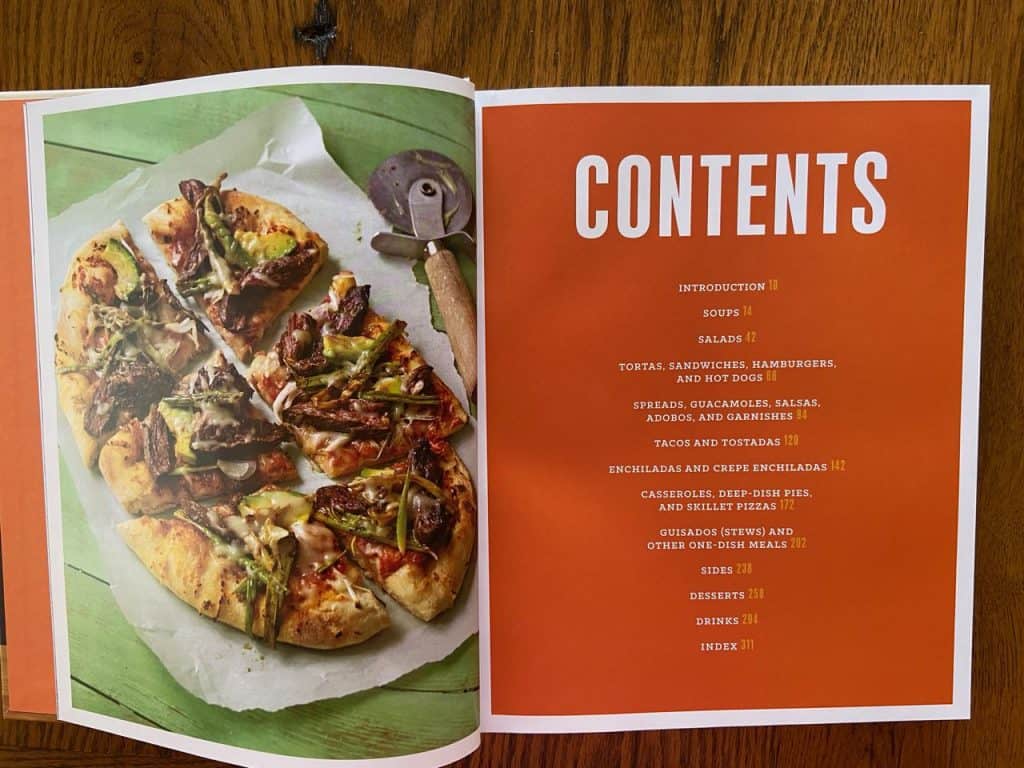 We use this cookbook A LOT in our house, the herbed green rice a favorite side dish for so many different meals because it can go with anything, chicken, fish, grilled steak, beans. You can use a mix of pretty much any greens and herbs, and it is a sure way to get at least some vegetables into a picky kids' diet. The beauty of the book is that the recipes are so versatile that dishes could be part of any meal plan, which is to say it goes beyond the, let's cook Mexican (or Italian or Chinese) tonite mentality – it is the full embrace of a blended "American" cuisine. There are explanations of origin, of substitutions, of anecdotes that reinforce how everyday so many of these dishes can be, and how "Mexican cuisine has become borderless. As our cooks settle in different regions of the US, they are exposed to different food cultures, and so we blend our techniques and the ingredients we love and cannot do without with those we learn to love."
The recipes run the gamut from Jinich's childhood memories of family dishes (Matzo Balls with Mushrooms and Jalapeños in Broth) to the Hearts of Palm Soup with Sweet Potato Croutons that pays full homage to Afro-Mexico, or Third Root heritage. There are steak and potato recipes alongside crab enchiladas in a buttermilk sauce. There are plenty of vegetarian options, like the Plantain Tacos with Walnut, Pepita and Sunflower Seed Crunch, and all kinds of salsas. Every dish reflects the tapestry of Mexican culture.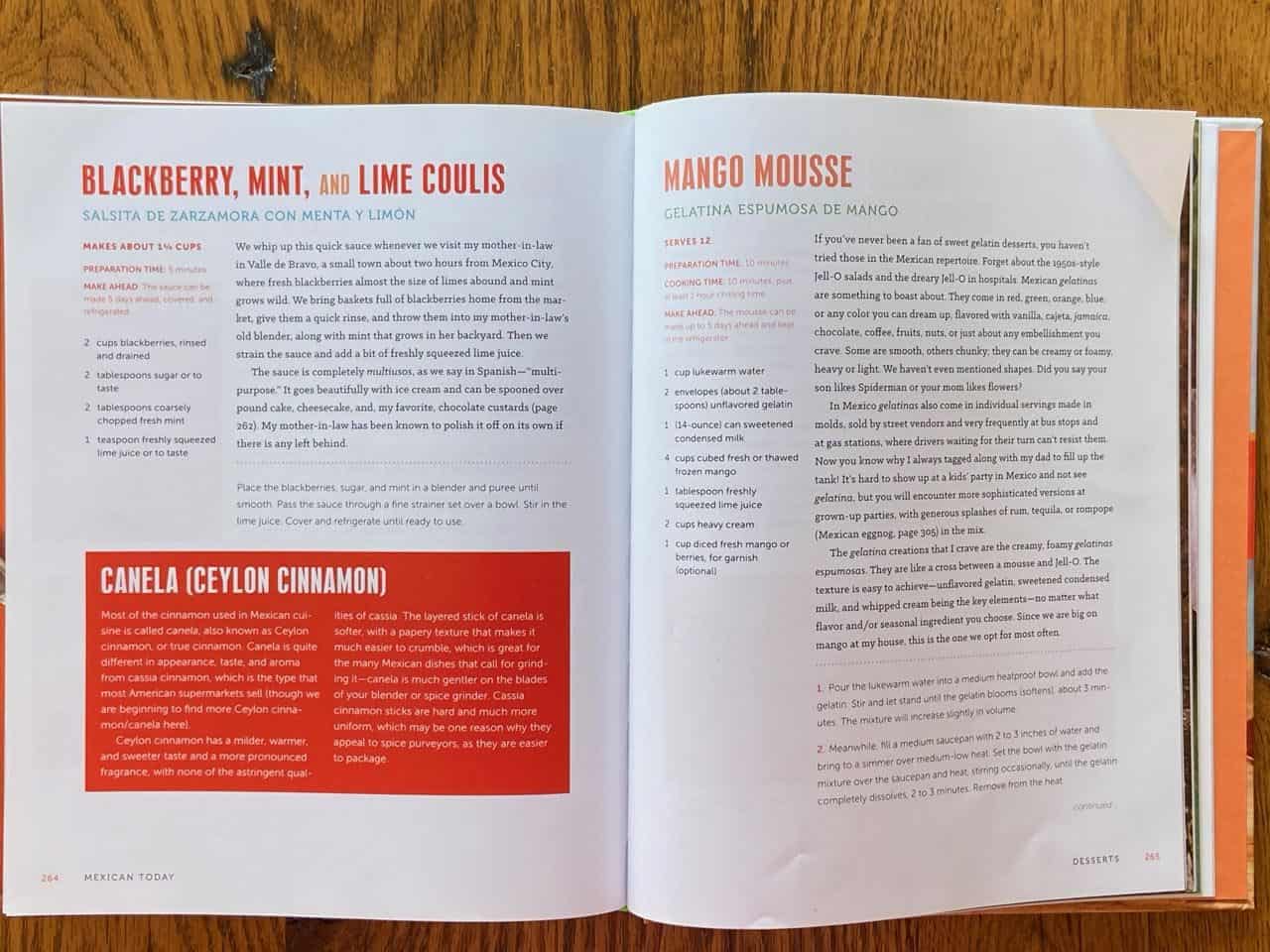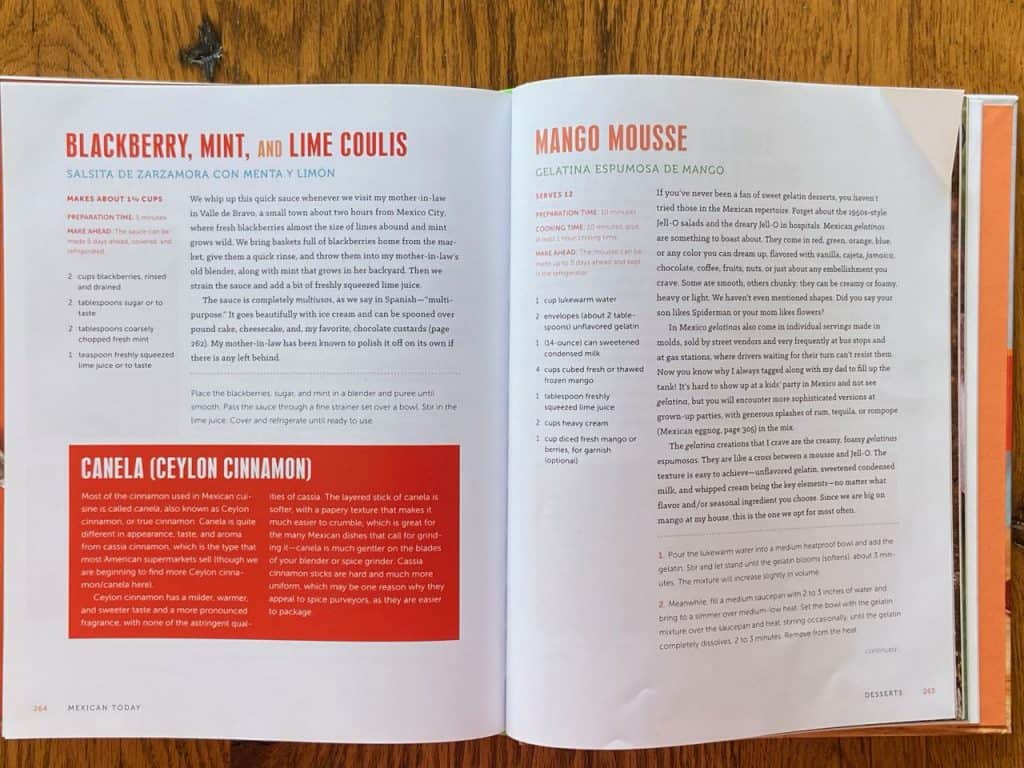 Inspired by Ferron's cookbook series (see pt one, two and three), I decided to join in on the action and enlisted the teenager's help, giving him full reign on picking out whatever recipe he wanted from the book to make. He opted for the Mango Mousse, drawn I believe by the use of sweetened condensed milk and of course, mango, two things he would eat by the buckets if left unchecked. All the ingredients required are easy to find at any grocery store. We hit upon a close out sale of fresh mango, the manila or champagne variety that is a household favorite. After cutting the mango we fought over the pits and space at the sink to suck up any remaining mango and juice. The recipe works with either frozen or fresh mango. We topped the mousse with blueberries and strawberries. The end result was a lighter than the usual mousse, delightfully tangy and not too sweet. I will say, we could have easily cut the recipe in half as it was a lot for three people. We ended up freezing a pint, which works great. It would also be delicious with a little mezcal drizzled over it and paired with some squares of dark chocolate. I had it with a little sip of coffee infused mezcal I picked up at a craft market during my last visit to Oaxaca.