Tahona San Diego creates a feast paired with Bacanora
When I found out Mexico in a Bottle (MB) was happening, in person, in San Diego I was ecstatic. Not just for the opportunity to taste agave spirits and mingle in person, but it meant I could visit one of my favorite restaurants in the country, maybe even the world. Anytime I am in San Diego I make it a priority to book a reservation at Tahona Restaurant and Bar in Old Town. It's hard to believe this charming restaurant has only been open 3 years. Known for their colorful modern Mexican cuisine and Oaxacan influence, what sets them apart is the over 120 agave spirits available in a private tasting room. This intimate space is also perfect for hosting paired dinners with specific agave producers.
Mezcalistas has worked with Tahona over the years on different events, from blind tastings, dinners, and Mexico in a Bottle mixers. Creating a paired dinner with Casa Santero's Bacanoras as a lead into MB seemed a perfect way to an introduce people to Bacanora according to Susan Coss. It's a unique category with distinct flavors, process, and history is unknown to many agave spirits connoisseurs. While Tahona is not new to me, Bacanora is.
The evening of Sat Oct 2nd, guests were welcomed with a refreshing cocktail crafted by Beverage Director/partner Carlo Bracci Devoti using Santo Pecado Bacanora, Ancho Reyes Chile Liqueur, salted watermelon, and lime. Garnished with a marigold it tasted as delicious as it was beautiful to look at. Once seated our presenter, representing Casa Santeros, Ana Sophia Oroz Coppel started us out with a history lesson.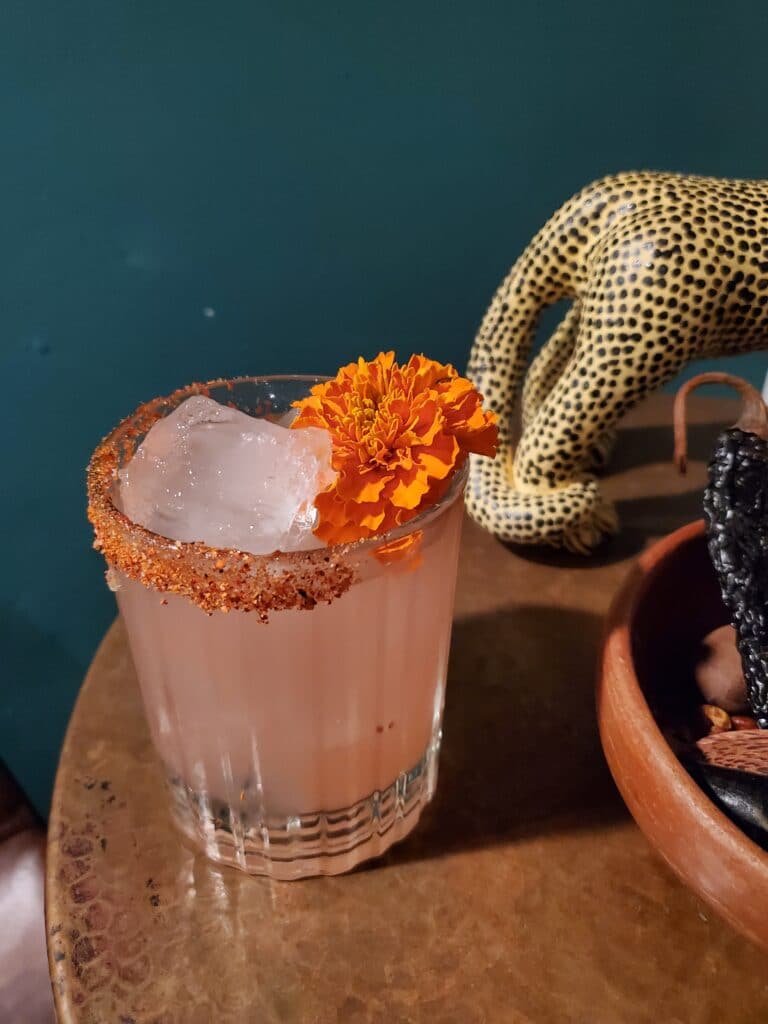 Bacanora is a distilled agave spirit specific to the Sonoran region of Northern Mexico. The Opata Nation are the original inhabitants of the area and traditionally used agave for food, alcoholic beverages, fiber for textiles, and as medicine. Primary technology and culture of distillation arrived in the 17th Century with European Jesuit colonizers, who thanks to the Opata realized the medicinal benefits of what is now called Bacanora. Prohibition in the Sonoran region lasted from 1915-1992 but that didn't stop the production, it was just distilled and distributed in secrecy in makeshift operations. In 2000 Bacanora was given the NOM 168, which includes 35 municipalities around the town of Bacanora and the SE region of Sonora. Using only 100% agave Angustifolia Haw (Pacifica) Manduro Bacanora is classified as blanco, repo, and anejo (additives are allowed) AVB ranges from 38 -55%.
According to Tahona's Agave Specialist, Monica Teran, working with Chef Adrian Villareal during their Chef's Table Dinners has been such a fantastic and truly organic experience. "His palate tastes worlds I can only imagine!" she says "When Chef (El Chefe) and I get together, we always start by setting aside at least 30 minutes, sometimes more, to tasting the agave spirits specifically. We take time letting our palate adjust and readjust, and we talk about what we taste, and sometimes the memories that accompany those notes. Chef tends to get inspired by certain flavor profiles and ingredients, usually ingredients not well known from Mexico. He is constantly creating so he usually has ideas in the back of his mind, ready to be plated, they just need a vessel. He takes some time to let the creative juices brew (in the case of this Chef's Dinner, ferment lol) and then he works on putting his ideas on the plate. We usually do 1 trial pairing, discuss the coursing based on the menu, and then he will make adjustments to the dish according to our notes. Neither of us try the pairing again until game day. It's a very free flowing and organic method, based on sense and feeling."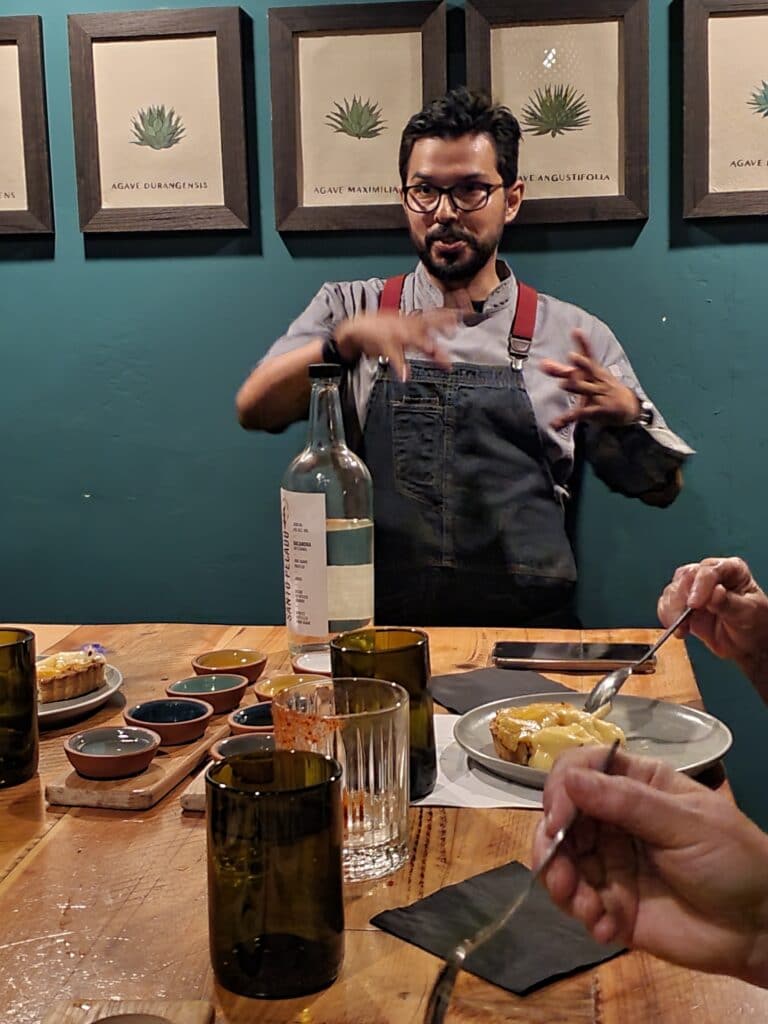 Our 1st course, a squash blossom taco with rojas, asa tempura, and pickled onion was paired with Santo Cuviso Anis. As with each course Chef personally described the flavors and inspiration he received from the selected Bacanora. He noted "The taco sauce was very herbaceous, particularly with dill, which in theory work very well with the Anis expression. The sweetness of the Bacanora complements the bitter, sour, and salty components of the taco."
The second course featured stone fruits and duck served with the Santo Cuviso Uvalama. A plum type expression, with a lot of fruit and hint of sweetness. It paired perfectly with the rich crispy duck and caramelized seasonal stone fruit. Plus the puree mélange painted the plate a deep red, making it a striking dish just to look at.
Paired with the multiple award winning blanco, our 3rd course was an almost too rich for words Ox and tamarind dish. Chef describes the Bacanora as very clean and mineral. Cutting right through the fat of the braised lengua de res, shaving the excess flavors (like sweet and sour) allowing the core of the dish to emerge softly. The Ox was slowed cooked over the course of a few days and the dish accompanied by ayocote blanco and tamarindo y tomate milpero.
The most spontaneous dish showcasing chef's creativity has to be the dessert, a pineapple tartlet. As Teran explains, "Chef wanted to use pineapple, but when he went in the back to grab one.. he noticed it was starting to ferment. But we make our own tepache here! So he was inspired to try something different (risky maybe?) and ferment his pineapple for the dessert. This easily became his favorite pairing. An ode to fermentation in distilled agave as well as in food, yum!" I have to admit, I'm not a fan of desserts but I do love tepache. The coconut-based tart worked very well with the Santo Pecado. As chef explains "we snack on fruit with chiles in Mexico, so we decided to assign this Bacanora as a dessert pairing. Puff, it worked…fortunately!"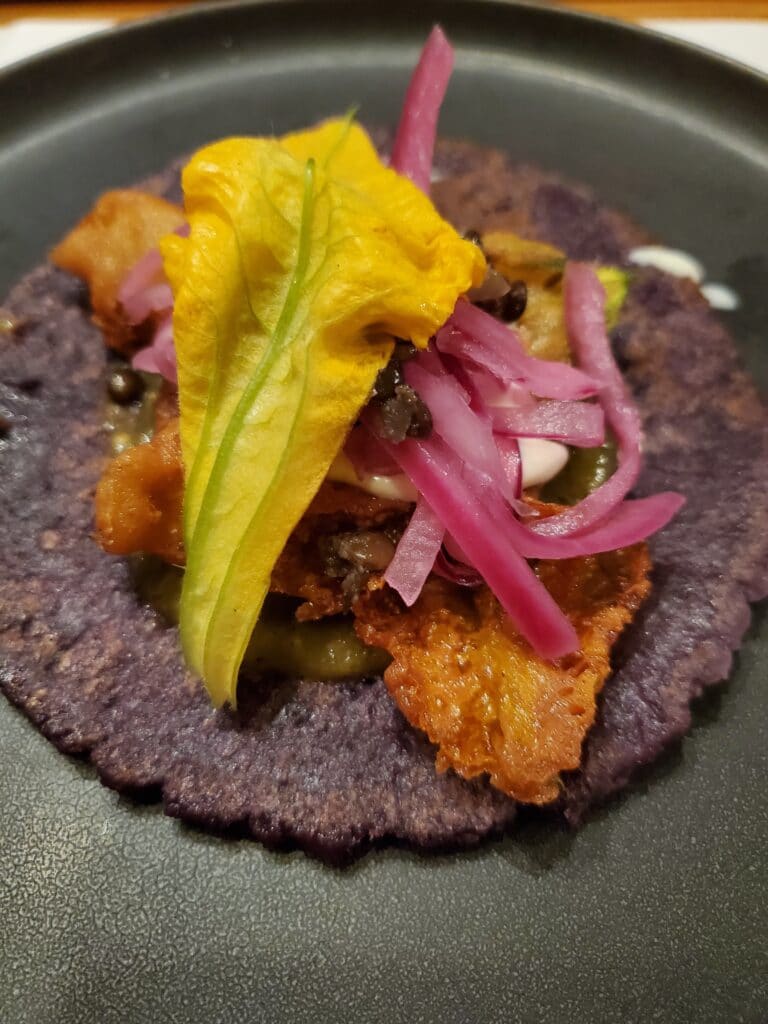 In my opinion, chef and the entire Tahona team have this very approachable welcoming demeanor, with no hint of arrogance. They pride themselves on emphasizing the importance of supporting small producers and their communities by educating guests on the spirit of agave.
I have attended several paired spirit dinners, ranging from agave based, to gin, and mainly whiskey. Each time I come away learning something new about the category and the brand. There's more to spirits then the liquid we sip. There's the human element, traditions, and stories that create connections. When you gather at a table with strangers, expressing individual tasting notes, and sharing your own experiences, its hard not to leave without feeling a sense of community. These dinners also offer a less hurried conversation and full attention of the producer or brand rep. They not only have an educated understanding of the spirit but the necessary passion to represent the tradition and culture of the people bringing the spirit to the table. At a time when travel has been more challenging it feels nice to be on this guided tour with my taste buds and curiosity.
As a big part of the paired dinner guests learned more about Casa Santeros. A traditionally made Bacanora that embodies the resilience, character, and strength of the land and its people. The focus of Casa Santeros is to join the traditions of the past with the innovations of the 21st century while preserving the rich heritage of its roots in partnership with the Oroz Coppel family and their 7,000 hectare hacienda in the northern state of Sonora.
Casa Santeros' goal is to be a completely vertically integrated producer of sustainable and artisanal Bacanora. Meaning, estate grown agave, an in house vinata, and control over every aspect of production ensuring quality and environmental sustainability. There will also be an education/visitor center at the distillery as well as partnerships with local universities regarding sustainability initiatives and production processes. The plan is for Ana Sofia to eventually become the Maestra Bacanorera once she has finished her training with Rumaldo Flores, the current producer of the Bacanora.
"Agave is a metaphor for life and our connection to the earth, as well as our connection to each other, and we are grateful to have the opportunity to share it in community" Teran stated. "Everyone is welcome. The more we educate, the more this beautiful spirit can be understood and shared."