Part one of this two part series can be found here.
La Ruta del Mezcal – Day 2
The next morning we were met by Miguel Angel of San Luis Autentico, a tour agency offering a variety of tours for any visit in SLP. Miguel is fully fluent in English and a wealth of knowledge of all things gastronomic in SLP, but most particularly mezcal. We had an early start to the day so we could be back in SLP in time to attend the annual San Luis Potosi International Wine Festival, which seemed daunting after what would be a full day of drinking mezcal.
The drive to Palmar Según, our first stop of the day, was an easy one hour trip. The town is home to Mezcal Campanilla, the only producer of ancestral mezcal in San Luis Potosi. It is a family operation with different family members making their own batches. Each production takes a total of three weeks, from roast (earthen oven fired by dried cactus and agave) to crush to fermentation and finally to distillation. This is followed by a few days rest before the next family maker makes his/her mezcal. For those of you lucky enough to have had Almamezcalera's San Luis Potosi, this is where it is from and is produced by matriarch Maria de la Luz. When we arrived at the taberna, about a half mile walk from the main house, Doña Maria was in the middle of crushing agave with the tahona. Because the making of mezcal was once illegal in the not so distant past, tabernas like these are hidden away. In fact, Maria's son Manuel N. asked if we wanted to go see an abandoned taberna, a "three minute" walk from where we were. Three minutes was more like 20, but what a walk it was, passing enormous salmianas and giant cactus, a reminder of how much life actually exists on the desert floor. It was very much a step back in time.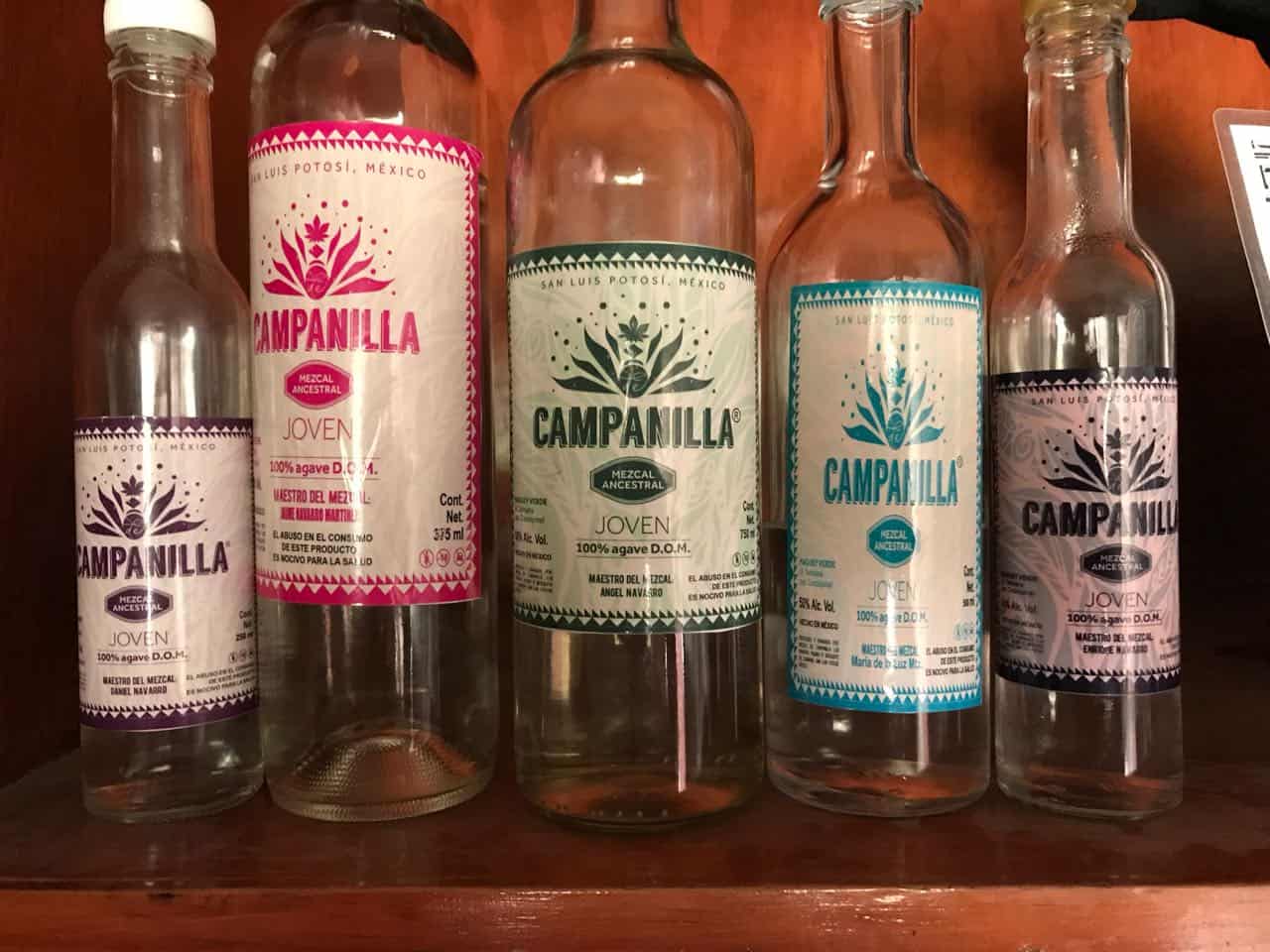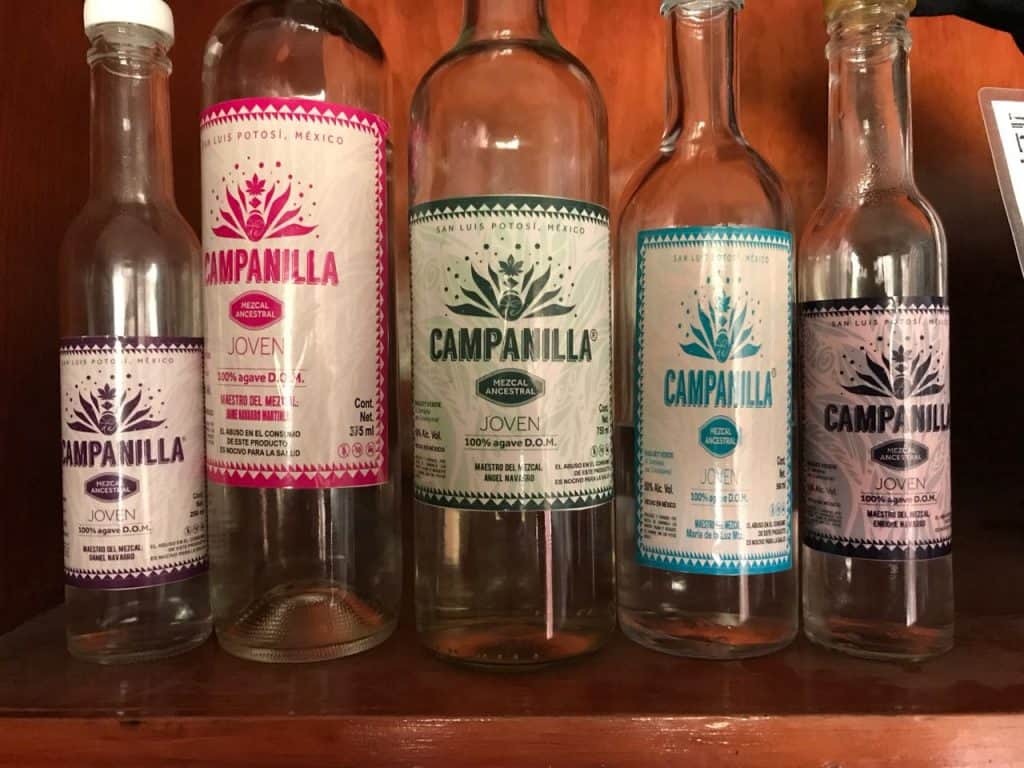 When we returned to Campanilla, Doña Maria had moved all of the crushed agave to the fermentation area, where she was busy shoveling the mosto into what looked like a hammock. She was wearing knee high rubber boots, standing in a stone bath already filled with some pressed agave juice. Each time she filled the hammock like device, her assistant would turn a giant wheel, which then began cinching and wringing the hammock. Juice poured down from the squeezed ropes, and once fully wrung out, Doña Maria would begin the process again. The mosto would be squeezed out twice to get as much juice as possible. The liquid was then piped into a separate stone bath where it would be fermented, again started with pulque. Once fully fermented, it is put into what is called an internal capture still, a variation on the filipino still. The double distillation process takes up to three days, and the final product ends up at 50-51% ABV through the cuts with the heads and heart. Between 250-300 kilos per roast and four stills, she ends up with about 50-70 liters of mezcal. Assuming they produce year round, that means less than 900 liters of mezcal are being produced.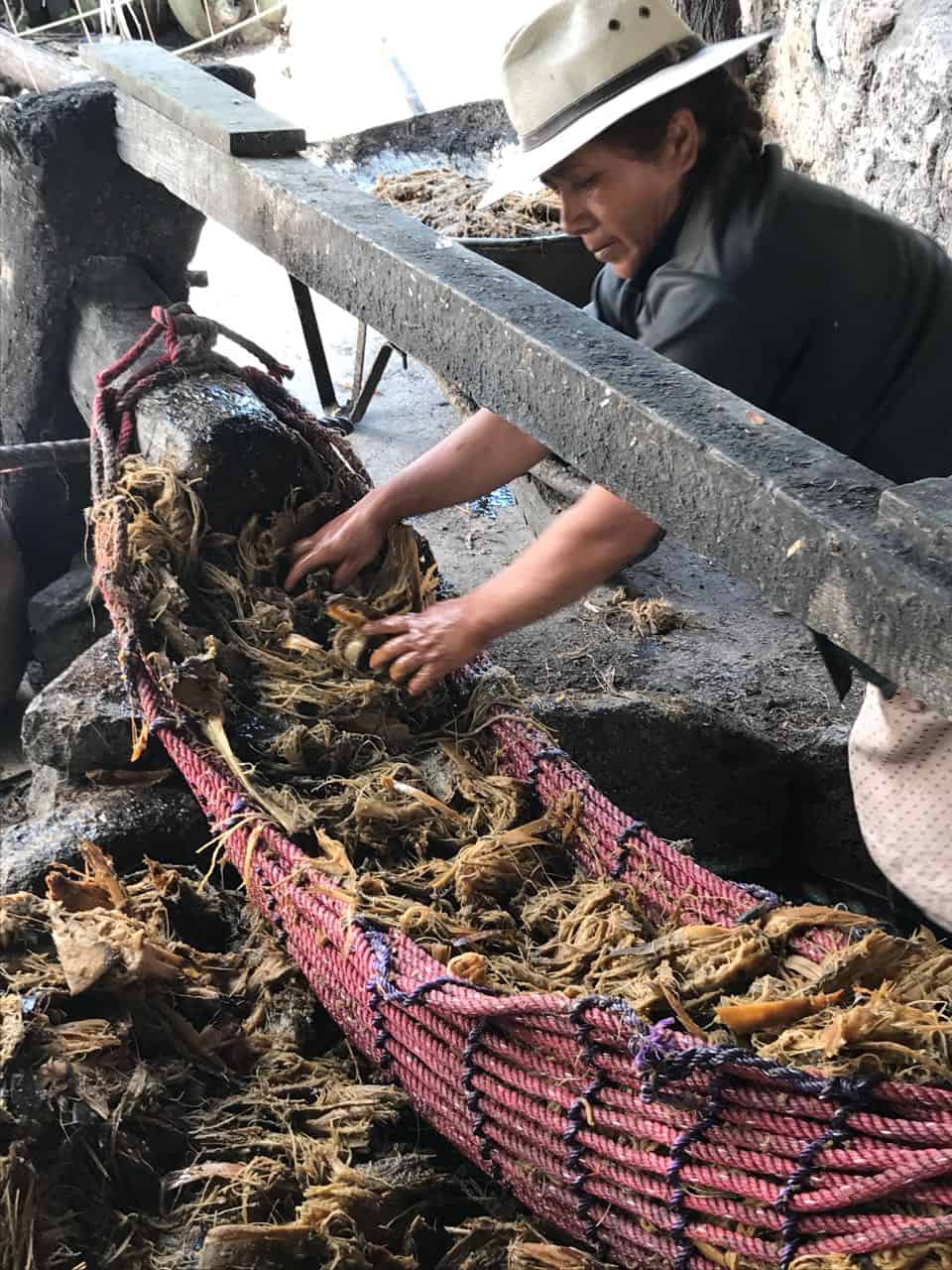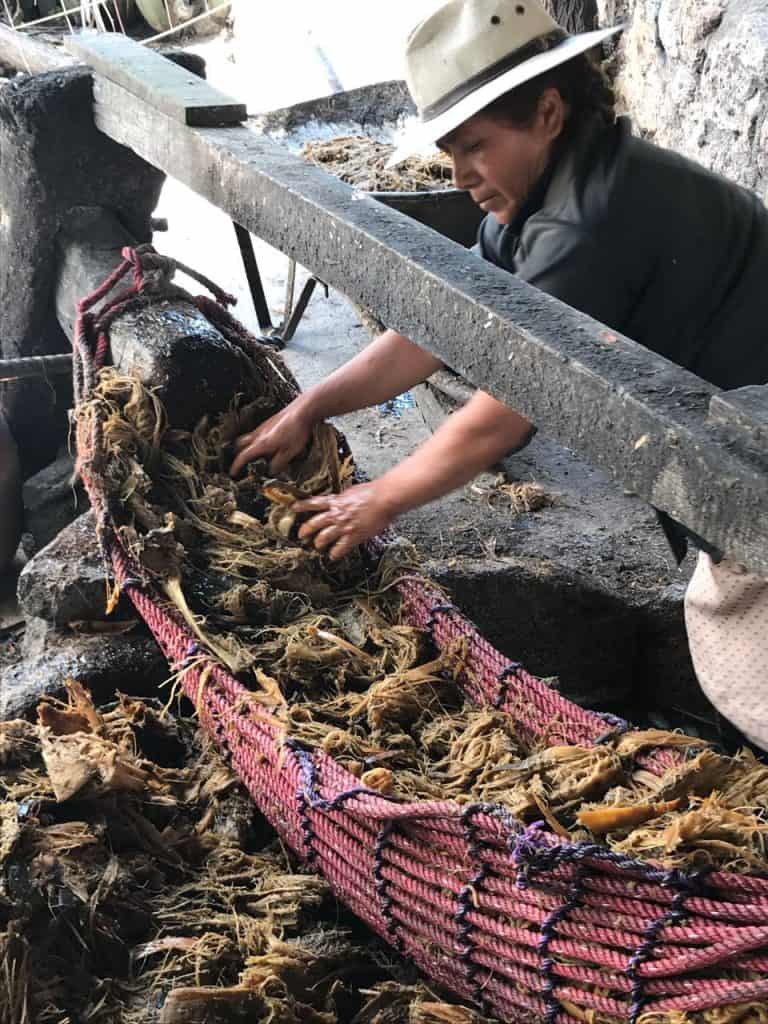 A side note about internal capture stills. The amount of knowledge needed to distill with one of these is pretty incredible. Condensation occurs when cool water is poured into the pan that sits on top of the still. Not only are there marks on the still to help indicate the water level and therefore the temperature for cooling to get maximum condensation, but they also use what is called the capazon, a different cut in the process that helps measure the initial alcohol content.
Bottles bought, we jump back into the car and head to our final stop for the day and trip – Hacienda de Peñasco. Purchased in 1994 years ago by the Garza Alcalde family, this is a work in progress as both the fabrica and hacienda are slowly being restored. It is huge and grand and clearly has great potential for larger production down the line. To restart the fabrica four years ago, the owner hired Patricio and Martin Hernandez to build out both an ancestral and artesanal a la Oaxaca production. It is interesting to see how the two types of production can co-exist. Both father and son are part of the Companilla clan and learned their skills producing mezcal there. They have brought their knowledge to this new location.
Currently, there are six functioning brick ovens that are fired by wood. Each oven holds about 150 piñas and generally it takes four-five days to complete a roast. Like in the other fabricas, there is a tahona pulled by horses, with a system of pipes that transports the juice to the fermentation tanks. But at Peñasco, they mix the mosto with pulque to start the fermentation process and then add it to the tanks filled with juice. It generally takes about five days for the fermentation to finish and then the product is double distilled in a copper still. Each production produces about 180 liters of mezcal, which tends to run at about 47% ABV. We took a side tour through the part of the Hacienda that is being restored for residential living as well as for events. The event producer side of my brain was running full steam ahead with all sorts of ideas of what I would do in that space. Think tasting in the cave followed by much dancing, a dip in the pool and a giant slumber party. More bottles were purchased and then we were on our way back to the city for a quick change, a bite of food and then the Food and Wine event.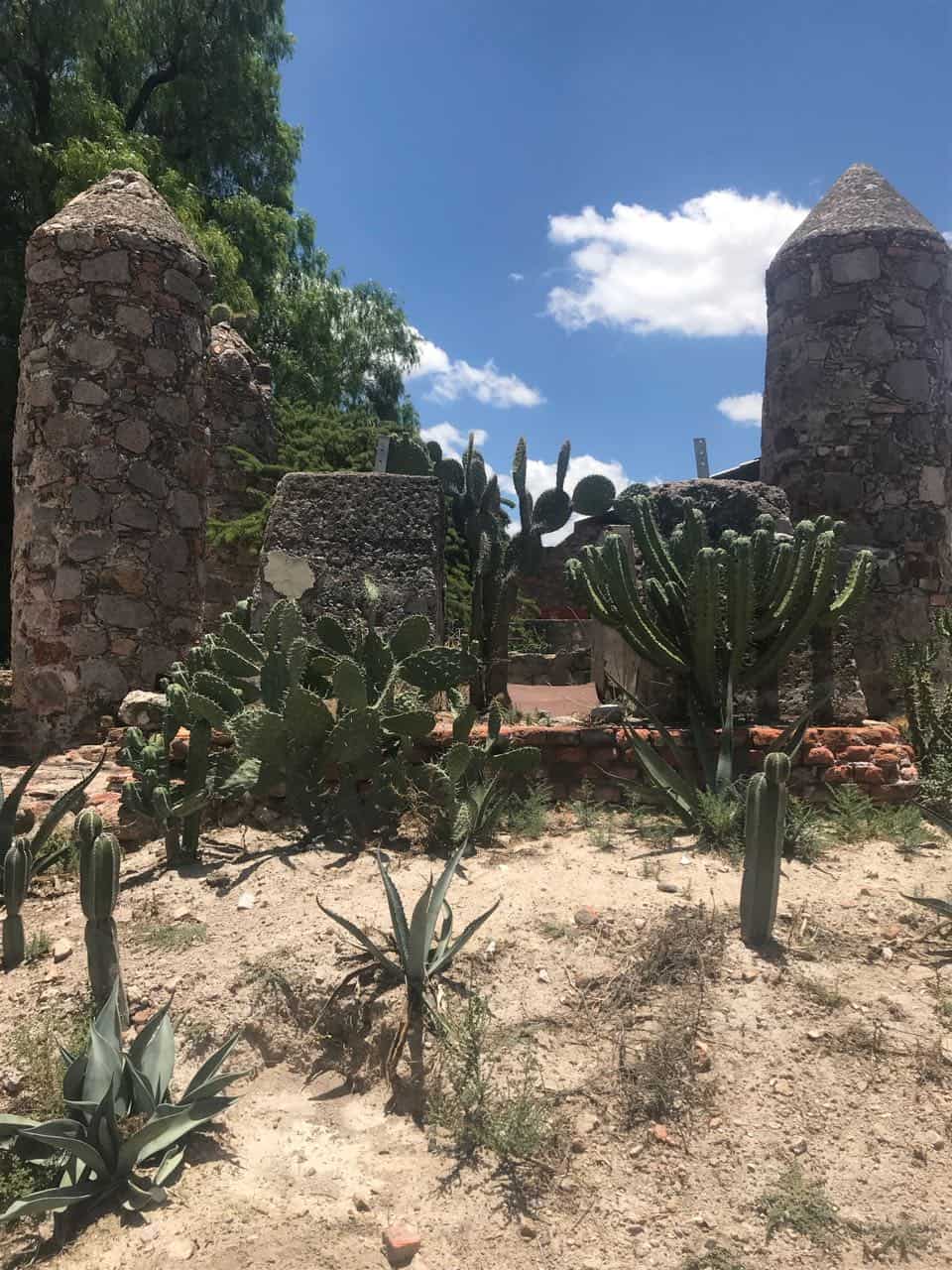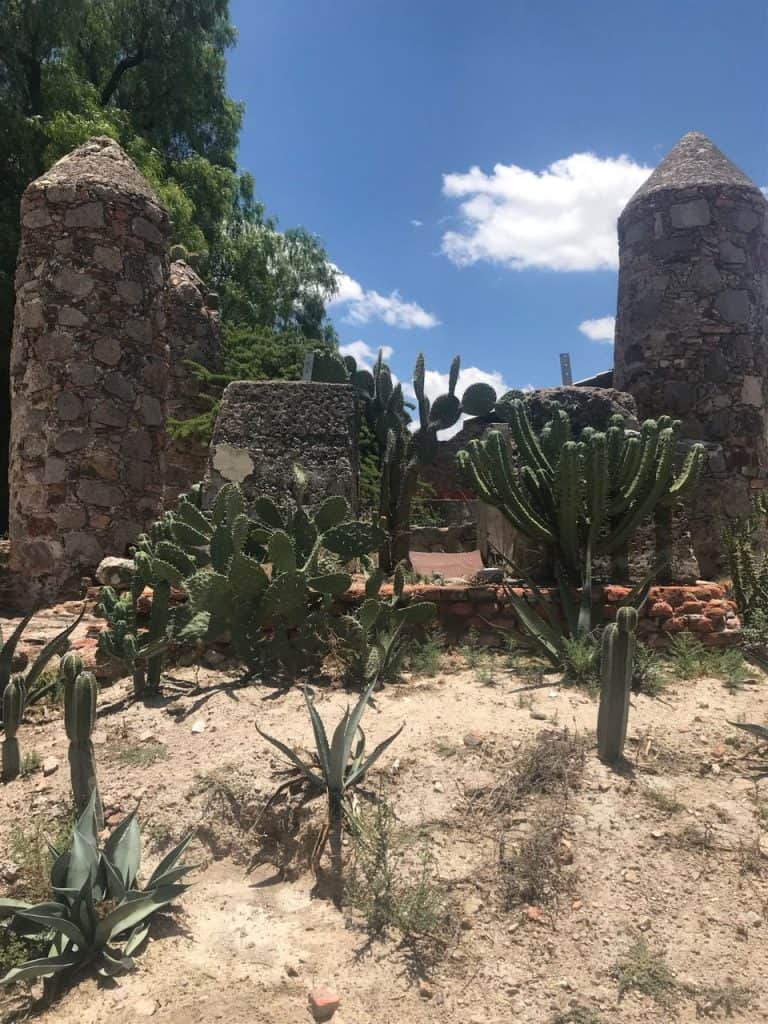 Some things are universal
In addition to the universality of road trip grub, Food and Wine events are the same everywhere. This one was set apart by its location – a restored prison that housed the Centro Cultural de las Artes. But aside from the location, and the fact that everyone was speaking in Spanish, we could have been in Napa. Tables were filled with all variations of wine – from bubbly to white to rose to red – and cheese and charcuterie. There was squealing and jostling, loud drunken voices, and people decked out. It was great, if not surreal after a day spent out in the desert. It was also a chance to try Mexican wine from several different regions – Zacatecas, Guanajuato, San Luis Potosi and of course Baja. There was also mezcal, local craft beer, and artisan goods. Erick maneuvered to have me interviewed by a Spanish reporter who constantly mispronounced my last name so that is sounded like he was saying Susan Chaos, which I am officially adopting as my roller derby name.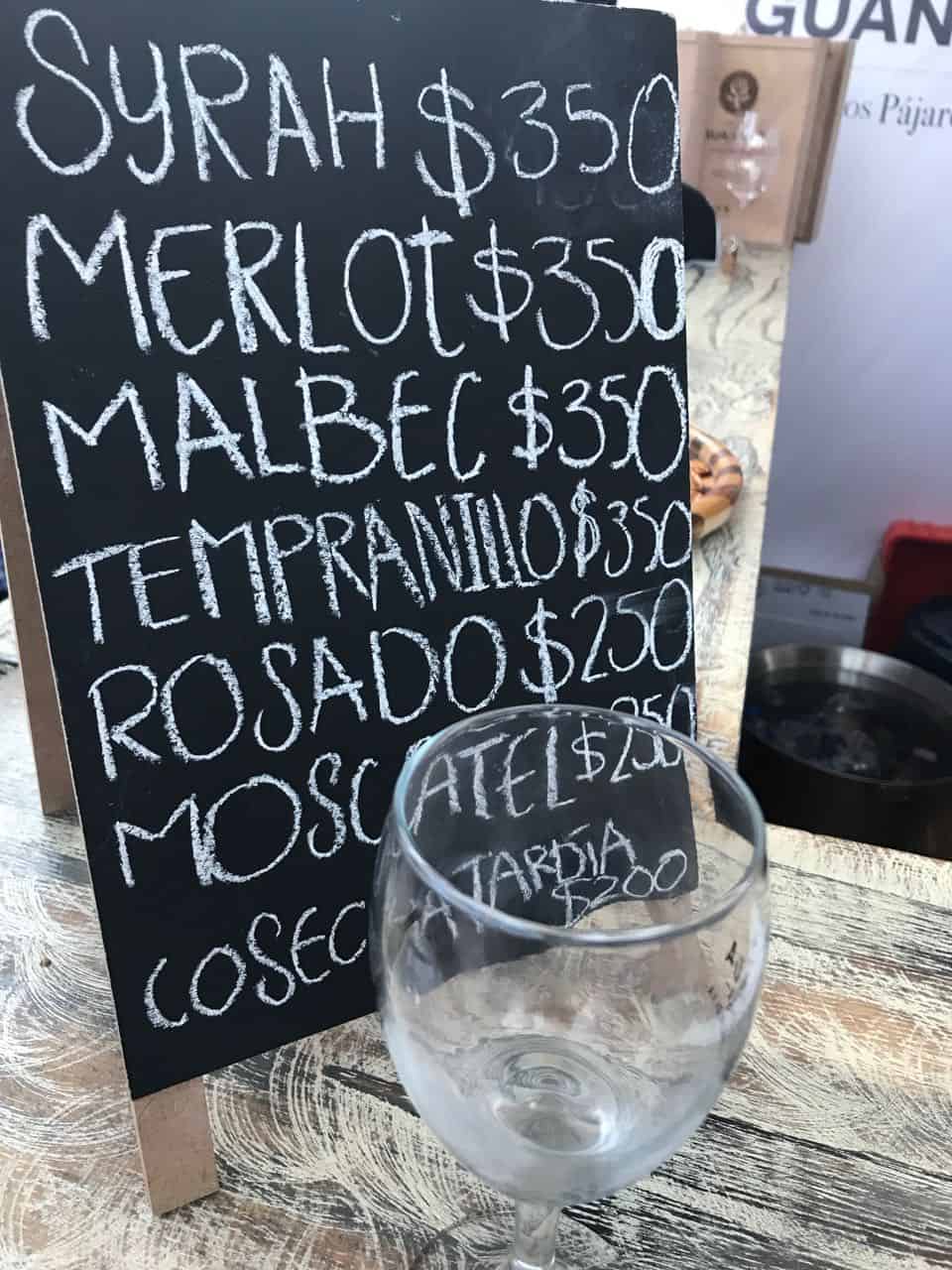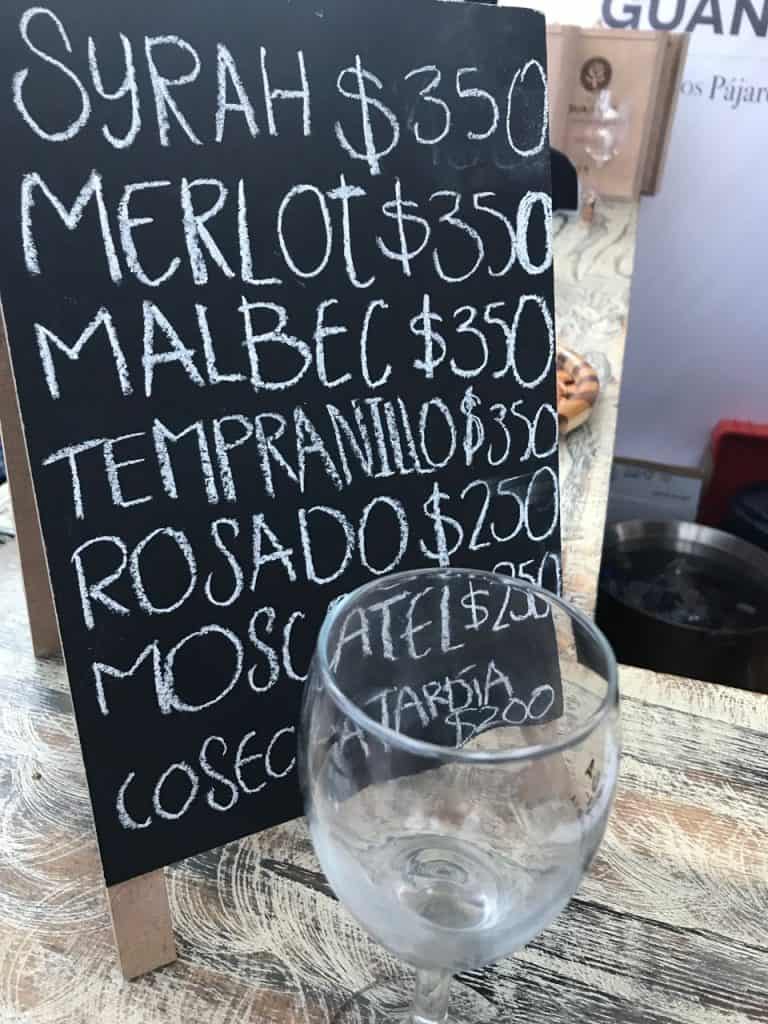 We called it a night and headed back to the hotel to pack up all our bottles for our early morning flight to Mexico City and my eventual return to the US. It was one helluva trip.
If you are interested in traveling to San Luis Potosi to visit mezcal country, be sure to check out our tour page here.