I can't imagine a time I would ever come to Oaxaca and not go to La Biznaga. I remember a recurring dream I had last fall when I was here in Oaxaca in which I had returned to the U.S. without having gone. I woke up with tears streaming down my face.
So what is it about this place? The food is solid – the salads kick ass – they have Mexican micro brews, an unbelievable array of music (Lavay Smith in Oaxaca??) and a great selection of mezcal, both branded and house.  Occasionally they even have pulque.  Did I mention that it's situated in an open roof courtyard so it's the perfect place to wile away the time in conversation with friends?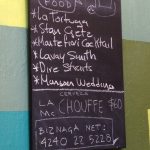 I stopped in to talk mezcal with Rodrigo Fuentes Moreno, one of the main guys at Biznaga. So, we'll get this out of the way right off the bat, he's not from Oaxaca (in fact, the restaurant was started by a couple of guys from Mexico City), and not only that, he's from Guadalajara, the land of tequila. In so many ways he's the perfect guy to talk mezcal with because until he came to Oaxaca, he'd never had it. He is, dare we say it, a sort of convert (of course, he still loves his good tequila.) having witnessed first hand the industrialization of the tequila industry, and the impact that had on flavor and small-scale producers.
I was curious to talk mezcal from the perspective of a restaurant/bar owner. How they decide what to carry, who their market is, how things are changing in the world of mezcal, etc. Biznaga has a big selection of mezcal: They carry about 13 branded mezcals and then several house mezcals. In fact, while we were talking, a delivery  came in from one of the local palenques – two, five liter containers. This is how the house mezcals come, either delivered, or picked up from the palenque, in these large containers.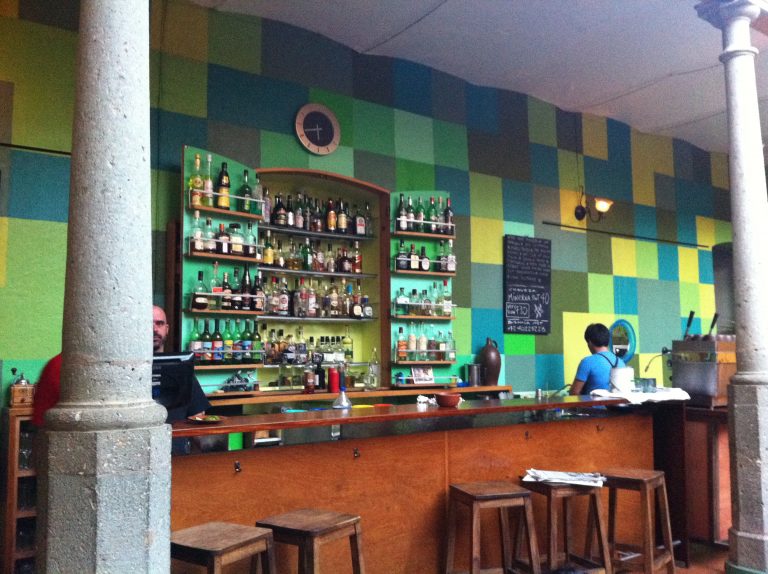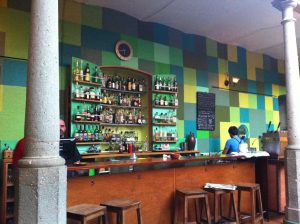 And while they like having the various brands at the restaurant, they definitely prefer offering house mezcals. It's a way to showcase the array of mezcal being produced by the small guys out in the pueblos. And of course there is simple economics – branded mezcal costs more, while the house mezcal, because of the direct relationship with the palenque, costs less.
Biznaga is also interested in carrying mezcal from other states (Durango, Zacatecas, Guerrero – all produce some pretty mean mezcals) but it is difficult and expensive. Shipping in and out of Oaxaca is not cheap. The best option is just to jump into the car and go find the stuff directly – which while cheaper, definitely takes more time.
In the end, it all comes down to flavor – finding an arroqueño from a small producer in Ejutla that was so good that he bought the whole production (about 200 liters). Learning the difference in flavors between the mezcals from Chichicapam, Santa Caterina Minas and Matatlan – pueblos only 5-20 miles apart yet with completely different tastes. Soil, water source, temperatures, and of course the palenquero and his style – all go into the variations of flavors.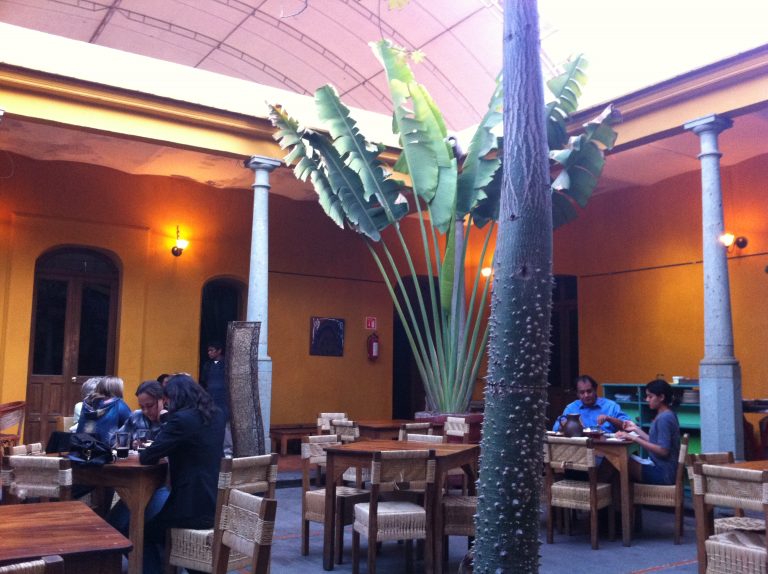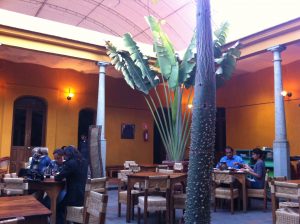 I could have stayed all day, listening to the music, enjoying the cool of the patio and the mixed hum of Spanish, English, French buzzing around. But Rodrigo had to work and I had to meet a friend for coffee.