I was lucky enough to have spent most of January traveling around Mexico for a combination of family and work reasons. As we bounced around Mexico City, Chihuahua, and Puebla, there was no shortage of drinks- fermented, distilled, and otherwise. These are the libations that have stood out for one reason or another.
Mexico City
Tuna Beer: As in, cactus fruit, not the fish. This house specialty at speakeasy-ish patio beer garden Patio Escondido de Monstruo De Agua in the trendy La Romita neighborhood is one of the best beers I have had in recent memory. It was clean, light, refreshing, and fruity without being sweet. The flavor of the tuna comes through crisp and bright, with gentle hoppy notes. I'm not a beer drinker, but a couple of these go down easy, especially next to their chefy-inspired bites like fried mushrooms with sweet and spicy sauce, chapulin kissed esquites, and loaded veggie sandwich. Shoutout to Joahna Hernandez (@Mezcalitita) for the recommendation and company.
Probiotic 'Soda': The non alcoholic option at Patio Escondido was equally hip and on trend as their beer selection. My husband, who does not like kombucha, pulque, or anything with a fermenty flavor, drank two of these. The flavor was mild, neither sour nor sweet, and with a medium pungent gingery kick. An easily sessionable drink with a healthy dose of probiotics, I wish this or something similar were available at all hipster beer bars- it would make a nice option in between high alcohol beers, or for the times when alcohol just isn't the move.
Kiwi Curado De Pulque: Fresh pulque in the city is a fool's errand, it's just not going to happen. We tried a tasting flight of natural and fruit infused, or curado, pulques at Pulqueria Insurgentes in the Roma Norte neighborhood as we sat on their rooftop patio. The bright green kiwi curado was the star of the show, with gently sweet flavors that did a pretty good job of masking the slightly sour and funky over-fermented notes of the pulque that was likely 2-3 days past its prime. All in all, not bad.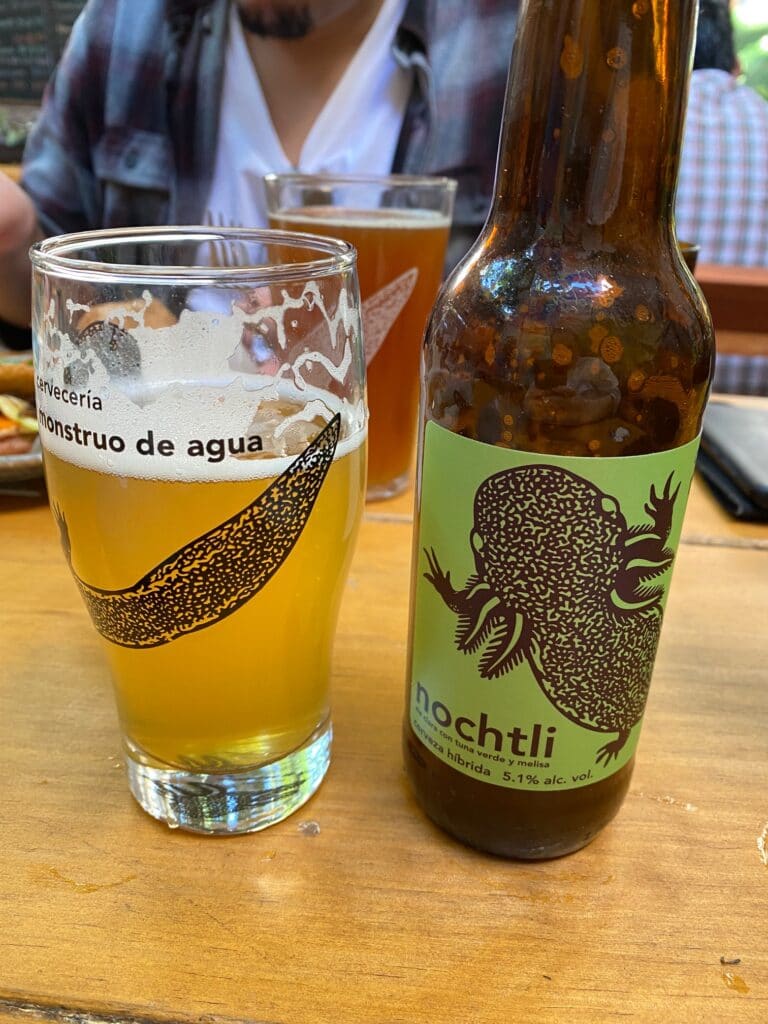 Ciudad Juarez, Chihuahua
Ojo De Tigre ready-to-drink canned cocktails: Ciudad Juarez is not known for its cuisine nor its bar scene, so we mostly shopped and ate from a local grocery store, which happened to be stocked with the new hard seltzers from Ojo De Tigre Mezcal. I tried all three flavors: cucumber, ginger, and grapefruit. The cucumber was slightly sweet and very refreshing, integrating seamlessly with the mezcal. Likewise, the piquant ginger paired easily and gave off a ginger-ale vibe that I was not mad at. The grapefruit flavor fell a little flat, with some disjointed fruit and earth notes then landed a little swampy. Overall I was impressed and would absolutely reach for these in a casual party setting. Does it make a whole lot of sense for the mezcal category? Probably not. But are they some of the better ready to drink hard seltzers I've tasted? Yes.
Chia Agua Fresca: My first stop in any new region is usually the local market, and some of the only fresh ingredients we could find at the market in Ciudad Juarez, aside from fresh flour tortillas and chicharron (not complaining), was chia, honey, and limes. This nutritious beverage with Indigenous roots is refreshing, sustaining, and has become a staple for our current stay in Mexico. Dissolve honey to taste in a liter or two of water, add fresh squeezed lime juice to taste, and a few tablespoons of chia seeds. The chia seeds need to be mixed well and will expand into jelly-like balls after a few hours, adding texture to the drink. The traditional beverage is full of antioxidants, amino acids, protein, and fiber- a big help when the majority of your diet is flour and meat.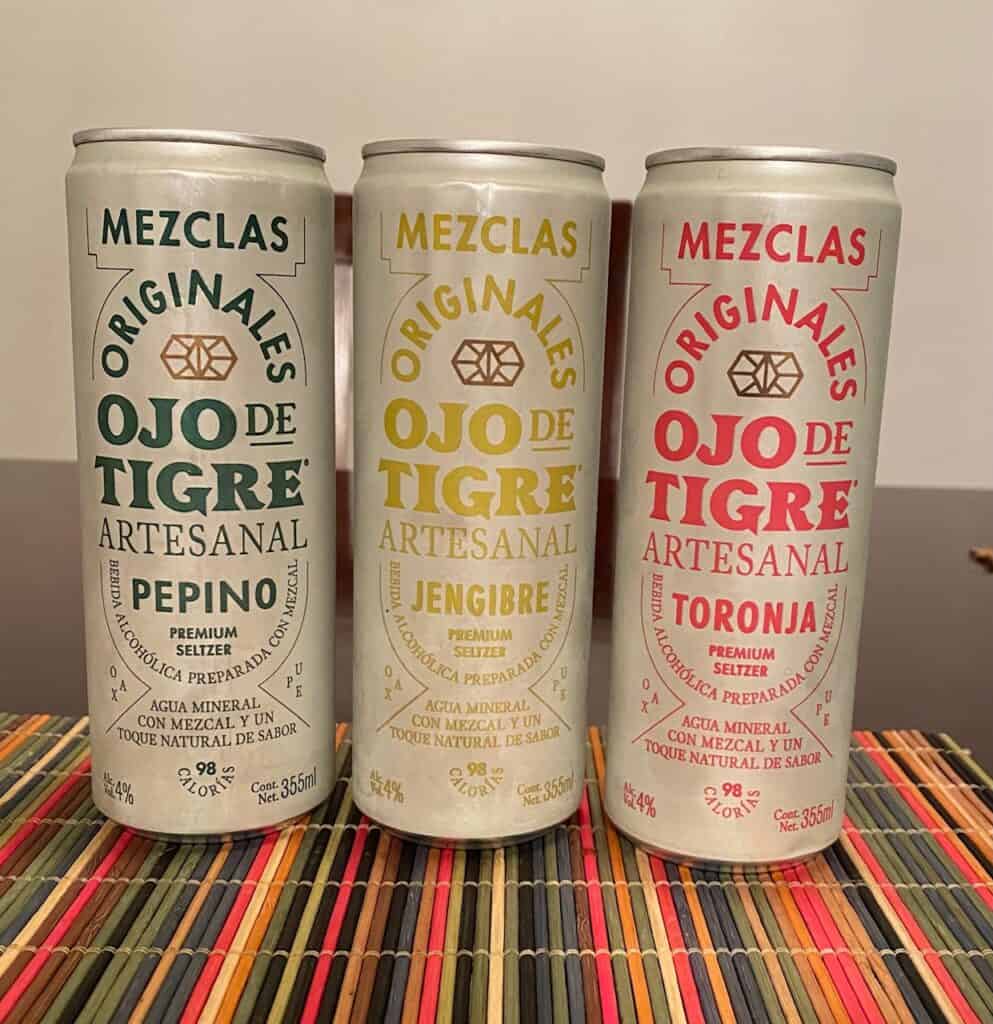 Puebla
Avocado Leaf Tea: Back in Puebla for the first time in 15 years, my husband was greeted by a large family gathering and barbacoa feast; we woke up at 3am to help prepare the meal, and at around 5am we made breakfast. Along with coffee, there was an heirloom avocado tree that our hosts used to make tea with- noting that it promoted good digestion and eases stomach discomfort. I have a gringa stomach, so I'm always open to any natural remedy that claims to help ease digestion. In addition to feeling nice on the old GI tract, the flavor was gently spiced and floral- just like the small, smooth skinned criollo avocados. A new staple for sure.
Pulque: Pulque in Puebla can be polarizing, mostly because of its somewhat gooey texture. It's thicker than other regional pulques, which can be off putting to some, but I like it. The thickness of it adds another layer of soothing properties in the stomach as it delivers probiotics, nutrients, and proteins. The freshest pulque I found is from a woman who shows up around 10:30am outside of the market in the historical center on Av 18 Pte near the intersection of Calle 5 Nte. Every morning she waits for the aguamiel to come from the campo before heading out to her post to sell pulque for 15 pesos per liter until she runs out. A two liter bottle easily stays fresh in the fridge for up to 3-4 days and is as clean and delicious as can be.
Artisanal Mezcal Infusions: As in other artisanal mezcal producing regions, Puebla mezcal producers have expanded lines that include fruit and other infusions, lightly sweetened with agave nectar. The ones from Zinacantan were particularly good, especially the coffee infusion that was gently sweet, super rich, and around 25% alcohol. The maracuya infusions was another winner, balanced between sweet and tart, and super easy to sip. While significantly different from the traditional high alcohol artisanal mezcals, these sweet treats are worth it, don't sleep on them!