The Lost Explorer mezcal is produced by Maestro Fortino Ramos, in San Pablo Huixtepec, Oaxaca. A first generation mezcalero, he has been making agave spirits for the past forty years. Now his daughter Xitlali is alongside him, learning the craft and working closely with The Lost Explorer brand. Together they are pursuing specific goals to support local economic growth and gender equality, while combating climate change. 
The idea of The Lost Explorer began with adventurer, David de Rothschild, of the de Rothschild banking family, as a broad and eclectic selection of "luxury/expensive" items that included mezcal. The products were inspired by treasures he had collected during his time exploring the world. He describes the underlying theme of this collection as "nature and curiosity," words that are repeated throughout statements about the Lost Explorer mezcal since its launch in 2020. "We embrace curiosity as a fundamental human sense, letting it guide us in our quest to more deeply understand mezcal, the earth and each other."
I first visited Maestro Fortino's palenque back in 2017, before he began working exclusively with The Lost Explorer mezcal, with whom he is in partnership. It is an open space, framed by luminous fields of maize and distant mountains. There is a high roof that provides two, traditional, pit ovens with shade and shelter, without it trapping too much smoke during cooking. Most of their practice is typical to the artisanal process, but there are efforts to make these processes more sustainable and efficient; commonly practiced examples of these are replanting agave and using a shredder for the cooked agave, rather than a stone mill.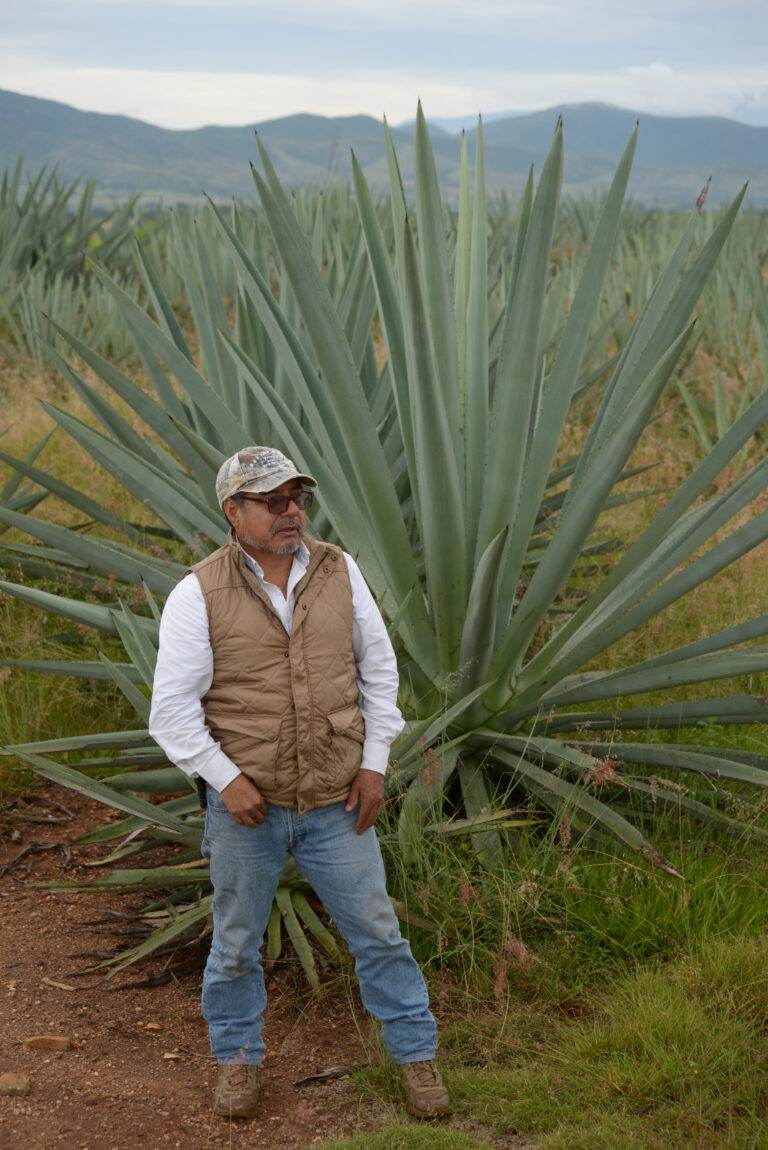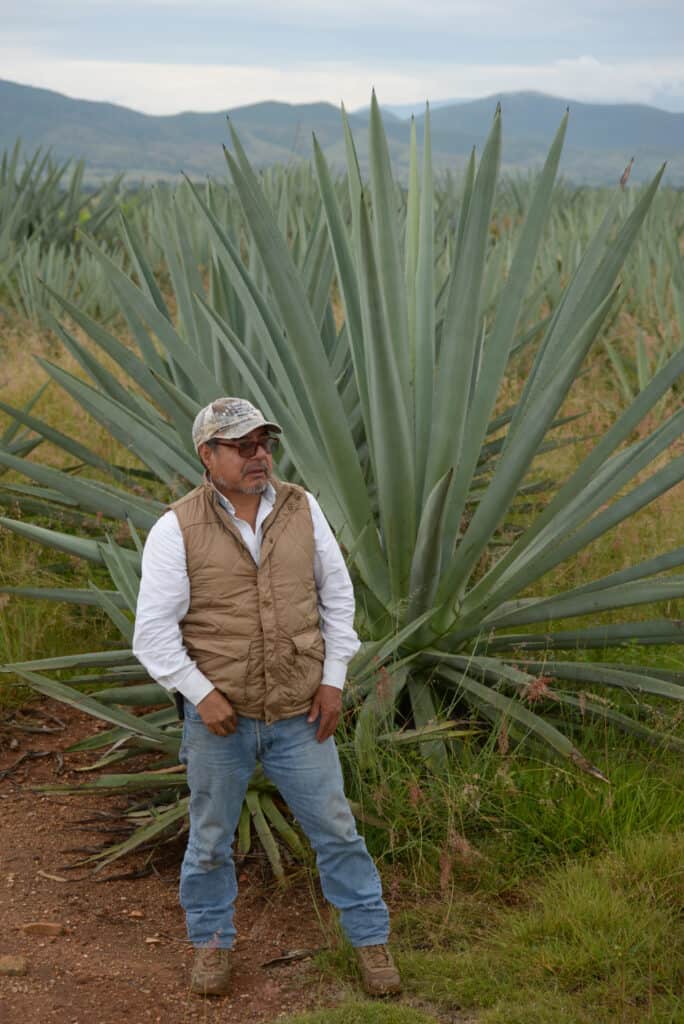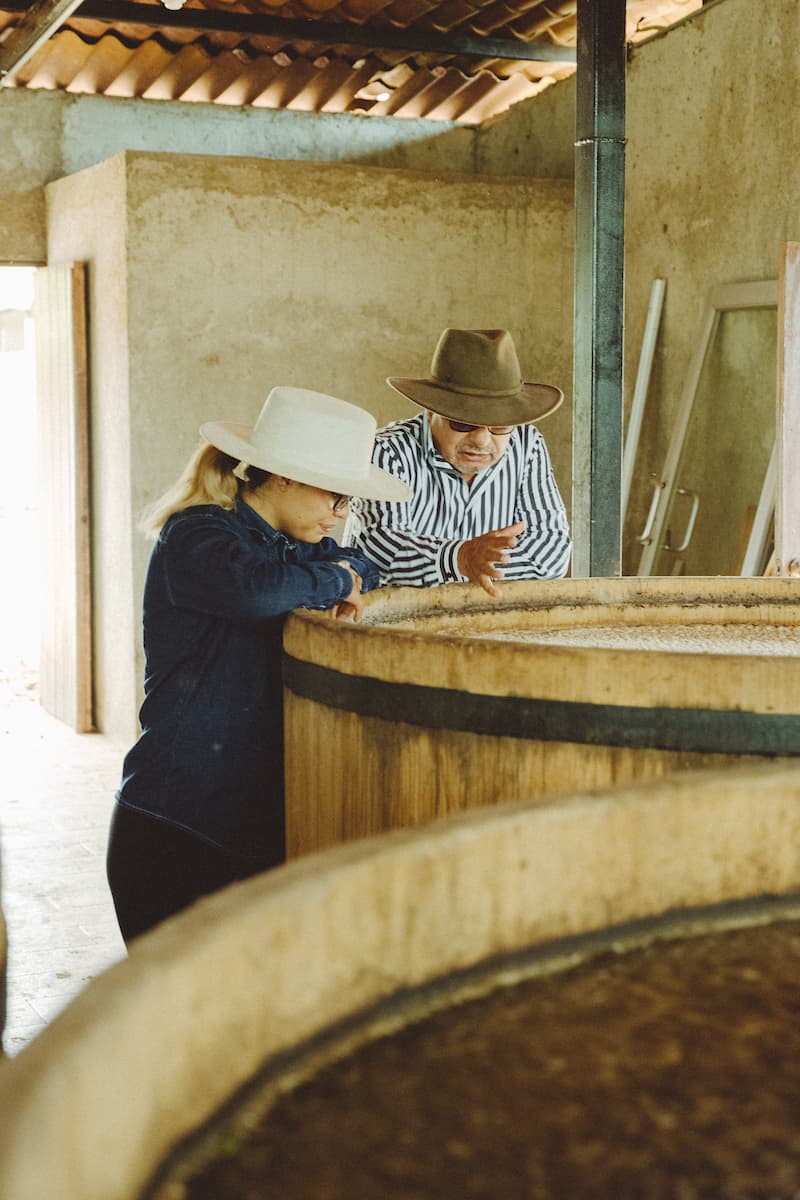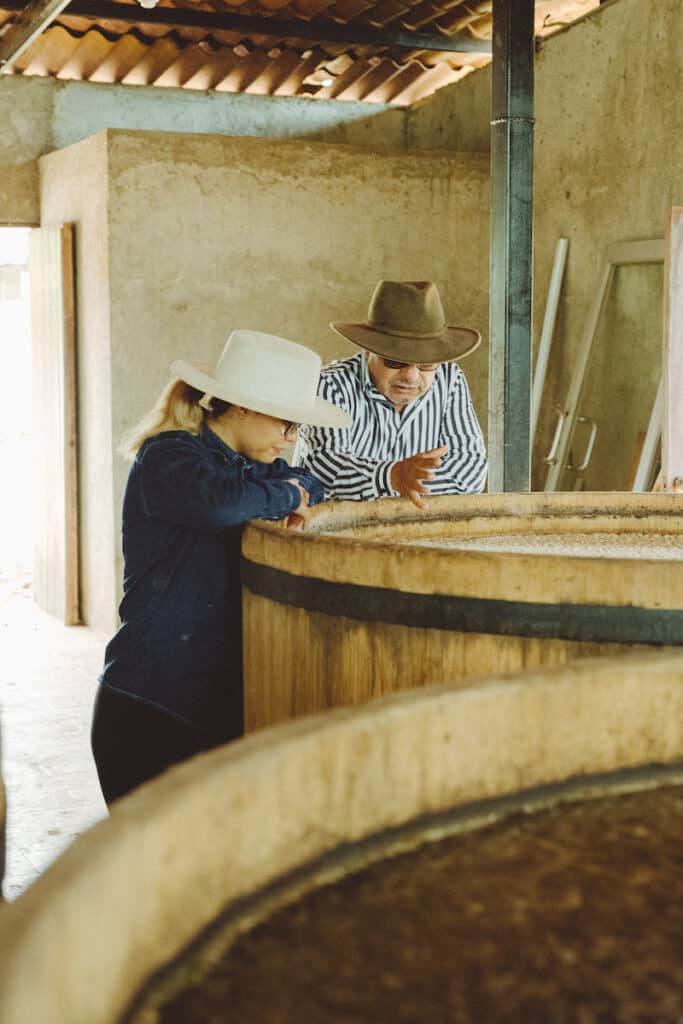 An internal research lab for sustainability?
Environmental sustainability is at the forefront of The Lost Explorer's agenda (a complete list of these efforts are below). Examples of the brand commitments currently encompass rainwater conservation, the use of reclaimed wood, replanting at least three agaves for every agave distilled, up-cycling agave waste and using solar panels. These actions are researched and implemented through their in-house research space, the "Lost Laboratory." 
The Lost Laboratory is currently germinating seeds of genetically diverse agave on distillery land and experimenting with replanting initiatives to help expand and scale their replanting program. Agave waste is also a big focus area within the production of mezcal. In addition to repurposing agave waste into fertilizer for the land, an initiative from last year was using agave waste to make copitas. This endeavor was overseen by Maestro Fortino's daughter, mezcalera in the making, Xitlali Ramos.
Xitlali will one day take the reins of production for The Lost Explorer, so the issue of gender equality is significant to the ongoing relationship between mezcalera and the brand. Xitlali is already stepping up to help grow the sustainable agenda of her family palenque;  "I feel that all our sensitivity, vision to grow beyond what we are, and empowerment are what we as women can offer to this industry that men have mainly led in the past."
Aiming to improve gender equality The Lost Explorer Mezcal is partnering with the non-profit organization SiKanda and its Mujeres AVE program that provides 'Make Your Business Grow' seed capital funding for essential supplies & equipment to women-led businesses. Mujeres AVE is based in the Zaachila Oriente area, where the largest garbage dump in the state of Oaxaca is located. They provide tools and a safe space to promote the participation, empowerment, autonomy and agency of women, to improve the operation of their micro-businesses and increase their income and well-being.  
Another key project actively supported by Lost Explorer is with Isla Urbana (via de Rothschild's charity Voice for Nature Foundation).
Focusing on climate action, Lost Explorer is working with Isla Urbana, an NGO dedicated to contributing to water sustainability in Mexico through rainwater harvesting, specifically in highly marginalized communities where access to clean water is limited. The Lost Explorer partnership will begin with supporting an additional four rainwater harvesting systems within the Oaxacan communities of San Jose Tenango.
Choosing these projects to support was a joint management decision for The Lost Explorer team, working closely with the Voice for Nature Foundation. The Lost Explorer's commitments come from a place of contributing beyond their own business goals and supporting a more sustainable future for the environment and communities of Oaxaca. These specific initiatives were chosen because they would have impact in the immediate short-term, but also longer-term, in addition to supporting the UN Sustainability Goals of Climate Action, Gender Equality and Economic Growth. 
"At the palenque, the team are naturally occupied with the day-to-day details of production, but equally we push ourselves to ensure that we don't lose track of the longer term view." Pamela Selby, Chief Marketing Executive.
This longer term goal is being addressed through partnerships like Sikanda, Isla Urbana and The Lost Laboratory, where they are exploring ways to push industry standards for sustainable outcomes. It is more than just a physical space – it is a concept that represents an ethos of living curiously through constant questioning and experimentation. de Rothschild calls it a "playground of the imagination, a place to experiment and ask questions. How do we make use of every part of the plant possible? How do we evaluate the sustainability of the entire system? And share our solutions?"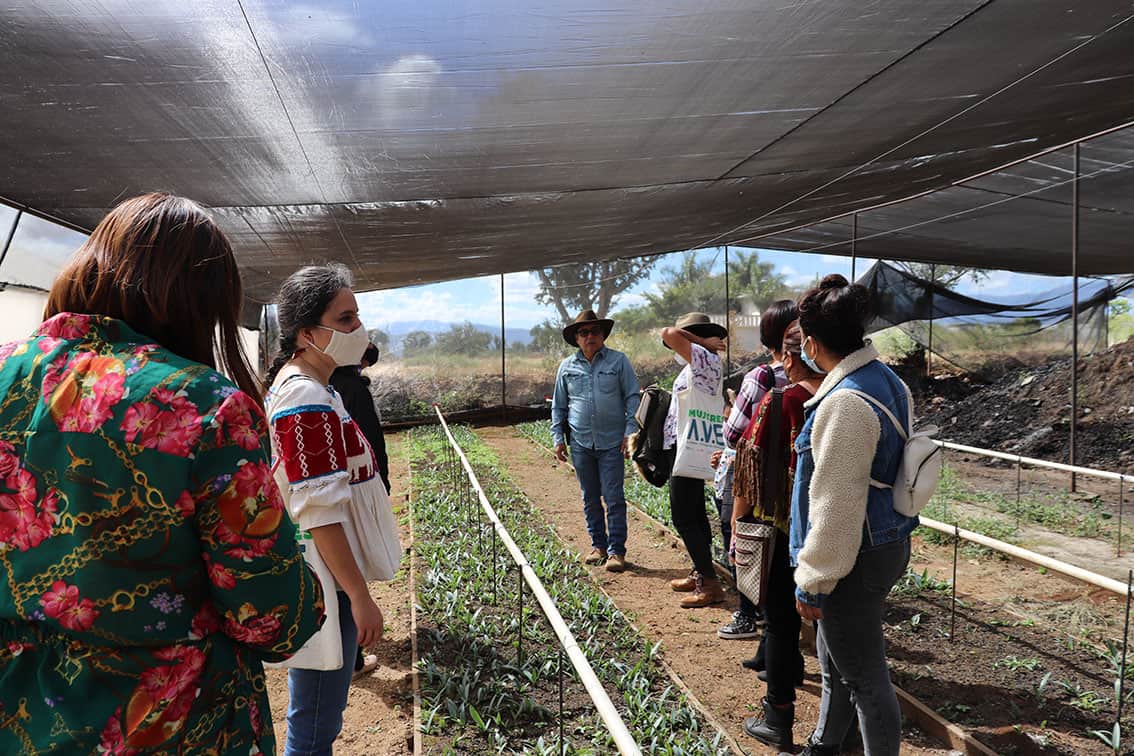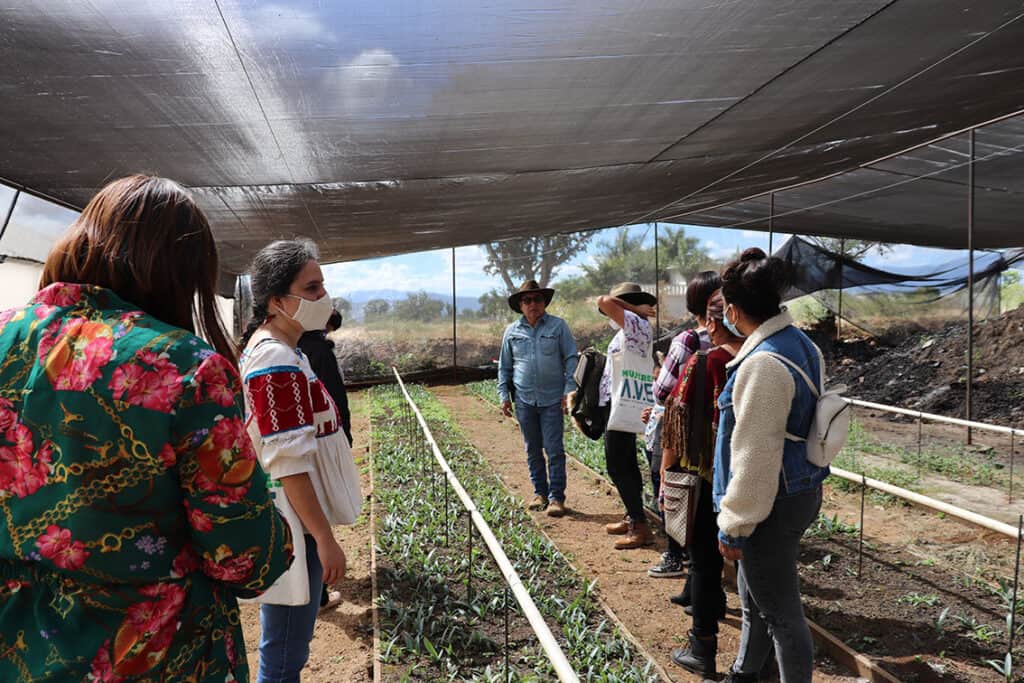 About that bottle
The Lost Laboratory sounds like a cabinet of curiosities; while "respectful to the great depths of wisdom and tradition of the past, (they are) looking to the future, seeking ways for sustainability through constant experimentation." This idea of an eccentric collection, translates into The Lost Explorer aesthetic. Bottled in recycled glass bottles, their three expressions, espadin, tobala and salmiana, are sealed with natural cork and biodegradable beeswax. The label artwork, designed by Menta Studios, references vintage guides, lost maps, and apothecary labels. The brand symbol shows its Oaxacan origins: sun, mountains, water and leaves. Each expression is represented by a different animal illustration by Daniel Barba, inspired by the etchings of Mexican artist Guadalupe Posada and the fantastical 'alebrijes' carved in Oaxaca.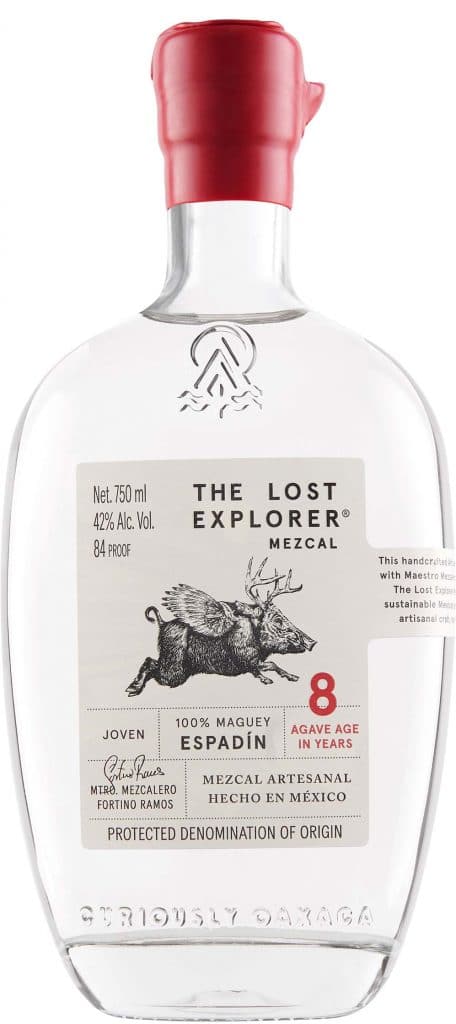 The Lost Explorer is supporting an artisan residency developed by master carver Noel Martinez.  A renowned craftsman and community leader, he established an artisan center for marginalized families, teaching them a variety of skills such as making alebrijes. The Lost Explorer's partnership funds the residency by supplying free tool kits to participants, enabling them to earn a living through their new found craft. Heartbreakingly, Noel Martinez passed away recently, but representatives for Lost Explorer confirm that there will be ongoing backing for the project, keeping the maestro's great work alive. 
Who's at the center of the story?
Since the start of the pandemic, the surge in star-powered tequila and mezcal brands has been remarkable. Most of these agave spirits have a premium price-tag, backed by the media following of the celebrities in question. The most talked about brand is Clooney and Gerber's contentious Casamigos, while more recently Dos Hombres arrived with the dynamic duo of Breaking Bad, Aaron Paul and Bryan Cranston.
Both contributions lead by selling the lifestyle of the celebrities. According to Gerber (about Casamigos), he and Clooney "created it, own it, drink it, run the company and live the lifestyle." Visiting the website for Casamigos you are welcomed by romantic images of the stars kicking up dust on motorbikes as they race through agave fields. The Dos Hombres message is much the same; selling an idea of agave spirits elevated by two famous friends bonding over a mezcal. You can even buy a Dos Hombres hat to wear while you drink one of their recommended cocktails… if you really want to feel the part.
When you arrive at The Lost Explorer home-page it is the mezcal that shines, alongside recent accolades from various spirits competitions (they proudly announce they are the most awarded mezcal of 2021). As you scroll, you pass how mezcal is a handcrafted spirit made in Oaxaca, past an atmospheric video, to their principle statement: "we celebrate the earth and elevate the soul to live curiously." They lead with what they receive from nature, and follow this up with "a vow to protect and sustain the revered maguey and its hard-scrabble habitat". 
The Lost Explorer is definitely hitting some key talking points in the conversation around mezcal; women in the world of mezcal, a sustainable future for the industry… a famous backer. As a consumer you are asked to support their charitable efforts by purchasing their "luxury" mezcal. For competing brands it is likely grating that there are some hurdles that The Lost Explorer didn't have to jump through to achieve the accolades they are receiving. They are in a good position to succeed, as de Rothschild explains, "because of our financing we can afford to secure our continuing supply." Even the list of awards referred to on the website might be called into question, when the cost of entering is taken into consideration. 
In speaking with members of our mezcal community, there were mixed feelings about the appearance of The Lost Explorer, as the market is already crowded with agave spirits. This is a highly priced, design-forward bottle, backed by another famous name – Rothschild – and his wealthy Icelandic partner Thor Bjorgolfsson. However, unlike many recent products hailing from the realm of celebrity, the marketing of The Lost Explorer focuses predominantly on the producers and their collaborative goals for sustainable growth.  
Referencing a recent Mezcalistas article (Do Celebrities Matter), there is little focus on sustainability from most celebrity backed brands, in contrast to others (non-celebrity) who at least pay lip service to how they give back to nature and the community. Some even make sustainability the focus of their message. The Lost Explorer falls into this latter category – in fact they go so far as to say their long term mission is to become the most sustainable brand of mezcal in the world. 
Like many brands, especially those formed outside of Mexico, The Lost Explorer is built on a foundation of privilege and Rothschild's is to the high end of that privilege. However, there is credit due, given the extent of the work being done to focus on the sustainable agenda, both environmental and social. Maestro Ramos and his family are shareholders in the brand and there is an emphasis on their story, and that of mezcal (rather than Rothschild's) throughout the presentation of The Lost Explorer. 
"You're only as good as the company you keep" says Maestro Fortino Ramos
Investing in one of The Lost Explorer's "luxury" mezcals, you are not just buying a bottle, but a piece of artwork, as well as supporting their choice of charities and efforts for sustainability. Like any business they still have profit targets and plans for expansion, which are challenging in this saturated market, without the addition of a high standard of sustainable practice. It remains to be seen if the expansion of the mezcal world can be tenable in general, but The Lost Explorer is in a strong position to pursue this dream, using its prestigious platform to lead the way as "the most sustainable brand in the world." 
Complete list of The Lost Explorer projects and initiatives
Solar panels installed in agave fields at the distillery to create renewable energy
Carbon footprint will be tracked from the very first batch in order to set long-term emission reduction goals
Bioclimate study carried out to inform environmental improvement efforts and energy efficiency
Ambitious biodiversity practice with at least three agave plants replenished for each one used
Land purchased close to distillery to scale our replanting program
Germinate seeds of genetically diverse agave on our distillery land and experimentation at The Lost Laboratory
Agave waste is processed into fertilizer for the land
Agave cooked according to artisanal methods and with local reclaimed wood only
All production partners selected based on environmental ethos, quality and in support of Mexican enterprise
New bottles designed and produced in Mexico from over 50% recycled crystal scraps
Stoppers made from natural wood & cork and sealed with fully biodegradable beeswax
Economic empowerment enabled within the mezcal-making community in San Pablo Huixtepec
Long-term local contracts at fair price with agave growers
Creative partnerships with artisans located in the heart of Oaxaca
Be sure to check out our tasting notes.
*updated 2/10/2022 to correct the name spelling of The Lost Explorer, David de Rothschild and the Voice for Nature Foundation.