An agave event that focuses on women in the industry and shows that representation matters
Gender diversity and equality is a subject that needs to be addressed the world over. Recently, more attention has been paid to the challenges women face in the alcohol industry. It is exciting to announce that on the ninth and tenth of December, Oaxaca will host its first female led mezcal festival, MUJER AGAVE.
Like many people visiting Oaxaca to dig deeper into the world of agave spirits, the first thing I did when I arrived was make a beeline for two key establishments; In Situ and Mezcaloteca. These are more than bars, but gold-mines of knowledge and unique spirits to try. Another thing that unites these two spaces, which may surprise some people following the mezcal story, is that both are founded by women; respectively Sandra Ortiz Brena and Silvia Philion.
Sandra, Silvia and Mezcalera Graciela Angeles are the women behind the Mujer Agave event. They are opening the doors of Proyecto Murguia to create a space sharing their experiences, while inviting some other prominent voices to speak on the subject of agave and the feminine presence in the industry. It is described in their press release as "a tribute to women who have drawn the path of mezcal."
Mujer Agave is a celebration of women and agave, where unity, legacy and joy are taught through diverse conferences and experiences. There will be a great range of women from mezcal including mezcaleras, academic and industry experts; Carmen Vazquez, Dr. Claudia Lopez Sanchez, Karina Abad Rojas, Dr. Oxana Lazo Zamalloa, Dr. Joaline Pardo Nunez and Misty Kalkofen (Director of Education at Another Round). In addition to the talks there will be films and workshops including cocktail making and embroidering.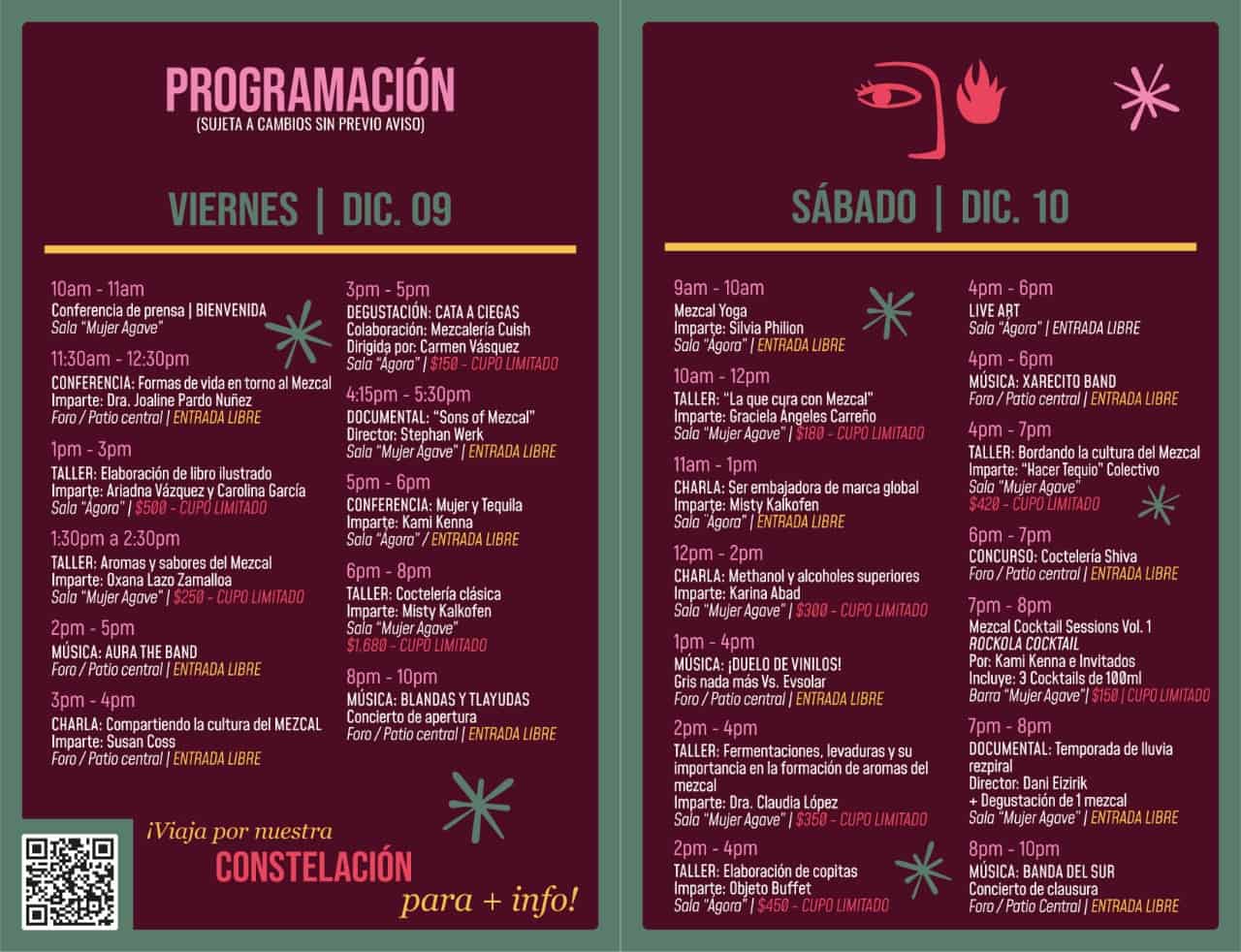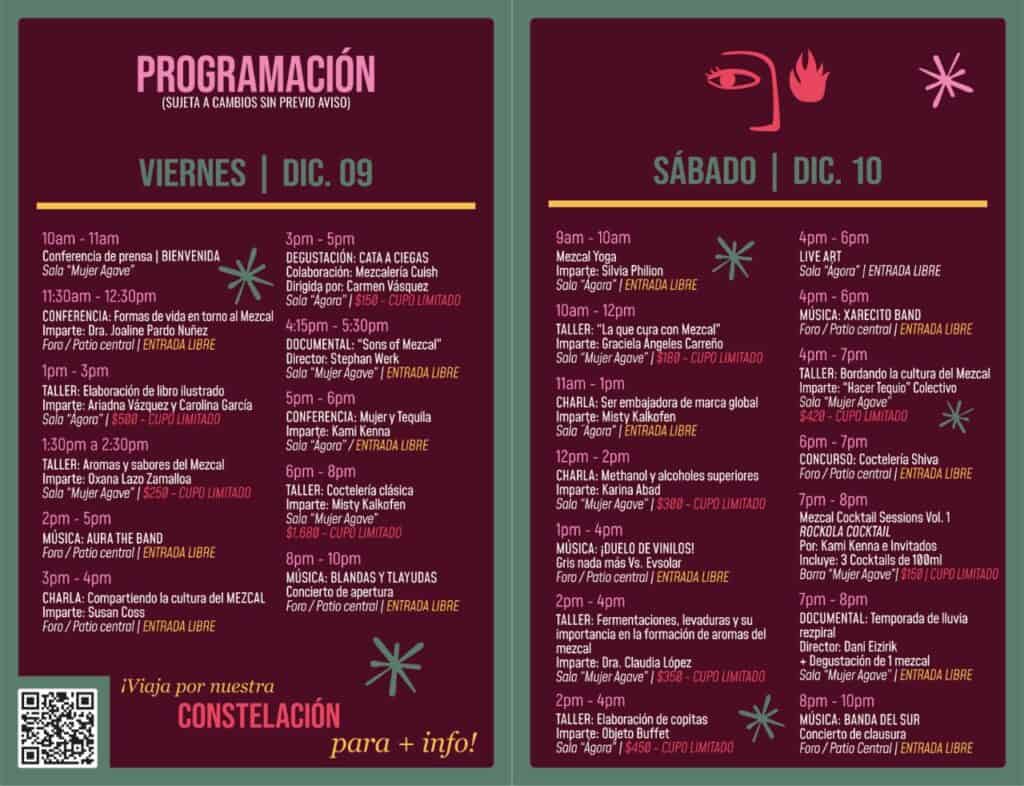 They invite you into the "magnificent exchange of knowledge in the feminine world of mezcal, where we are sure you'll find your own love for the best beverage in human history." But the audience is also reminded that, as with many other mediums, women in mezcal have been underestimated and excluded from positions in the industry. "Mezcal has been a victim of patriarchy, where people respected most in the media are men."
My first trip to Oaxaca was in July 2013. On this first visit I tried to immerse myself into the culture of agave spirits, leaning into every opportunity; getting educational depth at the libraries of mezcal, crazy lock-ins at cantinas, and spending time living and learning from families that have been making mezcal for generations.
This was my first trip alone, so it was a relief and an honor to be invited into Oaxacan life. I was extremely lucky to find some immediate friends in Oaxaca, both male and female. However, as a solo female traveler coming from the UK, there were some experiences that were eye-opening to me.
The most pronounced contrast for me, is that I was used to seeing a fairly even mix of men and women in social environments. Back in 2013, this did not seem to be the case in Oaxaca. Cantinas were not the place for women. Even at more contemporary style bars, the women there seemed to be more foreigners like myself.
The first week I spent with a mezcal producing family, I was mostly with the men in the family. When we ate I was seated with them, while the women served us and ate separately in the kitchen. I was there to capture details of the process, but also portraits of the people involved. Mezcaleros were innately photogenic, always ready with a pose. It took a lot more to gain the trust of the women.
May 2014 I was back in Oaxaca, capturing images for an agave focused project with Tom Bartram of Speciality Drinks and Brands. On this trip I was lucky to meet Graciela Angeles. Meeting Graciela made me look deeper into the experiences I had previously had with women in the mezcal world. True there were occasions when they were less at the forefront of meetings around mezcal, but more than often than not the mezcalero would refer to the woman in his life for final decisions.
Misty Kalkofen, who will be speaking at Mujer Agave, captures this well when she describes her experience of visiting palenques; "Whether helping to build a roast, charging the still or being involved in discussions around payments, I've seen women as active participants in every step of the process and transaction. What has changed is visibility. As we know, representation matters. Girls and young women will see the industry as something that is open to them as an opportunity."
Documenting mezcal productions, where I have seen most changes, is that women are more visible at each stage of the process. They are happier to be photographed. They are bringing a new confidence to the camera as they take their place, identifying as leaders in this industry. In August 2021 I was asked to capture a series of "mezcalera" portraits, for Hemisphere Magazine. The aim was to highlight the rise of women making mezcal. It was wonderful to visit old friends and meet new women who are growing their identity in the world of agave. Ten years ago I would not have imagined meeting so many strong female characters leading the mezcal process. As Misty said, finding representation is important to recognizing our opportunities.
The historical underrepresentation of women in creative fields is ongoing. Focusing on a few 'examples to the rule' can undermine the overall issue. There have been some 'legendary' maestras whose names are always referenced in the women and mezcal conversation. They have stood strong and earned their reputation in a patriarchal environment. However, there are so many more women playing a vital role in production that have not had a forum to share their voice. Over the last year this forum for the female voice has grown. It is wonderful to find women supporting women, as we are seeing here with Mujer Agave.
Sandra, Silvia and Graciela have been paramount to the gender diversification in agave spirits, opening doors for other women in the industry. They first collaborated with five other women on the book "Miradas Femeninas del Mezcal". The book reveals the origin and relationship of each author with "the magic of this spirit". Working together on this project gave the women an opportunity to exchange ideas, build connections and recognize challenges that women face in this industry.
All three women are respected teachers in the mezcal world. Sandra runs In Situ, which possibly has the most diverse collection of spirits. If you go for a tasting there, she will match your unique tastes to the particular expression. She describes her process as being a 'soul forwarder' guiding you to that particular first taste. Although Silvia was not born into mezcal, she chose this life. Coming from Mexico City, she fell in love with Oaxaca, the culture, traditions and of course mezcal. In Mezcaloteca, Silvia offers tastings and teaches about the world of agave spirits. As of today she has taught more than 80,000 people.
Graciela is a woman "born between agaves". She comes from a long line of mezcal producers from the community of Catarina Minas and is known for making the brand Real Minero. Her newest distillate is called Mezcallilera, which is also the term she uses for herself and other women in the industry. Although she still remembers being told how women in her family were not allowed to work in the palenque, Graciela and her family have long been encouraging women to work in mezcal.
These three iconic women consider their key challenges in this industry; being respected for what they do and how to manage their prescribed place in the family with their decision of becoming a mezcalera. "Now we have a lot of successful women in the industry, we have role models, the great challenge is now being capable of making these examples a normality, not one in a million," said Joaquin Iraizos, press representative for the Mujer Agave festival.
Almost a decade after my first trip to Oaxaca, gender dynamics have shifted in a positive direction. Graciela, Sandra and Silvia bring their voices to the forefront of the conversation around agave spirits. Mujer Agave is the newest platform for these voices to be heard and shared.