A variation on a traditional southern recipe
It goes without saying that as a kid, Christmastime was my favorite time of the year because, well, gifts but also because of the dozens of Christmas cookies that graced the house from the annual neighborhood cookie exchange. So many different cookies, but my absolute favorite were the Bourbon Balls made by my friend Kate's mother. These non-bake "cookies" were moist balls of ground pecans, vanilla wafers, chocolate, confectioners sugar and of course, bourbon. Three years ago, when I went to make them, I thought I wonder how these would work with mezcal? And so began a few years of trial and error to craft the perfect Mezcal Ball.
I am not a baker, and anytime I have tried, the results have been utter failure. I have yet to find a recipe I do not want to doctor, which is all fine and good until it comes to baking where it is crucial to have a basic understanding of the chemistry involved. I don't because I have never had the patience to learn. But Bourbon Balls lend themselves to great experimentation, and swapping in mezcal seemed like a no brainer. And now, after three years of experimentation, I am sharing the deliciousness and joy to be found in these delections. I don't think I will ever go back to bourbon balls.
First, the base recipe. I think this one from Tasting Table is the best one. You can straight up follow this recipe and just substitute in mezcal where it calls for the bourbon and the result is great. But if you want to go next level, here is my doctored recipe:
Ingredients:
1 cup pecans
1 cup of espadin – you want one with some roast/smoke to it and on the sweeter side and preferably not a reposado.
1.5 cups of Vanilla Wafers (Nilla or generic) – crumbs
1/2 cup Stella D'oro original breakfast cookies – crumbs
1/4 cup Dutch cocoa powder
1/4 cup Ground Mexican chocolate (note – you can put the Abuelitas or Tazo tablets in a food processor to grind)
1/2 cup Confectioners sugar
1/4 cup light corn syrup (note, you can try substitutes but corn syrup works best, I know, I tried)
In a small bowl, combine the pecans with 3/4 cup of the mezcal. Cover and let soak for 2 hours, strain, reserving the mezcal. Bake the pecans on a baking sheet in a 325 degree oven for 15 minutes tops. Once done and cooled, chop the nuts in a food processor till they are finely ground.
To make the wafer and cookie crumbs, pour a full box of wafers and 3-4 Stella cookies into a food processor and then grind them
In a large bowl, combine the crumbs and nuts and then add about two tablespoons of each of the chocolates, save the rest for later. Add a quarter cup of the confectioner sugar, also saving the rest for later. Mix this up a little and then add the corn syrup and the mezcal left from soaking the pecans, plus a 1/4 cup of mezcal. Stir this up until it is incorporated and fairly smooth. If it feels very sticky, add a little more ground wafers and cookies, if it feels too dry, add a little more mezcal. You want the final result to be moist, but not gummy. Cover with plastic and put in the refrigerator for 15 minutes or so to let it chill a bit.
With the left over cocoa and confectioner sugar, put in a shallow bowl or small baking sheet with sides – you will roll the balls in this mixture. If you are feeling a little crazy, you can also add a 1/2 teaspoon of cinnamon and/or a quarter teaspoon of ground cayenne.
Once the mix has chilled, pull out of the fridge and begin making balls. You can use a cookie spoon or just your hands – you want to use about a tablespoon and a half of the mix for each ball. You can put a little bit of canola or vegetable oil on your hands or spoon to keep the mix from sticking. Roll the balls in the sugar/cocoa mix and then put them in a wax paper or parchment paper lined container. You will want to store these covered in a cool place for about 3-5 days before eating.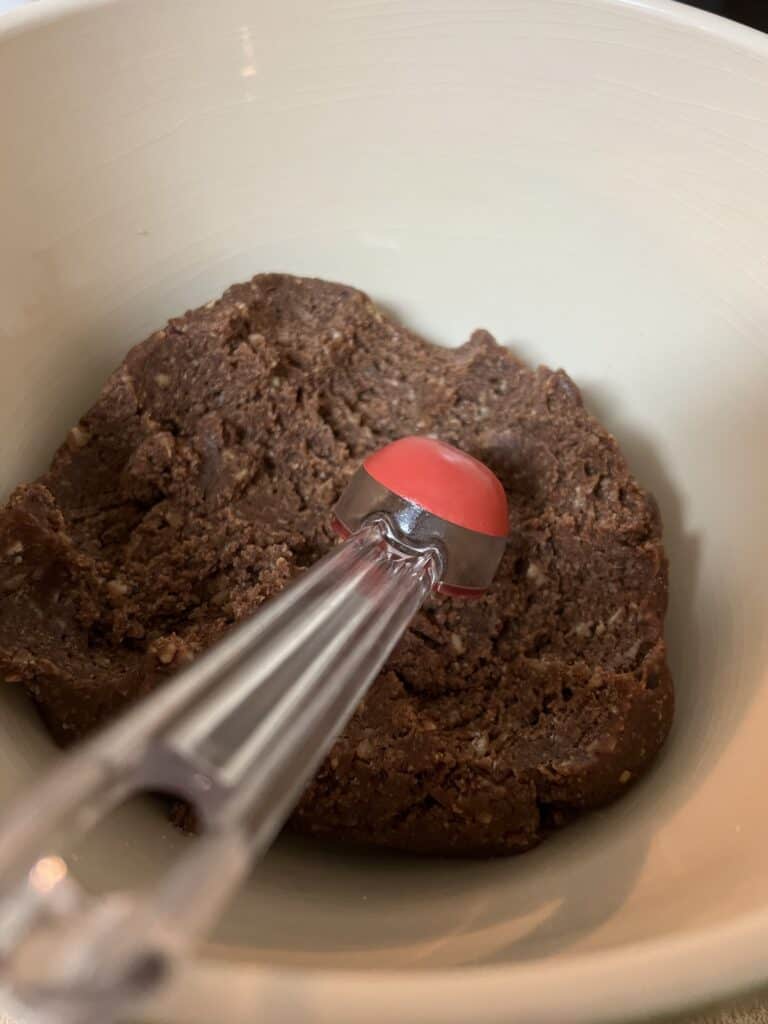 A couple of important details – always have extra ingredients on hand and know that a single batch will not be enough. This yields about 25 balls and they will be gone in an instant. You will find yourself running back and forth to the store to get more ingredients to make more. You can also change up the sugar mix to have some balls with the basic cocoa and sugar, others with cinnamon or cayenne or both. But most importantly, do not eat and drive.