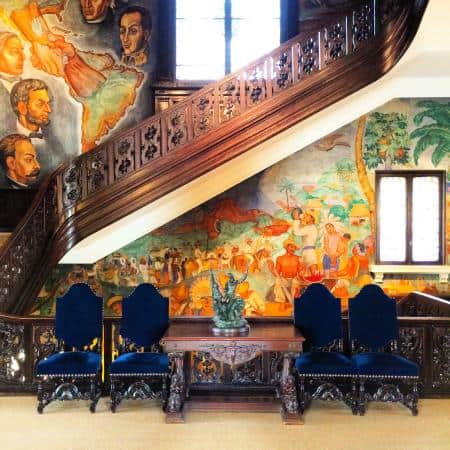 In the spirit of transparency, here's some background on how the whole idea of how Mexico in a Bottle – Washington,  D.C. came about:  DC is my hometown, but now, my immediate family lives with me on the West Coast. I miss DC, I miss my friends, and I really needed to come up with a reason to visit. Then there was a random meeting and conversation I had with Pati Jinich, the terrific Mexican chef, culinary anthropologist, and resident chef at the Mexican Cultural Institute in DC. She told me that the Mexican culinary scene in Washington was growing. A seed was planted and I told Max that DC needed to be on our shortlist of event cities for 2017.
Of course there is a little more to it than that. DC has been a growing mezcal town for the past few years, with trailblazing restaurant Oyamel, and its fearless leader Jose Andrés, promoting and educating the good people of the area for years at its annual agave festival and collaboration with Del Maguey on the great Ibérico – Santa Catarina Minas. The opening of Espita Mezcaleria, the influence of Bar Clavel in Baltimore, and the opening of the new Mezcalero from the same team behind El Sol have raised the profile not only of fine Mexican dining, but also of mezcal. Add to that the election results and what feels like a non stop war on all things Mexico, and well, DC just felt like the best place for us to launch our Mexico in a Bottle 2017.
So we come full circle to the Mexican Cultural Institute and that fateful conversation with Chef Jinich. It will play host and backdrop to the big event, and frankly I can't imagine that we will ever have a Mexico in a Bottle in as beautiful of a location as this. Sadly, Chef Jinich's shooting schedule has her out of town which means we'll just have to come back next year.
In addition to the above mentioned restaurants who are all participating with incredible bites and cocktail sips, we are also pleased to be working with Chef Christian Irabien of La Cocina VA, a terrific non-profit that trains immigrants for jobs in the hospitality industry, and Joahna Hernandez of Manos de Maiz, an endeavor that elevates the flavors of corn through traditional tamales, sopes, tortillas, and more. Chef Irabien will also lead a conversation with food and beverage educator Tess Rose Lampert on the complex flavors and history of Mexican food and mezcal. We're also working on a cocktails 101 presentation so stay tuned for news on that.
But finally, we are incredibly excited to present such a robust list of mezcals. This is a great opportunity to taste a selection of the very best agave distillates now on the market – and to learn more about where they come from, how they are produced, and why they are such premium products. Here's the full list:
Alipús
Del Maguey
Montelobos
Rey Campero
Fidencio
Los Nahuales
Real Minero
Mezcal Koch
El Buho
Mezcalofera (Mezcaloteca)
La Venenosa
Nuestra Soledad
Marca Negra
Mezcalero
Almamezcalara
Meteoro
Derrumbes
El Jolgorio
Gracias a Dios
Mezcales de Leyenda
Ilegal Mezcal
Wahaka Mezcal
Don Amado
Mina Real
Bruxo
Viejo Indecente
Agave de Cortes
and more!
Early bird $50 tickets are on sale now and they are going fast! The price will go up to $65 on April 27th so don't dawdle.