There is nothing quite like the Star Wars soundtrack to make a journey from Oaxaca City to the Sierra Mixe more dramatic. It would have been a drive through the sierra like any other: the highway was closed so along the four hour drive we elevated from banana trees to pine forests, hit topes (speed bumps) that hurt harder than we thought, and nearly crashed into a motorcyclist who almost skid off the road and down the mountainside. But Darth Vader's entrance music blaring as we accelerated added a new element of suspense.
I was riding with Felix Hernández Monterrosa, the founder of Cuish Mezcal, and as I learned during the journey, a Star Wars aficionado. Cuish's importer, Rion Toal was sitting in the passenger seat, also known as the tope spotter seat. Felix's family has been making mezcal in Matatlan for generations, and Cuish works mostly with producers from Miahuatlan, Matatlan and Santa Catarina Minas. Their mezcaleria was also one of the first modern day mezcalerias in Oaxaca that separated mezcal by species and taught people about the different varieties. Rion and Felix are also bonded through their work with Maestros de Mezcal, a loose cooperative of mezcal makers throughout Oaxaca. This was not their first ride together to a remote area of Oaxaca to meet mezcaleros.
But this region east of the Sierra Norte is a place unknown for its mezcal. Felix and Rion were invited by an organization called the Centro de Innovación Integral para el Desarrollo Rural (Ciinder) Kukoj, which offers agricultural education and tools for communities in rural areas. The day's events were designed to encourage a self-sustaining mezcal production chain in the area by supporting agave growers and mezcaleros with education— the Cuish guys would be offering advice on entering the market.
The Sierra Mixe is can be divided by three geographic regions (low, middle, high), and as the climates shift from subtropical to mountainous so of course does the food, rituals, and language variations. While some areas have small clusters of mezcal production, there isn't a huge diversity of agave where we were: we spot a few tobalas along the way and one tepextate-looking plant. Rion said later that he's only seen one or two mezcals from the region before.
[envira-gallery id="29036″]
We stopped in one of the larger towns in the area, Tlahuitoltepec, and from there one of the project organizers hopped in our car, directing us down 45 minutes of curves to a town of about 500 people called Nejapa. At the house where we met everyone there were corn cobs drying on the ground: deep blue, maroon, golden and pale yellow. A patch of coffee beans dried next to it. Piquin and pasilla chiles grew in the backyard. Women of different generations were inside the kitchen, grilling nopales picked from the yard, making melon horchata, and keeping an eye on humongous pots of soup.
The Sierra Mixe was once a center for coffee, corn and cotton production. The director of the Kujok project, Jose Guadalupe Diego Diaz, whose family is from this region said that the goal of their work is to reinforce what communities here are already doing. That means reincorporating traditional agriculture practices, unlearning industrial methods and chemical dependency, and replanting certain species for more biodiversity. Most of this is now happening in small backyard plots.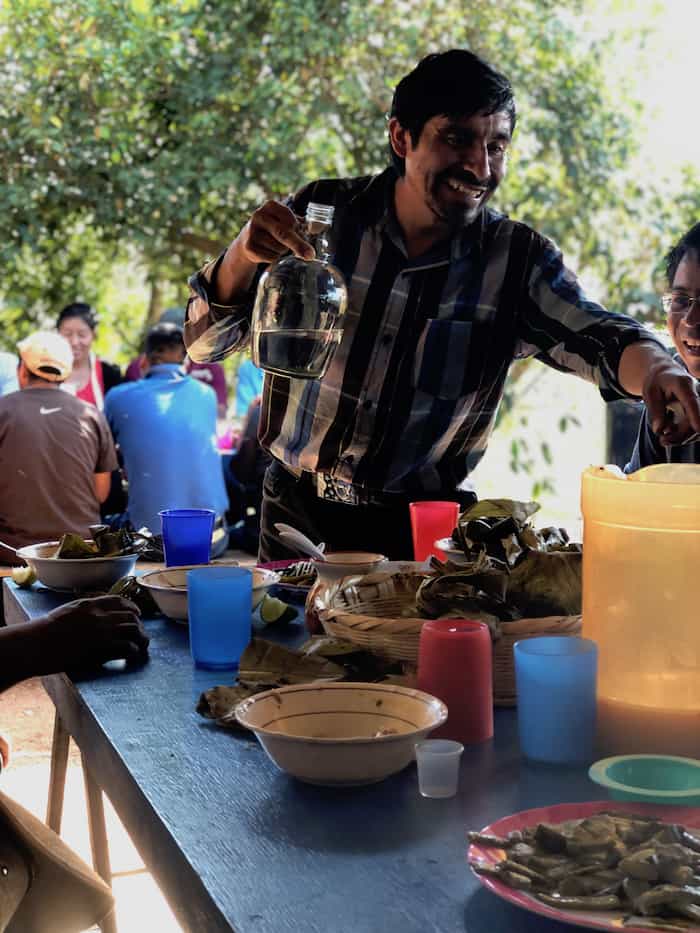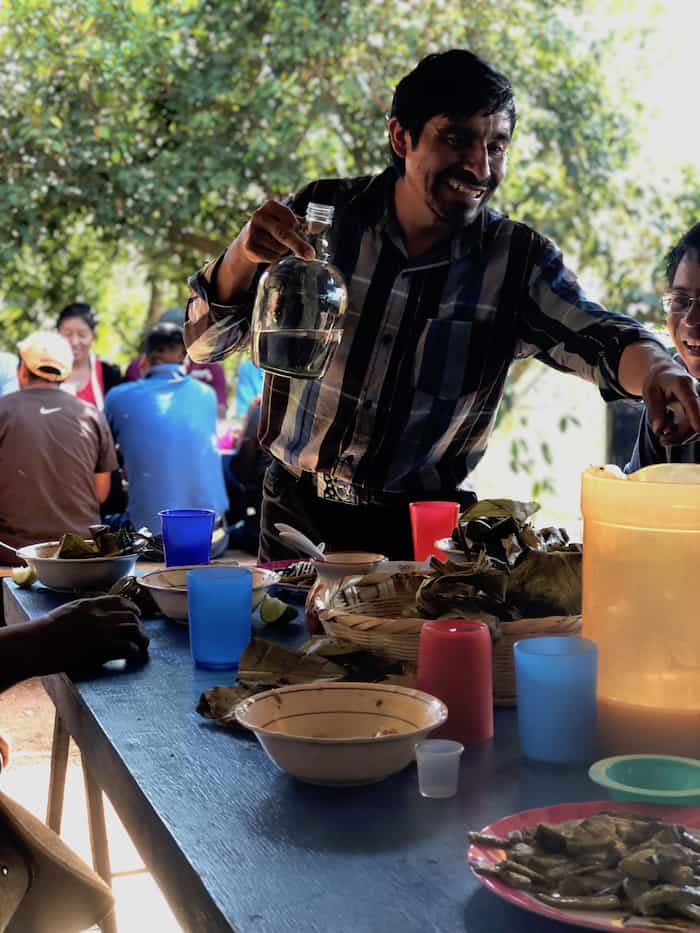 What they are beginning to encourage with mezcal is in the works with coffee, tomatoes, and other crops. The first half of the day about 40 people learned about plague prevention with a representative from the CRM, and our discussion post-lunch centered on rescuing mezcal traditions unique to the region.
For lunch Caldo Mixe was ladled into bowls: a traditional chicken soup from the region laced with tomato and chile and heaped with cabbage and hoja santa. Tamales de frijoles were piled in the center of the table– they were very dense, the layers of black bean swirled into the masa. Behind us were mountain peaks, and our hosts pointed out specific ones traversed for religious rituals as we sipped an espadin.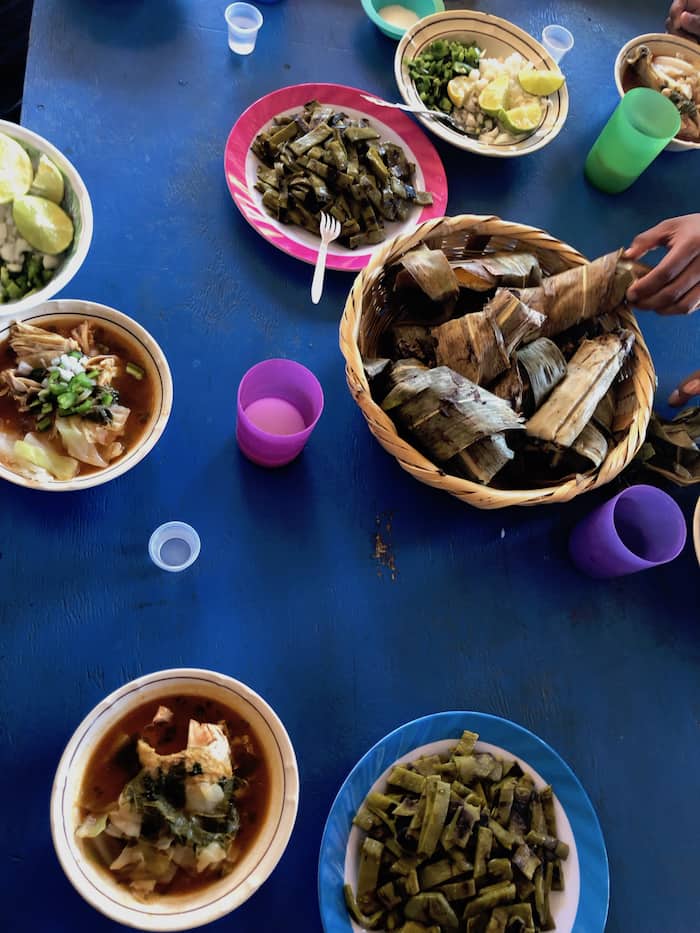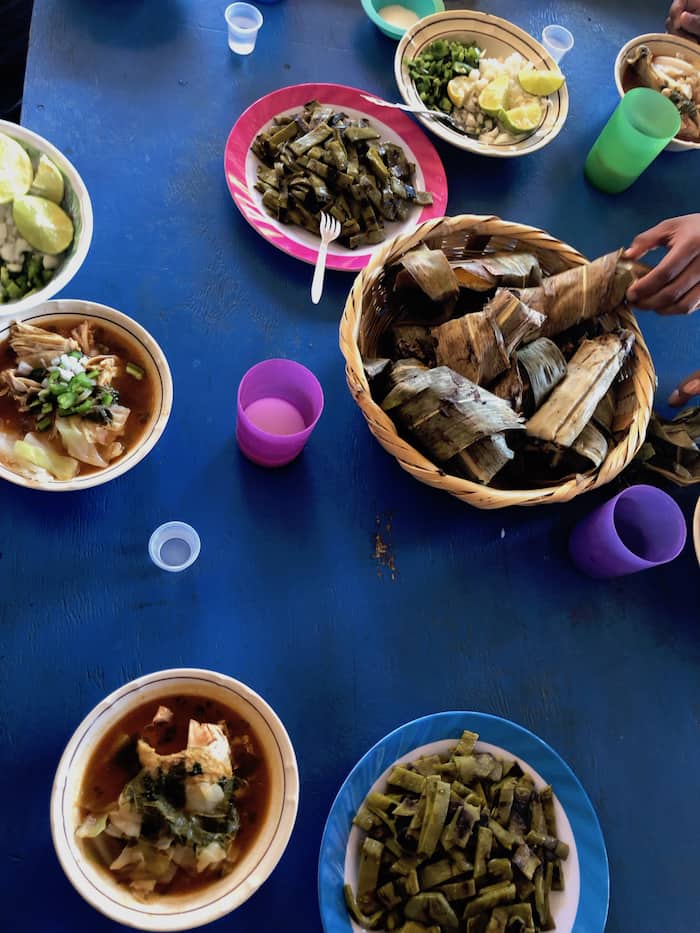 While the group estimated that there were about 15 mezcaleros in the area, only three showed up at the meeting, each bringing an espadin for a tasting after lunch. A bottle of tobala was unearthed from someone's stash, but it was the only one available (and after being passed around that day it's probably gone now). The mezcals were well-balanced, hovering around 50 proof and varying in flavor. My favorite had a funky parmesan nose and tasted like guava.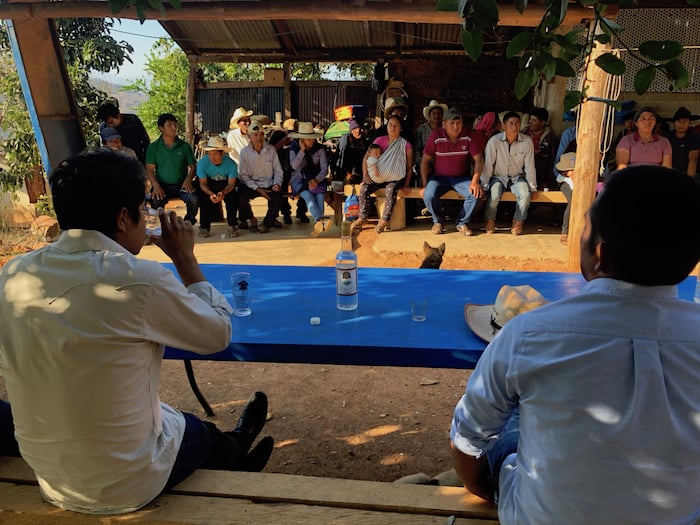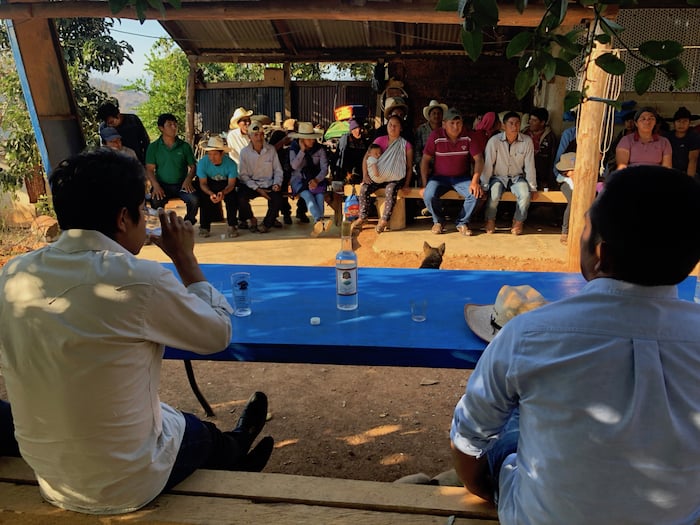 Jose said his 97-year-old grandfather remembers making mezcal as a kid, so there are several generations of mezcal production here, but the tradition hasn't been continuous. There are a few reasons: cheaper mezcal from other areas is readily available, agave prices going up during shortages, and a lack of market opportunity. At the house where we had lunch, one mezcalero showed us around his palenque, which at the moment was idle. On the flip side, one of the three mezcals we tried was made by 27 year-old Reinando Nuñez Gonzalez, it was very his first batch.[envira-gallery id="29039″]Production techniques have also changed: mezcal was previously distilled in clay, and while clay stills are made in the area, most of the mezcaleros switched to copper around 50 years ago. Felix and Rion offered a few key points of advice on how to enter into the market: rescue traditions where possible, take advantage of wild agaves in the area, and work together under one label. They also invited them to do a tasting at the mezcaleria and attend the Encuentros de Mezcaleros (so keep an eye out).
At the end of the event Jose handed us each a bag of coffee, the result of 200,000 plants harvested this year from coffee communities in the Sierra Mixe. By the time we left the mountains were enveloped in a balmy fog, turning green peaks to a soft pink. Rion and Felix let me play DJ, and we headed back to the city accompanied by Prince and D'Angelo, a far less dramatic but no less cosmic sound for the descent home.