Raising money in the craft spirits space is always a challenge and in mezcal even harder, unless you are a celebrity. Could crowdfunding, the process of raising money for a project through small investments by individuals, be the solution?
When El Tinieblo launched their fundraising campaign in July of 2019, the initial response from the mezcal community tended to be more along the lines of, uh oh, they are in trouble, why else do a crowdfunding campaign to raise between ten thousand and one million dollars? Additionally, the idea of using a crowdfunding platform, something usually attributed to individual campaigns to raise money to offset costs associated with something tragic or to help start a business, felt less than, well legitimate.
Fast forward to 2021 and all that has happened since that July 2019, specifically a pandemic that changed how many people make investments. The huge growth of platforms like Robinhood and crypto currencies and ease of use, coupled with people working from home and limited ways to spend money, meant an explosion of online investing. While the Securities and Exchange Commission (SEC), the regulatory body tasked with overseeing financial rules in the United States, gave the official regulatory ok to crowdfunding in 2015, it did not really begin to take off until 2020, when it, like those other online investment platforms benefited greatly from people, stuck at home with money burning a hole in their pockets and no where to spend it.
And the El Tinieblo campaign? It closed the funding campaign in January of this year, having raised a little over $1million in capital.
Enter StartEngine
Founded in 2015, StartEngine has been in the business of angel investing, connecting entrepreneurs with potential individual investors in order to raise the necessary capital to launch or grow their businesses. It now boasts having raised more than $350 million for 500 plus businesses, and an investor community of more than 400,000 investors. Minimum investments are as low as $200. Recently the company launched a trading platform on the site, StartEngine Secondary, that will eventually allow for peer to peer trading for companies in the network, a huge step in creating liquidity opportunities for investors.
Investments ballooned in 2020, and the company sees increasing year over year growth over the next five years in part because of an interesting feedback loop – as more money flows into crowdfunding, it grows in legitimacy, attracting more investors and more companies. The current projection, raising $10billion for companies by 2029. So why does the company see such a rosy future? Well, the biases that exist in the VC world that have made it challenging for non tech and female and/or POC helmed companies to raise capital probably aren't going anywhere any time soon and StartEngine is the perfect platform to fill in that gap.
And what sector has seen the greatest success on the platform?
Food and Beverage companies, which have outpaced any other category when it comes to raising money through crowdfunding.
Raising capital in the world of mezcal
Access to capital is a huge challenge in the mezcal category. Producers on the ground have extremely limited options, mostly because so many have operated as informal businesses, and why investment from outside the communities is so prevalent, either in the form of contracts to buy mezcal, or to export an existing brand. Still rare are brands in which the producer is part of the ownership structure.
So how have mezcal brands traditionally raised capital? Usually when someone launches a brand, it has been funded by a combination of personal capital and bank loans. To fund expansion projects, be it for production, distribution or marketing is challenging, most VC funds are not interested in these opportunities because the profit margins are far lower than what they are accustomed to and securing bank loans means taking on debt that would take years to pay back. This is why you see brands entering distribution or partnership deals, a recent example being the Siete Misterios deal with Chatham Imports.
Crowdfunding offers an alternative to the current fundraising structure, and could be an interesting model for more brands to use when needing to fund expansion plans and more.
Mezcal de Leyendas is one such brand. Looking to raise capital to fund expansion plans, solar initiatives and educational outreach, they were interested in what StartEngine had to say when they approached the brand. Part of what was so interesting to them was how it enabled people to buy in as equity partners at minimal investment levels. Said Danny Mena, managing director and partner in Artisanal Distillates, the US arm for Mezcal de Leyendas and Peloton de la Muerte, "You are able to get more people involved, more "ambassadors" if you will, on the street, talking about the brand, buying mezcal, building more interest. They are personally vested in the success of the company."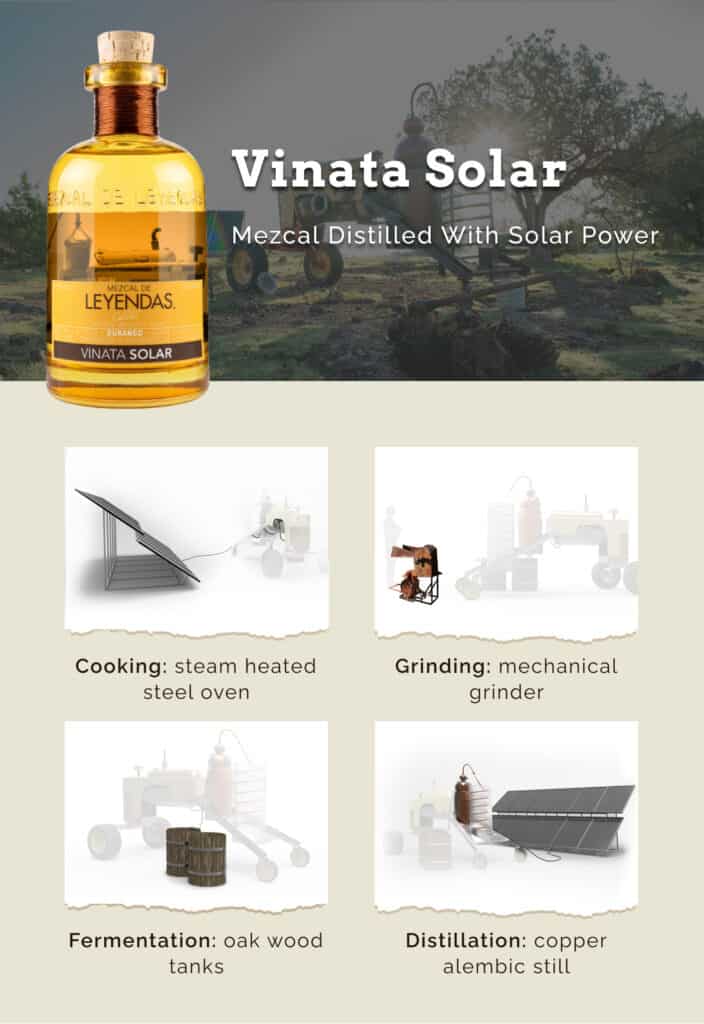 Also appealing, the grassroots feeling and guerilla marketing that comes out of a campaign like this. And of course not being beholden to institutional investors and the continual focus on the bottom line numbers, which can lead to short term decision making that greatly impacts business (and product) long term. Mezcal de Leyendas launched its fundraising campaign on the platform at the end of March this year (disclosure, we did a sponsored dedicated newsletter blast announcing the campaign) and have already raised $72,000.
Trend spotting
Not long after Mezcal de Leyendas launched its campaign, I received a call from a friend asking if I had seen the ad on tv for a mezcal brand. He explained it aired while he was watching Shark Tank but couldn't remember which brand it was. After some digging, I learned the brand was Acre Mezcal who had launched their own fundraising campaign on SharkEngine. Like Mezcal de Leyendas, Acre was intrigued by what StartEngine could offer. Acre CEO Jordan Haddad comes from the world of finance and understands the valuations and risks of investment. As Director of Marketing and Strategy Marijke Uleman explained "Going the Start Engine road was an easier path to take. While the process to get started is lengthy, it is very buttoned up legally and there is a lot of due diligence involved and the upside is enormous." That upside? An army of investors out on the streets, "selling" the brand. And access to more advertising than they could do on their own.
As it turns out, Kevin O'Leary, who stars on Shark Tank is also on the board of StartEngine, and the company has been able to develop a very comprehensive media and marketing program that enables companies on the platform to advertise in ways they would never be able to do on their own. In addition to the TV advertising, there are also ad campaigns across the internet and on multiple social media platforms. I know my Facebook feed was flooded with ads for Acre Mezcal the whole month of April. Clearly the strategy has paid off, Acre has raised more than $500,000 since its campaign began.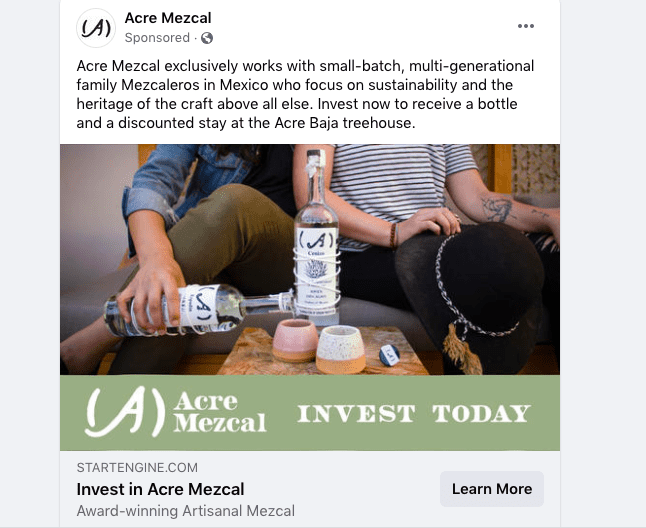 What does it all mean?
Mezcal El Tinieblo exists on land that was one a cattle ranch founded in the 1800s. When brand owner Ferruko Perez Salinas' family bought the property in 1986, they found an old tahona on the property and learned that mezcal had been produced there. Salinas' father was eventually responsible for getting Tamaulipas included in the mezcal DO in 2003. Initially they did a more industrial style of mezcal, which was the direction the industry seemed to be headed at that time. Once problems with cartel activity in the region began, the family closed the ranch down and bottled the remaining 50,000 liters of mezcal they had in Monterrey, Mexico. Once that was all gone, they began working with a producer in San Luis del Rio to keep the brand going.
They returned to the ranch several years later and began making mezcal in the more traditional, artesanal process with agave that had been planted in the early 2000s. For El Tinieblo, the capital campaign enabled the company to invest in some key initiatives including a 2.4 hectare nursery that will eventually be able to support the growing 800,000 agave starts every 18 months across and a new hotel on the ranch in Tamaulipus, Mexico.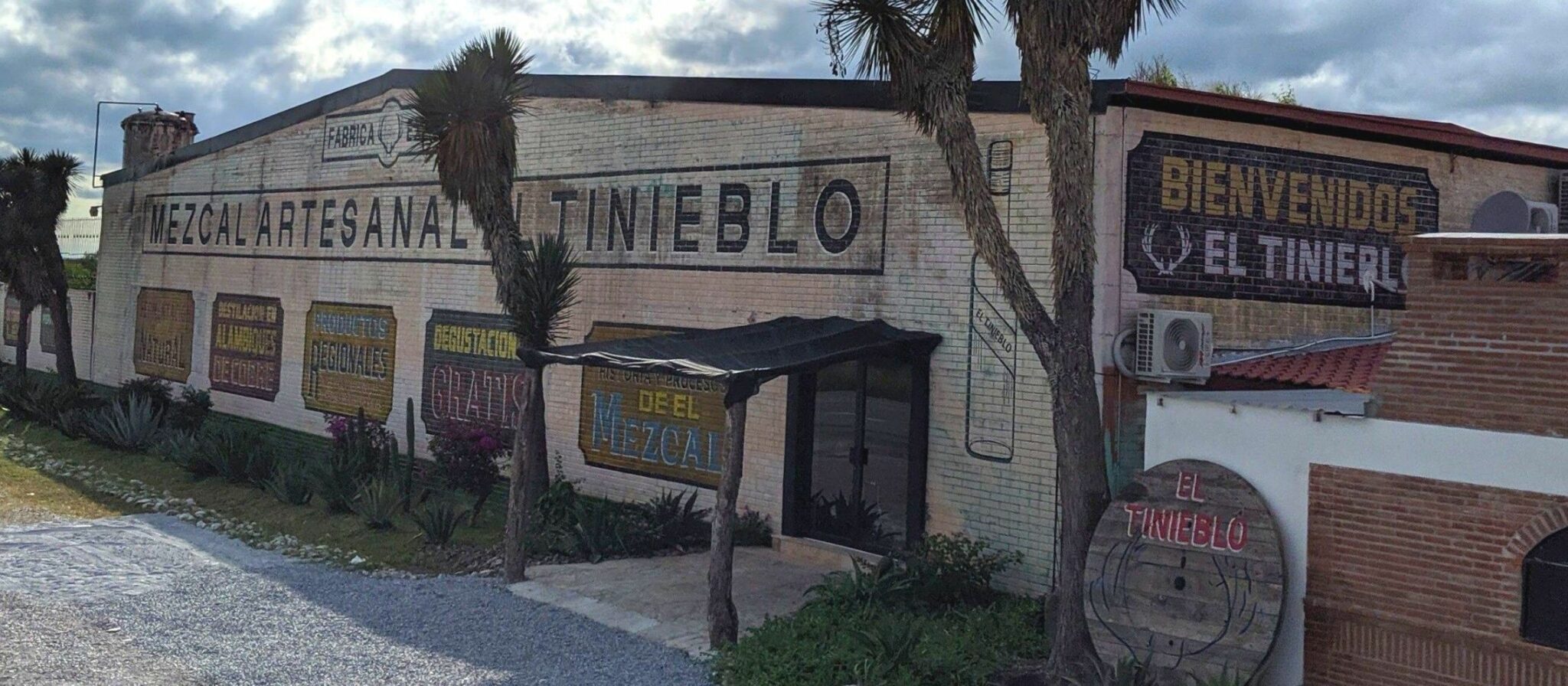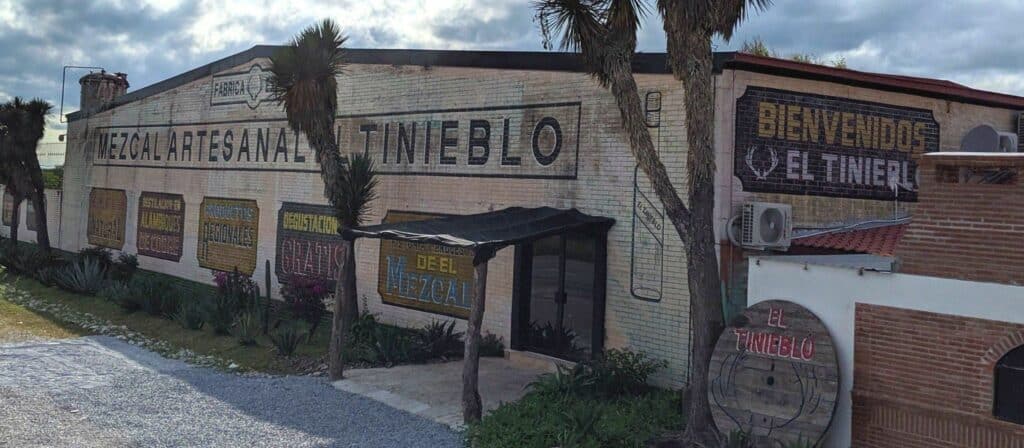 But for El Tinieblo's Salinas, the true joy has been developing relationships with his investors, many of whom are Mexican-American. "These are passionate investors that are focused on the mezcal. It is tangible and they are able to point to bottles and tell their friends that they are a part of the company. It is more about an identification than it is about money." Interestingly, the biggest challenge initially with their investors was getting them bottles. "When we began the campaign in 2019, it was a very different environment than today. There wasn't a way for investors to buy discounted product directly from us through the website. Now, we are able to do that because of the growth of e-commerce solutions."
When I asked Salinas whether he believed StartEngine could be a model for more brands, he thought it could, especially because "you can put that uncut diamond out there to the world unlike in the VC world. The tricky part is getting the word out." With its beefed up marketing arm, StartEngine has certainly made it easier for brands to do just that. But for Salinas, he thinks it is important that people do what they need to do to get the product out into the world, and if StartEngine can do that for brands, he is all in. "For the mezcal culture to survive, we need a diversity of producers. In the end we do not want to see just one brand succeeding, we need many to preserve the diversity of mezcal."