It was a dramatic arrival in Oaxaca – two Dramamines and the never-ending seven hour pinche viaje through the mountains, the hustle of the just closing Abastos market and the insanity on the Periferico (the "boulevard" that runs around the southern edge of the centro) – there were no taxis so I dragged my bag through the puesto-laden streets on uneven sidewalk amid a stream of people. I couldn't have been happier, no really, as the smells and chaos made it clear that I was home in my querida Oaxaca.
I took a few days to settle in – to see friends, unpack, buy groceries – before I went to In Situ for the first time. Owned by Ulises Torrentera and Sandra Ortiz Brenna, it is a mezcal lovers dream. The original mezcaleria was located inside Txalaparta Bar. About three or so weeks ago, it opened in its very own location at Morelos 511 in the Centro.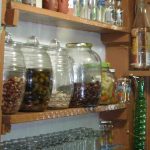 This is what you see when you walk in – an entire wall filled with mezcal bottles. About 61, give or take. You also see bowls of mandarin oranges, jars filled with pepitas, and of course the beautiful faces of Sandra and Ulises, perhaps the two foremost experts on mezcal.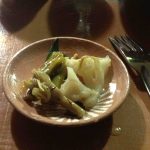 On this particular night, there was also flor de maguey escabeche and an amazing queso from Etla. As I caught up on the news with Sandra, a group of about 10 people led by Ron Cooper of Del Maguey walked in, reinforcing that In Situ just might be ground zero for all things mezcal.
I calculated that to try all of the mezcals, I would have to drink 2-3 mezcals each day.  The mezcals are from all over Mexico and are un-branded for the most part (which is of course traditional.) The breadth not only of espadins, but also the silvestres is stunning, and I can only imagine the time spent meeting and procuring all of the different bottles.
This particular evening, I tried a verde, coyote, madrecuish and an ensemble that had barril, madrecuish, espadin and a little coyote. I have to say that I am really liking the verdes – the flavor is pungent and fresh and runs a little sweeter than most of the other magueys in the Karwinsky family (cuishes, etc).
More adventures on the horizon…