I had the extreme honor of being invited to a party to celebrate the release of Pierde Almas' new pechuga. It was held at the palenque in Chichicapam where, last year, I had attended another party and well, we'll just say, consumed way too much mezcal.
This year's party was more formal, with tables covered in white linens and food prepared by the chef from Oaxaca's Pitiona restaurant. A pig was being roasted, and a special salsa was being prepared from the fruits used in the pechuga's distillation. It was also a chance to meet Jonathan Barbieri, the owner of Pierde Almas, and to hang out with the brothers Sanchez, who make the mezcal. There were also several importers, and much to my surprise, Josh Harris, from Bon Vivants in San Francisco. He and I have exchanged emails, but never have met in person.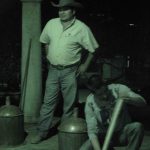 In addition to this year's pechuga (a heady combination of spice, sweet and just a smidge of savory) there was also a new mezcal that had been made with the traditional gin herbs in its third distillation. I am not a gin drinker so my best evaluation is that it tasted exactly like gin has always tasted me (cloying), with an undercurrent of a strong espadin.
There was a band playing as we ate. I sat at the table with Miguel Sanchez and Domingo Orollo who is overseeing the gin mezcal project. He is a chemist by trade: This is a growing trend – more chemists becoming involved with mezcal production.
I was driving that day, a deliberate choice to ensure there would be no repeat from last year's drunken revelry. It is a running joke between Alfonso and I – that after last year's insanity, and my mother's presence, that she has forbidden me from ever drinking with him again.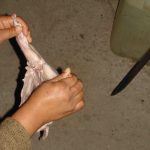 As the sky began to darken, we moved from one part of the palenque to another where the stills are located, in order to watch Alonso start the process of distilling this year's conejo (a pechuga, except with a wild hare instead of a turkey.) We watched as Alfonso measured out the spices (a turbinado style sugar, anise), fruits (apple, banana, pineapple), rice and then finally the hare placed in a cheesecloth bag with yerba santa. The fermented maguey was loaded into the still, along with the other ingredients (the conejo bag would hang above the mix) and then sealed. It would distill all night long.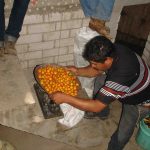 The music began again, more people arrived, including La Señora Sanchez and the other female relatives – sisters, wives, nieces – and we danced. Finally we left so as not to be on the road too late at night. We gave Domingo a ride back to the city, talked more about chemistry in mezcal, and the plans awaiting us that night (Austin TV at Café Central or La China Sonidera at Txalaparta.) Perhaps the best part of having Domingo in the car with us was having him navigate the new highway (the one that will eventually go all the way to Puerto Escondido) that circumvents Ocotlan and cuts the return time almost in half. It puts you on a road that has reflector lights, a smooth surface and is blissfully free of topes.