I've written before about Don Pedro Garcia, a palenquero based in San Dionisio Ocotepec, and over the past year it has become an incredible experience to develop a friendship with him. So of course heading to San Dionisio was top priority as soon as I got to Oaxaca.
It was an early Saturday morning when we piled into the car to go see him – three Oaxaqueñas and myself.
It was December 1st, the same day Enrique Peña Nieto (EPN) assumed the presidency here in Mexico. There were rumors of potential roadblocks, hence our early departure to try and avoid any problems. We stopped first at the market in Tlocolula to pick up supplies for the comida were going to cook him in honor of his birthday – tasajo, chorizo, chiles, cecina, tlayudas, cebollitos, aquacates, the usual fair for a simple meal. We had of course assumed there would be a grill.
The conversation in the car was filled with politics and news of what was happening in Mexico City. The road was particularly quiet and, despite the occasional pinche topes, in far better shape than it had been last April. The sky was unusually cloudy, and there was a crispness in the air and the smell of wet that made me think it might rain despite it being the dry season.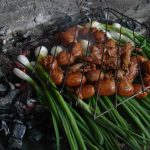 Don Pedro was sitting quietly in his palenque when we arrived, watching the TV coverage of EPN's speech. The still was fired, the table cleared and cleaned, 4 glasses set (Don Pedro rarely drinks) and chairs arranged. There was no grill so we began concocting a makeshift area by the still – piling hot coals so we could start roasting the chiles. We did eventually find a pan and a rack to place the meat and cebollitos on. Conversation ranged from catching up on the news to the rising costs of maguey and, of course, love. Don Pedro loves to tell stories of love found and then lost. He happily held court – I can't imagine the last time he entertained four women in his Palenque.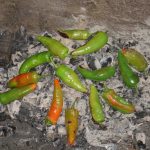 Ana, Mariana, Marisol and I each put ourselves to tasks – cleaning the roasted chiles, cutting aguacates and limon, turning the meat until finally it was all done and we sat down together to eat and drink and share more stories. We toasted his birthday, though we still have no idea what his actual age is – 60, 65, 70. His eyes are deeply set, and a sharp chocolate brown. His beard is more gray than black. On this particular day, it was more neatly groomed than I had previously seen – but then again, he was entertaining.
He chastised me briefly for not calling more often. I spoke of my sister's death, my looming guardianship of my 8 year-old nephew. He spoke of life and death, and mentioned once more, that once he dies, so does his mezcal. He has no children and no one to take over the operation once he is gone.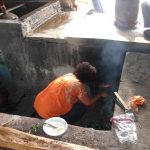 Raindrops fell briefly on the aluminum roof, the air cooled more, and we sat in silence for several minutes, letting the meal settle, the mezcal make its way down our throats.
What does mezcal mean to Don Pedro? We listened as he began talking again, reflecting on the sadness of life sometimes, and the bad times. And how he saw his mezcal as a cure for that – a way to take away those things and bring some joy back. Medicine for the soul.
I am excited to have his mezcal at a quickly arranged tasting here in Oaxaca, to have him on the terrace at Café Central where he can share his stories with more people, and they can come to love and appreciate him, and his mezcal, as much as I have.