Call this perks of the job… I recently was invited to the kickoff for a new dinner series at Cala, Gabriela Camara's Mexican restaurant outpost in SF, centered on mezcal. We've written before about the restaurant and its focus on not only sustainable food, but also sustainable mezcal. This was the dinner that really brought it together in a fantastic way.
The brainchild of Cala bar manager Marsilio Gabuardi, the idea is to pair a mezcal with each course. It's not new, the difference here is that there is only a mezcal pairing – no cocktails, no wine, no beer, just mezcal. This first dinner highlighted Mezcal Amaras, which is pretty much the house mezcal at Cala. The surprise of the night was being able to taste new Amaras expressions, including a tepeztate and cenizo, along with three different espadins and their cupreata. We were joined by Amaras U.S. brand rep Sofía Acosta Rascón and, to the delight of all of us, Gabriela Camara herself.
The evening kicked off with an introduction to Amaras and a description of the brand, the sustainability project, and the mezcals we would be drinking that night along with the six dishes. We sipped on their 41% espadin before being seated.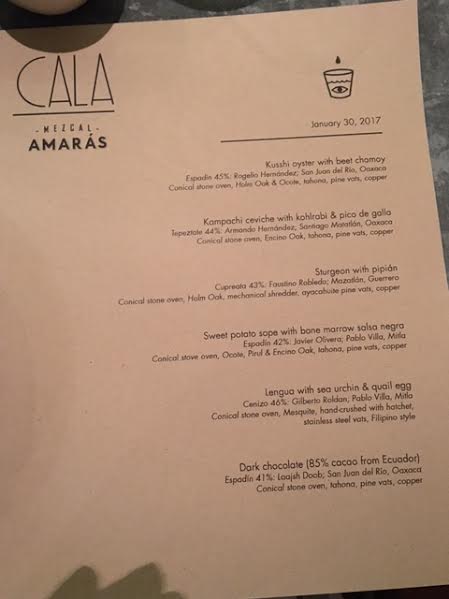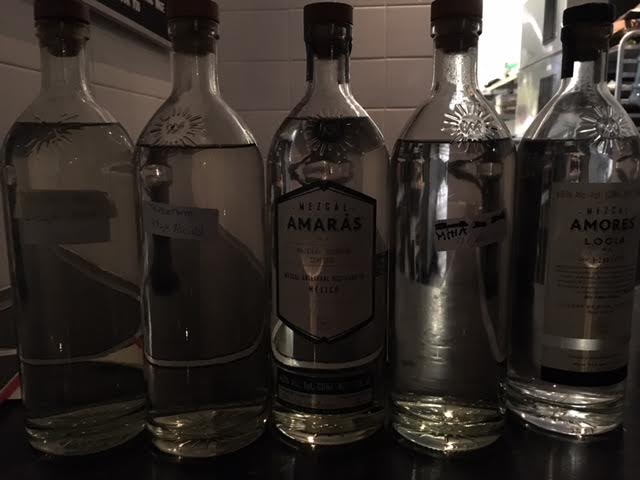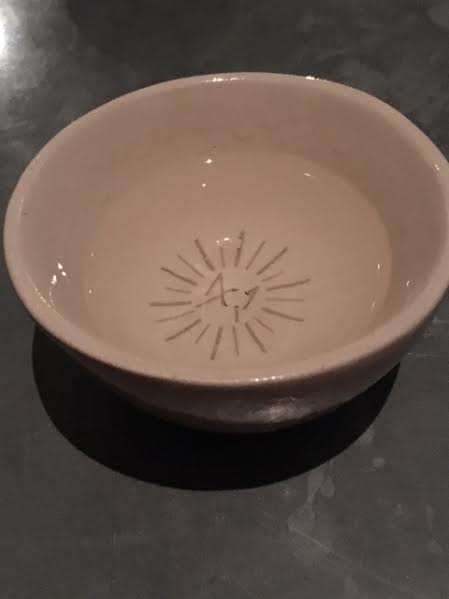 To avoid being redundant in my descriptions, I am just going to say upfront that each pairing was stellar, and that the mezcal and each paired dish  enhanced one another. I know a lot of work went into this and that both Marsilio and Chef de Cuisine David Castro decided not to force flavors – if it didn't work, then find something else.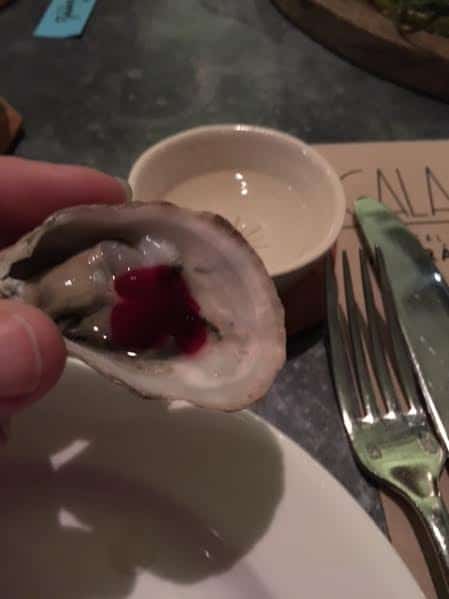 First course was a Kisshi oyster with house made beet chamoy – yes, beet chamoy, which frankly needs to be a staple on every table. This was paired with a 45% espadin from San Juan del Rio, Oaxaca. Some people might have paired it with a lower ABV mezcal but this balanced perfectly with the brininess of the oyster. And again, that beet chamoy – wow.
Second course was a Kampachi ceviche with kohlrabi and pico de gallo paired with the new 44% tepeztate from Matatlan, Oaxaca. You can't go wrong with one of Camara's ceviches, she is the Queen of Seafood. For me the surprise was the kohlrabi which was so sweet and tender. And that tepeztate, so good, and frankly this might be the first novice friendly tepeztate which is usually the most complex and difficult to appreciate for anyone new to mezcal. I often refer to it as the WTF mezcal because it is so unusual. This one was so approachable, and estate grown as part of the sustainability replanting project Amaras has underway.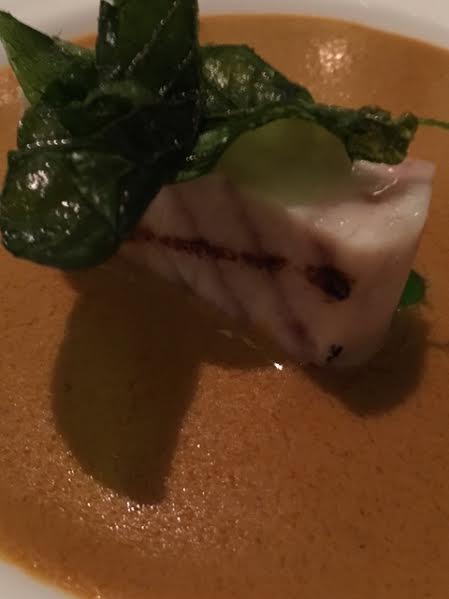 Third course was grilled sturgeon with pipián (a pumpkin/calabasa seed based sauce) paired with Amaras' signature 43% cupreata from Mazatlán, Guerrero. This might have been my favorite pairing as the cupreata really pulled the subtle flavors out of the pipián, always one of my favorite sauces.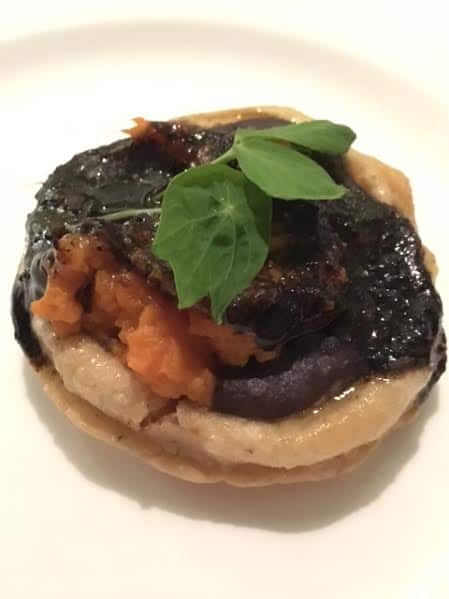 Fourth course was Cala's signature charred sweet potato with bone marrow salsa negra, only this time served on a sope instead of tortilla. They brought this dish to 2016's Mezcal: Mexico in a Bottle and it blew everyone away – I kept hearing people say "where is this place?" because it was such a discovery.
It was paired with the 42% espadin from Mitla, Oaxaca. I love this particular dish and never thought it could get better, but serving it on a sope was brilliant, the rich corniness clarifying the flavors of both the sweet potato and salsa even more. And that sope – it was perfectly cooked and pillow like in texture on the inside. It also brought out a spiciness in the espadin that wasn't there on its own.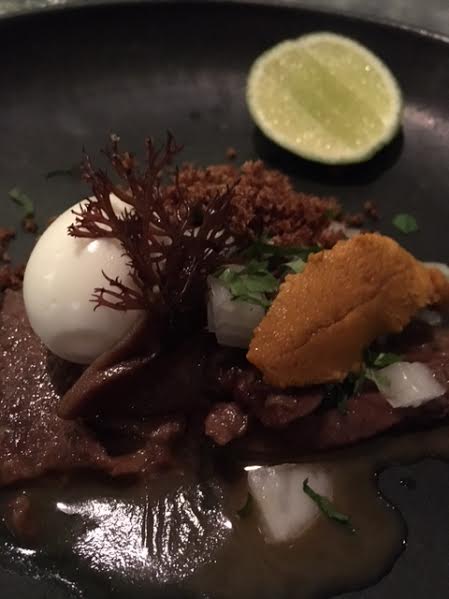 Fifth course was lengua with sea urchin and quail egg paired with a 46% cenizo from Mitla, Oaxaca. The cenizo balanced out the strong flavor of the urchin and enhanced the musky flavor of the oh so tender, melt in your mouth lengua.
Final course, the simple pairing of Dandelion dark chocolate (85% cacao from Ecuador) and the 41% espadin from San Juan del Rio we sipped on before being seated. I think we all know that chocolate and mezcal are a perfect pairing – this only proved that point. I liked the espadin more with the chocolate than on its own,  that's my palate, I prefer the higher ABV mezcals. In this case, the mezcal flavor emerged in much greater complexity when paired with the chocolate.
I can't wait for the next dinner. Run, don't walk, to get on the list (just call Cala(415) 660-7701). If this meal was any indication this monthly dinner is going to be delicious.