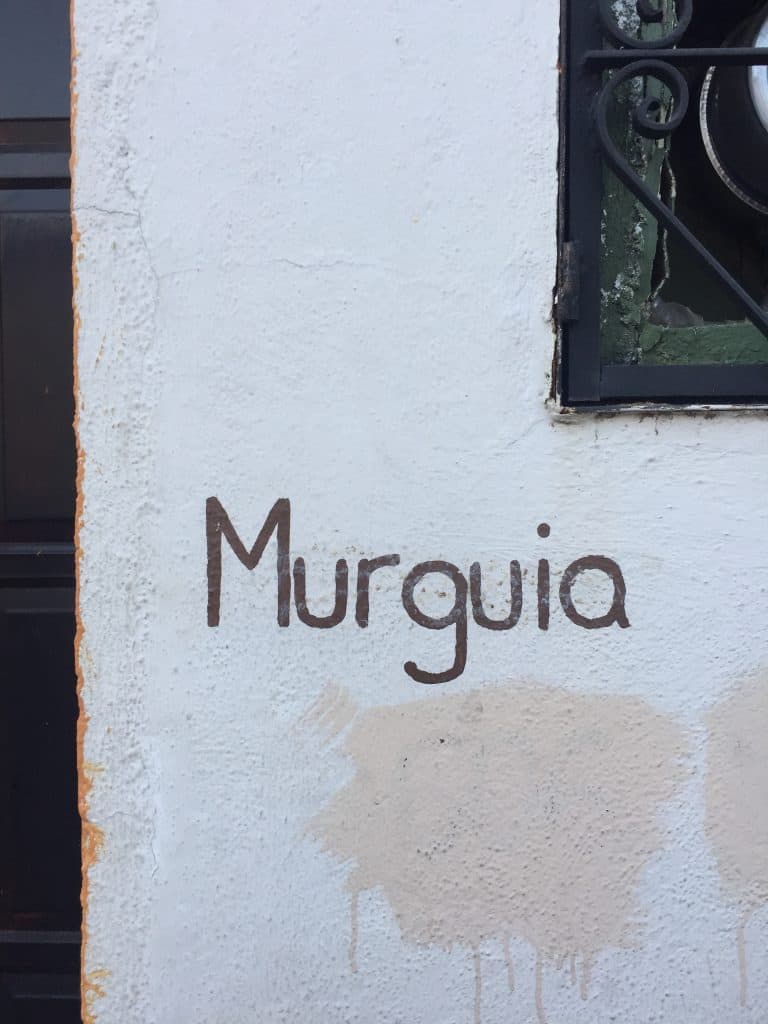 You know that with mezcal's surging popularity Oaxaca is seeing lots of tourists who want to taste and learn about mezcal so you'd expect the town to boast some of the world's best mezcalerias. That's true in resplendent variety. There's Mezcaloteca's very structured tasting environment. In Situ's rough and ready bar. Txalaparta's mezcaleria within a hookah bar. Amantes' old time store front replete with resident guitarist. And then there are all the restaurants that feature great mezcal selections. We could go on, just check our Where to Drink Mezcal in Oaxaca for a great guide. Here's our latest updated map.
Given all the mezcalerias that already exist in Oaxaca, I was surprised on December trip because it seemed like things have reached a new level – not only are there more of them, they are starting to create more finely differentiated business models that highlight the contrasting facets of mezcal while integrating global design, retail, and brand trends.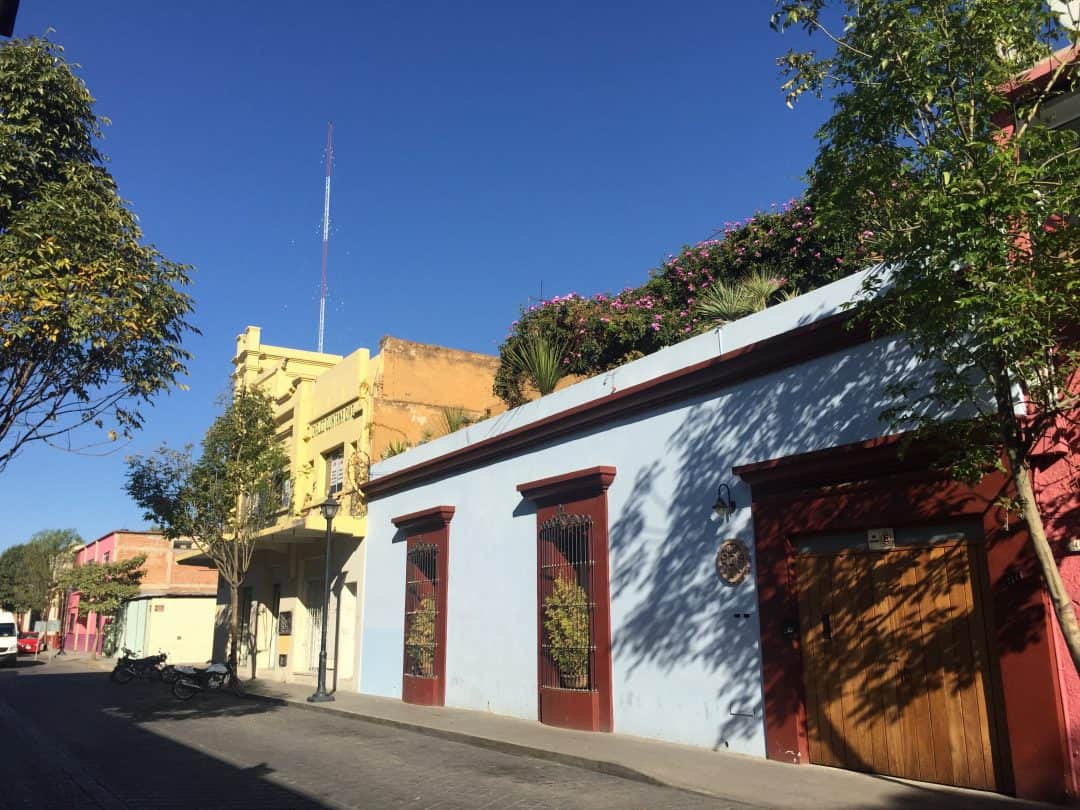 Take just one square block of Murguia, it hosts Expendio Tradición, Archivo Maguey, and Mezcalillera. They all opened in the past year or so. They're centrally located but not on Alcalá. And, they all have distinct mezcal experiences.
Mezcalillera calls itself alternately "La miscelánea del Mezcal" or "Donde Mezcal toma otra dimension." It's a small mezcal retail store on one of those typical Oaxaca blocks of stunning roof gardens and anonymous doorways. Who knows what they contain? Luscious gardens? Patios? Bungalows? Or does the sudden appearance of that pit bull on the roof infer a different story?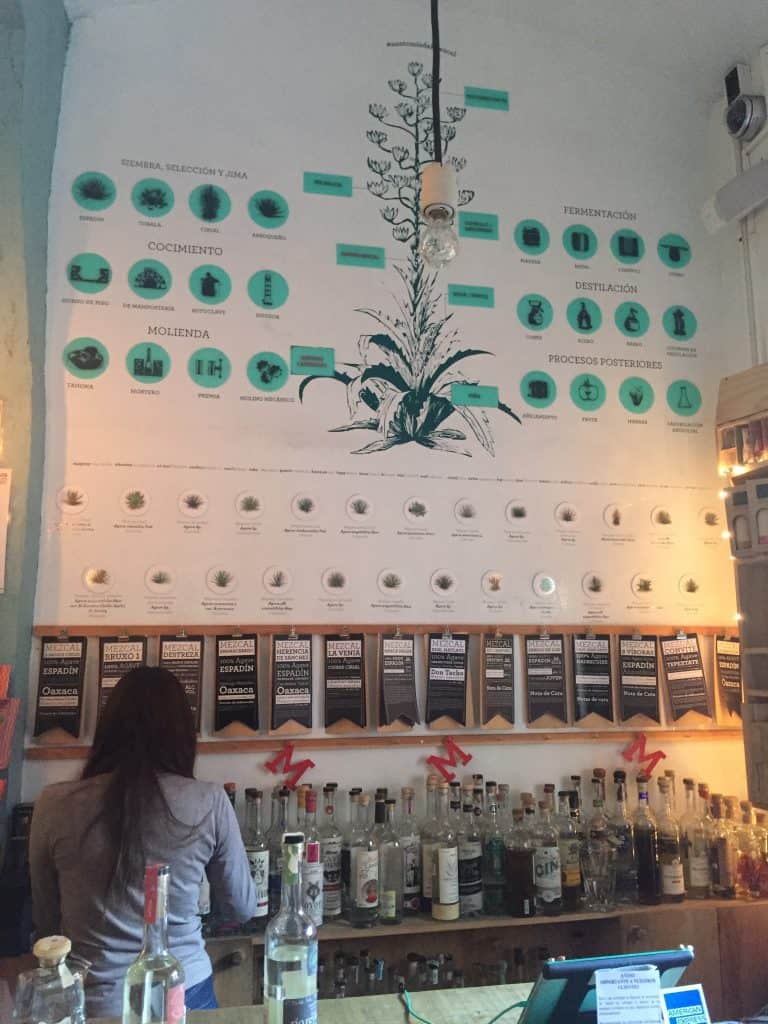 Mezcalillera differentiates itself from many other mezcalerias in town by creating a retail environment that sells mezcal through tastings. It's not a bar, you're not going to go here to have a beer or hang out and drink mezcal all night long. So, no, it's not a typical mezcaleria. The retail experience is its critical differentiator and, just like any high end boutique, image is critical, it has embraced the bare wood, stacked shelf, design that signifies a certain sensibility in globalized retailing. And, different from everyone else in the mezcaleria world in Oaxaca, Mezcalillera only carries brands.
Mezcals are stacked in crates all the way up to the ceiling. You'll find a smattering of brands available in the US and many that aren't. Plus a small selection of copitas, sal de gusano, and other goods that round out the mezcal experience. Mezcalillera has many bottles open behind the counter so before you plunk down for an unknown bottle, ask for a taste. They also offer flights for neophytes and the mezcal experienced. That sort of casual integration of tasting into bottle sales always comes at a small shock to someone schooled by U.S. spirit sales and gets you thinking, do they make liquor stores look so stunning in the U.S. partially because you can't taste before you buy?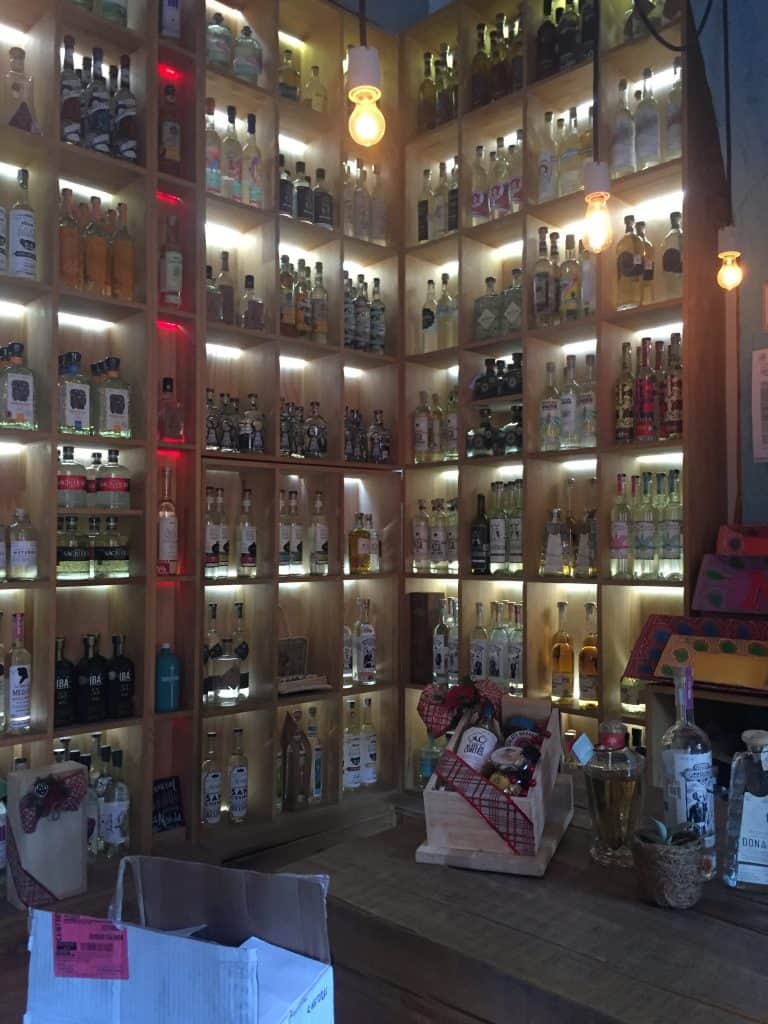 During my visit the revolutionary potential for tasting before buying a full bottle were somewhat dampened because they didn't have all the bottles open that I wanted to try. I fully acknowledge that I am a particular customer but still, I'd think you'd want to have most of the stock open. Regardless, it's a great idea, and it's a great opportunity to stock up on some of the bottles like Rio Revuelto that haven't made it to the United States.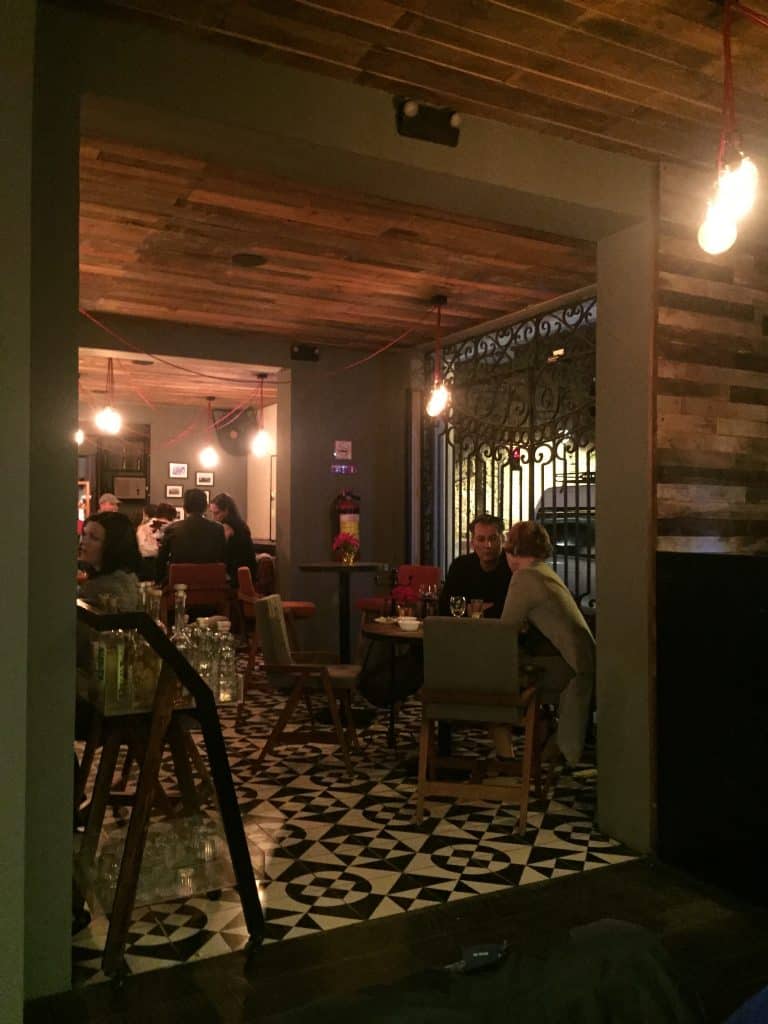 Now that you've had a few sips it's time for a snack at the corner mezcaleria/bar/restaurant Expendio Tradición on the corner of Murguia and Reforma. It continues the design trend – clearly Expendio was imagined to be photographed and the media world hasn't disappointed because it has been featured in style and travel magazines for the interior design. The menu is an eery Oaxacan reflection of the gastropub menus sweeping the United States right now, there's a special burger of goose meat, a grilled octopus, and comfort food like memelitas.
But if you're here for mezcal you'll notice two things. First, in what is becoming a trend unto itself in Oaxaca, Expendio has a strong mezcal cocktail program. Mezcal cocktails are de rigueur in bars throughout the United States, England, Australia, and many other countries exactly because they're dominated by cocktail culture and that's how mezcal has insinuated itself into their drinking cultures. But Oaxaca has always preferred its mezcal neat. Actually, until quite recently it was kind of difficult to find a mezcal cocktail, let alone a good one, there. Now it feels like mezcal cocktails are everywhere.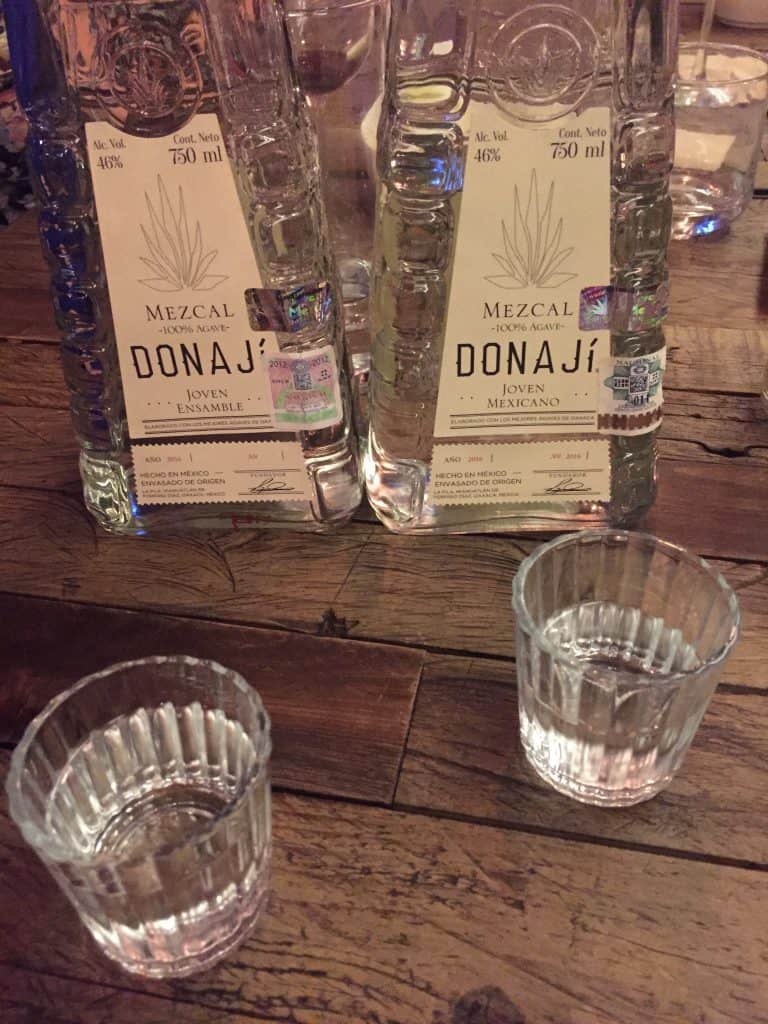 The other big difference at Expendio is that they only feature mezcal made by the company that owns the restaurant, Tradicion Chagoya. They serve two labels, Donají and Los Cuerdos. The Chagoya family has a rich history in the mezcal industry, with Expendio they're taking the whole brand building project a step further and are building something of a mezcal theme park because, make no mistake, Expendio is an experience. It wouldn't be out of place in other design centric cities around the world. It's made to be looked at and soaked up as much as a place to eat and drink. Make sure to wander around for the full experience. From the outside the roof also looks enticing, but we've never been able to swing an invite. If you get the chance, take them up on it.
But I digress: The real point here is that Expendio is taking the branded tasting room to a new level. Del Maguey and Los Amantes have had tasting rooms in Oaxaca for years. Los Danzantes created one of the first high design restaurants in Oaxaca years ago but even they serve other mezcals. By focusing on its own brands and putting mezcal front and center, especially in cocktails, Expendio is creating something new. Something like a velvet covered corporate theme park restaurant except instead of a hotel restaurant or chain, Expendio feels like it was created to give you the full branded experience and only sell their mezcal. Many Napa and Sonoma wineries pioneered this trend: They're saying 'drink our wine and taste wonderful food in this well designed experience' presumably because you'll take that experience with you and associate it with their mezcal. That's a big step for the mezcal world away from the down and dirty palenque image, and something really fascinating to watch.
For another variation on this theme step across the street and visit Archivo Maguey.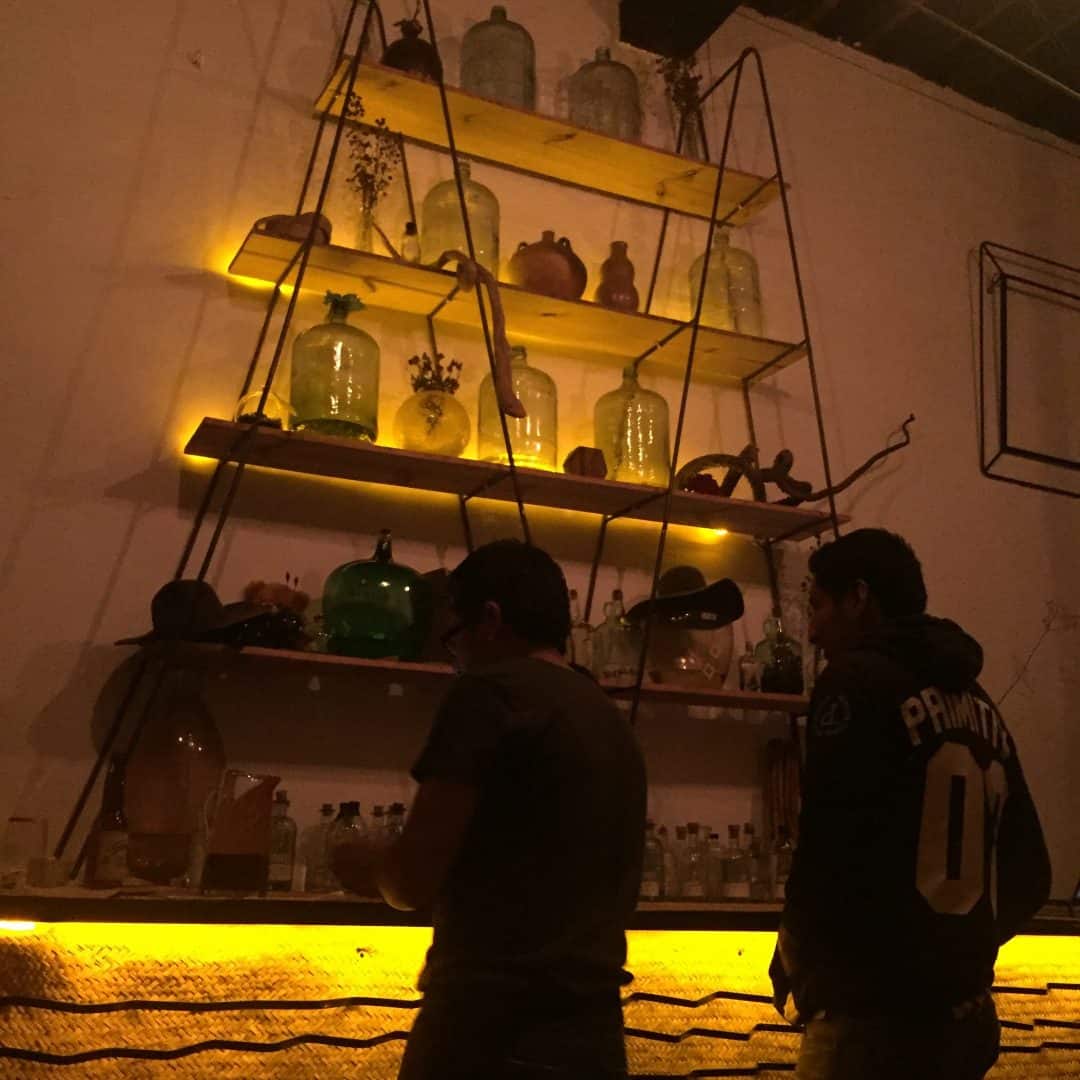 Across Reforma and a few steps up Murgia Archivo Maguey's doorway takes you up the stairs to the second floor where you enter yet another mezcal environment. This one melds smooth surfaces and low light minimalism with the glory of Oaxaca's roof decks. Window seats along one wall let you watch passerby and street life. The roof desk is its own scene that always seems to have a few people kicking around chatting. On warm evenings it's quite the spot.
This is basically the combination of contemporary bar design with a classic mezcalcaleria, something that has been happening in Mexico City for quite some time with La Clandestina and Bosforo. Until recently Oaxaca was doing its own thing for mezcalerias that skewed to the traditional because that's the amazing resource already in place – all those fantastic buildings, roof decks, and courtyards don't need much work to become incredibly atmospheric spaces. Just wander into Biznaga to feel the full potential of that idea.
Archivo is no slouch from the mezcal perspective, they presents mezcal from a variety of palenques in the Oaxaca's heartland including the Cortes family in Miahuatlan, Jiménez familyin Ejutla, Ortiz family in Nochixtlan, and the Ramírez family in Huajuapan to name just four. Their house mezcals are from the Cortez and Ortiz families which is another great point, just like a classic mezcaleria they have house mezcals! You won't find any brand names here, it's all mezcals that express their makers' independent sensibilities.
The design sensibility continues beyond the appearance of Archivo through the cultural programming. They have a full kitchen devoted to Mixtex specialties which will expose you to one side of Oaxacan culture. Then they have all sorts of music events ranging from DJs to Cumbia to something they're calling "Mezcal Disco." And that's just the music because they also put on a whole range of art and cultural happenings, it's quite the scene.
Now, imagine what's happening everywhere else in town? This is just a single block of Oaxaca and one in old town. There is plenty of other mezcal focused action in the historic centro while just a short walk away in Reforma there are plenty of other surprises. Stay tuned for more updates on more places around town and send us your favorites, we're always keen to hear about new tips!