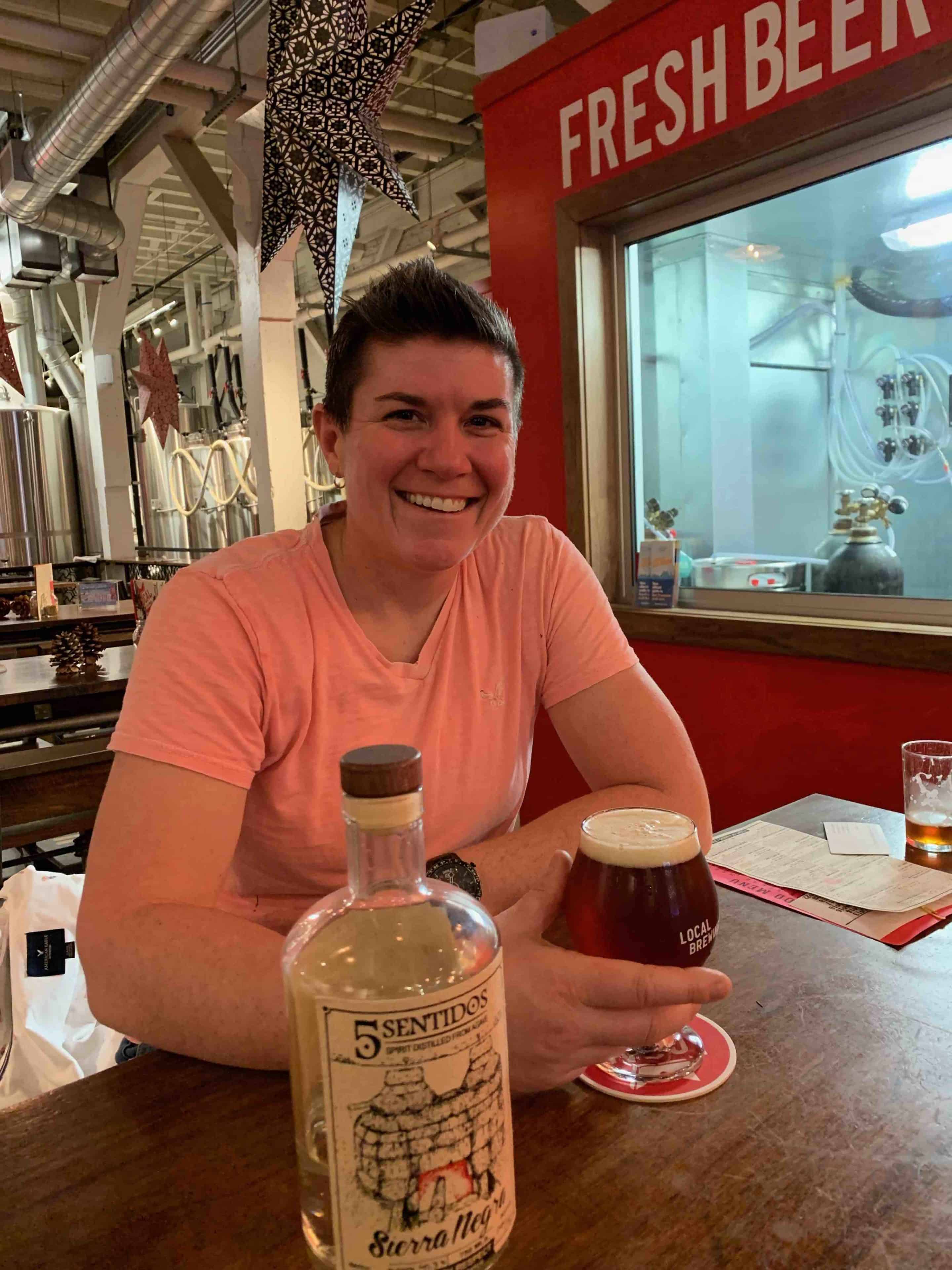 Who adds mezcal to beer?
That's not a hypothetical question. I have yet to see a mezcal boilermaker, I'm sure it's been done. But a local San Francisco brewer recently caught my eye because she really is adding mezcal to her beer, but before it gets into the keg. Meet Regan Long master brewer of
Local Brewing
tucked behind the San Francisco Tennis Center on Bluxome Street in SOMA. She has been producing a mezcal beer called Mezcal Red for three years now, the real question is why it took so long for me to notice. It's now a staple brew for Local in the holiday season so stop by soon to get a taste before it's gone.
Regan's story isn't unfamiliar to the mezcal world – she came from one place, applied those skills, and got somewhere completely different. She founded Local three-and-a-half years ago and continues to be the master brewer and owner.  Before that she was an oceanographic physicist and home brewer, then she made the leap. Let this be an example for anyone search for professional guidance.
The how and why
Regan told me that it's illegal to pour a spirit into a beer so she builds the beer's foundation on a base of mezcal soaked oak chips. She adds them to the beer after fermentation to get of the flavors of mezcal and oak into the beer. I've heard of other people trying similar methods like Chicago's
Dark Matter Coffee
 infusing pre-roast coffee beans with mezcal to impart some of their complexity to the coffee.
But back to Local: Their first batch of Mezcal Red was made with
Vago's Mexicano
. Regan described the flavor as "round with some vanilla and a nice touch of smoke. It was very approachable and built around that flavor profile." The second batch was built around
Vago's Elote
and the third batch, currently available, was made with
5 Sentidos' Sierra Negra
. Regan soaked wood chips in two bottles of 5 Sentidos for two days and then added them to the fermentation.
How does it taste?
The Mezcal Red is very light and fresh, especially for a 6.1% ABV beer. I didn't really taste mezcal but I did detect a slight hint of smoke. It's definitely on the German spectrum of beers, you won't find IPA levels of hops in this beer. It's also a very small batch of 320 gallons which is available until it's gone later this month or early February. If you're extremely lucky they may brew a second batch like they did last year but don't bank on it.
As Regan told me "San Francisco is a good place for this. People are open to trying new things like this. It's gone over really well. Initially people expected it to be more boozy than it is. It succeeds as a beer which takes on aspects of mezcal. Not the other way around."