So you've seen our photo gallery of the Grand Tasting but the week that preceded it was pretty incredible in its own right. Here's a quick list of events with photos and a few thoughts a refresher gallery that follows.
Sunday – November 8th
Mezcal Brunch at ABV
Ryan Fitzgerald helped us kick off Mezcal Week in style with a mezcal brunch at his restaurant ABV that also celebrated his birthday. The special cocktail and brunch menu made lots of people happy enough to carry the party on through the afternoon.
Monday – November 9th
Mezcalicious Cocktail Competition at Devil's Acre
Eric Giardina led the charge for our Mezcalicious Cocktail Competition at Devil's Acre juried by the USBG. Three judges, Trent Simpson, Ted Ronnie, and chef Peter Jackson, were tasked with selecting the winner of the nine bartenders that made the final cut. Ramon Garcia of Alchemist won the judges' award with his rendition of Oaxaca: A Still Life, and Andrew Woodley of Pabu won audience favorite for his Asian/Oaxacan inspired Pabu Boru. There was a bit of everything; drama, costumes, lots of bar craft, even a dry ice. Stay tuned for next year's competition which will raise mezcal cocktails to an even greater height.
Tuesday – November 10th
Prix Fixe Wahaka Cocktail Menu at Lolinda
The week rolled on with an entirely new concept. Wahaka flipped the classic restaurant prix fixe and relegated the food to the option while making the cocktails the main event. Adrian Hernandez and Lolinda's Bar Manager Nora Furst did incredible work behind Lolinda's bar with cocktails that showed just what's possible. Not to belittle the food, Chef Alejandro Morgan's bites were fantastic, it's just that cocktails were the main event!.
Wednesday – November 11th
Mezcal Week
Amidst all these special events Mezcal Week raged across the Bay Area with local restaurants offering specially designed bites, dinner pairing, flights, and cocktails. We had over 30 local establishments participating – next year look out for even more. A few snapshots to whet your appetite.
Thursday – November 12th
Real Minero at Calaveras & Illegal Takeover at Mosto
Real Minero paired with dinner at Calavera: Graciela Angeles and William Scanlan guided diners through an exquisite pairing of Real Minero's mezcals with Chef Christian Irabien's dinner.
and
Ilegal Takeover at Mosto: Try to imagine this, star bartender Jill Webster up from LA for the night to add something new to the SF  cocktail scene, live Flamenco guitar ranging over the classics to Manu Ciao covers, and tacos from the bar. Quite a scene.
Friday – November 13th
Future of Mezcal Panel with Hipocrates Nolasco and Sarah Bowen
Moderated by Raza Zaidi
We were particularly fortunate to host Sarah Bowen, who just published Divided Spirits: Tequila, Mezcal, and the Politics of Production (California Studies in Food and Culture)
 about the state of the agave spirits world, and Hipocrates Nolasco, head of the CRM, the governing body of mezcal, in a conversation at La Urbana moderated by Wahaka's Raza Zaidi. The conversation brought up so many details about the state of the industry, where it's going, a ton of proposals by the CRM, and witnessed a great back-and-forth with the audience. We'll definitely be doing more of these and look forward to releasing video of the event soon.
Saturday – November 14th
Industry Mixer at Novela
We brought together many of the mezcal makers, distributors, importers, and regulators to chat over punch provided by Novela, snacks by Casa Sanchez, and many exclusive tipples provided by the guests. It was a nice, relaxed, way for everyone in the business to chat. We'll be doing more of these for sure.
Sunday – November 15th
The Grand Tasting at Public Works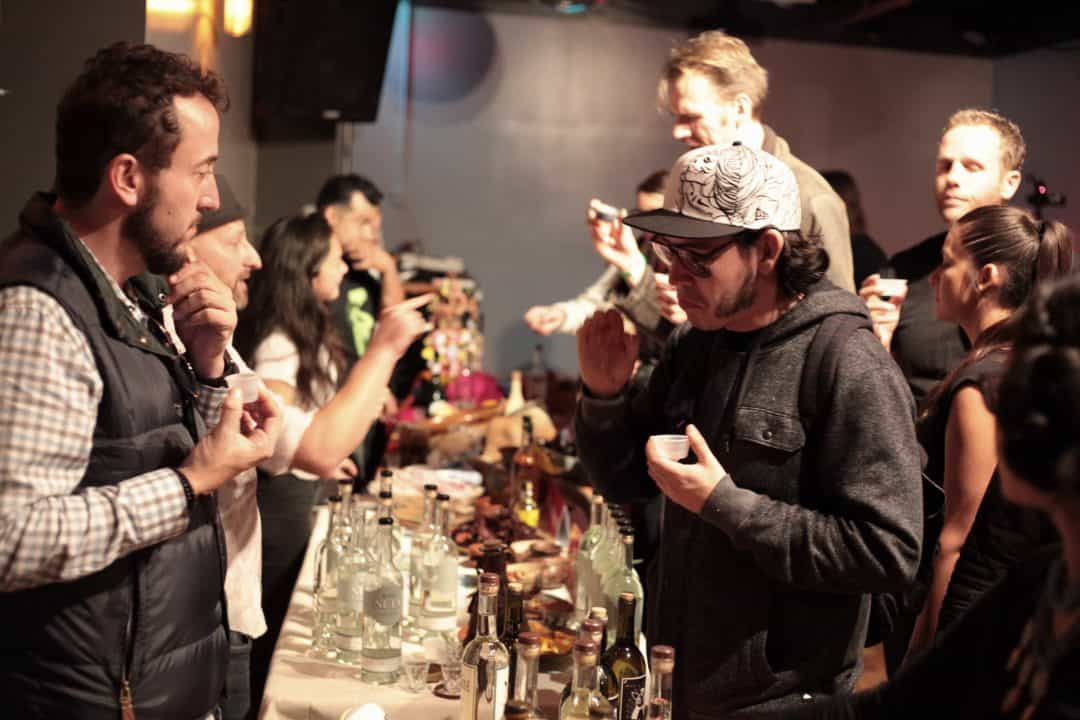 That Grand Tasting you know and love. Take a look at our gallery to appreciate it in all its virtual fullness. Trust us, we're already hard at work planning next year's Mezcal: Mexico in a Bottle when we'll present a bigger and badder Mezcal Week and a much expanded Grand Tasting. Oh, and we are also planning quite a few tastings in the meantime so stay tuned to this space for the latest updates. To make it even easier on yourself – subscribe to our newsletter, follow us on Twitter, and Facebook. We're always open to ideas and collaborations so get into touch with us if you have a great brainstorm.