Creador is a new brand, just three months in the market. For now, it's only being sold in Texas. The mezcal is made by José Alberto Pablo in Oaxaca. The brand is the brainchild of Marcus Piña who lives in Austin.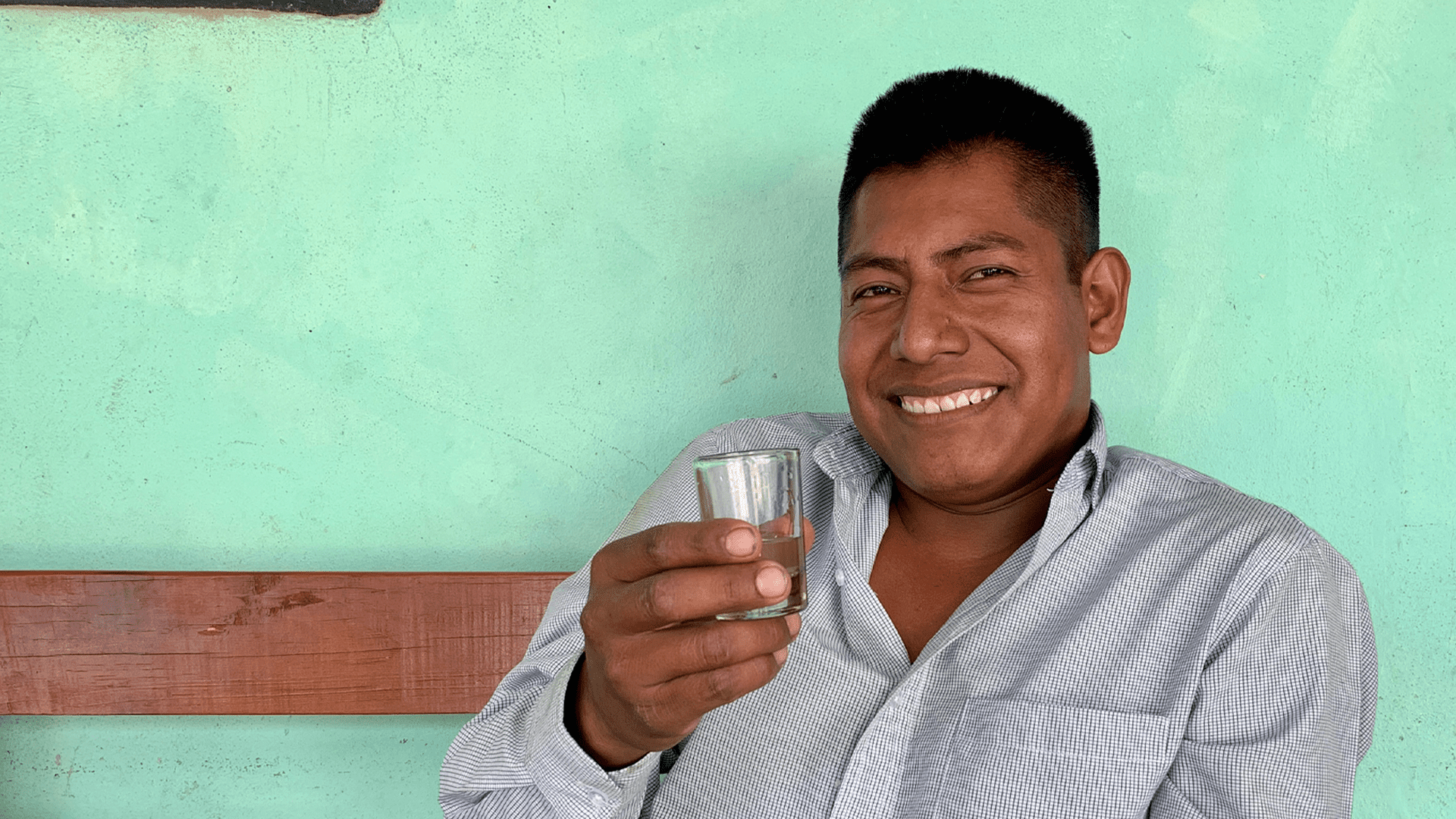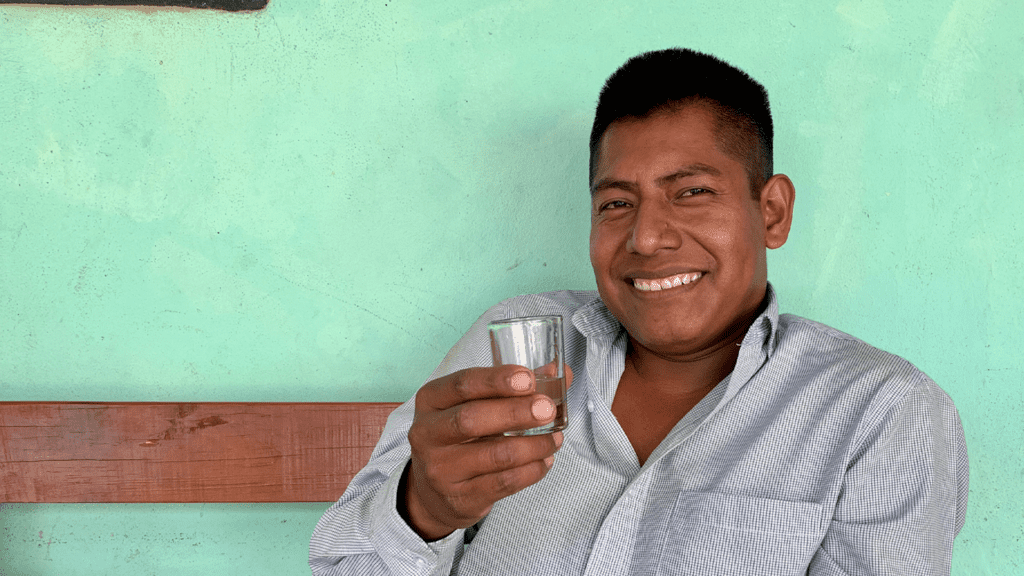 Marcus is a designer who slid into the mezcal world after trying it in Austin's La Condesa. Like many before him, the mezcal bug led to tastings and trips to Oaxaca and then the idea for a brand.
So, when he met maestro palenquero José Alberto Pablo in the fall of 2019, he was ready to go. We all know the next act of this story: COVID hit and everything stopped. Except that, like most of the world, rural Mexico didn't stop. José Alberto continued distilling. Marcus and he continued their conversations on WhatsApp. Marcus promised that he'd be down as soon as travel opened up again. José Alberto had been approached by others, but Marcus and he clicked. When travel did come back in early 2021, Marcus jetted own and they sealed their deal with a handshake.
José Alberto is a third generation palenquero whose father, Don Mario, still works with him at the palenque. His mezcal inheritance is matrilineal, his maternal grandfather was the one with the distilling knowledge which was passed to his mother. She knows how to do it all and continues to help out at the palenque.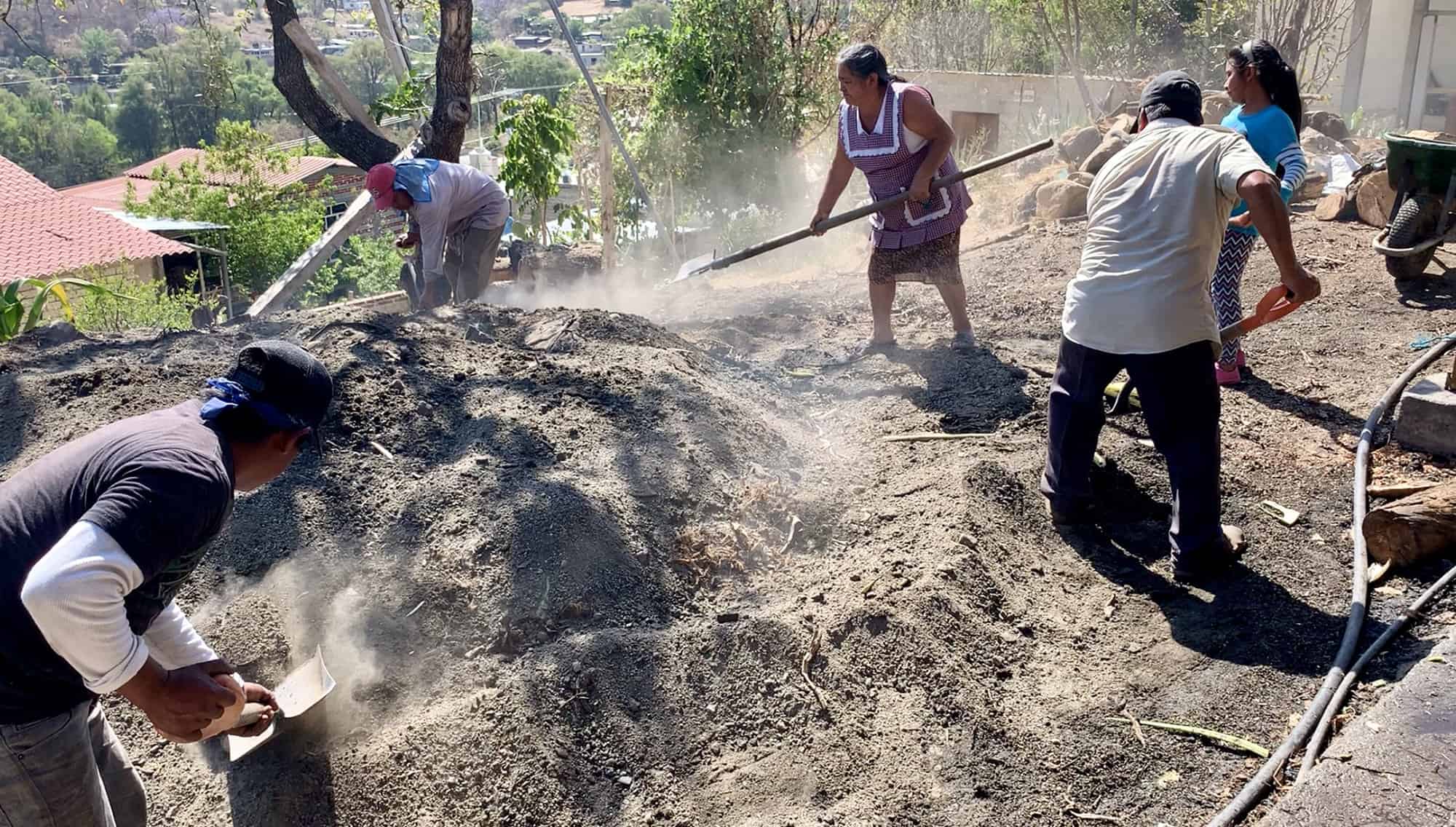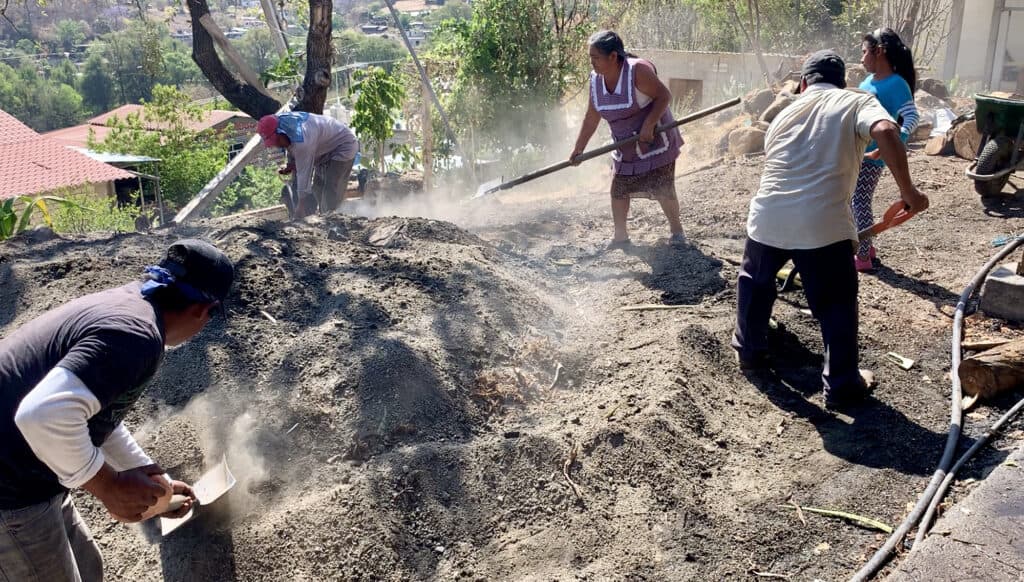 Local distilling traditions feature distinctive clay pot fermentation and steel condensers which make their mezcals yellow. José Alberto says that traditionally "in San Bernardo Mixtepec they only drink yellow mezcal. It was always yellow. They think that white mezcal is fake." But, he makes white mezcal for export and for the tourists who visit his palenque. He says that the idea originally came to him when he was living in the US and saw all the white mezcal.
That's not the only thing José Alberto got from the US. He learned to distill while young when his father rented a palenque for their distillations. José Alberto "always had the idea of making a palenque near the house." So, he followed the path that so many Mexicans have followed for generations. He went north to work in the US in order to earn enough to build his palenque.
But, in one of the many fascinating elements in José Alberto's story, he didn't end up in California or Texas, he landed in Columbus, Ohio. When I asked him why Columbus – of all places – he started by saying "the story is very long." Suffice to say that previous generations of his family and fellow villagers had been the vanguard and continue to live there today. While in Columbus he worked construction like many other members of his family but says that "I always liked to experiment in different horizons so I worked construction, fast food, I was even a dishwasher."
Once he'd earned enough money he returned to San Bernardo Mixtepec to build that long planned palenque. In talking to José Alberto jokes about the difficulty of working out in the fields pop up frequently because the area is very hilly.
The oven is at the top so that the piñas can be rolled right in. Then they hand crush the agave with mazos (mallets) in a canoa (hollowed out tree). This is incredibly physical work.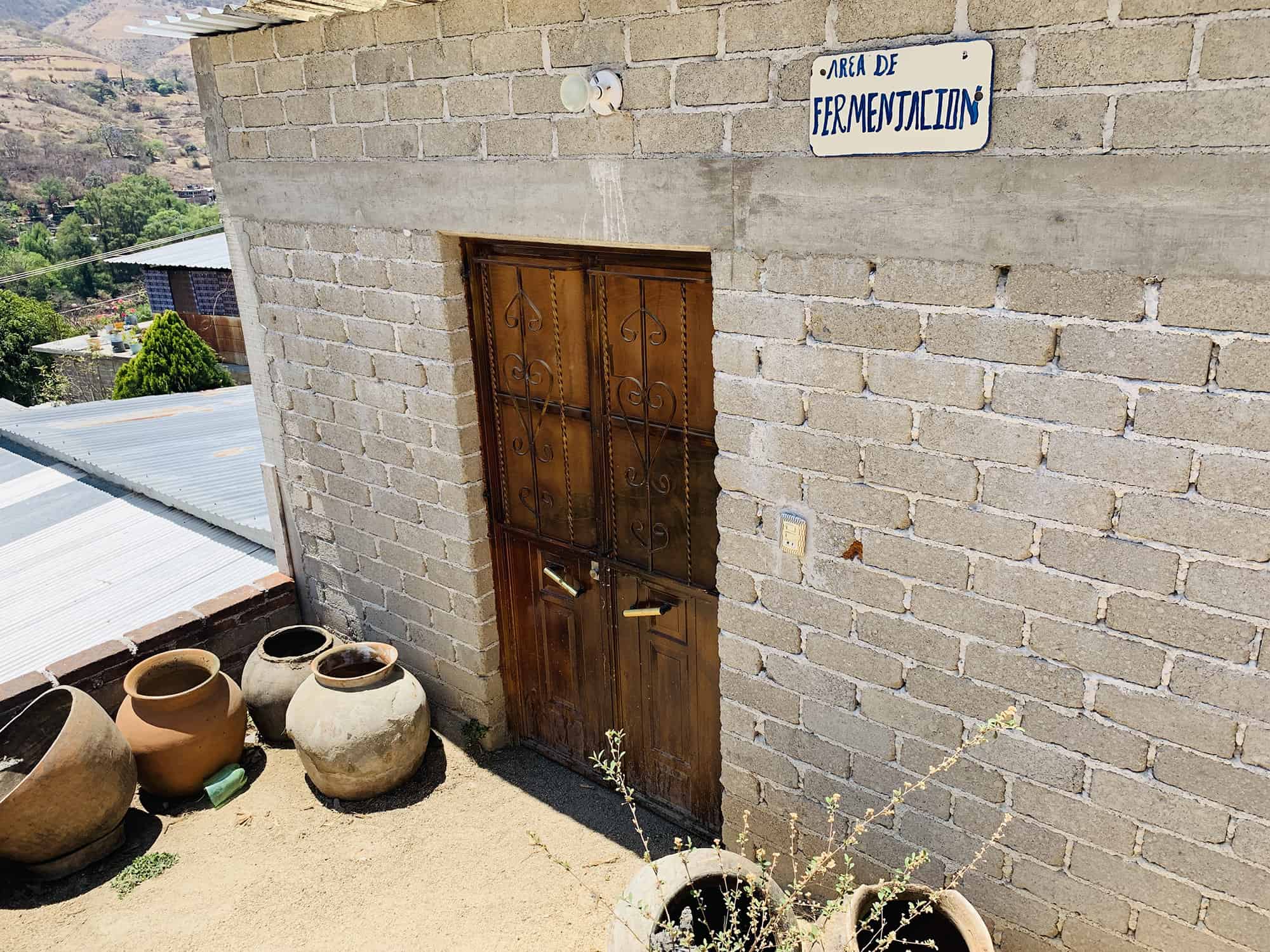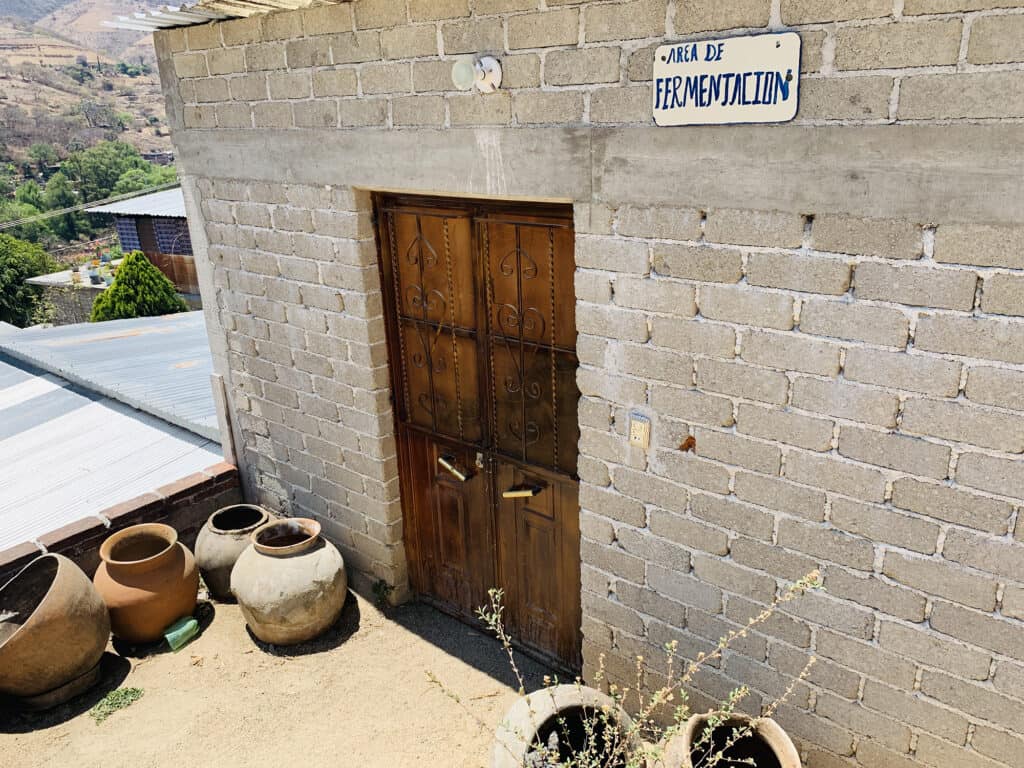 Once crushed, the agave is wheelbarrowed downhill to ferment in clay pots. Clay pot fermentation is a local tradition and something that José Alberto really likes both for the flavor and physical tie to the past. His pots are set partially underground in a cinder block building so that he can control the temperature, humidity, and keep everything clean.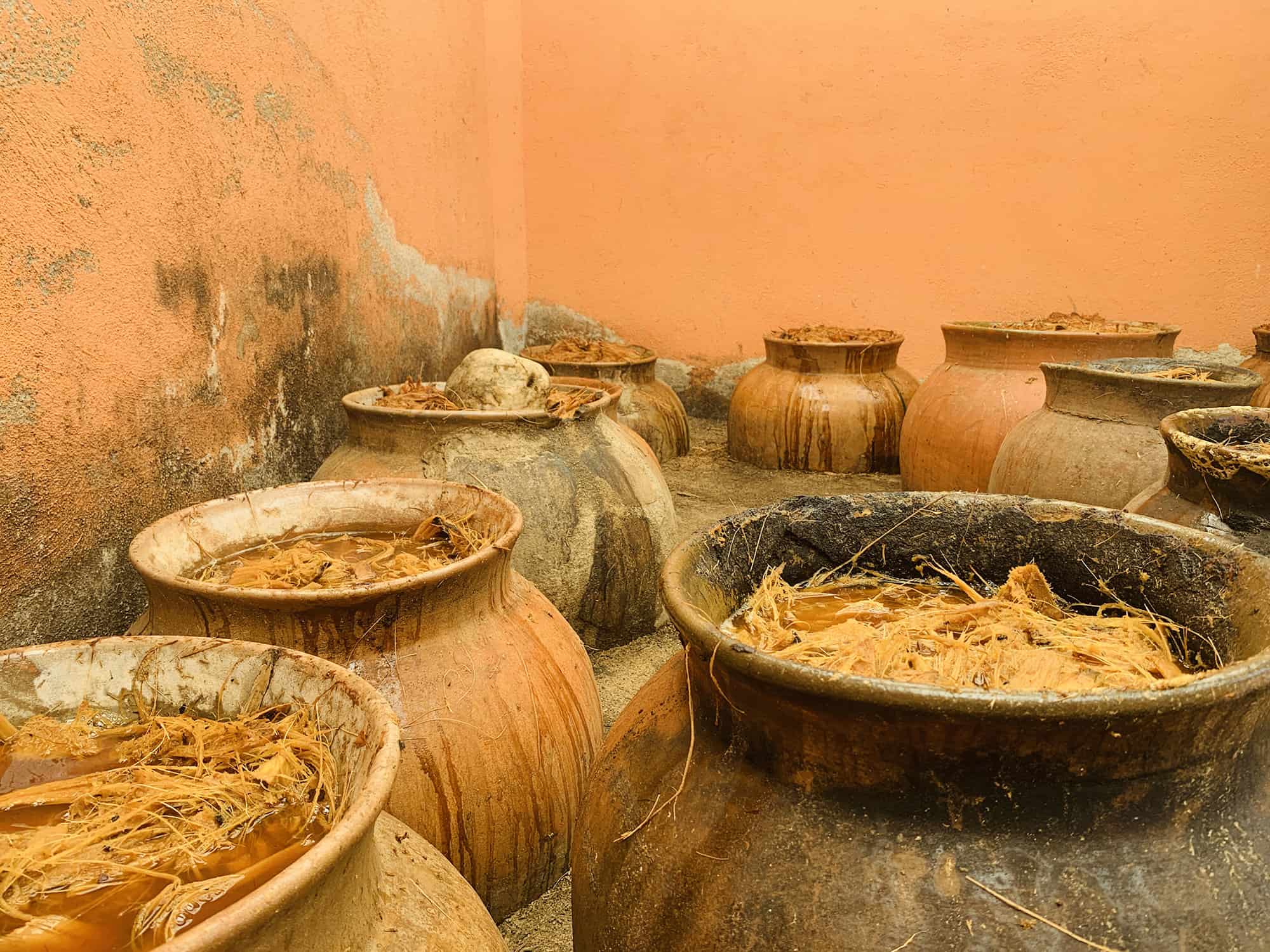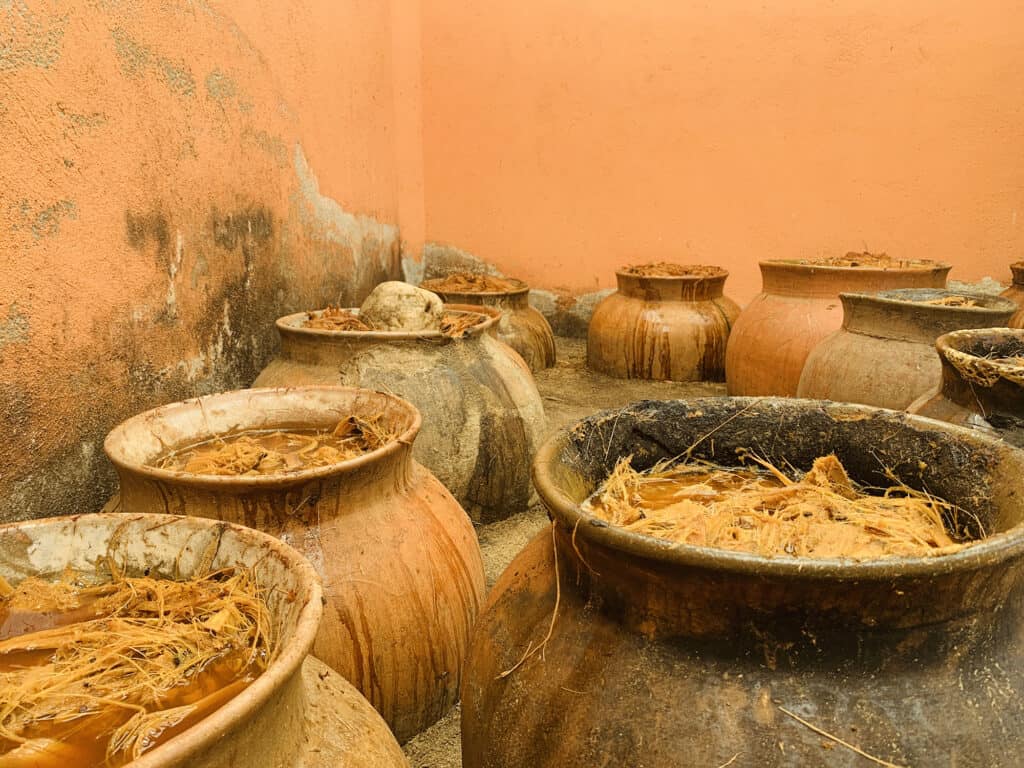 Once the fermentation is complete, they have to then carry the tepache back up the hill to the stills. José Alberto has a rather unique clay pot still system where three pots are heated by a single fire. Alvin Starkman describes in more detail in a 2021 blog post.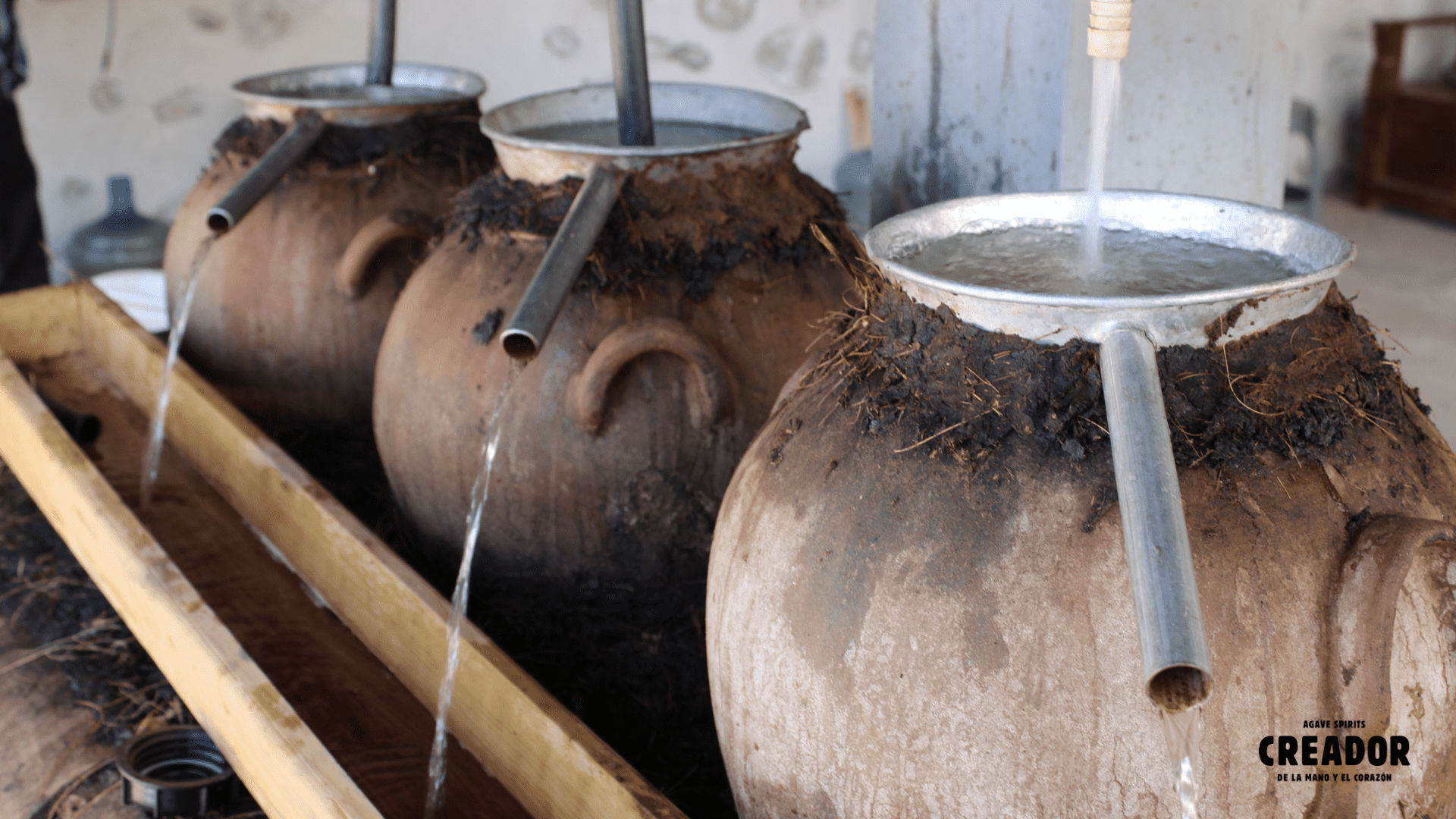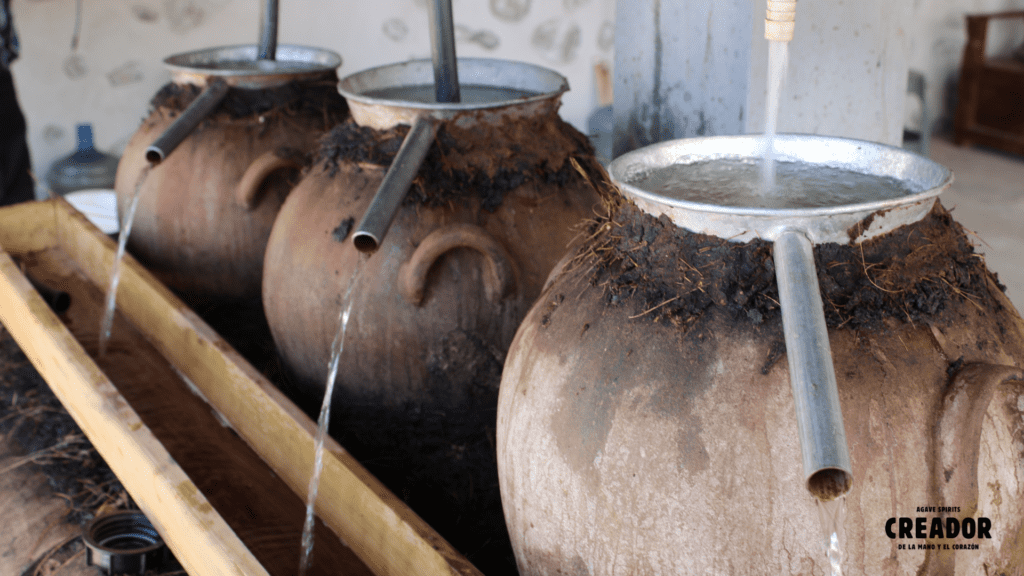 The area is so hilly and the roads have so many of Oaxaca's crazy speed bumps known as topes in Spanish (see, there's a reason why Mezcalistas once had a t-shirt with the words "Pinche Topes!" on it) that José Alberto then has to drive the mezcal down to the town of San Pablo Huixtepec for shipping.
In speaking with Marcus it's clear that he admires José Alberto for his creativity. Marcus mentioned that, unlike many of the mezcal makers he'd met, José Alberto is very "curious and has great energy. He is one of the few if only mezcaleros interested in other mezcal that is not his own. Most are like 'I don't need to try another, mine is the best.'"
José Alberto seeks out different mezcals and experiments with agaves that grow outside of San Bernardo Mixtepec. Marcus says that the two were talking about Karwinskiis: "He wasn't making any (mezcal from a Karwinskii), he texted me a month later saying 'I'm going to do this.' I said 'great!' Same with the Jabali, he heard it was hard to work with, so he said he was going to rest it." Creador's first release features those very first batches of barril and jabalí.
The mezcal is one part of the story but the bottles stand out on their own. Each label is based on a painting by local Austin artist Camille Woods and depicts a part of the mezcal life. Marcus says that "one of the ideas about the name and the identity is to get consumers as close to the makers as possible. So we're depicting the palenqueros and their environment doing the things they do to make mezcal." Eventually they will be released as prints. Just like Vago, 5 Sentidos, and others, Creator's labels are hand made from agave fiber by Eric Ramirez-Castellanos. He and his family hand cut each and every label.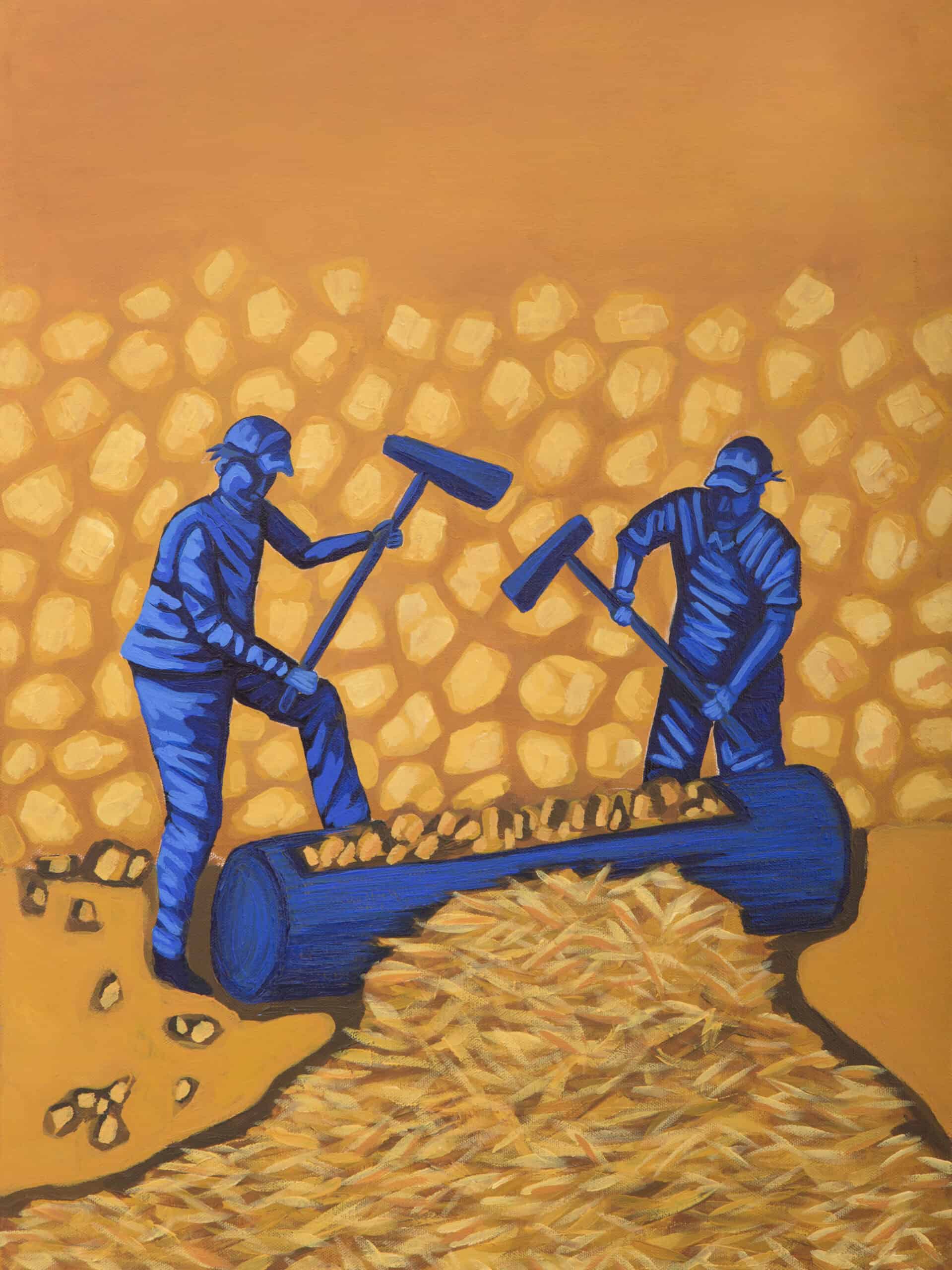 Marcus and José Alberto will soon launch the brand in Mexico and other countries but Texas is their first market here in the United States. Creador is uncertified and labeled as an agave spirit. Marcus says that, when confronted with the choice of certifying, "I liked the idea of uncertified because the kin of punk rock ethic. If we're making great things why would I ask them to change things for a certification process? I have to thank 5 (Sentidos) and Neta and a few other brands who paved the way for destilado de agaves."  
See Tasting Notes for the whole line.