This is part one of a multipart series. You can read part two here.
First the obvious, 2020 created unprecedented challenges for the world of mezcal. If you had asked anyone in January or February of 2020 what the sales projections were for the year, "stellar" would have been the one word to describe what most brands were thinking. The economy was booming, demand for mezcal only increasing, and most people anticipated growth to keep pace with, and even exceed, earlier years which had been averaging 25% year-over-year growth.
And then Covid hit, and the primary mechanism for mezcal sales, the on-premise market, was completely shut down. The chart below from the CRM shows exactly what happened, with mezcal production cratering below 2019 levels as demand for product came to a screeching halt. Things had begun inching up by August and we are awaiting the final numbers for the year, which should be available by the end of March.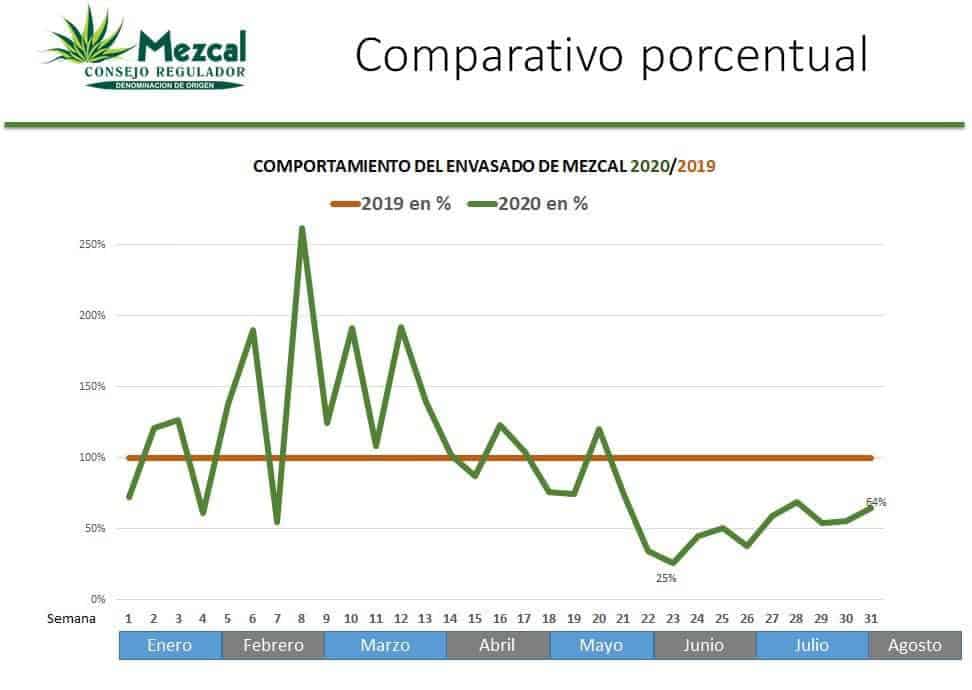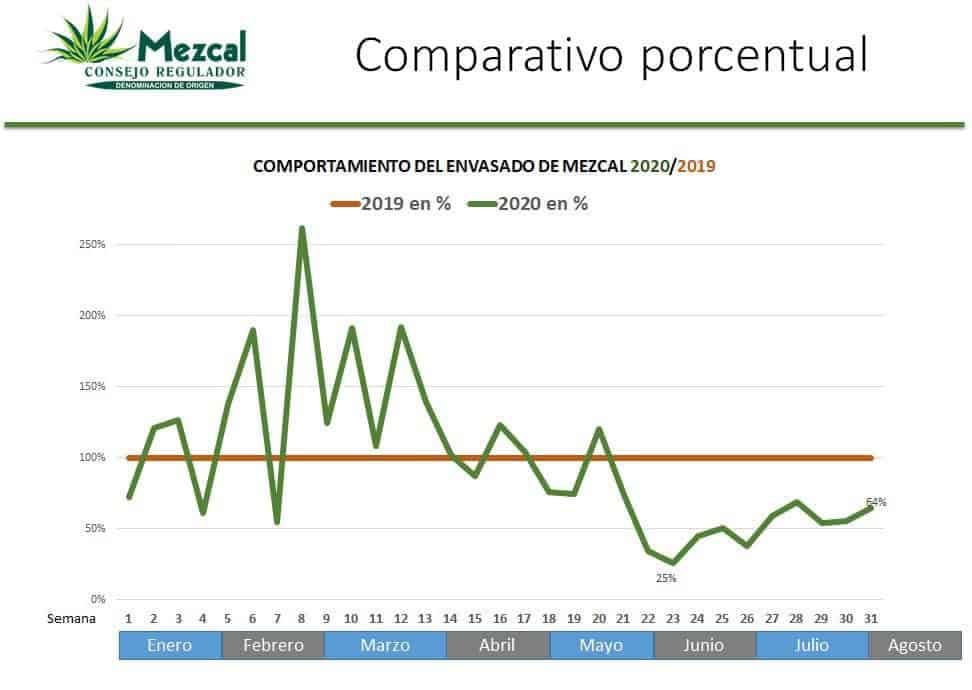 The devil of course is in the details because, incredibly, the year ended up not being quite the disaster that was initially anticipated for many brands. This is not to paint a rosy picture of 2020, it was a year focused on survival. And, thanks to sheer will power, grit, and a natural DIY ethos that is so much a part of mezcal's culture, it survived.
We will be breaking down the key trends that emerged during the year in a series to run the next week. Those trends that emerged will continue in 2021. In part one, we look at the move to retail.
Snapshot: The retail environment pre-Covid
Because mezcal is still in its infancy, and remains predominantly independent, marketing budgets have always been tight and geared toward an on-premise (bar/restaurant) market. Brands invested a great deal of time and money in doing staff trainings and tastings, hosting trips for bar staff to their palenques in Mexico, and generally building loyalty and brand support. Almost 80% of all mezcal sales were driven by the on-premise market, so when everything shut down the consensus was things were dire.
While cocktails drove the majority of mezcal sales on premise, the ability for people to try different mezcals in small portions was what helped drive eventual bottle sales on the retail level. Pre-Covid, where you saw mezcal making headway in retail was in boutique or independent shops in specific urban markets like New York, San Francisco, Los Angeles, Austin, and Chicago geared toward an audience that is already familiar with mezcal.
Traditionally retail was a market for low cost, high volume sales and brands with budgets for promotional materials and advertising. That means brands that tend to be larger and part of conglomerates. And of course there is the pricing structure: A brand like Hennessey, which is a leading premium spirit, retails for about $39, setting an expected price floor. Most mezcal is priced well above that level. While dedicated mezcal drinkers understand that the $60-$100 price range is normal, for anyone outside of mezcal, that is a super premium price point.
"To get into the big box retailers, larger distributors can work deals with their larger portfolios that may include some esoteric products," said Raza Zaidi of Wahaka Mezcal. "Most mezcal brands are with smaller distributors whose portfolios are small and include several esoteric, smaller volume products. Where is the incentive for the Truly Wines to buy those portfolios when they are looking to stock proven, high volume, high margin products like vodka?" Mezcal brands that were already part of those larger portfolios were therefore more likely to already be on shelves.
Shifting to an off-premise, or retail driven market was a relatively new strategy for many brands, and it was pretty clear that it could in no way offset sales that were reliant on those cocktails.
"There is no making up for the loss of on premise sales because the depletions aren't as quick," explained Cora Tang with El Silencio. "You just can't run through that many cases in an off premise environment because people are drinking what is in front of them in cocktails (being the well) versus in a store where there is a larger selection of mezcal you can use in a cocktail."
Making the shift to off-premise
Obviously distributors have always played a key role and there are reasons why brands work so hard to be part of portfolios. In the Covid environment, who your distributor was played a crucial role in being able to shift business from on-premise to off-premise. Who had relationships with retailers, who had sales staff that understood the landscape and could get the right product in the door. "We were lucky in how our partnership with Samson & Surrey was organized and we have great regional support with teams that had relationships with retailers and innate knowledge of local landscapes," said Francisco Terrazas of Mezcal Vago. "Because they only have six brands in their portfolio, they have a great support structure and were able to adjust to an off premise focus."
Likewise, Henry Preiss of Preiss Imports explained that markets where they had existing retail distribution were their strongest markets throughout the year. "Without a doubt, brands that already had retail placement were going to do better, and most of those are larger brands."
For distributors like Winebow, having access to the off-premise market has always been part of their strategy because of their extensive wine portfolio. Pre-Covid they had an almost even split of sales between on and off premise, 55% and 45% respectively, now they are at 25% and 75%.
As brands began shifting to the off-premise market, a few took advantage of new online platforms like Zoom that were emerging to do online trainings not only with retail staff but also with those retailers' customers through virtual "tastings." They also developed special batch releases, making them available only through that retailer. And, they moved to smaller bottle sizes, a price friendly option to entice consumers to try more products without having to commit to full priced bottles. In May we highlighted the handful of 50, 200, and 375ml bottles in the market, calling it an explosion. By December, there were dozens more brands and bottles in those smaller sizes. To move to smaller bottle sizes was a feat in itself for brands; sourcing the bottles, designing new labels, getting TTB approval, and then convincing importers and distributors to take on new skus was challenging in normal times but even more so in the midst of a pandemic. The influx of smaller bottle sizes made for a great holiday season for retailers, as people gobbled them up to give as presents.
"Pre Covid we thought we were agile and quick to respond, but once Covid set in it was a reality check and we had to learn how to move faster. We had to adjust on the spot and focus on ecommerce and how to get product direct to the consumer," said Luis Niño de la Rivera of Mezcal Amarás. "We were very reactive to get into markets that began to re-open and then focused on those markets. Getting into off-premise chain accounts was difficult so we really focused on the accounts where we already had relationships."
Off-premise was going through its own change as well. Independent retailers located in major cities across the country were impacted by the office closures and people moving to smaller towns where they could work remotely in more spacious environments. With shelter in place regulations, these stores lost crucial foot traffic and for those that were not able to switch to an easy delivery or curbside pick up model, they were forced to close their doors. While we haven't been able to find exact figures we've heard from some distributors that some 800 stores closed in New York Others began concentrating their efforts on selling lower priced products that appealed to people who initially were concerned about managing their finances.
For many retailers, websites had to be quickly upgraded to provide more content, products and easy interface on orders. For stores like Moreno's Liquors in Chicago, they opted to not upgrade their website in 2020 which would mean putting their entire stock of more than 5,000 bottles online. "Because we cannot legally ship outside of Chicago we didn't think the investment was a priority last year," explained Mike Moreno. "People in Illinois will drive to the store so it just didn't make sense. But, it will be a focus for us in 2021."
The growth of companies like Drizly, which provide on demand alcohol delivery by working with multiple retailers, provided opportunities to increase sales, but also cut into margins with the fees and minimum case requirements for core products. Sales have been tremendous: 2020 was a gigantic year for overall retail alcohol sales, and stores with an online presence definitely benefited more than those without, but not without their own pain points.
"The frustration for us came from areas we had no control over," said Roman Romaya of Old Town Tequila. "Shippers began imposing daily pick up limits so that meant orders sat in our warehouse which became an even greater issue in December. Then there were delays from distributors on filling orders. All of this caused headaches which we hadn't previously gotten headaches from. We are still impacted."
Retailers have certainly jumped on to the mezcal train, stores like Specs, the largest spirits retailer in Texas, that previously didn't pay much attention to mezcal now stock it aggressively. This matters because Texas has a complicated four tier sales and distribution structure for alcohol where bars and restaurants have to buy from package retailers and not direct from distributors so when a major retailer like Specs starts stocking multiple mezcal, it opens up new sales channels for the present and future.
The e-commerce story
The success of the off-premise shift would not have been possible without e-commerce. According to IWSR, a market research firm that covers beverage trends, "After witnessing a value growth of over 80% in 2019-2020, the US is poised to overtake China to become the largest alcohol ecommerce market in the world by the end of 2021(estimated to be $24 billion dollars). Between 2019 and 2024, US total alcohol ecommerce value will grow six-fold, from half that of China to nearly double. Growth, however, is coming from a low base: in 2019, ecommerce represented just 1% of off-trade retail alcohol volume in the US. By 2024, IWSR estimates that ecommerce will account for 7% of total off-trade beverage alcohol volume in the country, compared to 6% in China."
The growth of Drizly is truly astounding – 350% year over year – and the proliferation of prepared cocktail companies like Shaker and Spoon and Sourced Cocktails helped drive mezcal sales. Plus Speakeasy and Thirstie enabled brands to integrate storefronts directly into their websites making the future of retail alcohol sales clear.
The US market wasn't the only one to see huge e-commerce growth. Mexico has historically been a lagging market in e-commerce sales. This is due to historic factors, but the primary one being only 37% of Mexicans over 15 years old have a bank account, according to the World Bank. Some 86% of all payments in Mexico are in cash. This despite Mexico having a larger GDP per person than most of the other countries in Latin America. In 2020 that all changed, with the biggest growth in e-commerce coming from Mexico. Mercado Libre, Latin America's largest e-commerce retailer, saw an increase of 81% in sales in 2020 vs 2019 in Mexico.
Amazon, which only recently has been investing more into the LatAm market also saw phenomenal growth in 2020, particularly as it targeted a higher income demographic than Mercado Libre. For alcohol sales, that meant higher end mezcal products started moving as people looked beyond espadin expressions. According to Mezcal Amarás' de la Rivera, that combined interest and availability on Amazon made a big difference for the domestic sales.
A split market
Across the board, the brands saw a shift to sales of their entry or sub $60 expressions. Seeing the writing on the wall at the beginning of the pandemic, Wahaka shifted its focus to espadin and reposado in order to be competitive in the more casual tequila drinking market with a preinstalled reposado audience.
"We definitely saw more growth coming from our entry level expressions. We weren't too hard hit but faced more of a challenge in pushing those "geeky" skus because we didn't have face to face ambassadors to educate consumers which really limited those sales." said Vago's Terrazas. "That said, that challenge gave us an ability to push out special batch releases and placing them in specific markets through collaborations, even more so than we had done in the past. Especially with the local teams in place that could interface to support these sales."
Craft Distillers, which has a portfolio that includes a wide range of mezcal and agave distillates at different price points, was initially concerned that the transition to retail would be slow, but the pick up was more than expected. "Sales of Alipús really took off and was completely helped by the fact it is considered a high quality, value brand, and was already well placed," said Christopher Stevens of Craft Distillers. "Our brands like Mezcalero definitely slowed, as did most of our single batch lines. We launched a new brand into the market in 2020, the Cuentacuentos Ancestral line, and initially it was rough. But once we focused on specific and limited markets, it began taking off."
At the top end of the mezcal market (the plus $120 market), sales did not slow but actually grew. Everyone who used to throw disposable income at travel, bars, and restaurants are now much more to seek out exclusive, small batch expressions. Agave groups on Facebook proliferated and information was exchanged about these very small batch releases. Brands that reached people in these groups have certainly benefited.
"People started doing the math and realized how much money they would spend going out for dinner and drinks," said Romaya. "Then they shifted what they would have spent into buying bottles like Real Minero, which retail at the top end of the market."
This is the premiumization that has been discussed. Tequila was probably the biggest category that saw that upward shift in buying. Mezcal was a little more complicated and you saw an almost bifurcation of the market emerge. People new to mezcal focused on the lower priced mezcal as they explored making cocktails at home. As mentioned above, the top end part of the market also exploded. But for that $60-$100 market, it was a different story. The on-premise market was crucial for these brands and that is where most of their sales were.
But even as the on-premise market begins to open in 2021, it will not look the same. "Brands that had the means were able to contribute a lot of money on organizations like the USBG that were supporting workers and businesses during the initial closures, and it will be only natural for these businesses to support those brands when they are able to finally re-open," said Nicolas Palazzi of PM Spirits. "I would be surprised to see a place reopening would have the same sort of selection than in the past."
it is crucial that brands shift more sales to the retail market in order to make up for those lost sales in the $60-$100 range. But it's complicated, selling these mezcals requires a level of education most other spirits don't, and figuring out how to get samples into the hands of consumers to entice buying remains a challenge.
For retailers like Moreno's Liquors, they have benefitted from building a loyal customer base over time, and focusing a lot of energy on education. "Education is key and having a program in place has been very helpful, "said Moreno. "With the pandemic, as bars and restaurants shut down, people began exploring and trying more products on their own and we were really able to guide their experiences."
So who is buying mezcal?
According to IWRS, "Though retail sales indicate a surge of alcohol buying and inferred consumption increase among Americans, the reality is that the rise of alcohol consumption in the US this year comes primarily from only one-third of the population – those who feel comfortable with carrying on with 'normal life' during the pandemic. Alcohol consumption growth has been broad-based, though millennials and Gen X appear to be the most enthusiastic drivers of the increase."
The story of 2021 will be further tapping into this group and growing the mezcal presence and shelf space in a broader range of retail outlets and getting people to expand beyond those sub $60 bottles. Stores like Moreno's and Old Town Tequila are outliers in the off-premise market and growing sales in that $60-$100 range means tapping into a more mainstream alcohol market. How that can be done will be explored in part two of this series, The Virtual World.