[caption id="attachment_7932" align="alignnone" width="1024"] [media-credit id=3 align="alignnone" width="1024"]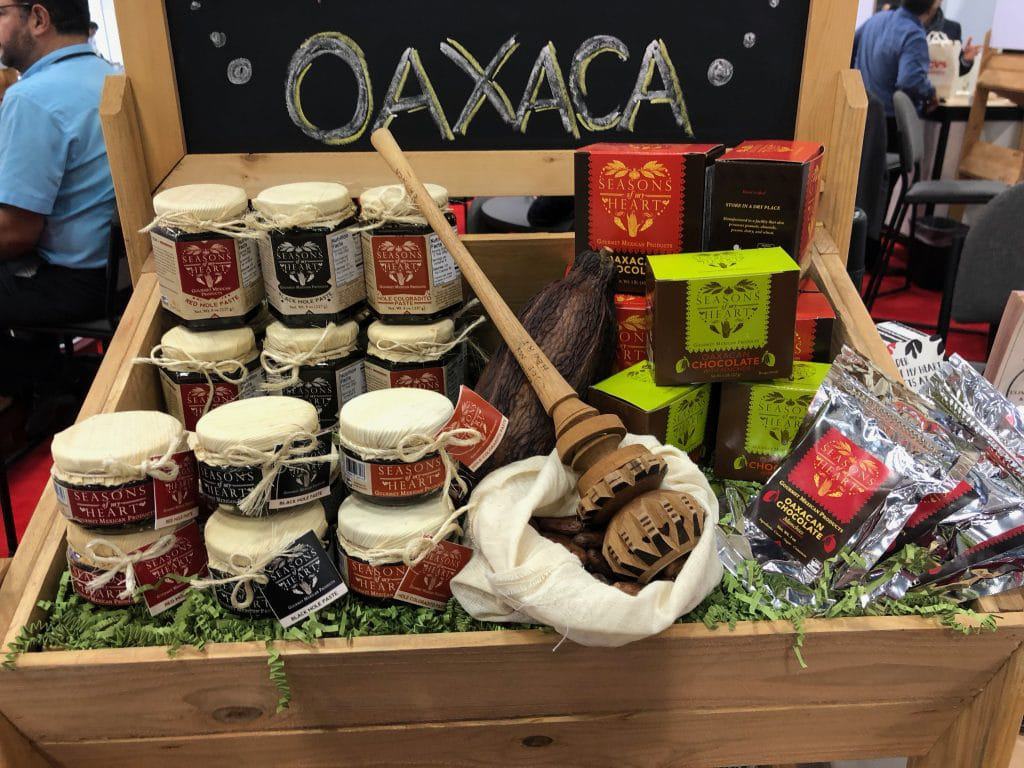 [/media-credit] There was plenty of mole at the Mexican pavilion including this stand from Seasons of My Heart, chef Susana Trilling's line of salsa's, chocolates, salts, poleo tea in addition to her mole.[/caption] Another year, another Fancy Food. Endless square feet of all the food that you can imagine, so much of it of the highly processed and packaged variety vying to be the snack or high energy food of the future. But this year was notable more for what wasn't on the convention floor more than for what was.
A dry county
The strangest thing about this year was how dry the place was. The Mexican area didn't have a single spirit and only a single Mexican wine stand. Elsewhere you'd be hard pressed to find spirits, wines or beers. The notable exception was the jumping Japanese microbrew booth which was never without a line.
[caption id="attachment_5577" align="alignnone" width="768"]
The Mexico pavilion at the Fancy Food Show 2017[/caption] Monday Susan and I spent much of the day wandering the cavern known as Moscone Center in downtown San Francisco attending the annual Winter Fancy Food Show. There are hundreds of vendors hawking every food item imaginable, after a few hours you can't help but be overwhelmed by all the pitches. It's easy to drift into thoughts about late capitalism and commodity culture because so many of the foods are so similar and just one of them will probably break through, if any.
[video width="1080" height="1920" m4v="http://mezcalistas.com/wp-content/uploads/2016/01/IMG_7132.m4v"][/video] How's this for a bit of a non-sequitur; the Fancy Food Show? It's a great place to see trends in the specialty food and beverage industry, and since it is in San Francisco, not too much of a stretch for Max and I to get there. Having walked this showroom floor several times in the past, I can say it is important to have a specific focus, otherwise you end up stuffed full of a deadly combination of jelly bellies, jerky, cheese and prosciutto. Just saying...