What does one do after a series of mezcal road trips and the accumulation of multiple bottles of mezcal, especially when there is no way you can transport them all back to the US?
This was my dilemma each day as I gazed upon 12 bottles sitting on my kitchen counter, labeled with masking tape as to type and where they were from.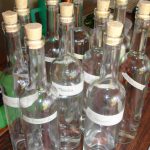 Prompted by a visit of friends (and fellow Mezcalistas blogger Max) from San Francisco, José Luis (chef extraordinaire) and I talked about doing a pop-up restaurant at my apartment complex. The idea was to create a mezcal pairing menu and come up with a five-course menu. This of course meant having to set aside an afternoon of tasting and comparison to figure out what would enhance what flavor, what the order of tasting should be and how to make it all happen.
Pairing food with mezcal can be tricky – do you want the food to enhance the mezcal, or vice versa? Do you want to start with the strongest mezcal and then move to the smoothest? How do you keep one flavor from overpowering another? Or is it best to stick with the aperativo/digestivo model and just drink beer with the meal? Can you keep your audience from getting completely drunk so that they can enjoy the full range of gustatory sensations?
These were the questions that José Luis and I tossed around as we tasted and re-tasted the various mezcals. We also wanted to create a food menu that built on each flavor and used a basic foundation (i.e. a fish broth) through out the meal. As the afternoon and tasting progressed our ambitions only grew: Eventually we managed to figure out a sustainable path to world peace, the silver bullet for reinvigorating the Mexican economy and how overhaul the local food system. Someday we'll remember the solutions.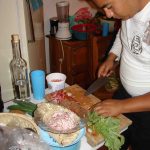 The next day, I was sent to the market to procure the herbs and greens for the meal – a daunting task as I had no idea what much of the stuff was and could only go by smells, and that very important question – can you eat this. While I was sent on this task, José Luis completely re-vamped the menu, based on what was available at the market, and well, his own change of mind. This also meant a last minute scramble to re-pair the mezcals with the new menu.
So, 10 strangers sat around a large table, with an incredibly eclectic mix of tableware, glasses, and chairs borrowed from various neighbors. Everyone got to know one another, something made easier by the eclectic mix of personalities, and of course the mezcal.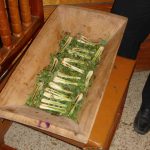 We dined on a salad made from herbs and verdologa and purple tomatillos with a chapulin dressing (paired with the Espadin from San Dionisio), shrimp agua chile (a ceviche) with pomegranate (paired with a tobaciche from Chichicapam), fish roasted in a chile guajillo and hierba santa infused broth (paired with a Mexicano from Chichicapam), a shrimp mole that had us all licking the plates (originally paired with a tobaciche/tobala blend, but then we brought back the espadin) and a dessert of basil infused cream with strawberries (paired with a tobala.) It was divine, and a giant success.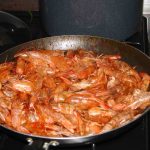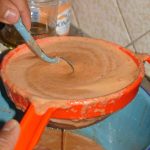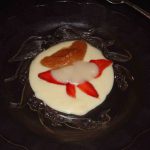 As for what worked? As with any food and liquor pairing certain details are lost to the experience but my notes show that:
1. The espadin worked with the salad because it helped balance out the strong herbal flavor of the greens with its clean, strong flavor and worked well as a palate cleanser for the next course.
2. The ceviche with the tobaciche worked well together because the lime and heat of the chile balanced with the earthy pepper of the mezcal.
3. To be honest, by the time we got to the fish course, I was a bit tipsy from the previous mezcals and forgot to take down comments. I think the fish and the broth were so fantastic that nothing else really mattered.
4. We switched back to the espadin with the mole because it had a softer flavor and didn't overpower the mole like the blend did. Also, I think we really liked this mezcal and wanted to go back to it.
5. The cream with the tobala because it was so smooth and played on the sweet of the dessert. and ending a meal with tobala is always a good choice 🙂
We're going to keep on working on the food pairing question because Max and I have experienced many great pairings and a few that were rather plain. Traditionally mezcal is served with orange slices and chile gusano salt to give it a sweet and spicy foil. But we think that the range of certain mezcals is much wider. Stay tuned for reports about future tastings.