A blessing and a curse is expanding Mexico in a Bottle to a new city. There is a certain amount of research to understand the market, the food and cocktail scene, and of course determining the best location for the event. This is fun, but also a bit exhausting to say the least, and training oneself to only take bites, or sips, is especially difficult when you come across something truly delicious and just want to eat, or drink, it all.
There is deliberation in choosing which cities we should target, and the seed for San Diego was planted by Khrys Maxwell of Tequila Fortaleza who "suggested" we look at doing an event there. And I'll be honest, it has always been a dream of mine to do some sort of food/beverage event on the border between San Diego and Tijuana, where the physical existence of a wall is so surreal given how culturally blurred and blended that area is. And so Mexico in a Bottle San Diego was born.
We (Ferron Salniker and I) had a grueling itinerary, and a long list of restaurants, taquerias, agave cantinas and breweries (yes breweries) to check out. In putting together the events, we look to get an understanding of the market and where it might be going. In the case of San Diego, it remains first and foremost a beer town, though it is definitely working its way toward being a cocktail town. We found a few, what I like to call, walls of mezcal in the area, but beer still dominates.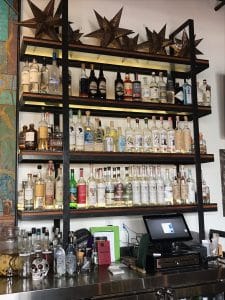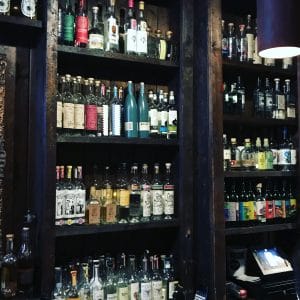 But back to that border thing, and what makes this market so interesting. Trends move across the border with such fluidity that is hard to tell sometimes where the trend began and who was initially responsible for it, and where influences are coming from. For example, take beer. In addition to some great tacos and a delicious mezcal cocktail at Galaxy Taco, in La Jolla, there was a collaborative beer on the menu – a crisp lager from Benchmark Brewery that used the masa made at Galaxy. Such a great idea and so completely border bending. You also see collaborations among brewers on both sides of the border like the Border Psycho/3 Punk Ales IPA we had in Tijuana.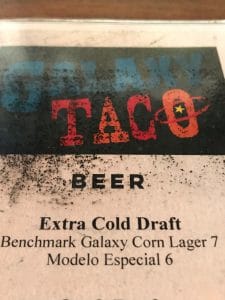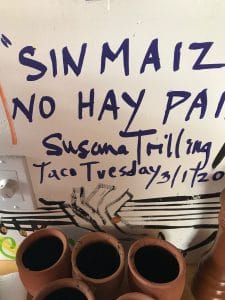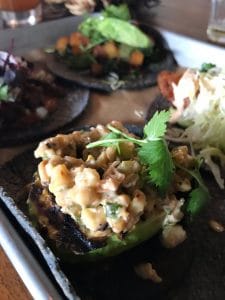 Then there is the wine coming out of the Valle de Guadalupe (originally made by the Spanish as in California, and then Russians) of which we are still just getting drops due to the costs and challenges involved with exporting coupled with the very stringent rules on how many bottles you can bring across the border. San Diego, because of proximity to Mexican craft beer, wine and food, provides the opportunity for us to blow out the idea of Mexico in a Bottle and incorporate the incredible breadth of craft beverages that are coming out of Mexico.
I first traveled to Tijuana in 2012 to explore what was quickly becoming a culinary mecca. As a border town it has always been a crossroads of food from all over not only Mexico but the world. I wrote about that first trip here, and have since been back two times and each has revealed new and delicious things. This third time was no exception.
Our day began ridiculously early beginning with a meeting with the incredibly creative Arturo Rodriguez at the La Caja Galeria where we talked collaboration ideas and the intersection between food, theater, art and mezcal. He then dropped us at Salinas Vinos, a terrific wine, beer and mezcal shop. Proprietor Gilberto Salinas also has another location, a tasting room called Salinas Enoteca, which sadly we were not able to stop by that day.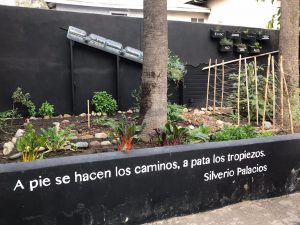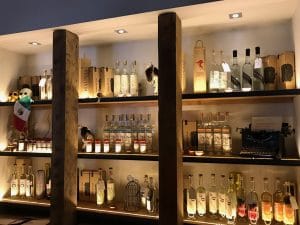 Then the feasting began – first with red snapper tostadas at La Cevicheria Nais, followed by a twist on rajas and fideo at La Carmelita, tuna tostadas from Tacosteña, and of course beer, all of this at the very impressive Telefónica Gastro Park. After a necessary stroll and stop at the Mercado Hidalgo to refresh with coffee and gift shopping, we finished the day at Plaza Fiesta trying more beer, and surprisingly pulque. What's so refreshing about the craft beers in Tijuana is the presence of Lagers and Pilsners in addition to the usual IPAs, Stouts and Porters you usually find with craft breweries.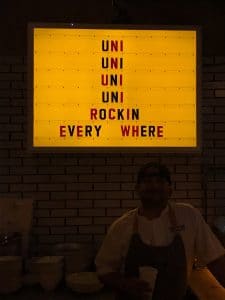 We finally headed back to San Diego after a long back and forth about whether to eat more tacos before we crossed back. Had we known how long the walk was at the recently opened pedestrian El Chapparal entry point, we would have indulged because by the time we got back to San Diego we were hungry again, so we dragged ourselves to Ironside in Little Italy for salad, oysters and a very interesting mezcal and champagne cocktail.
Our final day was filled yet again with whirlwind stops at several places – seriously, tasting cocktails at 11:30am is not easy, and pacing bites because you know you have three more places to try, very much not easy, especially when you stumble across the most seriously sublime and unexpected thing – a perfect hot dog. High quality beef frank, wrapped in flavorful bacon, covered in house made inventions (I will call mine a banh mi hot dog even if they call it El Samurai) and placed in the most perfect hot dog bun. Oh, and that the hot dogs were cooked in a tricked out Chevy Impala – just icing on the cake. This is the newly opened Barrio Dogg in Barrio Logan at the Lowrider Gallery space. They are also working on a line of hot sauces, which from our tasting were incredibly good.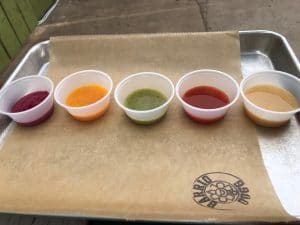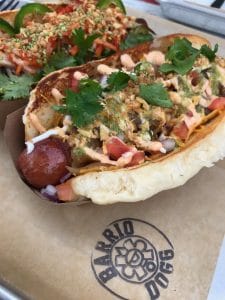 All of this is to say, I can't wait till March 11th when we celebrate Mexico in a Bottle at the gorgeous Bread & Salt Gallery, the former Weber Bakery, in Barrio Logan/Logan Heights. We'll have more information soon about tickets and participants so keep your eyes open!