I dropped into Mezcaloteca the other night with some friends. It was an oddly quiet night since it was a Friday, the end of the month which is payday for everyone. It also happened to be the night before the big government change – Felipe Calderon to Enrique Peña Nieto (aka EPN). There was confusion over la ley seca (dry law) and if there was, in fact, one going into effect that night. As it turned out, it was only for Mexico City.
But back to Mezcaloteca and the 40 odd mezcals they have. They do a great job of providing information about each mezcal, clearly spelling out on the labels who the producer is, where it is from, alcohol percentage, what the maguey is, what it is distilled in (copper/clay/etc). In fact, with all that information, I had to pull out my reading glasses.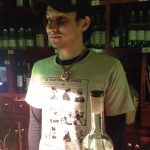 My friend David was working behind the bar that night and he made some great recommendations that included a raisilla from Guadalajara. It's a wildly different flavor from mezcal, despite being maguey based and produced in a similar fashion to mezcal. Musky, that is how I would describe the one we tried.
But then there was the utterly delicious arroqueño and coyote blend that had an effervescence like nothing else I have ever tried, exploding on the front of the mouth and then slowly dissipating on the back of the tongue. The next blend was a 70% madrecuishe and 30% espadin that had such an intriguing soft sweetness, balancing out the usual green and minerali flavor of madrecuishe.
Finally, we finished up with a 100% espadin from Matatlan – clocking in at 54.6% alcohol. Despite its high alcohol content, it did not have a strong flavor of that and was in fact surprisingly smooth.
I'll have a follow-up piece about Mezcaloteca and their project in the coming days.