Had a chance to re-visit Tres last night. This time the bartender knew his shit – Guerrero born with family originally from Oaxaca. He was a great guide and assembled a mixed flight for us that was off the menu: Del Maguey Minero, Chichicapa, Fidencio Madrecuixe, Los Nahuales and the Agaves Cortes añejo.  Fidencio Madrecuixe was a repeat winner.  Los Nahuales showed the worst because it was overly perfumed compared to the understatement of the other mezcals in that tasting.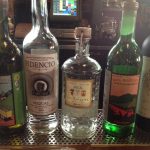 We also dropped into Mosto to see how their mezcal operation is progressing. We talked to the new bartender – Eric Giardina – who used to be a brand ambassador for Fortaleza and knows his agave.  We had the Pierde Almas Pechuga, a wonderfully complex mezcal that explodes in the front palate and then softly mellows.  Then we tried the Wahaka Ensemble, a blend of 50% espadin, 25% tobasiche and 25% tobala that was surprisingly flat.  That is probably due to its 40% alcohol content while most mezcals weigh in at 45%. Then we tasted the Mezcalero San Juan del Rio, a blend of tobala and tepeztate, two wild magueys.  It had a fresh and bright flavor, even a bit green. We concluded with a lightning tasting of Del Magueys that we hadn't touched earlier in the evening.  .
Mosto apparently has a special mezcal tasting night the last Monday of every month, with the next one set for April 30th.  Check with them to be sure.